Formula 1 previews new fragrance collection in Abu Dhabi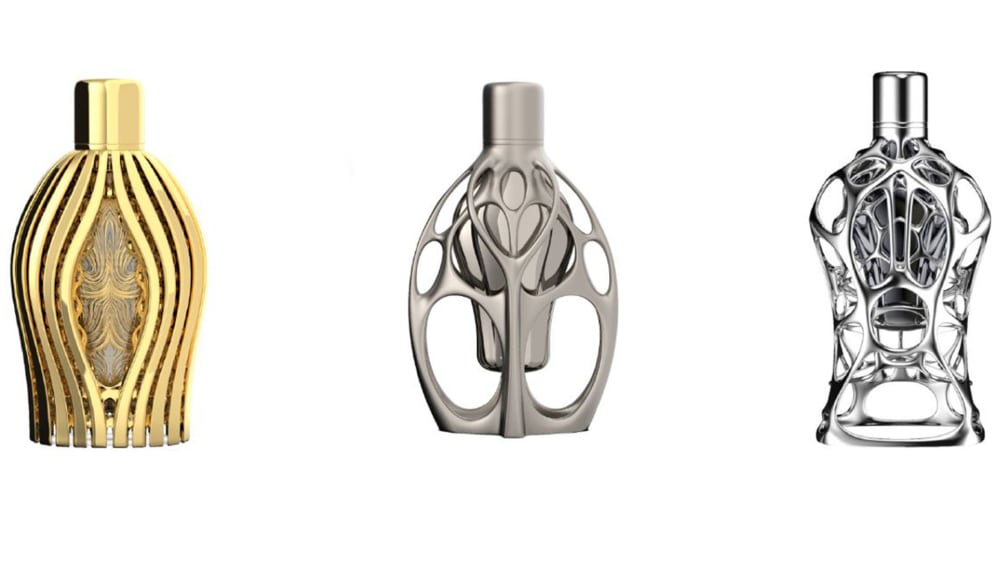 Formula 1 today announces an exciting collaboration with Designer Parfums, to create a unique fragrance collection, which will go on sale in March 2020.
To mark the new collaboration, visionary designer Ross Lovegrove has created three exclusive limited edition pieces of 3D printed art which have been specifically inspired by the world of Formula 1, uniting technology and dynamism with heritage and storytelling.
Suspended in these first-ever limited edition 3D prints we discover the beating heart of the project – a collection of five exquisite fragrances. These three designs will be on display and for sale (POA) in the Paddock Club at the 2019 Abu Dhabi Grand Prix.
The three different 3D printed designs on display are:
AGILE EMBRACE - Based upon principles of form created from flow, the lines embrace the inner core that contains the heart of the gold plated design.

FLUID SYMMETRY - Derived from the evolving organic lines of the cars aerodynamic design, this conception is proof that the physics of natural forces in unison with advanced materials can produce a new form of technological bio aesthetic for the 21st Century, made from 3D Printed Blasted Titanium.

COMPACT SUSPENSION - A space frame as an exoskeleton with layers that suspend the inner flask inside a 3D printed geometry that is strong and references the engineering of advanced innovative structures.
Designer Ross Lovegrove utilises the latest digital light synthesis 3D printing technology, creating an intricate and stunning technopolymeric resin-based exoskeleton to house the fragrance bottle.
From April 2020, the fragrances will start reaching retailers globally.
Ellie Norman, Director of Marketing & Communications, Formula, 1 said: "We are extremely excited to be working with Designer Parfums and Ross Lovegrove to unveil our new fragrance collection. The unique fragrances and bespoke F1 inspired bottles embody the dynamic qualities of the sport, and we are excited to launch the full collection early next year".
Dilesh Mehta, Designer Parfums Chairman & CEO, said: "We are leveraging the sport's heritage and principles to build a unique fragrance brand that merges a highly legitimate approach to the perfume world with the core values of Formula 1. Being the first fragrance brand to utilise 3D printing is a huge achievement, and we look forward to pushing this even further in future years when we will offer consumers the ability to create their own customised designs"