Formula 1 to promote the FIA Formula 3 Championship™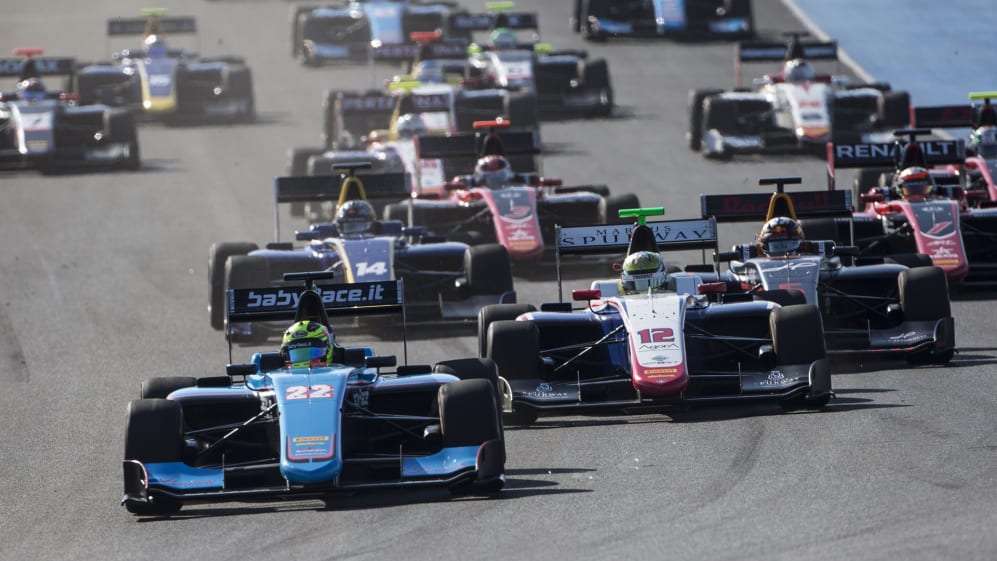 The Formula 1 group of companies has been selected by the FIA as the promoter for the new FIA Formula 3 Championship, which will begin from 2019. The decision has been confirmed by the World Motor Sport Council at the meeting held today in Geneva.
The international championship will be hosted on the FIA Formula One World Championship platform and feature an all-new car, with a single supplier for chassis, engines and tyres to be selected by the FIA in collaboration with Formula 1.
The introduction of this new FIA Formula 3 Championship will benefit both competitors and fans, providing the unparalleled platform of F1® for young drivers working their way up the FIA's single-seater pyramid, which now spans the full spectrum of the discipline from Formula 3 to Formula 2 and Formula 1.
Having the top three tiers of FIA single-seater competition together at the same events will make it easier than ever for fans to follow the careers of aspiring young drivers and see the dramatic journey towards Formula 1 unfold.
A maximum grid of 30 cars will be accepted, with the championship planned to run between nine and ten events, with two races per event.
The new car will integrate the latest FIA safety technologies, making it the benchmark in safety standards for the F3 category. It will feature increased chassis strength, increased cockpit rim height and strength that will be the same standard as in F1, the Halo frontal impact protection device, and will be the first car to feature a frontal anti-intrusion panel.
Cost control is key element of the new FIA Formula 3 Championship, and in addition to the use of common components, there will be limited, regulated testing, as well as limitations on trackside personnel and the use of electronics and sensors.
Stefano Domenicali, President of the FIA Single-seater Commission, said: "The FIA has been refining the single-seater pyramid with great care over recent years, and the new FIA Formula 3 Championship achieves an important goal of putting the top three FIA single-seater competitions on the same platform. This has great advantages for fans and competitors alike, as graduates of FIA-certified national and regional competitions have a clear first step into international racing, while spectators and viewers watching Formula 1 will be able to see a broader spectrum of future stars on their way to the pinnacle of our sport. Formula 3 has a long and rich heritage as a key category where the skills to reach the top are developed, and now with Formula 1 as the promoter, I'm sure it will continue to flourish."
Ross Brawn, Managing Director – Motorsport at Formula 1, said: "We are pleased to have been entrusted with the organisation of the FIA Formula 3 Championship as from 2019. While race fans can enjoy the spectacle of drivers battling it out at the pinnacle of motor sport, which is the FIA Formula One World Championship, one of our objectives is to also provide them with the opportunity of discovering new talent and watching them progress along a clearly defined and high-level pathway. Already, since 2017, this has led to the creation of the FIA Formula 2 Championship and, as from 2019, the Grand Prix weekends will also feature another step on the FIA's racing ladder, in which the best young drivers from national and regional categories will be able to race on the greatest and most prestigious race tracks of the world, on the same programme as those they might be racing against in F1 in the future."
Bruno Michel, CEO, FIA Formula 2 Championship, said: "For many years now, Formula 1© has been the organizer of important junior categories, such as GP2, now known as the FIA Formula 2 Championship and the GP3 Series, which also take place in 2018. Today's decision from the World Motor Sport Council proves the desire to bring together two current championships to provide talented youngsters from around the world with a fantastic opportunity to progress and to get noticed by racing on the same card as a Grand Prix. The FIA F3 Championship will become a natural stop-off for the best drivers from the junior categories, who aim to move up the racing ladder to Formula 1, the pinnacle of motor sport. The new series will continue to uphold the same training ground assets as the FIA F2 Championship, namely high performance cars, accessible cost levels and spectacular races, which have characterized the work undertaken so far. The FIA F3 Championship will be run along the same lines of governance as applied, since 2017, to the next category up."