Formula 1 welcomes 'Cars 3' to Silverstone pit lane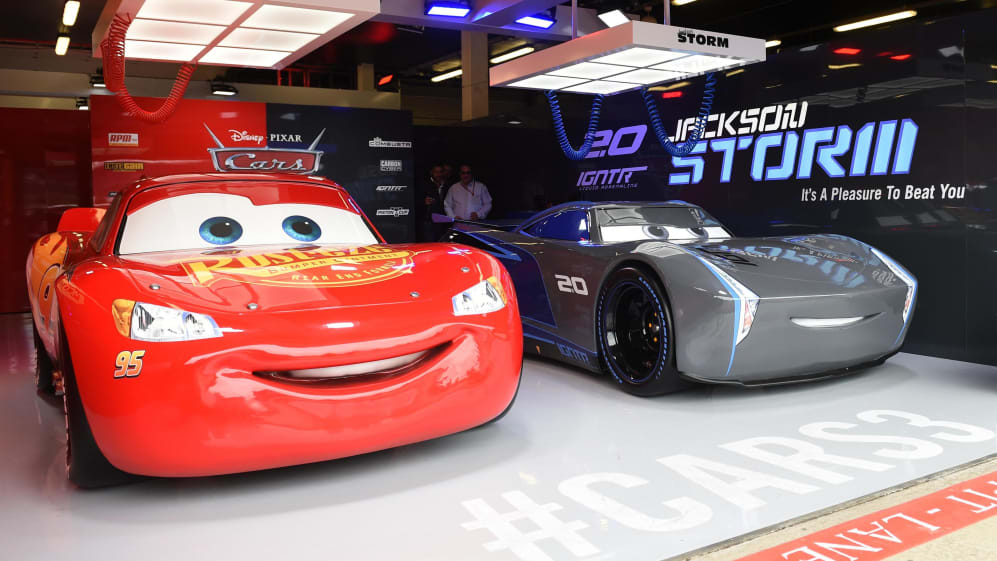 In addition to the 10 taking part in the 2017 Formula 1 Rolex British Grand Prix, an 11th team has mysteriously appeared in the Silverstone pit lane. In one of the garages are two of the stars of the new film Cars 3, Lightning McQueen and Jackson Storm.
The Disney-Pixar produced film makes its debut in the UK cinemas this weekend and the star, and voice of the legendary Lightning McQueen, Owen Wilson will attend Sunday's race along with the film's director Brian Fee and producer Kevin Reher.
Wilson will also feel the thrill of the Silverstone circuit on board the F1 Experience two-seater car around the world-famous race track.
The party will also visit the Mercedes pit, where they will meet Lewis Hamilton, who makes his return to the Cars universe to voice Hamilton, a fully loaded, built-in voice command assistant in the new film, as well as calling in at Ferrari to see Sebastian Vettel who has voiced the same character in the German and Italian versions of the film, as Fernando Alonso did in the Spanish one.
"We're thrilled to be collaborating with Disney and the blockbuster Cars franchise," said Sean Bratches, Managing Director, Commercial Operations at Formula 1. "After seeing the incredibly authentic race scenes in Cars 3, we knew that the F1 British Grand Prix was the only place to launch the film in the UK and we're sure it will delight our growing family audience for F1."
Lee Jury, co-head of the Walt Disney Studios UK, added: "We are so thrilled to be partnering with F1, what better way to celebrate the release of Cars 3 than to welcome the legendary Lightning McQueen and his new arch rival, Jackson Storm, to Silverstone in this unprecedented activation at the Formula 1 Rolex British Grand Prix. Fans are in for a treat."