Fourth-placed Vettel says he 'compromised own race' in Spain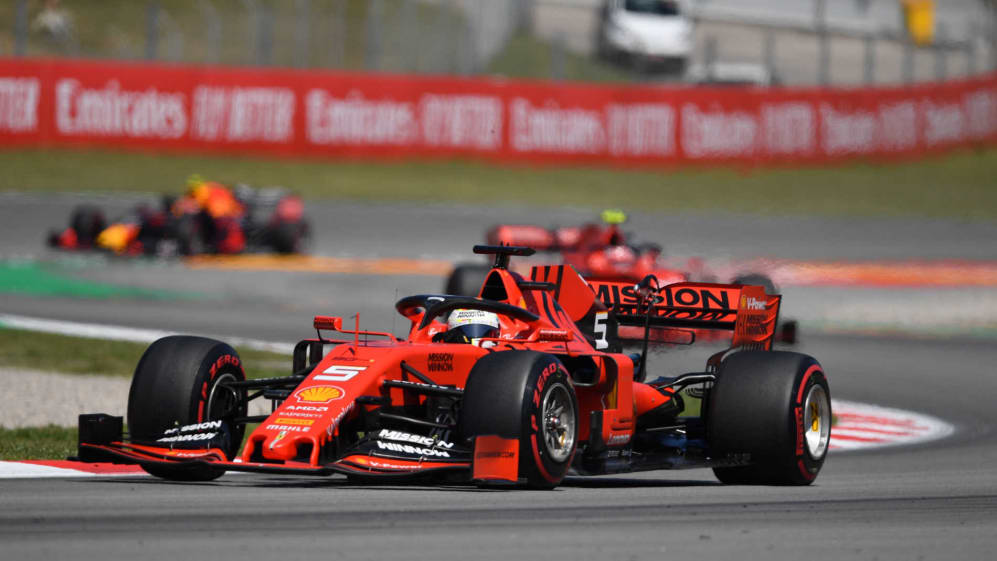 At a circuit like Barcelona where it's notoriously difficult to overtake, the importance of the start is magnified. No one knew that better than Sebastian Vettel, who played all his cards at the first corner of the Spanish Grand Prix, then spent the rest of the race paying for it when his gamble failed…
Vettel was hot off the line in Spain – so hot that he approached Turn 1 three-wide with the front-row-starting Mercedes duo of Valtteri Bottas and Lewis Hamilton. But running the outside line, Vettel's chance of moving from third to first was always risky, and as he realised it wasn't on he locked up badly, flat-spotting his right-front tyre.
Max Verstappen quickly pounced, and soon after Ferrari moved Charles Leclerc ahead of Vettel for fourth as the German's first-stint pace fell off a cliff.
"I had a flat spot after the first corner where I knew that this would be the only chance to really try and do something against Mercedes," explained Vettel, who finished off the podium for the third time in five races.
"It wasn't really there, so after that, I compromised my own race. Probably that's where we lost the podium.
"I was struggling to see stuff [with the vibration] and I was obviously slowed down," he added. "It compromised my first stint - after that I think the pace was fine.
"From there it was difficult to come back, the Safety Car gave us a bit of a chance but we were on the same pace as Max, so difficult or impossible to pass."
Having moved ahead of Vettel in the first stint, Leclerc ended up finishing one spot down on the four-time world champion in P5 – the fourth time he has finished fifth this season. Unlike Vettel, Leclerc was switched from soft to hard tyres in his first stop rather than softs to mediums, which led to him losing pace and being asked to let Vettel back past – though the 21-year-old refused to pick holes in his team's strategy.
"I don't think it was a bad call [to go to hards]," he said. "We wanted to go to the end of the race with them but unfortunately we didn't make them work as expected. We were struggling quite a lot with the rears on my side, I lost a little bit of time but it was the same on the medium to be honest, we need to look into that and analyse.
"Obviously on the first stint I was quicker [than Vettel] but it's always difficult when a driver behind tells you he's quicker. Obviously we always want to be ahead, and again, after that they let me past and I could make my race, and then we swapped again when I was struggling."
The result in Spain means Ferrari have just three podium finishes from the opening five races. But worse than that they lost ground in both championship races, with Verstappen jumping Vettel for third in the drivers' standings and Mercedes moving a full 96 points clear in the fight for the constructors' crown.