Feature F1 Unlocked
FRIDAY DEBRIEF: How it's looking after Belgian GP qualifying as wet weather sets up spicy weekend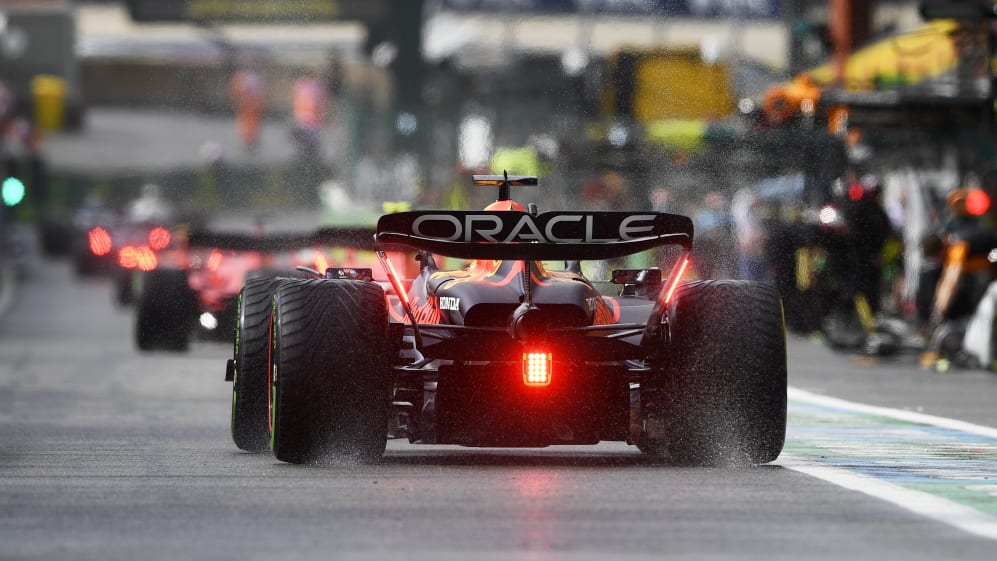 Rain lashed Spa on Friday but eased off as qualifying progressed to set up a thrilling session as conditions improved and lap times tumbled. Teams were limited to just a handful of laps of practice, though, and that means they have no significant long run data heading into Saturday's Sprint Shoot-out and Sprint as well as Sunday's Grand Prix. Here's how things are looking after the opening day of action…
Ferrari looked most comfortable in changeable conditions
With Spa's epic 7km track sodden from persistent rain, there was very little action in the weekend's only practice session – but from what we did see, it was the Ferraris of Charles Leclerc and Carlos Sainz who looked the most confident in very tricky conditions.
READ MORE: Penalty-hit Verstappen fastest in Belgian GP qualifying as Leclerc set to start from pole
They carried that form into qualifying later in the day – and looked like a threat throughout, from the intermediate running in Q1 to the crossover conditions in Q2, to the slick soft tyre laps in Q3. It then all came down to who did the best job when it mattered.
And while Max Verstappen was fastest of all – an impressive 0.8s clear of the rest of the field – it was Leclerc who will start on pole courtesy of Verstappen's five-place grid penalty for a gearbox change.
The Monegasque has struggled in similarly slippery conditions so far this year – in Spain, Canada and Austria – but has since worked on his driving style and approach to such a session and reckons today's effort was a result of that.
READ MORE: Verstappen targeting victory in Belgium despite five-place grid penalty for Sunday's race
Sainz likely would have been closer to him on the grid had he not had a big moment at Turns 8 and 9 on his final lap, but nonetheless will start on the second row and will hope he can force himself into the mix for a podium come Sunday.
And if conditions are similar on Saturday, they should both be a force for the Sprint Shoot-out and subsequent Sprint. Equally, the qualifying simulation data we have is based on dry conditions throughout – so if the shoot-out is dry, Ferrari could be as close as one tenth of a second adrift of pace-setters Red Bull.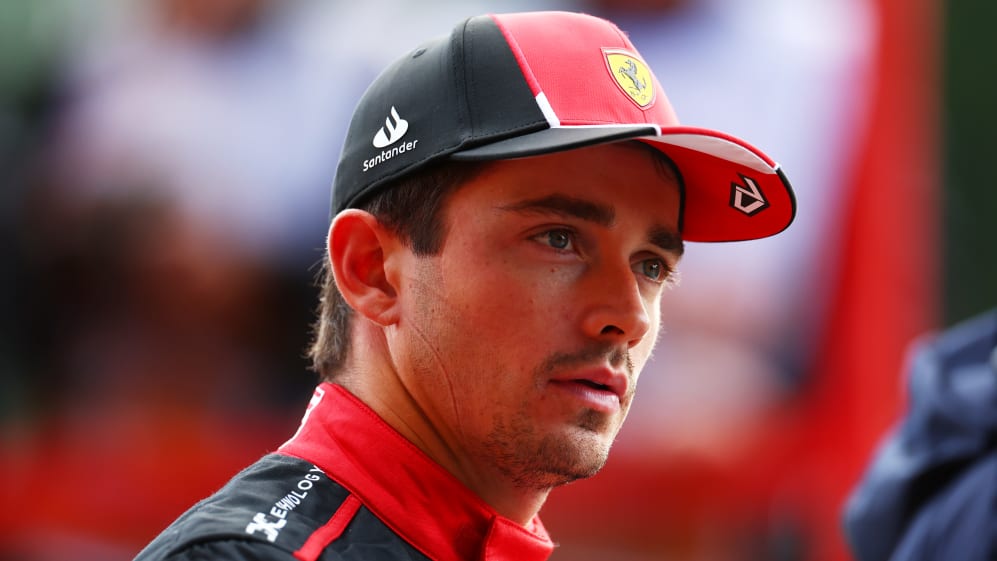 Red Bull still heavy favourites to continue dominant run
This was not the smoothest of days for runaway championship leader Max Verstappen, the Dutchman only scraping through Q2 with the 10th fastest time (when only the fastest 10 progress).
That led to an angry message to his race engineer on team radio, which he later apologised for after setting the fastest time in Q3 by a country mile, limiting the damage of his gearbox penalty to sixth on the grid for Sunday's Grand Prix.
READ MORE: Leclerc hails 'big steps forward' en route to Spa pole as he ponders whether Ferrari can keep Red Bull behind on race day
Such is the superiority of this year's Red Bull, and the fact he won last year's race from 14th, he will expect nothing short of an eighth successive victory on Sunday.
Perez's qualifying renaissance continued, the Mexican securing his first front row start since he took pole in Miami, nearly three months ago. Given their advantage over the rest of the field, anything less than a fifth one-two of the season would be a shock and disappointment.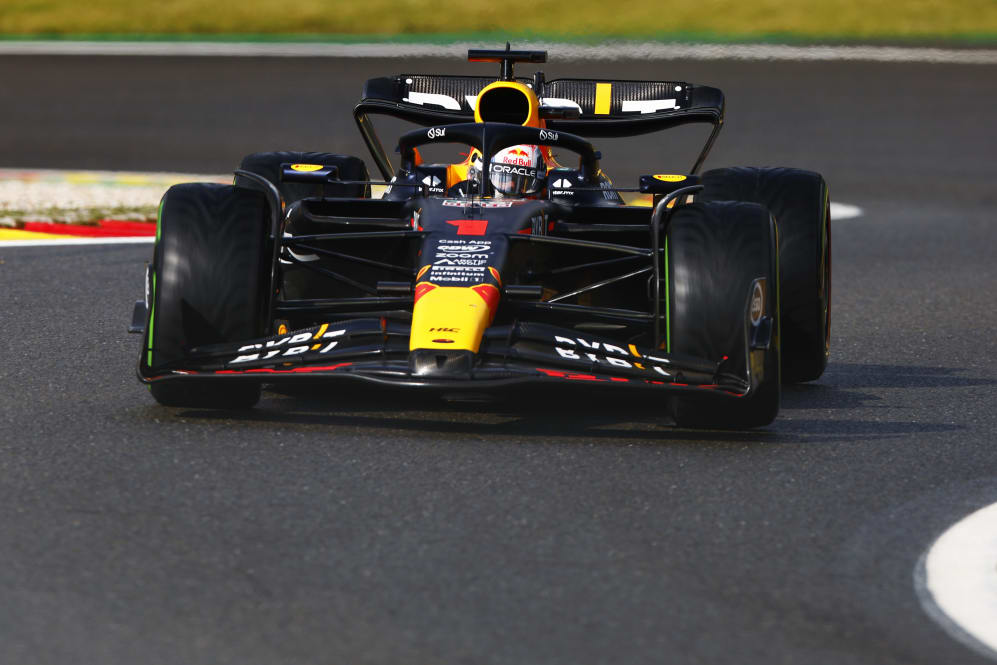 Mixed fortunes for Mercedes duo in upgraded Silver Arrow
Lewis Hamilton was in good spirits after qualifying third for Sunday's race, the seven-time world champion having the measure of team mate George Russell, whose call to go for a rear wing with more downforce looks like the wrong direction.
Russell struggled in the changing conditions and finished eighth in every session of qualifying, while in contrast, Hamilton looked like he had the pace to fight every car other than the Red Bulls, thus putting him in a position to clinch a second row slot.
FACTS AND STATS: Ferrari set new record in Belgian GP qualifying as Leclerc maintains Sprint front-row streak
The qualifying simulations, based on dry conditions, suggest they would drop behind McLaren if tomorrow is dry, as they rank three tenths off the pace.
With such limited running in practice, very little could be learned from a suite of upgrades they brought to Spa, which included another tweak to the sidepod. However, they can take hope from Hamilton's encouragement with how the car felt with the set-up he landed on – which like his rivals is now locked in for the remainder of the weekend.
McLaren appear to have dropped back in pecking order
McLaren were wary of getting carried away with their recent upturn in form heading to Spa, and while they couldn't continue their recent qualifying heroics, they did still comfortably get both cars into Q3, with Oscar Piastri's performance a real highlight.
The Australian was mighty in the second sector, which has most of the corners and requires the most downforce and confidence. Only Verstappen was faster. And he outperformed his team mate Lando Norris, though, the Briton did have damage after running wide into the gravel in the first segment of qualifying.
HIGHLIGHTS: Watch the action from qualifying in Belgium as Leclerc inherits pole from Verstappen and Ocon hits the wall
In the dry, it seems they are very fast over one lap – only 0.16s adrift of Red Bull so could be in the mix for at least the second row in the Sprint Shoot-out. In the wet, they looked pretty handy, too, and are at worst, the fourth-best team on pure pace.
So, either way, they are in decent shape heading into the remainder of the weekend.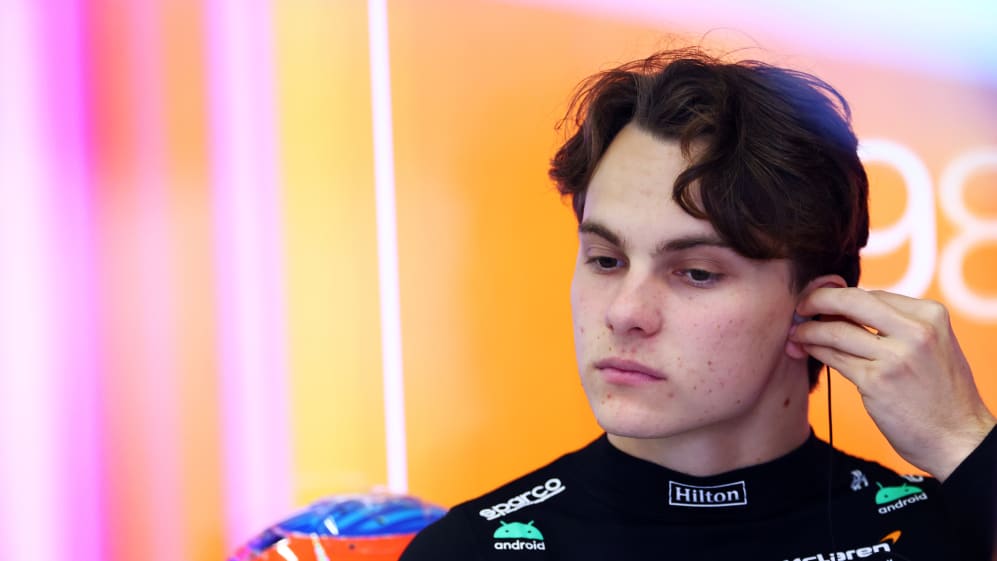 Wet weather limits data gathering and sets up spicy weekend
No one managed more than nine laps in 60 minutes of wet practice, which means all the teams will be relying on pre-event simulations to judge long runs for Saturday's Sprint and Sunday's main event and significantly longer Grand Prix.
That adds plenty of jeopardy heading into the weekend, with teams unsure how their respective cars will manage the tyres when they are run long on a track that will have very little rubber on it because of the persistent rain.
If it stays dry tomorrow, the teams will get some precious long runs in Saturday's Sprint, which is crucial as Sunday's race looks set to be dry. But that will only be on one compound – as there won't be any pit stops – or two if team's split their strategies.
If it's wet, the teams will have almost nothing concrete to work from this weekend, setting the tone for a spicy day of racing on Sunday, when teams will have to react on the hoof to tyre behaviour. Intriguing times, ahead.
To read on, sign up to F1 Unlocked for free
You'll unlock this article and get access to:
Live leaderboard data
Epic experiences and rewards
Money-can't-buy competitions