Podcast F1 Unlocked
FULL TRANSCRIPT: Every word from ex-Williams and McLaren engineer Sam Michael's Beyond The Grid interview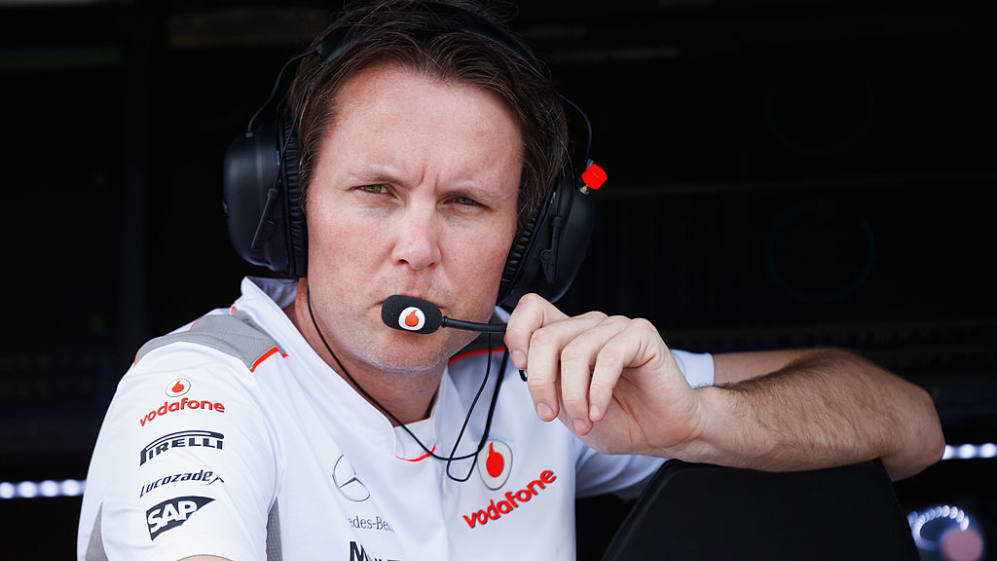 Sam Michael may not be a name instantly recognisible to some newer fans of Formula 1, but the Australian engineer enjoyed a long and fruitful career in the sport – and worked with some of its biggest figures, including Eddie Jordan, Sir Frank Williams, Patrick Head and Ron Dennis, as well as drivers Ralf Schumacher, Juan Pablo Montoya and Lewis Hamilton.
Sam is this week's guest on our Beyond The Grid podcast, and you can read every word from his interview in the transcript below, listen to the episode in the audio player, or head here to catch it on your preferred platform.
Tom Clarkson: Sam, it's great to see you again. It's been nearly a decade that you've been out of Formula 1. How is life back in Australia?
Sam Michael: Yeah, I'm doing really well, thanks. Life in Australia has been good, although I still spend time in Europe as well. But my life's very much in Australia these days, it's been fantastic.
TC: Tell us a little bit about what you're getting up to now.
SM: I run a software company called Ox Mountain that focuses on machine learning and software applied to maintenance and reliability, so mainly in heavy industries like mining and rail. I set that up eight years ago when I left Formula 1, and it's just been a fantastic climb in that world. I really wanted to take a lot of the lessons I'd had in F1 and apply them to a company. I've got a great team of people and that's going really well. I was really keen to get involved in software because it's the future in many sectors. But I was also keen to use the knowledge that I'd gained in in a lifetime of Grand Prix racing, from a people point of view, but also technology, because the stuff that F1 does is normally a few years in front of everybody else and I was keen to do that.
TC: Do you still keep an eye on Formula 1?
SM: Yeah, I do. I'll still watch the Grands Prix. Most of them I'll watch on record on Monday morning. I still have an active interest in motor racing. I have a non-exec position with the FIA as the President of the Safety Commission, which is a two-year term. I'm halfway through that at the moment and that's pretty good because you get to keep in touch with the engineering process and it's mainly a governance role. There's a full team of engineers and technicians in Geneva and Paris who do all the hard work. But it's a good way of giving something back. Although I was on working groups throughout my time in Formula 1, you can't really be objective. You've always got a bias because you're there for your team. Whereas when you step away from Formula 1, it's the only period of time where you can actually give something back.
TC: And you took over that role from Patrick Head?
SM: Absolutely, yeah. Patrick and I hadn't spoken to each other for a while and we had a handover meeting, so he came on a Zoom from Sardinia. We had a had an hour or so just catching up and obviously half of it was just spent telling old stories about Williams rather than the FIA. Then we got onto the FIA role, but it was good to see him.
TC: And if you look at the technical regulations in Formula 1 now. You left just as the hybrid turbos were coming in, but what do you make of where the sport's at now?
SM: It's good. The proof is in the pudding and the overtaking and the race ability of the cars has clearly improved. It looks like it's pretty healthy from that point of view. The cars have changed massively since the beginning of when I was in Formula 1, but hopefully all for the better.
TC: Well, let's talk about your time in Formula 1. You worked with some incredible drivers and some iconic teams. Lotus, Jordan, Williams, and McLaren. Which of those teams left the biggest impact on you?
SM: That's a really hard one to answer because they all had an impact for different reasons and because of the stage you were up to in your life. I'd say, in terms of impact, of course the time I spent at Jordan and Williams was the longest. I think it was six or seven years at Jordan and 11 years at Williams. But then even those four years I was at McLaren. I learned a hell of a lot there, especially about people. I don't think I could name one. They all form the make-up of your experience.
BEYOND THE GRID: Mario Theissen on heading up BMW's F1 efforts, working with a young Vettel, and Sauber's Montreal 1-2
TC: Let's talk about drivers then. Who was the fastest driver you worked with in your career?
SM: Lewis Hamilton and Heinz-Harald Frentzen. If you're talking about pure natural driving talent, Lewis and Heinz for sure. The things that you saw them do in tricky circumstances, extract value and lap time out of cars that they had no business doing, and compared to their teammates and just everything stacked up, those two definitely.
TC: Let's talk about Heinz then. As you say, you were with him at Jordan. Did you sense when he joined the team, that he was damaged goods after two largely unfulfilling years at Williams?
SM: He came to the factory and did a couple of seat fittings with Andy Stevenson and myself on a weekend because he then went on to do the test at Suzuka at the end of 1998. Really quickly, he was trying really extreme things on setup around Suzuka in that test. The setups were very extreme, almost to the point where you just knew it wasn't going to work. The thing that you noticed was Heinz could drive these setups for a start. That in itself was impressive. Then you realize that he was creating an envelope for himself to understand where the car worked. I think he just wanted to build a mesh, if you like, to say 'okay, this is what it does when I do this to it.' And when I say setups, I mean the spring rates, the roll rates, the weight distribution, the air balance. He was changing all those first order things very quickly. My first impression was it was sort of chaotic. But then afterwards, you realised he was just putting these points down to say 'oh, okay, it does this when I go there.' So it was really enjoyable. He definitely thought outside the box. He was quite happy to try things that were just crazy in terms of setup.
TC: If he had this speed that you're talking about, why didn't he achieve more in his Formula 1 career?
SM: There's a lot of things that make up a driver. It's not only their natural driving ability. It's their ability to communicate with people and work inside a team. The ability to manage your emotions and understand when it's a good time to be emotional and when it's not. There's also teamwork; working with mechanics and engineers around you and extracting the most from them. All those things stack up to make a total driver. Although I never worked with him, you'd have to look at someone like Michael Schumacher. He was pretty much ticking all the boxes in that regard. In the early years, it was Michael and Heinz and Karl Wendlinger, who were the three main super starters out of the Mercedes sportscar programme. Obviously one of them went on to become a seven-time World Champion. The fact that Heinz didn't achieve that – there's lots of other factors that add up to that result. I'm thinking as a race engineer, and one of the things that Heinz was absolutely fantastic at, and probably formed 30 to 40% of his success in 1999, was his fuel-saving ability. He could save fuel and extend these strategies and stops. He told me that Jochen Mass taught him that. He had this really unusual technique, but it worked fantastically and made a huge difference to results.
TC: He finished third with you in the 1999 Drivers' Championship. Did he really believe that he could win it that year?
SM: I think there was probably various points where the only person who could have believed it was Heinz because he was driving the car. He knew the competitiveness of the car right from the beginning of testing. I remember him coming back in the early sessions. We were good, but we weren't 'winning good'. But he knew that it was there, so he had more confidence and that put more confidence in us. I think for where we had been as a team, remember the previous year was 1998 and we'd won a Grand Prix with Damon and Ralph in second. If you go just before that, we were almost game over. So only a year before we couldn't even get any points and yet here you were potentially fighting for a drivers' championship. It was a dramatic change. It's interesting, because you look at Aston Martin this year and how good they are. I was talking to someone just a week ago saying, if you look through the history of Jordan, Force India, Aston Martin, which is the same fabric of team, they have this history of boom and bust, don't they? You see Aston Martin now, they've had a couple of bad years. They're going to have a fantastic year next year. No other team quite has those sort of peaks and troughs like they do. That's gone all the way back to the Jordan days. I don't know why, but I've seen a repeat there.
TC: There's one thing that happened in 1999 that I think you can give me some clarity on. He got pole at the Nürburgring but the engine shuts down after his pit stop. What really happened there?
SM: There was a piece of software called anti-stall software. At that time in the regulations, it wasn't defined very tightly. What we realised is that you could use the anti-stall mechanism to trigger a certain revs. You could basically set the throttle position for whatever the anti-stall was, so you could lower the revs on the start, get much closer to the stall limit and get better traction off the line. It sounds really good. I don't think the benefit was worth it. Heinz's problem was slightly different to Damon's, because Damon's engine shut down off the start, so he stopped at turn one. We never used it in the pit lane, so the target was only to ever use it on the Grand Prix start. Unfortunately, what happened is during Heinz's pit stop, the system triggered and we never looked at it during pit stops. It was the first time it had ever happened. I think it was probably about 10 seconds later we realised what had happened. It had triggered the system that was only meant for the Grand Prix start. Anyway, the FIA changed the rules after that and tightened everything up.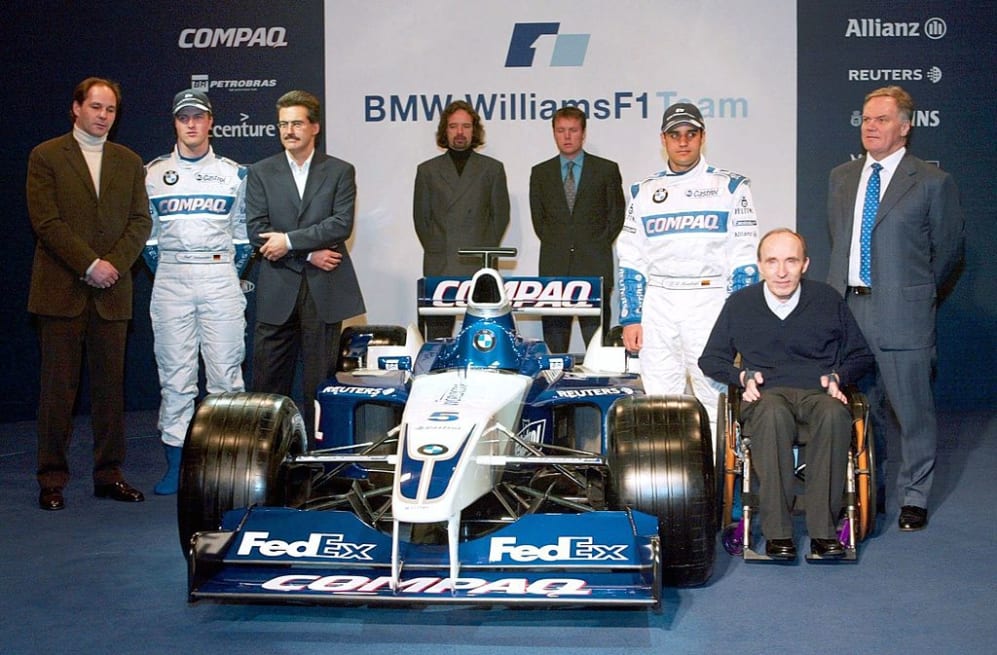 TC: Sam, let's bring it back to you now. Where did your passion for motor racing and Formula 1 in particular come from?
SM: As a young boy, I grew up on farms, so I was always interested in machinery and working on motorbikes and farm equipment. I liked the mechanical side of things very early. I used to race off-road motorcycles, so I raced motocross and supercross when I was a young kid and when I was a teenager. I was pretty much obsessed with motorcycles until I was probably 17-years-old. Then I got a job in a car workshop as a mechanic on weekends, when I was in the last two years of high school. The person that was working there just happened to be the Australian rally champion, a guy called Neal Bates. Anyway, one afternoon on a Saturday, I was working in a workshop. I wasn't that interested in cars. Then he said 'come for a ride in a rally car' and I was blown away. I couldn't believe that you could drive a car that quickly around corners without just rolling and having a crash. I was pretty much hooked on cars then. Somehow it went very quickly from liking rally cars to circuit cars. I then followed Formula 1 and there was an open-wheel category in Australia. I did that for a couple of years whilst I was at university. The moment I finished uni, I went straight to Europe to Formula 1. I think if I hadn't worked in that workshop, I could have easily ended up doing either off-road motorcycle racing or even Moto GP. That was my path.
TC: And that workshop in Formula Holden, is that where you came across Greg Siddle?
SM: That was about two years later. The workshop I was talking about was just a car workshop in Canberra. I used to work there on the weekends when I was at school. Then I moved to Sydney for university and during that period, I met Greg Siddle. He was running an open-wheel team. That's where I came across Mark Larkham and we started working together on in a category called Formula Holden or Formula Brabham. They were basically old Formula 3000 cars that would come out to be repurposed for Australian racing.
TC: Greg Siddle's a bit of a Godfather figure for Aussies wanting to get involved in racing, isn't he?
SM: Yeah, definitely. I've known Greg since that point and he lives about three kilometres away from me. We catch up regularly and he's been a mentor of mine in motor racing and generally in life since that period. He obviously made his name with Nelson Piquet in the junior categories and Formula 1 in Europe, but has also been involved lots of other drivers. He's a very close friend and has been good guidance, both in motor racing and around people. How people think and work, so he's great from that point of view.
TC: And did he encourage you to go to Europe?
SM: Oh yeah. That was pretty much the first thing he said because I was finishing university and I said to him, 'do you think I should?' I had already been to the Adelaide Grand Prix with the team the year before because we were one of the under categories. I said to him, 'should I do a year in Australian touring cars or open-wheelers?' He was absolutely categorical. 'No, go to Europe because you want to be in open-wheelers and Formula 1. You'll learn in one year what takes you many years to learn here in open-wheelers, because I just it's just a much smaller game.' He was 100% right. That suited what I wanted to do. He introduced me to Peter Collins at Lotus, who then introduced me to Peter Wright, who's the TD, and that's how I ended up at Lotus.
TC: How difficult was it for you to make that step to England?
SM: It wasn't hard for me to do that at all because Britain's close to Australia from a cultural point of view. When you go to Britain and you can go down the shops, you can buy the same stuff. People talk the same language. Because I was buried and immersed in the work, I don't think that affected me very much. I turn up with no money. I left Australia with $500. It cost me $300 to get there so I had about $150 by the time I got to Norwich and I got off at the train station and Peter Wright was there. We just ran into each other by accident. I'd met him two weeks before the Grand Prix in Adelaide, and he showed me around the garage and he said 'if you come to England, I'll give you a job.' Two weeks later, here I am with my bag on the train. He happened to get off the train for work and I said 'hi I'm Sam from the Grand Prix and he said 'oh hi, what are you doing here?' And I said, 'Well, I've come for the job.' And he goes, 'well, I didn't think you'd turn up here. Now you've turned up, you better go have a shower and I'll meet you in the factory in a couple of hours'.
BEYOND THE GRID: Sir Jackie Stewart on surviving and thriving in F1's most ferocious era
TC: And then you never looked back. What was the job at Lotus?
SM: The official job was a design/data engineer. But you pretty much did everything. It's funny because I was only in Lotus for a year and then they pulled out of Formula 1. But because of that and because of the state of the team at that time, I could do anything. I was only 22 years old and I was pretty much doing everything. I was on this huge curve and was loving every minute.
TC: And when you arrived, what sort of state was the team in? Did you realise it was a precarious situation for them?
SM: I didn't. I was on this huge learning curve because when I left Australia, everyone told me how hard Formula 1 was and Formula 1 is damn hard. But when you first start in Formula 1, I think everyone goes through impostor syndrome or something where you just think there's no way I could be good enough. I literally thought in F1, everyone, like even the truck drivers, could work in NASA. They're just like the smartest people in the whole world. When I would go in and talk to engineers or designers about things, I wasn't intimidated to ask questions. I probably asked too many questions like an annoying little kid because I was a sponge in those early days. But I was just in awe of everything there. It was fantastic. Although the team was struggling, it didn't matter. I think I got paid £12,000 a year or something. You could have paid me nothing. I didn't care. I just knew I had to get on this curve of learning and I would have quite happily stayed at Lotus if they kept going because I was still on a curve. I left there and went to Jordan. But it was perfect for me.
TC: And then how long were you unemployed between them closing down and going to Jordan.
SM: After the last Grand Prix, I came back to Australia. I was here for about two weeks for a holiday, and then I started hearing all these things. But this is pre-Internet, and it was always a couple of weeks behind. I started hearing these rumours that Lotus was going to pull out. I had a ticket back to England through Detroit. I was going to meet a guy called Bill Milliken, a vehicle dynamics guy that Peter had introduced me to. Anyway, I called the factory the day before I left and spoke to a guy called Jock Clear because Jock used to be the race engineer. I said 'Jock, how's it going there?' He said 'oh, yeah, it's fine. Everything's good.' And I said 'but I'm hearing all these rumours.' He said 'no, no, it's all good.' That was on Monday. So I get on the plane and two and a half to three days later I arrive at Lotus. It's completely empty. There's nothing there at all. In that period, the whole thing was just emptied because they pulled out. Then I rang Greg Siddle. I had met Eddie Jordan and Gary Anderson a year before and they were interested in offering me a job at Jordan, but I went to Lotus just because that's just how it worked out. Greg immediately called Gary. I went up to Jordan for an interview, so I was unemployed for about two weeks. I went to Jordan as a data engineer in vehicle dynamics. My first job was to write a lap simulation program. None of those things existed back then. There was no vehicle dynamics department. I went in there and helped set it up with the very little knowledge that I had.
TC: How different was the set up with EJ and Gary compared to what you'd experienced at Lotus?
SM: It was completely different back then. Jordan was known as the fun team. They not only got results, but they always packed up before everyone else. Whenever you saw the mechanics or the engineers, they were always the ones that looked a lot happier than everyone else. I was quite excited to go there. Actually. I met a lot of people there that are still friends today. But it was a little team. When I started, Jordan was probably 50 people. But remember back then, even a big team like Williams and McLaren was maybe 110 or 120. They were winning everything. Whereas now, we've got 600 people in a team.
TC: And whose car were you on?
SM: I think I did the data for both cars. You pretty much had the race engineer and next to them maybe one control or data engineer. We had Rubens Barrichello and Eddie Irvine and I remember working with both of them.
TC: So you worked with Rubens right at the start of his Formula 1 career at Jordan, and then, of course, right at the end of his Formula 1 career at Williams. How had he changed in the intervening period?
SM: I think his passion and his enthusiasm for doing the job had not changed at all. He was always the same, completely in love with the sport and everything about it. I went to Rubens' house when we were in Brazil and he collects helmets from all the other drivers, which I thought was almost like a fan, even though he's one of the most popular drivers in Brazil and in Formula 1. It's sort of endearing in a way. I always thought from that point of view, he hadn't really changed. Obviously he had matured and grown up a bit, but he had a family and kids. But I think his passion for the sport was unchanged.
TC: When he was at Ferrari, he felt he was hard done by and was obviously Michael's number two. But a lot of people have said to me, 'was he quick enough to be given the opportunity to beat Schumacher?' What do you think?
SM: Rubens was definitely fast enough. You don't do what he did in Formula 1 and last that period without being quick. There's lots of situations and like we said earlier, there's lots of things that make up what your end results are and Rubens achieved a lot. Look at how many Grands Prix he won, he was a great driver.
TC: And then another driver you worked with at Jordan was Ralf Schumacher. He was pretty new at the time…
SM: That's right. I worked with a lot of fast drivers. Not a lot of them become World Champion and I guess in ten years' time there'll be another group of drivers that are in the same category. Yeah, they were very fast and they should have been a World Champion, but they weren't. Patrick described Ralf like a metronome. If everything was good and the car was quick, Ralf was the person you put your money on because he wouldn't mess up. He put his car on pole and he'd go and win the race from pole. He had a direct yardstick to Juan Pablo [Montoya]. Before, when you asked me who the best drivers were, I explicitly said the most talented, naturally. But if you ask me who the best racer was, it was definitely Juan Pablo. If you looked at his ability to cut through traffic and around people, he's the best guy I've worked with from that point of view. He was fantastic. He would actually unlock strategies that you perhaps couldn't do with other drivers. He was that good at it. The only other person I'd seen like that was Ayrton Senna, where he'd intimidate people from behind.
TC: Do you think Juan Pablo Montoya intimidated other drivers?
SM: Oh yeah, big time. Look at his second Grand Prix for Williams in Brazil with Michael. It didn't end well but he stated his claim very quickly, which is why he and Michael had lots of comings together over the years. I think if there were periods where we were dominant and had a strong car, then he had the ability to do that and deliver. Juan Pablo had other areas that stopped him becoming World Champion, but it wasn't because of his natural talent or his race craft. That race craft is a really important thing because some drivers just have that and I think it's a part of their brain. I don't think they could even communicate what it is. They extrapolate grip and scenarios. Look at Jenson, Kimi, Fernando, and you wonder why they never get in accidents. Not that they've never had an accident, but statistically they have a much lower chance of having an accident. They tend to always be in the right place. That's why I think half of this stuff, they don't think about it. It just happens. Going back to Ralf and Juan Pablo. Ralf was a great, talented driver. But that race craft part of Juan Pablo was a thing that Juan Pablo was very good at. There's other drivers where you know this is an accident waiting to happen.
TC: There's one race I wanted to ask you about specifically. Spa 1998. Damon Hill secures Jordan's first Grand Prix win. Ralf finishes second. Both he and his brother Michael seemed very unhappy after the race. Why was that?
SM: If you look at the speed of Ralf during the Grand Prix, he was a lot faster than Damon for most of the heavy, wet conditions. He felt as though he could have definitely caught him and overtake him to win the Grand Prix. It was as simple as that. Now, Michael got angry because he learned that Eddie had given the command to me and then through to Ralf to not overtake Damon. So that's what he was angry about.
TC: And when you gave that message to Ralf, what did you get back?
SM: Well, he didn't answer me for a long time, and most racing drivers won't do that. And Ralf did that to me again about five years later at Williams in another scenario. But at that time, I just kept repeating the message to him. I think eventually, after five times, he acknowledged it and then stayed where he was. So it's an interesting point on emotions because the race engineer on Damon's car was a guy called Dino Toso, who turned out to be a fantastic aerodynamicist for Renault and Fernando's early Championships before he passed away of cancer. We were really good friends and the team was bonded well. I remember during the Grand Prix when I had to give that message as race engineer. I didn't like giving it either. There was a period for about an hour during the Grand Prix where I was angry. It's your car, you're race engineer. You want that driver to win. I think it was probably the reaction of Michael when I completely changed. My first reaction was 'this has got nothing to do with you. This is Eddie Jordan's team'. The decision was 100% the right one because it's about this team that had never won a Grand Prix before. Imagine if Ralf and Damon took each other off. But I understand Ralf's emotions. He's a racing driver. He wants to beat his teammate. You can understand everyone's position, but the right decision was made. There's no question about that.
FULL TRANSCRIPT: Read every word of ex-Minardi owner Paul Stoddart's fascinating Beyond The Grid interview
TC: How do you see the role of a race engineer? Are you as much driver shrink as you are actual car engineer?
SM: Absolutely. Your ability to understand the driver and work as a team is important. You're always going to have bad days, the one thing that you've got to do as race engineer is very quickly get the driver onside and say 'we're going to make mistakes. We're going to do things that are wrong. Let's make sure we're in this together.' A lot of drivers do find that difficult to stick to when things go wrong. It's one of the things that I find the most impressive about Michael Schumacher. Can you think of an example where he ever criticised the team? I cannot think of one example. He was the biggest adversary of ours for over ten years and he had other systematic potential weaknesses, like the way he crashed into the two Williams and parked up in Monaco, which I think was just sort of flaws in someone that was so good. You can't expect someone to be literally perfect. But I think in terms of driving the team, supporting his engineers and mechanics, I think he's still the benchmark. I haven't seen anyone do it like that.
TC: Do you think all the really top, top drivers have that ferocious competitiveness that will drive them to do some uncharacteristic things?
SM: Yeah Senna was the same wasn't he.
TC: Would you say the same about Lewis?
SM: Let's look at general characteristics of top line drivers. There's a big part of the psychology. I remember Patrick had told me this about Nigel Mansell and he said in some ways, Juan Pablo had a lot of similar traits. Some people need the confidence to say that there's some other reason why they didn't perform. They want to be able to process it, such that they're the best. Their ego and confidence requires them to say something else must have happened for them not to win that race. There's enough variability in Formula 1 that you can always find something because you've got set up and all the things that happen on the track. There is a downside to being like that because you might not properly process your weaknesses. Having said that, I don't think Lewis was like that. I don't think I saw the signs of Lewis being resistant to 'I made a mistake'. We gave those examples of Michael. Can you think of Lewis doing that? I don't know. Lewis has always been a clean driver. I don't think I've ever seen him do something that you think was dirty. Even looking at the recent stuff with him and Max, he goes out of his way to not do stuff.
TC: What was your take on Lewis and Max crashing at Copse at Silverstone?
SM: That's an interesting one. Maybe that was an example. Obviously, Red Bull felt that, didn't they? They did a whole reconstruction of it. That'd be an interesting one for you to ask Lewis, because it's very hard to explain that one too. Lewis is too honest. He's an honest person. I think that what drives his fantastic race craft and there's probably part of his legacy that he wants to make sure of. That's important to him. Silverstone is an interesting challenge. There's a lot of people on the fence. There's a lot of people that say he shouldn't have done that and there's others that don't.
TC: You leave Jordan and in 2001 you go to Williams. Why?
SM: I wanted to grow from a maturity point of view. I wanted to experience another big team. Although Jordan was doing very well, there was a good opportunity at Williams to work with Patrick and Frank. I felt it was good for my own development as an engineer. I left being a race engineer to move into a chief engineer position and I wanted to do that. There's lots of things about being a race engineer that I missed. They were some of the best years of my career or most enjoyable years of my career. But also you need to grow up and take more responsibility. Being a chief engineer makes you do that. I love Jordan and love the the team and I'm still good friends with the people that are still there now with Aston Martin. I loved my time working for Eddie. He really treated it like a family. He personally knew my wife, Vanessa, and my kids as they grew up. It was hard leaving him. I think at the beginning he was actually aggrieved by it for a couple of years. We didn't speak for a year or two and then became good friends again later. But I think he took it personally. I know he did because he got very upset with me. But at the end of the day, he's a boss. He knows in companies people come and go. I think he felt as though he'd invested in me and I'd gone to Williams.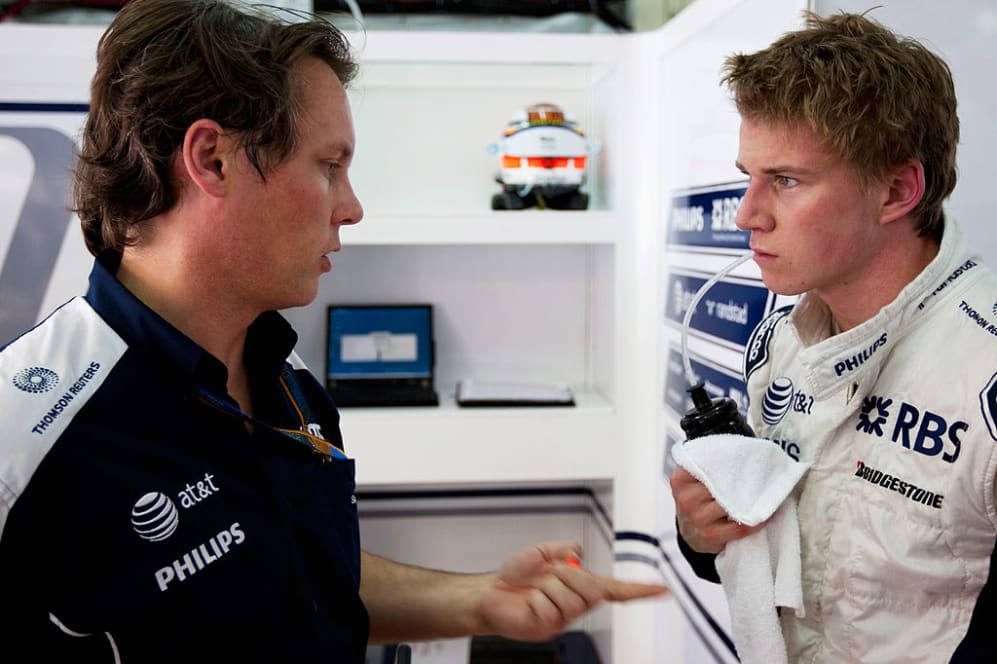 TC: And how different was the vibe at Williams compared to Jordan?
SM: Completely different. There was so much expectation on performance, and yet they were pretty similar in terms of performance to Jordan at that time. But this was a multiple championship-winning team, multiple Grand Prix wins. It was very different. When I arrived there, we had Michelin tires, BMW engines, Ralf and Montoya, and it was all systems go to win Grands Prix. Your expectation was completely different. Frank and Patrick were very much racers and invested every penny they had back into the business. That was great news. It was a good experience for me.
TC: And of course it's Ralf and Montoya, who we've talked about a bit. I always felt there was tension between those two. Certainly on my side of the fence, you were either a Ralf guy or you were a Montoya guy. If Ralf saw me talking to Juan Pablo, then that was it. Or equally, if Juan Pablo saw me talking to Ralf, that was it.
SM: That's exactly how they were. Because Juan Pablo knew that I was Ralf's race engineer from two or three years earlier at Jordan, it took me a long time to build trust with him. I don't think I ever really built trust with Juan Pablo till 2003. He had that suspicion. I think that was part of his character to get the best out of himself as well. But he was a great guy.
TC: Did the pressure of becoming technical director of the team take away some of the enjoyment?
SM: Not at that point. We had a couple of tough years in 2007 and 2008. They were really tough because we just weren't doing a good enough job from a car point of view. We'd lost all the money from HP and BMW. That made it pretty tough going.
TC: And you were having to change engines, it seemed, at the end of every season.
SM: Change engines. Change drivers. It was very up and down. It doesn't bode well. But if things aren't working, I get that you've got to keep changing. That's one of the beauties of Formula 1, but it's also one of the tough parts of it as well. I enjoyed all my time there as technical director. It was a tough role to fit into. My boss, who's arguably one of the most successful technical directors of all time, who's a shareholder of the company, even if you did exactly the same job, then you've just matched him. You've got that pressure there all the time. But I got on fantastically well with Patrick, and I still do to this day. All the way through the really hard times, Patrick was really good because he would come in and say 'one of the things I like about you, Sam, is you never blamed anyone else for performance. You always took it on the chin and then regrouped the team.' It was one of the best compliments I could have from Patrick. I enjoyed it. Even when the tough times were there, it was still something that you had to get through.
TC: Which was the best car that came out of Williams under your technical directorship?
SM: Even though the end result didn't show it, the 2009 car – which was the double diffuser. It was an incredibly great thing to do because it was only thought of by two people in Formula 1. An aerodynamicist in the Williams wind tunnel, and in the Honda wind tunnel in Japan. Then someone left Honda and went to Toyoya. So there were three double diffusers on the grid in Melbourne, but Toyota's came from Honda.
TC: Were you aware that it was a loophole?
SM: It was very nerve wracking as a director. You couldn't get out of it without losing around 10% of downforce, so you had to integrate the design. But fortunately for us, Honda had gone further and also they had Ross Brown to argue with and he's a master tactician and strategist. That helped us massively in terms of winning that case because he was so good at presenting. Adam Parr made a big difference to that. He worked in collaboration with Ross and the group from Toyota to win that case in the FIA headquarters in Paris.
TC: Was that a classic example of something that you would have run past Patrick Head?
SM: Not just Patrick. I'd had multiple conversations and documents with Charlie [Whiting] as well from the FIA. I sent him pictures to say this is what it looks like. I remember when we got protested in Melbourne, I went and saw Frank. He said 'how's it going?' I said 'oh, not very good, Frank, we've been protested'. 'Why, what's happened?' 'Oh, it's over the double diffuser. I think we're going to end up in a court case.' Frank just looked at me and said 'that's fantastic news. That is brilliant.' And I said 'what? Why do you think it's good news?' He replied 'no one protests cars that are s**t.' He just realised that if it was good enough to protest, that means the car was good.
BEYOND THE GRID: Alain Prost on Ayrton Senna, his 1993 title – and almost rejoining Ferrari
TC: Were you surprised at the performance that Ross had got out of that Brawn?
SM: No, not after we'd seen what you could do with a double diffuser because, whilst everyone was scrabbling to do double diffusers, we then went the next step during that year as well. It was a genuine loophole and I guess it could have gone either way, but it worked for me.
TC: Nico Rosberg came to the team in 2006. Did you see a future world champion in Rosberg when he started?
SM: Yeah, I did. First of all he was talented, a really good driver. But if I then look at him against Lewis, Lewis was faster by natural talent. I never worked with them together in the same team. But the ultimate result is they raced against each other and Lewis, statistically, was faster more times. The huge advantage that Nico had over other drivers, he was technically very smart. He was really good at understanding the car and understanding how the engineering worked. He used that to his advantage to win the championship in 2016. I don't just mean technical. Here I come to the third pillar of what defines a great driver. Nico Rosberg, I'd say also Jenson Button, are the smartest drivers that I've worked with. I just saw them do things to their teammates and get advantages out of situations that they shouldn't have got. It's probably why they're good on TV today.
TC: Were you surprised when he quit immediately after winning the title?
SM: Yeah, I didn't predict it, that's for sure. Then when I reflect the way he spoke at the press conference straight after the last Grand Prix, then no because he feels as though he's accomplished that and he wants to go and do other things.
TC: But did you feel even in the Williams days that this was all about winning a world championship? And whenever that happened, he would then go and do something else?
SM: No, I think he was too young to predict that at that time because Nico's got that same thing that Lewis has, where his legacy is really important. You could never get Nico to do something underhand. Not that we used do that, but he was clean and that was a big part of his ethos. He just did things properly and in his mind I think he was prepared to not be a world champion if it meant doing things properly. It was really sad to see him leave Williams and I really needed him there as well. I actually thought from a non-selfish point of view, if I was just looking after Nico, going Mercedes was the right thing for him to do.
TC: Was it you who started this test that drivers have to do at Williams? And is it true that Nico Rosberg has scored highest?
SM: Yeah, that's true. Nico is highest but equal top was Nick Heidfeld. It's not true that I invented it, but I did develop it and really embedded it inside Williams. It was like a 30 question, multiple choice test. It ranged from very simple questions around the way cars work to very complex ones, and it wasn't designed as a pass/fail test. It was designed for the engineers of Williams to know what they have a good grasp on and what they need to be educated on.
TC: You head to McLaren in 2011. I thought you were such a good fit at Williams. I remember being surprised.
SM: Well, it was a interesting one because Martin called me and interviewed me, and offered me a job straight away. What they were trying to do there appealed to me and they were trying to restructure a lot of the operational side, which is where I'd come from before being a technical director. I think after Williams, I felt I'd given them my best job as a technical director. I didn't go to McLaren thinking I'm going to be a TD again. They had a lot of work to do on all fronts. When I arrived there, I took a lot of pride in working with the team on improving the pitstops. McLaren were doing almost four second pit stops and over a period of about three months we went from the worst to the best by a big margin. Red Bull was setting the benchmark at around three seconds and we were doing lower than two and a half by then.
TC: What makes the difference in a pit stop?
SM: Well, it's the people. And going back to some of the things you talked about before, I probably learned more and solidified a lot of my knowledge about the way that subconscious brain works. When you've got 24 people in a pit stop all trying to do something in under two seconds, and the fact that you have to get them away from their conscious thought because it's very slow, I learned a lot through that process. It was extremely rewarding and I've applied all of those lessons outside of Formula 1. There's lots of lessons on the way the brain works on long shifts and gets tired that are really applicable. It was a great learning for me as well. But the team was fantastic and it just went from strength to strength over that.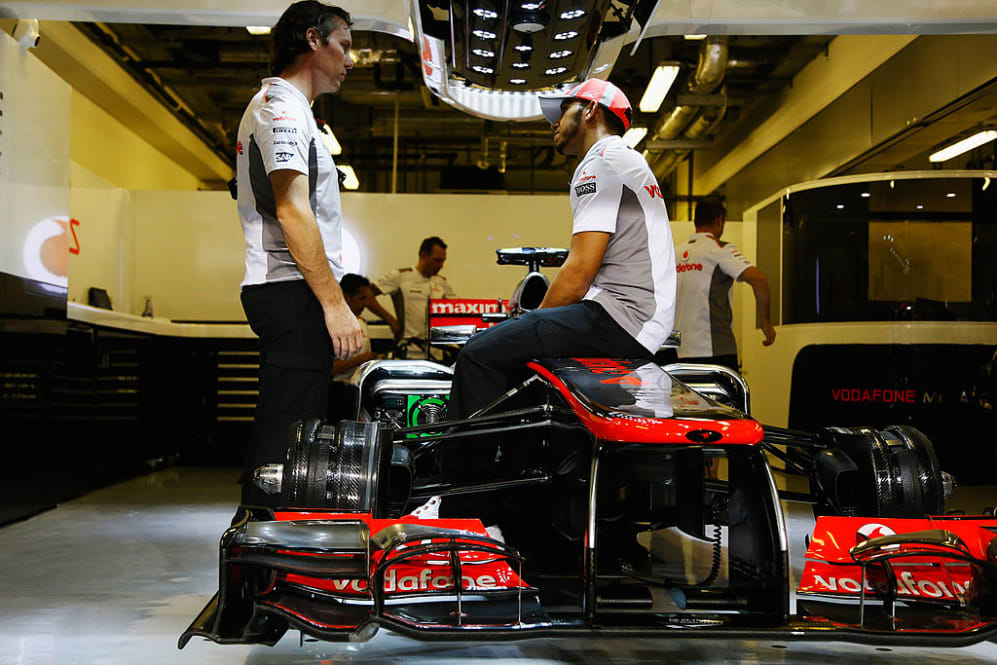 TC: I asked you about the difference between Jordan and Williams. What about Williams to McLaren? The two most iconic British teams, but very, very different?
SM: They were because you were part of a huge structure at McLaren. There was 2,500 people when I was there. You're in the same factory as all the people with the other companies so you were part of a big system. They were used to winning as well. They had a lot more confidence, but probably because they were winning recently and even while I was there they were still winning Grands Prix. McLaren looks a lot colder on the outside than what it was on the inside. I thought it might be quite a cold team, the way they presented themselves, but it wasn't like that at all internally. They were all normal people. Much more methodical and focused on systems and processes.
TC: Did that come from Ron Dennis?
SM: I don't want to diminish what Ron had done and Ron had a pivotal role in McLaren. But I felt a lot of the systems and process came from Martin Whitmarsh because of his aerospace background. And Jonathan Neil. They weren't the technical directors and chief designers, but their ethos in pushing that stuff through to the design team was definitely stronger. Ron was so finicky about detail, which was great. Ron had this reputation: he'd walk into a room and from 50 meters away he could see a crack in the tile. Ron used to come in and he'd see these things. He missed all the good stuff and he went straight to the thing was really bad. Ron actually told me it was a technique of his and he said 'when I walk into a room, I can't possibly see everything, but I go and find something that's really detailed and then people go: "Oh my God, Ron found that – that means he can see these other things" and I can't because I don't have time.' But that filters through the whole company: get everything right. He'd focus on the most minutiae things and you think that doesn't really make any difference, but actually it does because it drives all the behaviours everywhere else. When the car was slow, for example, Ron would be angry about the garage being untidy. You think as an engineer that doesn't make the car go faster. But in a way it does because it makes everyone up their game. And then he could turn around and say if you get all that stuff right at the track, then I can be very robust with everyone in the factory and he's right. The moment you drop the ball at the coalface, then you diminish his power to get stuff done back there.
TC: You were only at McLaren for three years. Were you getting the itch to return home a long time before actually returning to Australia or when you joined McLaren, were you thinking 'I'm going to be doing this job for the next however many years'?
SM: When I joined McLaren, I thought I could be there for 10 years or something. I hadn't thought of a timeframe and I thought I might be there for a while. The team changed a lot while I was there. We changed engine suppliers, all our drivers changed and all our top personnel changed. Martin left and Ron took over again, which wasn't a bad thing. I'd known Ron for many years from the pitlane, but because I'd come in under Martin, it took me a while to get trust with him again. When I did get trust, we got on like a house on fire. It was a really good relationship. So I went to McLaren thinking I would be there for a long time. My wife Vanessa had been the most patient person to allow me to be selfish, to work in Formula 1. It's as simple as that. To be successful in Formula 1, it's a 24/7 business. She put no pressure on me to stop, but I felt as though it was the right time. One of my kids, Toni, was about 13 or 14 at the time, and she asked me 'are you going to keep going or are you going to stop Formula 1 at some point?' I just made the decision overnight. That was it. When you leave a company, it's normally quite hard. It's an emotional decision. You have a lot of discussions internally. For me, it was very easy because it was a family decision and I felt as though if I didn't stop then I was not going to see my kids grow up. I came back to Australia and I have seen my kids grow up. I have a fantastic relationship with them and my wife as well. You spend all this time on the road and I remember in the early days of Jordan, Vanessa used to say 'you sleep with Andy Green more than me' because Andy Green and I used to share a room.
TC: Have you at any point in the last eight years regretted it?
SM: No, not at all. I enjoyed every single moment of Formula 1. It's set me up well for the business that I built after Formula 1 with other people's help. I've just gone on to other challenges. As you know, I stay attached as the FIA President of the Safety Commission, which is a two-year term that I'm halfway through. I was on the Research Working Group before that for the FIA. That's probably 5% of my time, but it enables me to give something back to the sport, where I can be more objective, because you can't really do that stuff when you're part of a team as you have too much bias towards one team or the other.
BEYOND THE GRID: Christian Horner on masterminding Red Bull's return to the top
TC: And if there's one thing you miss about Formula 1, what is it?
SM: It's the ability that you don't have to tell people that you need to improve. Now that's one big difference to the rest of the world. It's the sport side that brings that. You don't have to walk into the office on a Monday morning at Williams or Red Bull or Ferrari or Mercedes and say 'everyone, we need to make the car better.' Everyone knows you have to do that. If you don't know that, you're not in Formula 1. Whereas for the majority of people that don't live their lives like that, you have to spend a lot of time training people and educating them on what the benefits of improvement are. I miss my friendships there as well but the people who I'm friends with in Formula 1, I'm still friends with them. We send each other messages and have a bit of a laugh.
TC: Do you miss the adrenaline of race day?
SM: I do. I think it's very hard to replace that unless you went into some competitive sport again, which I wouldn't do now. I remember standing on the grid at Melbourne for my first Grand Prix as a race engineer, which was in 1998. I remember Eddie Jordan walking up to me and saying 'good luck with your first race as an engineer. How are you feeling?' I said 'I'm fine'. He said 'no you're not, you're s***ing yourself.' He was right. I have some fantastic memories of all those things. But F1 is a young person's game. If I look at F1 now, there's a lot of new faces that I don't recognize. That's good because it's about continuous change and improvement and trying to get better energy for that.
TC: So what do you make of the longevity of someone like Adrian Newey who's been around since 1980?
SM: Well, it's incredible. Hats off to him. He's done it. Patrick did it. He spent his whole life in Formula 1. Frank, Ron, Bernie, all these people spend their whole life in F1 and it's impressive that they can do it. Even Christian Horner, he's the same age as me, but he's been there almost 20 years or something. If they're still winning and they enjoy it and they're getting the most out of that every time, I can see how that's always a fix. That's never going to go away. You're always going to enjoy yourself from that. That's what drives the competitiveness. It takes a special breed to work in Formula 1. You have to give everything. You've got to be selfish. I remember once in Oxford. Vanessa was very good at letting me just do Formula 1. But I had to go to work on a Sunday, which was very normal as it's a seven-day job. But for some reason she got angry with me that day and said 'oh, this is ridiculous. The problem with you people in F1 is you're all just f***-ups. You just don't know when to stop. You don't know how to prioritize.' I went to work and that morning I told Frank. Frank called Vanessa, which I didn't know about. I'd left the office and he called up. He said 'Vanessa, Sam has just told me that you called me a f***-up.' And Vanessa immediately started backpedalling, probably thinking I can't believe that he's told Frank that. And he said 'Vanessa, that is the best compliment you can give me. I love being a f***-up because the worst thing you could say to me is that I'm normal and I do everything like everyone else.' So he actually took it as a compliment. That's the sense of humour that Frank had.
TC: I know you're running a successful business now with nearly 30 people employed, but does it all seem quite tame by comparison?
SM: Actually, funny enough, no. We're dealing with lots of big companies so there's a lot of excitement when the team cracks a new solution on a piece of code. I get a lot of enthusiasm out of that. Do you know what really drives me now? I've got a young team. The youngest person in my team is like 20 years old, but the median age is probably 27, 28. Just seeing them develop and progress is really good. We've got a very diverse team, fantastic culture, and tons of energy. What gives me the most pleasure now is just seeing them be successful. They really have disrupted the whole maintenance and reliability sector in mining and rail. We're running like a Formula 1 team so it gives me heaps of energy every day.
TC: Well, Sam, best of luck with everything that's coming up. Thank you so much for your time. It's been brilliant to speak to you.
SM: Thanks very much, Tom. Much appreciated.
To read on, sign up to F1 Unlocked for free
You'll unlock this article and get access to:
Live leaderboard data
Epic experiences and rewards
Money-can't-buy competitions