Podcast F1 Unlocked
FULL TRANSCRIPT: Read every word from AlphaTauri super-sub Liam Lawson's Beyond The Grid interview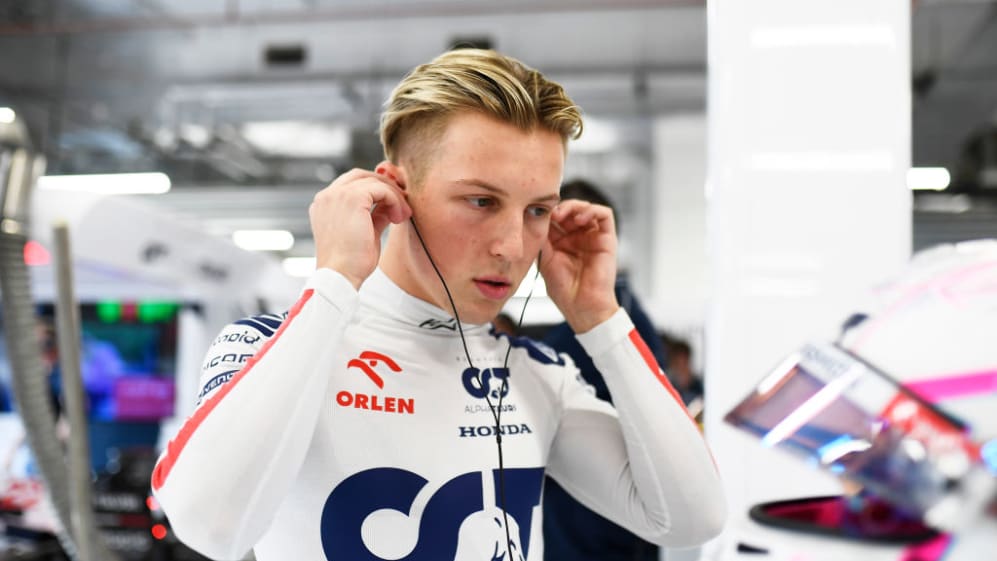 Liam Lawson went into this F1 season knowing his job was to spend hour upon hour in the simulator, and be on standby in case any of the Red Bull or AlphaTauri drivers were unable to race. And in Zandvoort he was called up to make his Formula 1 debut at very short notice after Daniel Ricciardo injured his hand in a Friday practice crash.
The New Zealander – who then raced for AlphaTauri for five Grands Prix – is this week's guest on our Beyond The Grid podcast, and you can read every word from his interview with host Tom Clarkson in the transcript below, listen to the episode in the audio player, or head here to catch it on your preferred platform.
Tom Clarkson: Liam, great to have you on the show. How are you?
Liam Lawson: I'm very good, nice to be here.
TC: Now this feels like the calm after the storm. You're back as a reserve driver for Red Bull after five races with AlphaTauri. How frustrated are you not to be racing?
LL: Obviously, I always want to be driving. Before F1, it had been my whole life just working towards it and I always expected what it would be like, but you never really know what it's like in F1 until you actually drive. You're always sort of anticipating. Now that I've actually had the chance to be in it, it's definitely a different feeling stepping back, now I know what it's like. I don't have to imagine anymore, to actually experience it has obviously been amazing and amazing for my career, but it's a little bit tough to step back.
TC: Did Formula 1 live up to your expectations and those dreams that you had?
LL: Absolutely. Everything about it was very special. But at the same time, it was such a busy time. Most drivers come when you have a season to prove yourself. I knew that I had a short window, there was a point where maybe it would only be two races, maybe three races, and then obviously in the end it was five. But I knew I had to make the most of it. I think the whole time I was in it, I never really stepped back to think about what was really happening. It was all just focused on trying to maximise it.
TC: Can we go back to Zandvoort? Daniel Ricciardo does the Friday practice and then has his accident, in which he hurts his hand. What happened next? When did you find out that you were going to be racing that weekend?
LL: There was probably like two hours of talks about it. It was very, very likely because after the incident we knew the situation with Daniel's hand, but we weren't 100% sure on what the exact injury would be or anything like that. I was notified very early about the potential of driving, but it wasn't locked in until the drivers' briefing.
I was in the drivers' briefing when I found out. I was in the garage with Red Bull Racing watching the session like normal. I saw the crash and I didn't think anything of it because it was quite a small crash. Then about five minutes later, they showed a radio from Daniel and it was him mentioning his hand. There was like half a second, like a flash of opportunity and possibility that went through me, that I thought 'just maybe'.
About 20 minutes later, my phone buzzed and it's from AlphaTauri. It's basically a message from the team saying you need to be at hospitality immediately after the session. Then I knew exactly what it was about so that last 20 minutes of the session, I was just pacing around the back of the garage.
Honestly, the Red Bull engineers were all looking at me like, 'what is this guy doing?' It was the longest 20 minutes thinking what was potentially about to unfold. I knew straight away, of all the places, Zandvoort, one practice session, the weather's not good, all these things are rushing through my head and I tried to put it aside and just be like, 'let's just find out what's going to happen'. That took like two hours.
TC: How big an ask was that weekend in hindsight? As you say, Zandvoort, an old-school circuit, the weather was horrible, you only had one practice session. It was huge, wasn't it?
LL: Yeah, it was really tricky. When I found out I was driving, there was probably an hour of just massive anxiety and nerves knowing what I was about to have to do. Once I sat down with the engineers and started going through the operational stuff from the car, the run plans, and what we were going to do, there was so much work to go through that, to be honest, from Friday night until I got in the car on Saturday, I was just focused on basically what to do. Before I knew it, I was in the car and driving out.
READ MORE > BEHIND THE SCENES: 48 hours in the life of AlphaTauri super-sub Liam Lawson at Zandvoort
TC: Did you get any sleep or were you just memorising the steering wheel on Friday night, chatting to the engineers all night?
LL: Yeah, not much sleep, really bad sleep as well. I woke up loads. Friday night was rough. Saturday night was a lot better. I think after qualifying, I slept pretty good. I think we did like seven pit stops in the race. There was just so much going on so it was a tricky one.
TC: Did you know at this point that you were definitely going to get Monza as well?
LL: No, and that's the hardest part about it, because for most of them I didn't really know how many I was going to get. Especially for Zandvoort, because of the way the weekend was so tough, I knew I didn't really have my chance to show something. Obviously it's a little bit stressful thinking if this is my only shot at F1, this sucks. It wasn't the place to do it and obviously the race was pretty rough.
It was probably like 80% race distance when I started to actually feel comfortable with the car, because that whole weekend I really struggled getting comfortable. I think the car's so fast, it takes so much commitment that, if you basically have any hesitation about what you're doing, about what inputs you're putting in with steering, with throttle, with brake, anything like that, if you're not 100% confident to throw the car in, you lose so much lap time, you lose so much confidence with what's happening.
That's the difference when you look at a driver like Max, he's just so comfortable all the time. He's been in this car for so much time that now he's so comfortable, he knows exactly what's going to happen when he does something with the car. I think that's where you start extracting those last little bits in Formula 1.
TC: Well, let's fast forward to Monza just a week later. How much easier was it to get three practice sessions and to extract the maximum from both you and the car?
LL: It was much better because of the three practice sessions. The way we set out our run plans, it was very much based around track time, doing many laps and, after P1, I was a few tenths off, but I knew that I had P2 to close the gap again and then after P2, still a couple of tenths off, and knowing that we had that time to get there. I think that made the biggest difference. By qualifying, I actually felt comfortable. I knew exactly where we were with the car, what we were changing, so a much, much better feeling than in Zandvoort.
TC: The fact that Monza is a bit of a one off in terms of downforce levels and things, did that play to your advantage?
LL: I think it definitely helps. It's more of a weekend where, for everybody, it's a bit different and because I'd never really driven, it doesn't really matter whether we're high or low downforce. For me, I'm learning the car basically from scratch. I think in that sense, yes, it was potentially better and I think it helps for the weekend, but I think it was just having all that practice time really made the biggest difference.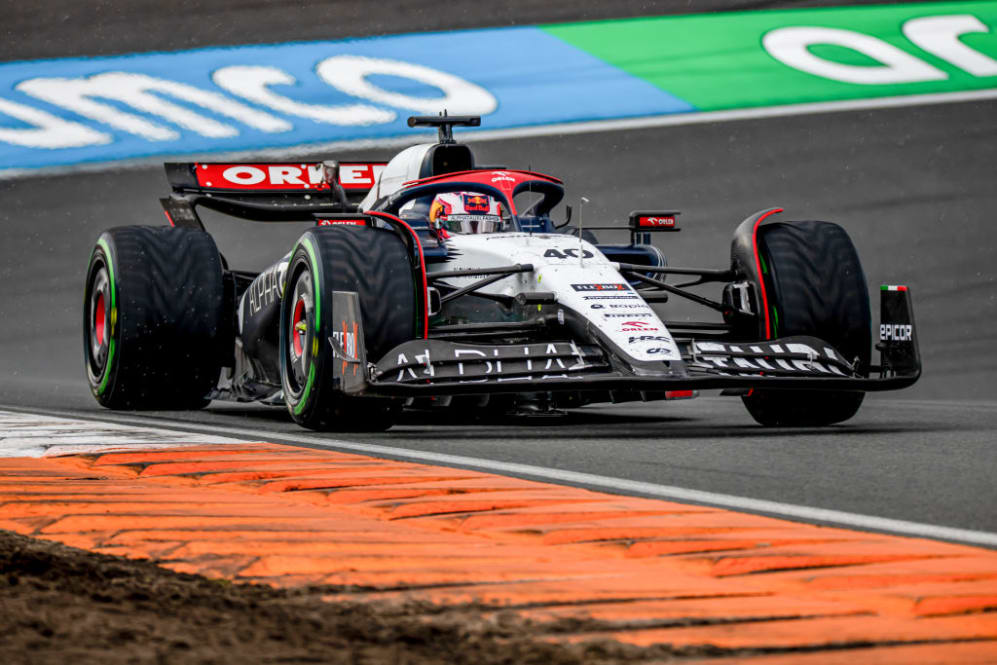 TC: Did you get any advice from the other Red Bull drivers, from Max, from Daniel?
LL: Daniel was very helpful at Zandvoort. Before he went away for his surgery, he was still at the track on Friday night and I spoke to him. He was obviously very, very nice about it. And also, especially in Monza, Max basically said to try and enjoy it, not to overthink it, just basically be as relaxed as you can be. To be fair, he's always been really good to me.
TC: What happens if you overthink while driving a Formula 1 car? Do you then try too hard and you end up getting a bit ragged?
LL: To be fast, you're perfectly on the limit everywhere – on braking, on turning, on corner speeds, on exits, you're on the absolute limit of grip. When you put too much pressure on yourself, or you overthink things, or you try too hard, you just overstep that limit and it becomes very difficult.
Operationally with Formula 1, you're changing so many things that if you're putting too much pressure on yourself, if you're very results-focused and basically trying to think about exactly where you need to be, then you're putting more pressure on yourself and you're struggling to make all the switch changes that you need to make, it's just something that, if you're relaxed and feeling comfortable, it's a lot easier.
TC: Talk to us about the start at Monza because I remember after the race you were frustrated about your getaway there. What happened?
LL: Basically, the opposite procedure to what I have in Japan for Super Formula. All the practice starts we do, obviously I'm a lot more relaxed and it's a lot easier, and I can do the stop procedure fine. But on the grid, it was my first maybe proper start in F1. In Zandvoort, I was off the back of the grid so it didn't really matter, but in Monza, I was in a decent position and it's quite high pressure. Unless I think about the full procedure, I naturally just resort to my old procedure in Japan, which was very frustrating because in the end we finished a few seconds away from points.
TC: Well, let's bring it on to Singapore. This was the race when you really laid your claim for a full-time seat in Formula 1. You qualified ahead of Yuki and then you finish ninth. Can you even now, a few weeks on, remember the euphoria you felt as you crossed the line?
LL: It was very special. It's a tricky question because, at the same time, this stint that I had in Formula 1 and what I'm trying to achieve, is ultimately a full-time seat. That's what I'm trying to work towards. So it was a really good feeling, knowing that potentially I'd made a big step in trying to achieve that.
But I also knew before Singapore that I wasn't driving next year. I knew I wasn't going to get the seat and I found out before qualifying. So the timing wasn't great and it was tough because nobody knew that, the media didn't know, so we had a good qualifying and the media is really positive, saying all these great things about what chances I have of driving next year. But I knew I wasn't. And I think it was a similar feeling after the race. I knew that I wasn't going to be in next year, so it definitely took away from what it would have felt like.
READ MORE > BARRETTO: What next for Liam Lawson after missing out on AlphaTauri seat for 2024?
TC: How did that bad news affect your motivation?
LL: The thing is, motivation has never been an issue. I think for most drivers in Formula 1, if you're at the top of your game, you have all the motivation in the world. It wasn't like it added to it. I've always been extremely motivated, so it was frustration, but it's a tricky one. The hardest thing was dealing with all the positivity afterwards knowing exactly what was going to happen, but I couldn't tell anybody.
TC: So what did the management say to you after the race in Singapore? Did they give you any words of encouragement after that points finish?
LL: Yeah, it was all positive and it was all nice things. It obviously helps you out for your future and helps your chance of driving in the future. But for me, it's all about getting a seat, so it doesn't really make too much of a difference to me unless I have a signed contract.
TC: You must have been supremely confident going to Japan. You've just had that points finish. You knew the track from Super Formula. You tested there. You raced there earlier this year. How are you feeling?
LL: Definitely not supremely confident, but I was feeling good. Knowing the track was a big bonus for me. I think at the same time, Yuki kind of grew up on that track so I knew that he was going to be extremely fast, but I was excited for that track. Formula 1 on Suzuka is like the perfect combination of car and track, and because I knew the track as well from Super Formula, I was a bit more confident.
But the thing is, going into any of these weekends, I definitely wasn't confident in any of them. I knew it was going to be always very, very tough, and we didn't start from square one each weekend, but it was definitely a bit of a reset going to each track. I think that's why Qatar was pretty tricky as well, just because of the Sprint layout of the weekends. All the others, I basically had all that practice time to build up.
TC: How difficult is it to find the limit in sector one at Suzuka in a Formula 1 car?
LL: Difficult, but to be honest, it definitely wasn't an issue for us. We were there pretty much straight away in sector one. I think a lot of it comes from the stuff I've done in Japan this year and the Super Formula cars are very strong in high speeds. The biggest thing about stepping into Formula 1 is getting used to a car with that much downforce. You don't quite get that from Formula 2, and I think that's a really big step. But with Super Formula, I think that made a big difference because your heart rate's very high, but at least the speed was there pretty much straight away.
TC: I thought the racing between you and Yuki at the start of the Japanese Grand Prix was sensational. It was hard, but fair.
LL: It was very close but yeah, I agree. I raced Yuki when I was 17-years-old. It's different when you're racing somebody that you know. There's more trust. The thing is with Formula 1, because it's the elite class, some drivers are more aggressive than others, but you at least know there's always a higher level of trust than other categories.
But obviously, when it's somebody you know, you know more about how they race. I think that helped at the start of the race. But it was very close for sure. It was literally all the way up until the Safety Car, we were still side by side. It was close but it was on the limit.
TC: But what about the old guard? When I say the old guard, I just mean the established drivers. How have they been with you in these five races?
LL: Everybody, outside of the car, has been very welcoming and nice, which has been really cool. I think it's something that I maybe didn't expect so much. I haven't raced everybody but there's definitely a difference with guys like Fernando. His car placement is just very, very clever. He's very experienced and it comes out every time you're racing him. We had a free practice session in Monza where, it was at the end of the session, we were wheel-to-wheel and guys like that, who are that experienced, always seem to put the car in the right place.
TC: Did he talk to you after it?
LL: A little. I think I've spoken to most of the drivers. Obviously, Fernando and Lewis are guys that I grew up watching when I was a kid so it's quite cool to be able to speak with them. But at the end of the day, now I just want to be racing these guys.
TC: Now, you said after Singapore that it had been one of the hardest races of your career. We then go to Qatar, two races later. How much tougher was Qatar and how long did it take you to get over it?
LL: It was definitely tougher than Singapore, but it wasn't that much tougher. The last 20 laps of Singapore were really, really tough, because my tyres were quite old and I knew I had Red Bulls coming at me and I knew they were catching me like two seconds a lap. Then I had Alex [Albon] on fresh tyres as well. It's quite a tricky situation when, in about five laps' time, you know you're going to be in a scrap with somebody and it's trying to work out exactly how you're going to make this work and how you're going to keep the cars behind, and try and make the most out of it.
So Singapore was a bit unique just because it was an absolute battle for the last ten laps. I was constantly wheel-to-wheel with another car and mentally, on a street circuit, it's so draining trying to be perfect all the time. Whereas Qatar was so physical. I was pretty much on my own the whole race. But it was just such a physical race and nobody said it was going to be like that. We go to Singapore early because we know it's a tough race. We acclimatise, we train there. Qatar was just a normal preparation for the weekend, and it was just an absolute shock to the body, that like 25 laps in, it was seriously tough.
TC: Did you drink from a water bottle?
LL: I did a lot of hydrating before the weekend, but because I haven't driven that much in Formula 1, I'd never used the drinks tube before. The first time I tried to use it was Zandvoort, and I had an absolute nightmare. Basically when I went to use the tube, I tried to grab it with my mouth and I flicked it up, and it got stuck in my nose.
So, we're like five laps in to the race, I'm learning this car on slick tyres, I'd never driven all weekend on slicks, it was the start of a Grand Prix so there's obviously a lot going on, and I thought 'I wasn't even thirsty, I don't even know why I did it' because it was five laps in, so I'm like 'I'm just gonna give the drinks tube a go,' and obviously it gets stuck in my nose and I can't get it out. Three laps go by, four laps go by, and I'm stressing now because I'm thinking, 'am I gonna have to do the whole race with this drinks tube stuck in my nose?'
Thankfully a Safety Car came out quite early on and I could reach up and basically grab it, and I didn't touch it for the rest of the race. That was my first experience with it so I've always struggled using it in the race. So for Qatar, I only used it in the pit lane. Luckily we had to do three stops, but I definitely didn't drink as much as I needed. Also, five laps in and it's hot. It's basically like drinking tea.
READ MORE: Lawson took no 'satisfaction' from beating Tsunoda in Japan after missing out on 2024 AlphaTauri seat
TC: What is the biggest thing you've learned during these five races?
LL: To pick one thing and narrow it down to one thing is tricky. You have a lot more time. A lot more time goes into trying to make the most out of the car and yourself by the time you get to qualifying. I'm used to, in recent years with F2 and even the Super Formula, a lot less track time means that in qualifying you're still kind of learning a little bit here and there.
But in F1, by the time you get to qualifying, everybody is in a position where they just know exactly what to do on each tyre set, where to find the time, how to put the car on the limit. It's so close that that took a little bit of time to get used to.
TC: Are you a better racing driver now than you were six weeks ago?
LL: I've learned so much being in F1 that I would say yes, I'm better than I was.
TC: You've achieved so much as well. It's been an incredible run for you. I mean, when are you going to race a Formula 1 car again? When are you even going to drive a Formula 1 car again?
LL: Truthfully, I don't know. I don't know if I'll get to drive again and when it will be.
TC: What does 2024 hold for you right now?
LL: Because I've raced in most championships and I've even been in F1, I can't really go and do F2 again. There'd be no point. I can't do Super Formula again. I could, but there's less benefit from doing it. So I think it's full focus on being reserve.
That means a lot of simulator, which for me, I think is what helped getting into Formula 1 and adjusting to it so quickly. I've been two years now nearly as a reserve so I've done lots of simulator work over the last couple of years and that will just continue now into next year, and getting to learn and basically absorb being alongside the best team in Formula 1 right now. I get to sit through all the meetings and learn how they operate.
TC: You've proved that you deserve a place on the Formula 1 grid. I think everyone listening to this would agree with that. So how frustrating is it that you've effectively been pushed down by Red Bull three times? First, Nyck de Vries gets the AlphaTauri drive at the start of 2023 instead of you. Then Daniel replaces Nyck in Hungary instead of you. Daniel then gets the seat next year alongside Yuki, when perhaps you'd argue that you've done enough to prove you need a race seat. Just how are you feeling about all that? Do you understand Red Bull's position?
LL: I think what's potentially helped through each scenario is, yes, it's extremely frustrating, but I've been able to sit there and understand at the time of this decision, why this makes sense. That goes back to De Vries last year. At that point, we were having a shocking F2 season and we turned it around at the end, but it was all too late. I had a really good end to the season, I had good testing in F1, but by then the decision was made, so that's frustrating.
But at the time that the decision was made, I think I could sit there and understand why, just because of how my season was. I think this year as well, although I'm having a much better season, you have the option mid-season in a team that's struggling quite a bit, you have the option of somebody who's never been in Formula 1 to jump in mid-season or somebody who's very experienced in Formula 1 and has won races.
Again, it's frustrating to take, but I can sit there and make sense of this decision and understand. It's frustrating to not be driving next year, but I will continue to make the most of still being involved in Formula 1 at least. I'm a Red Bull driver. If I ever get a chance in Formula 1, it'll be through Red Bull Racing. I think it would be Red Bull that give me my shot.
TC: Liam, let's wind the clock back. Tell us when you first came on the Red Bull radar. I read a story that it was one particular race in the Toyota Racing Series back home in New Zealand. Is that true?
LL: Yeah, I think it was even just an overtake. Like literally one overtake, I think. To be fair, it was a really big overtake. In New Zealand, the Toyota Racing Series is like our Formula 1. When I was a kid, I always used to watch the series and I always wanted to race in it. All the Kiwi guys that had done it, they were like heroes. I watched Mitch Evans and Nick Cassidy, those guys raced in the series. The year before I raced, I was just on the cusp of being old enough, but I wasn't old enough and so they wouldn't let me race.
But Richard Verschoor was there as a Red Bull driver. I remember idolising this guy when he was doing that series. So it had been something that I'd really wanted to do for a long time and I finally got to race in it. I'd done German F4 in 2018, that was my season in Europe. We found as much money as we could and we managed to get enough sponsorship and investments to race in F4, but we had no plan for 2019. I had nothing signed and no money as well. I couldn't step into F3. We had no idea what I was going to do, but I went and did the Toyota Racing Series, and it was the first race weekend in Highlands.
It was a damp race and it was drying up. Basically I did this big pass on the outside. It might have been for the lead on the last corner. It was a very close move, lots of wheel touching, and the following day I think we had a contract from Red Bull or an offer. The way it all happened, it was a bit strange. The conversation was Helmut directly calling my manager and our response was 'we need to have a little bit of time'. So they kept it to themselves and didn't tell me. But through other sources, I ended up finding out maybe the following week, just before our next round, and I was sitting with a coach for one of the other drivers and he knew about this contract.
I can remember it all so clearly. I'm sitting in a cafe in Queenstown in New Zealand, and he basically tells me. Red Bull, especially the junior team, that was my absolute dream. I used to look at Richard Verschoor, Jack Doohan I raced in F4 when he was a Red Bull driver, and I just thought it was the coolest thing to be a part of. I remember basically just being really surprised, I couldn't even walk properly. I couldn't believe it. I just knew how important this was.
It goes a long way back, but basically the support from New Zealand, the support to get me to race overseas came through a lot of really amazing people, a lot of support through sponsorship and investment, because my parents haven't paid for my racing since I was in go-karts.
The whole idea when we set up the structure to go racing in Europe was that the only way we make this work is if we get picked up by a junior team. We have to get picked up by one of the Formula 1 teams if we're going to get anywhere, because otherwise there's just no way we'd have the money to do it. I'd done that first year in F4, I finished second but nothing came out of it. I had no idea what I was going to race in 2019 and then I have this pop up. I knew Red Bull was a team that, if I delivered, I would get the chance to race in Formula 1.
READ MORE: Horner says it's 'only a matter of time' before Lawson gets permanent F1 opportunity
TC: What about racing on the other side of the world? How tough did you find it moving to Europe, being 10,000 miles away from your family? Did you get homesick?
LL: I did, but I was just so excited to race overseas, to race in Europe. Before I was a Red Bull driver, I did that one season of German F4 and I lived in the Netherlands for a year, so that was my first year away from New Zealand. I raced with a Dutch team so I lived there. I had a terrible sleep schedule. I was pretty hopeless at looking after myself, but I quite enjoyed just being away from home and racing in Europe.
But I think it definitely, if anything, gets harder. Homesickness has not been too much of an issue, but as you get higher up, you start dealing with more pressure. It's a lot more responsibility and then you're doing more races, you're travelling more. That stuff gets a bit harder the longer you go. When you're younger, there's not so much expectation, not too much pressure around you. As you get older, you take on a lot more responsibility.
TC: I'm fascinated that you were racing cars at the age of 12.
LL: Yeah, in New Zealand you can start young apparently, so it's been a huge benefit because by the time I came to Europe and I'm racing guys in F4, it's their first season of car racing. I'd already done Formula First in New Zealand, then I did Formula Ford in New Zealand at 14, then I did Formula 4 in Australia immediately afterwards at like 14, 15 years old, so I'd done three seasons of racing.
There's so many skills you learn in different ways in motorsport. It's not just driving a car fast. Having all that experience in different cars, it's a lot of adapting. In a random season, like 2021, when I'm doing F2 and DTM, the two most opposite cars you can drive, learning to basically drive between the two of them and maximise that.
TC: How difficult was it to jump from car to car?
LL: At the start of the year, I was on the verge of calling Helmut and telling him this is not going to work. I'm going to fail. I'd done a couple of DTM tests and then I did an F2 test in Barcelona. My first lap, I was three seconds off, and it felt like a good lap so I was really concerned. It was tough. But I learned throughout the season how to make it work, and by halfway through the season I actually felt quite good dealing with both different cars. I think over the years just all the different things I've been able to do, one way or another, they've helped.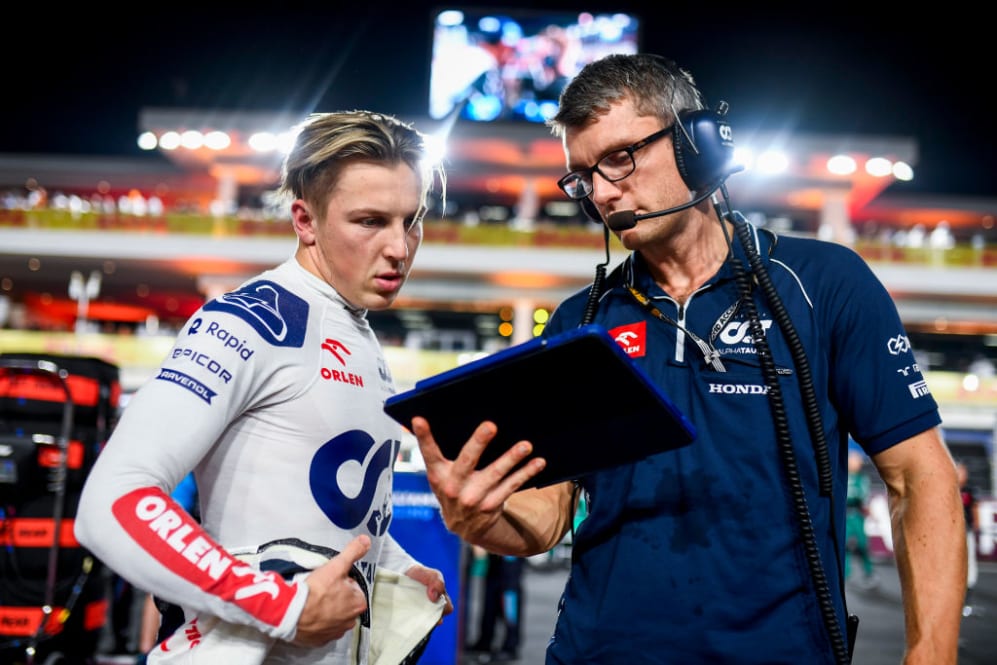 TC: Alex Albon was your teammate in DTM in 2021. What was that like? What did you learn of him?
LL: It was really cool. He probably got sick of it, but I would have asked him so many questions about Formula 1, being with Red Bull, and what it was like. But he was always really, really nice about it. A lot was learned just from driving, but I would say that I got more from talking to Alex about all the stuff outside of the car, like dealing with pressure in Formula 1 and dealing with everything that comes with it.
He lost his license that year. Like he physically lost it, he didn't do anything stupid. He lost it so he couldn't drive a rental car. We used to drive together for like a couple of the races and there'd be like two, three hour drives from the airport. I'd sit and talk to him about being in Formula 1 – what it was like dealing with the pressure of being a Formula 1 driver, what it was like being team mates with Max, how he drove, stuff like that. I think that's what I really learned from Alex.
TC: Now next weekend, you have the Super Formula finale. You can win the championship. Irrespective of what happens next weekend in terms of the championship, how will you look back on 2023?
LL: I think it depends on how we go in Super Formula. If we have a really good finish to the season, I'll be able to look back on the year and be like 'what an amazing year.' But I think, no matter how it goes and how this year finishes, a small part of me is going to feel a bit disappointed just to not be a full-time driver. Obviously, that's what my goal is, so I'll continue to work towards trying to achieve that. But I don't think there's a way that I end the year feeling fully fulfilled with how it's gone to be honest.
TC: Can I at least get you to reflect on what I think must have been a highlight? I want to take you back to February when you drove the RB7 at Bathurst.
LL: I've never had a rush from anything like I had driving that car round that track. It was my first time driving the track as well, so I had never been there. V8 Supercars is like a big, big thing in New Zealand, a big Championship that we follow. I followed it as much as Formula 1 when I was a kid. So it's this iconic track and then I get to drive this iconic car, this car that I watched Red Bull and Sebastian [Vettel] dominate in for four years in Formula 1.
It was very, very special. I had so much adrenaline. I remember after the run, I immediately went to the airport to fly home. I get out of the car, I do a couple of interviews and I get in the taxi and I'm just talking to my taxi driver, talking his ear off. I just couldn't stop because I was on such a high and then I just crashed right before I took off and flew back.
TC: How hard did you push it?
LL: To be honest, at different points of the track I did push. I wasn't allowed to do the whole lap pushing, we weren't allowed to set records. I really want to go there and have a crack at the record. That's why I would push for half a lap, then I would do a couple of donuts, and then I'd push again and it was very, very cool.
TC: Best track you've ever driven?
LL: Obviously it's up there, but I would love to drive a V8 Supercar around that track and on the limit, because I haven't a whole lap on the limit. Before I drove the Formula 1 car, I did like two laps just in an E63 medical car. I remember driving out and on the second lap, I thought I'd get into it a bit more and the whole car was silent for the whole lap. Nobody said a word. It was just completely silent. It's just an amazing place to drive with the elevation and things like that, you experienced things that you would never experience on other circuits. I would love to do it in a car that I can push.
READ MORE > POWER RANKINGS: Where do the drivers rank after an entertaining 2023 United States Grand Prix?
TC: Let's talk about your racing heroes if we could. The obvious person to talk about is Bruce McLaren. A great racing driver himself, set up a phenomenal racing team. Is he a hero or is it much more current? Tell me who you looked up to at home.
LL: They're definitely heroes of mine and I would say the history going that far back is very, very cool for New Zealand and something that I massively appreciate. In terms of actual heroes and guys that I looked up to growing up, it was definitely current guys. Richie was my favourite. Just the way he drove, he was a guy that I looked up to the most. He came very close to F1. Quite a lot of guys did – Mitch as well, Nick Cassidy is 100% good enough for Formula 1.
TC: What about the sort of Scott Dixon's and the guys doing things in America?
LL: Definitely. I read Scott's book when I was a lot younger and Lewis Hamilton as well. Lewis was like my ultimate hero from when I was really, really young. I don't read at all. I didn't really read back then. The only books I would read was biographies of drivers, so I read Lewis' book as well when I was a kid.
TC: How inspiring was Lewis Hamilton for you?
LL: Yeah, very, very inspiring. I think also, Red Bull was a team that I loved. They were my favourite team as a kid because of the way the car looked. The car looked really cool and when you're a kid that attracts you, but also just the way they were so dominant and the way they worked over those years. But you always root for the underdog in a way and Lewis with McLaren was somebody that was very inspiring to me. I would say he was my favourite when I was a kid.
TC: What did Brendan Hartley do for you? How did he help pave your way?
LL: A big part of why this is very important to me is that, since I was a kid, we have this expectation in New Zealand that it's impossible to go to Formula 1. When I was a kid and I would tell these drivers that I looked up to as a kid, that I want to be a Formula 1 driver, the response would be, 'that's impossible, you can't do that'. Now when I go to the go-kart track in New Zealand and I speak to these eight-year-old kids, I say to them, 'what do you want to race when you're older?' And they're like, 'I'd like to be a Formula 1 driver, but it's impossible'. And it's like, 'you're eight years old' – you can't tell an eight-year-old for a start what they can and can't be.
As an eight-year-old, you can believe whatever you want. I certainly did when I was that age. So I think Brendan helped show that it's possible still to be there and that's also what I'm trying to do at the same time, to show that basically it is possible from New Zealand. It might be very hard, but it's definitely possible.
TC: Well, Liam, best of luck at Suzuka next weekend in that finale of the Super Formula Championship. Good luck there and I am sure we're going to see you back on the Formula 1 grid soon.
LL: I hope so, we'll see. Thank you very much!
To read on, sign up to F1 Unlocked for free
You'll unlock this article and get access to:
Live leaderboard data
Epic experiences and rewards
Money-can't-buy competitions