Podcast F1 Unlocked
FULL TRANSCRIPT: Read every word from bike racing legend Mick Doohan's Beyond The Grid interview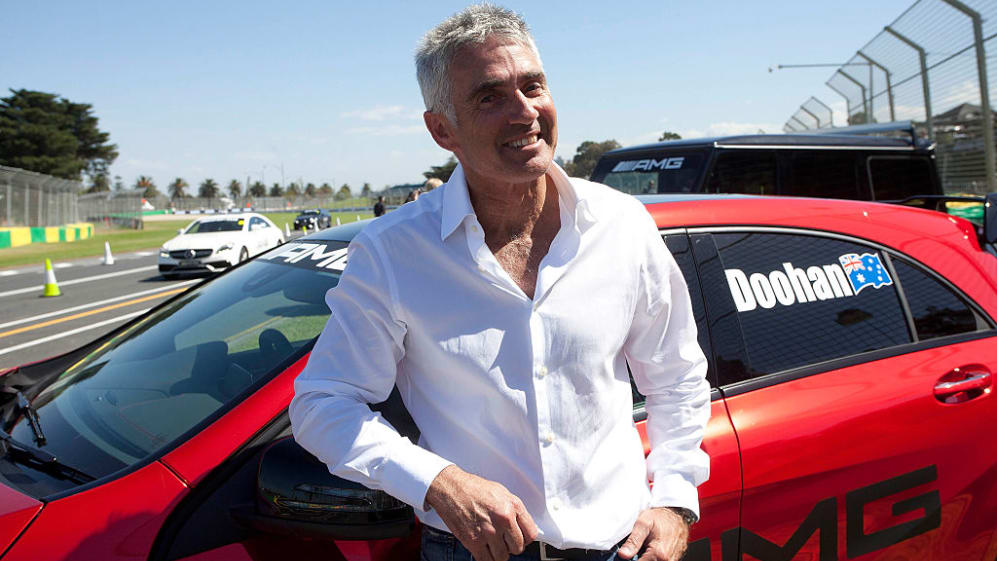 Mick Doohan is a bike racing legend, having won a staggering five consecutive 500cc World Championship titles in the 1990s. He's now a racing dad with son Jack competing in F2 and serving as reserve driver for Alpine.
Mick is this week's guest on our Beyond The Grid podcast, and you can read every word from his interview with pod host Tom Clarkson in the transcript below, listen to the episode in the audio player, or head here to catch it on your preferred platform.
Tom Clarkson: Mick, it's wonderful to have you on the show. Thank you for your time.
Mick Doohan: Pleasure to be here.
TC: You had a phenomenal bike racing career. You won five consecutive world titles from 1994 to 1998, and 54 races. What made you such a strong competitor?
MD: The easy answer is I don't really know. It's a long way from Australia to come to Europe to race. I've always been competitive growing up, racing dirt bikes and whatever else. But more to the point, coming to Europe is a long way to go home and wish you would have done a little bit better, or tried a little bit harder, or done this a little bit differently. So I just applied myself correctly, did everything I needed to do to make sure that I was going to be difficult to beat.
TC: Well, you were renowned for having a killer instinct. Is that a prerequisite for all serial winners in motorsport?
MD: I think in any sport or anything really. They give you a second and third place, but you still lost at the end of the day. It's great and you feel good, but what have you missed out on? What's the difference between second and first? Well, there's not a great deal. So it's just working a little bit harder and thinking it through a little bit differently. That's really what you've got to find.
TC: And when you were winning everything, how does that affect your confidence in what you're doing? Does it feel like you can almost walk on water?
MD: It does. I guess that's the thing with Max [Veestappen], he's got so much confidence at the moment, and I'm not trying to put myself in his shoes or anything by any stretch of the imagination, but the more you win, the more confident you get. You get away with a lot more because you just manhandle the bike to where you feel invincible. It has to be a massive incident or moment on the bike before you're really letting go of it.
You're sort of fighting it to the death and, in years gone by, you've seen that with Marc Marquez, and more to the point now, he's losing a bit more, because I think he's lost a bit of that confidence and what he can get away with on the bike. But it does build confidence, the more you win and the more you're winning by a margin. Even if you start at the back of the grid, you feel that you've got a chance of winning.
TC: And when you're winning repeatedly, are you in a permanent state of paranoia? Are you terrified that the success is going to end?
MD: Well, I guess you know that's going to happen so you work harder and that's the problem. You put yourself under pressure each year and each week because you don't know who your competitor is going to be, year in, year out, or how hard they're pushing themselves, or what drives them. So until you get to the start of the season, you didn't really know. All I knew was I had to continually work on myself and to push myself to be better than I was the race before or the year before.
BEYOND THE GRID: Paul Stoddart on mentoring Alonso, Minardi's Melbourne miracle and a special drive with Schumacher
TC: You've been embedded in the Formula 1 paddock for more than 30 years now. When you look at the guys that have achieved in Formula 1 what you did on bikes, do you see a lot of yourself in them? I'm thinking of Michael Schumacher, Lewis Hamilton, Max Verstappen today…
MD: Look, I don't know. The discipline is different but the application, the way you go racing, is pretty similar. At the end of the day, the sport is all about the mind games, and it's not so much playing games with other people, but within yourself. How you apply yourself, how confident you are, how you're building the team around you, directing engineers with what you want etc. So I think there's a lot of similarities there.
Schumacher and I were both World Champions in 1994 and he was my neighbour in '94 as well. Then we used to bounce ideas off each other because we were in a different discipline. We could actually discuss the mindset of the way we went racing and qualifying and a whole bunch of different things. We knew we weren't giving away our secrets because we weren't racing against each other. He had two too many wheels.
TC: Well, let's talk about four wheels and you. I don't know how many people will know this but, back in 1998, you were winning the World Championship on two wheels and you also tested for Williams at Barcelona in the FW20. How was that experience?
MD: Interesting… It wasn't really a test. Tommi Mäkinen, World Rally champion, Jacques Villeneuve, and myself, were all sponsored by the same tobacco company at that point in time, so it was just share each other's vehicles essentially. But then Frank Williams decided not to let Jacques on the bike after he'd learned of Carlos Sainz Sr going straight ahead. He would brake a little bit too late on the bike, thinking he was in a car, and went straight off in Turn 1 at Barcelona.
But anyway, we went out and I spun the car on the first lap. It was the first car I'd been in that had similar sort of power to what the bike was. Everything else, you could just jump on the gas and the thing would slowly get away. The F1 car caught me out a little bit. I apologised for that. I spun and just clipped the inside wall.
TC: Did that infuriate you and the competitor in you?
MD: It did, to be honest, because I thought I was good getting out of the box, so that was all good. To make me feel better, Jacques told me he spun twice on his first lap out in a Formula 1 car. Tommy made a turn further than me before spinning. But that was all about promotion. It was about half a dozen laps, 10 laps perhaps, and then it was about a three hour PR media scrum.
Ron Dennis in fact asked me all the time to come and test the McLaren, but I wasn't really interested. My spare time was all about having some downtime because back in those days there used to be a lot more testing. Even though there was only 15, 16 rounds, there was never much downtime, so the last thing I wanted to do was go and jump in a car just for some publicity, mainly for them.
I was never going to race cars anyway. It was a great experience, but I had no intention of ever wanting to be a car racer and I was going for a test after that. As you say, I was leading the world championship, so it was about going to the test to continue to try and win that world championship, rather than to see how quick I could go in a Formula 1 car.
TC: What about the performance of the F1 car? What impressed you the most?
MD: How quickly it accelerated and how quickly it got me from point A to point B, similar to the bike. The only difference in sensation was, with a bike, you're over the top of it, you're hanging onto it, you're digging in the soles of your feet into the footrests and you're hanging onto the handlebars on the straight line, whereas this thing's just pushing you and it just continually pushed you from the back.
But on the bike in Barcelona, the top speed is a little bit quicker than the F1 car, but we brake at the 200 metre point. It was all good until I got to the 200 metre points and as I went past the 200 metre point, my brain is telling me to brake, jump on the brake and then have to accelerate again before I got to the turn. But that was what I noticed – just how quick the point-to-point speed of the car was and then getting my head around the downforce.
TC: Did you find it very restrictive? The belts are tight, whereas as you said, you are hanging onto a bike.
MD: That didn't concern me too much at all. It was just a different sensation completely. I think you've seen Valentino Rossi and a few of the other guys who have transitioned, it gives you a false sense of security as a bike guy. You haven't got that sort of safety harness on a bike or anything else.
BEYOND THE GRID: Fred Vasseur on his 'biggest challenge' and pursuing the 'pinnacle' with Ferrari
TC: Interesting that you mention Valentino Rossi there, because there was a period of about five years in the early noughties, where he looked pretty serious about Formula 1. I remember him testing in 2006 at Valencia, alongside Schumacher, and I think he was close. He was 0.7 off Michael. What did you make of that and do you think Valentino was serious about Formula 1?
MD: Valentino is an amazingly talented guy. He's very smart intellectually. Whether it be half a second, whether it be two tenths, whether it be whatever the time difference is, Valentino is smart. He knows that after an hour and a half at two tenths off the pace at your best lap, you're going to be a fair way behind. That takes the years of doing karting, doing racing, to find those extra seconds. Those last few tenths take time. I think Valentino was smart enough to stay in his lane and just stay on two wheels.
TC: Are the disciplines of bike racing and Formula 1 as different as they look? Is it rugby and football, or are there more similarities than we see at face value?
MD: You probably put it right there. I think it's similar to football and rugby. There's a lot of similarities there, but it's just a different discipline. The lines are different, the braking style is different on a bike in comparison to a car, but the mindsets are same in terms of what you want to achieve, how you go about achieving it, what you're thinking about on the track. Obviously you've got a wider machine to pass, but you still calculate exactly what's going on.
TC: Had you started karting at the age of four, do you think, in terms of the feel and the discipline you have, you could have made it as a race car driver? And equally, had Lewis Hamilton started bike racing at an early age, could he have made it?
MD: Well, there's plenty of guys, including Lewis, who have jumped on the bike and is reasonably quick, and and likewise, Michael Schumacher was the same. I went on the track with him a couple of times and he was quick, but he still had the same mindset of driving a car as he did when he was riding a bike. He had to adapt that. Everything was about the last minute brake in a straight line and then dip it in and not try and balance the bike because the car's set a little bit different.
I think he or Lewis probably, had they just pushed, they'd be a top racer, the same as Damon Hill. The feel is similar. There's not too many car guys who can transition into the bike side of things, whereas there have been a few bike guys who have been able to transition the other way. I think [John] Surtees did a pretty good job.
TC: Well, that's a really good example, right? He won world titles on two wheels and four. Describe the scale of John Surtees' achievements.
MD: Look, he was an amazing chap. The popularity of bikes were pretty strong and back in those days, a lot more people had bikes to just commute around on, so the popularity was huge. There was a few of the guys who tried to do it, but Surtees managed to do it on both. It was an amazing feat and nobody's done it to date, but I'm dumbing it down a little bit by saying that things are probably different today than they were back then. But because I'm not there, who knows? It may have just been as difficult.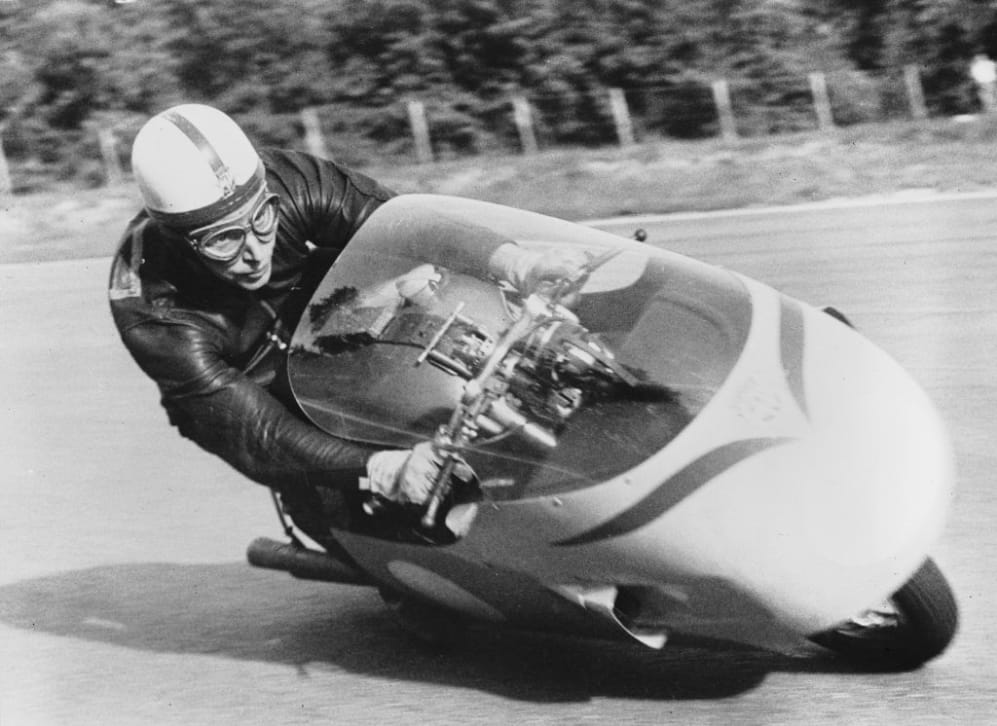 TC: And in 1960, Surtees was flip flopping between Formula 1 and bikes. He won the 500cc World Championship that year, but he also finished second in the British Grand Prix in Formula 1. How hard is it to flip flop between the two?
MD: I think today that's just not possible. One, I don't think regulations allow, but two, there's just a lot more intensity around both sports today. Not devaluing anything from what they were back then. There's a lot of demand on the rider and drivers' time, so to switch mindset between the two would be near impossible I would have thought. It's just unheard of these days.
TC: Can we talk a little bit more about Schumacher now? As you say, you got to know him in the nineties when he was at Benetton. Now, he was pretty intense when he was here at the racetrack, laser-focused. Did you ever see the relaxed side of Michael Schumacher?
MD: Yeah, absolutely. Really nice guy and fairly chilled. You knew when to stay away from him and I don't mind that in somebody. I'm coming to his office and, likewise if he's coming to mine, I'm not there to disrupt him while he's in the middle of something. So I understand that. That's what made him who he was. But I got to know him well. We understood each other a little bit. I probably wasn't that intense, but I wasn't that user friendly in the paddock sometimes either.
TC: What floated his boat away from racing? I mean, you got him into bikes, but was there anything else that he was particularly interested in that you saw?
MD: He was into everything. He loved his skydiving, scuba diving, bikes, football and whatever else. He never sat around and wondered about life. I think that was great. He was always on the go doing something. Away from the track we wouldn't be talking about what's happening in the racetrack. There might be a couple of moments of that, but you're talking about hobbies, having a bit of a laugh on this and a laugh on that, what are we up to and where are we going, and all these type of things. It was just a normal friendship to be honest.
TC: You say it was just a normal friendship. But is it true that Mick Schumacher is called Mick after your good self?
MD: I believe so yes. He's probably disappointed he's not called Michael, but no that's very cool. I think also it helps differentiate. He's still Michael I guess but one's Mick, one's Michael. I intentionally didn't do that to Jack because my father, my brother and my grandfather, are all named Colin. I didn't want to do a junior type of thing.
READ MORE: Doohan secures back-to-back F2 Feature Race wins in Spa
TC: You mention your son Jack. Let's talk about him now because he's trying to get onto the F1 grid for the first time. You're, I'm sure, very involved in Jack's career. Tell us how hard it is for a young guy who's winning in Formula 2 to make that last step.
MD: The cliff is as steep as it could be at that point. Unless you've got some foot holes to climb to get to F1, but then you've only got 20 seats, and at any given point in time there may be one or two seats available. Then with how fluid the paddock moves and the commercial aspect of it, you've got to be in the right spot at the right time with the right deal in place. It's forever moving. It's his dream to make it all the way to the top. If I can help in any way, shape or form, then I'll try and do that. That's why I'm at most of the races when he attends.
TC: What's the biggest lesson you learned in your career that can help?
MD: I think just not getting caught up in the bullshit, to be honest, and by that I mean not getting carried away with what you hear and what other people say. Just stay in your lane, focus, do the best job you can, and stay out of the controversy basically. At the end of the day, you're a driver and never forget that.
TC: He's part of the Alpine academy. I remember a year ago there was quite a lot of talk of him maybe getting the seat that Alonso was vacating. Can you give us your thoughts on the Alpine academy?
MD: Alpine has been a great direction to put Jack in from the outset. From day one, it's about making him a better driver and the others in the academy. Just preparing them as if they ever get the opportunity to be an F1 one driver, that they are prepared for that position. I think that's what I can see with Alpine, they're actually doing a great job.
Last year, with Alonso unexpectedly leaving and then Oscar Piastri jumping ship to McLaren, there was a slight opportunity, but unfortunately for Jack they decided to take on an experienced driver there. But we've seen in the past that taking risks sometimes can reward the team.
TC: What's the biggest thing that Jack has got out of the academy? Is it driving the two-year-old car?
MD: Yes, that's been a plus. Getting the mileage up, he's now got thousands of kilometres under his belt in that. But working with the engineers in the debriefs, the pre-briefs, working with the engineers during the F1 events, he's got a full understanding of what it takes to be a driver, what it takes, what they're doing behind the scenes, what Pierre [Gasly] and Esteban [Ocon] are up to, so it's like a junior school. He's actually getting the education and understanding what he needs and how he can better himself to go forward.
TC: But, Mick, what do you do when there's no space in Formula 1? Both Ocon and Gasly have contracts for 2024. Jack has proven himself in Formula 2, so what do you do next?
MD: Other than him continually pushing himself to better himself, and to do what he can in the F2 car, and also when he's working with the F1 team and driving the 2021 car, all he can do is to make sure that he's in the best spot to fill a seat if and when one does become available. You'd hope even if there's not one in '24, perhaps there's an option for '25. Otherwise, they need to start to prepare another young driver to come through to put in that position.
The investment that they're already putting into Jack to prepare him for Formula 1, you would hope that that's not all just for the sake of it and not actually being put to good use, that we're going to reap the rewards of that investment that we're actually putting in the kid.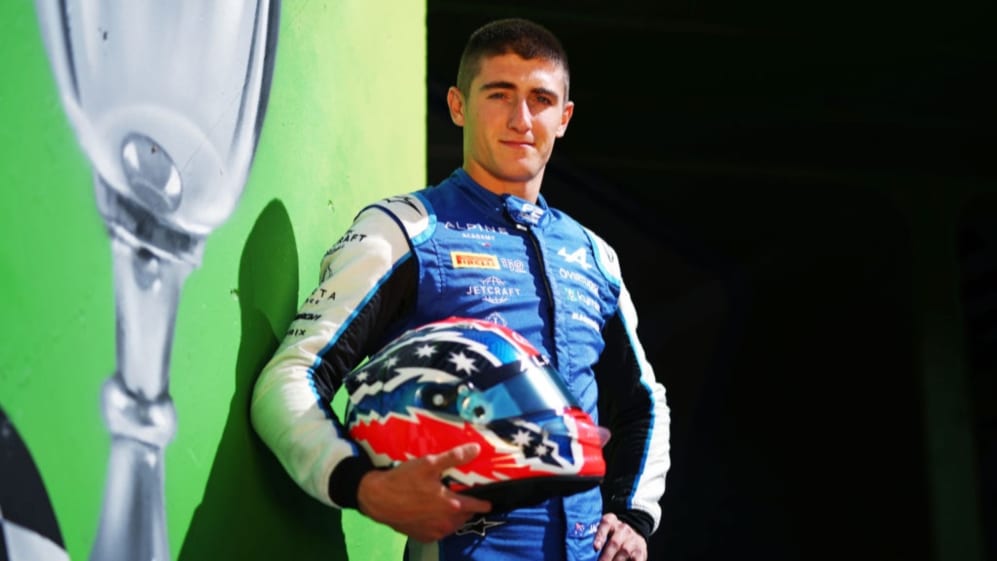 TC: While we're on the topic of contracts, there's one aspect of your own career that I find fascinating, which is that you signed one-year deals. Whereas it seems to me in F1 at the minute, everyone's after the longer-term deal first. Why only one year for you?
MD: Well, when I was starting to do that, I was in a strong position, and then the other manufacturers weren't signing long-term contracts. It enabled me to leverage my position every year. We were just able to move the goalposts every year of where we needed to be. Unfortunately, in one or two years it didn't work out so well, but I still didn't go backwards. That was just everyone trying to fill my shoes when I was injured. But it certainly put me in a strong position to negotiate and drag it out throughout the course of the year.
It wouldn't always just come down to the monetary side of it, but it would be 'what else are you going to do? What does the development team look like? What does the engineering team look like?' So it was a whole package. It wasn't just 'give me another dollar and I'm happy to sign for you guys.' And Honda would always end up coming to the party.
TC: I can see why the one-year contract worked for you. You were at the top of your game, you were winning. You were calling the shots. For someone like Jack, who is trying to get into Formula 1, is the opposite true? Are you trying to get a long-term deal with an F1 team?
MD: Even for myself, the first contract was a multi-year deal. As a young driver, you'd certainly want a multi-year contract. I think even now, the teams also want to know that for their investment, they're going to get a couple of years out of their driver. The same if you're the sponsor, you probably want to know if you're throwing your money towards somebody, you want a little bit of consistency there.
TC: And from a safety point of view, are you pleased that Jack is racing cars and not bikes?
MD: I think as a parent for sure. That was his own doing as well. His friends were karting and Schumacher helped with some karts for both his sister and Jack when they were young in Australia. They had a go-kart track at home so he grew up around karting and hit it off in that way. But yes, it's easier to watch him racing, but still as a parent, you're worried about what you can't control. I feel he can drive, but you just don't know what else is going to happen.
TC: And Mick, when you were riding, what was your attitude to danger?
MD: I was always scared to hurt myself. I think you need to have a healthy dose of fear. Otherwise, you're going to be a danger to yourself and everybody else around you. People say you're fearless. I don't believe that's the case. You need to prepare yourself and calculate exactly what you're doing. I think preparation is the key to success. You can prepare yourself both mentally, physically, and with the team to minimise the risk.
BEYOND THE GRID: Heinz-Harald Frentzen on being Germany's F1 cult hero
TC: How did you justify the risk in your mind?
MD: I think the more you do it, it doesn't seem so risky. The better you understand it, the more risk you can take and the more confident you get, because you feel you're in control of it. It's inevitable that you're going to crash. Nobody gets away with not crashing, but you sort of try and manage that as best as you can. But unfortunately, accidents happen and that's the unknown within motorsport and in life.
TC: You had some horrendous crashes and none more so than at Assen in 1992. What happened there?
MD: Well, essentially I broke my own leg. I was going for a flying lap. Just as I went over the finish line, they red flagged it because somebody had dropped some fluid. I went into Turn 1, which was about 160 odd kilometres an hour and the bike just snapped sideways and flicked me over. I'm sliding up the road but the bike's on top of me. Normally you'd slide off the track even if it was on top of you and then on the grass or the gravel you'd separate. Well, I'm going up the road and it's starting to get a bit warm, with the weight of the bike and the friction. I tried to spin out from underneath it.
Everything spun except for my leg. So when I went to stand up, I could feel my bones grind. I just sat back down straight away and put the hand up to ask for a bit of assistance. But, more to the point, I was leading the world championship and straight away I was like, 'shit', because I'd almost won the year before. Then I was in a rush to get going.
We had two weekends off and then we had Hungary. I thought if I just put some metal in there, bolt the leg back together, I can be up and running and try and manage a few points. The Italian doctor, who ended up saving my leg, said 'look, the best thing to do is do nothing and you'll be back in six weeks or so in Brazil. You're going to miss some races, but then you'll be strong. You might be able to challenge for the championship.'
So that wasn't something I wanted to hear. I said to the doctors there and then, 'who's the best guy here to bolt a leg back together?' They said 'we all went to the same university. We all have the same skills.' So, again, not really what I wanted to hear, but let's go. That was the start of the end. He basically messed up and what's called a compartment syndrome set in. My leg got necrotic. They were going to amputate the leg. Thankfully, Dr Costa took me back to Italy, saved the leg, ended up sewing the leg together, my left leg to my right leg, for blood supply and for skin.
They dug gangrene out with a teaspoon and then all of a sudden, I can see my bone, I can see the tendon, and I'm thinking 'well, this doesn't look like the year's going to end well.' I was back in Brazil but I didn't score any points, so Wayne Rainey beat me by a few points in '92 as well.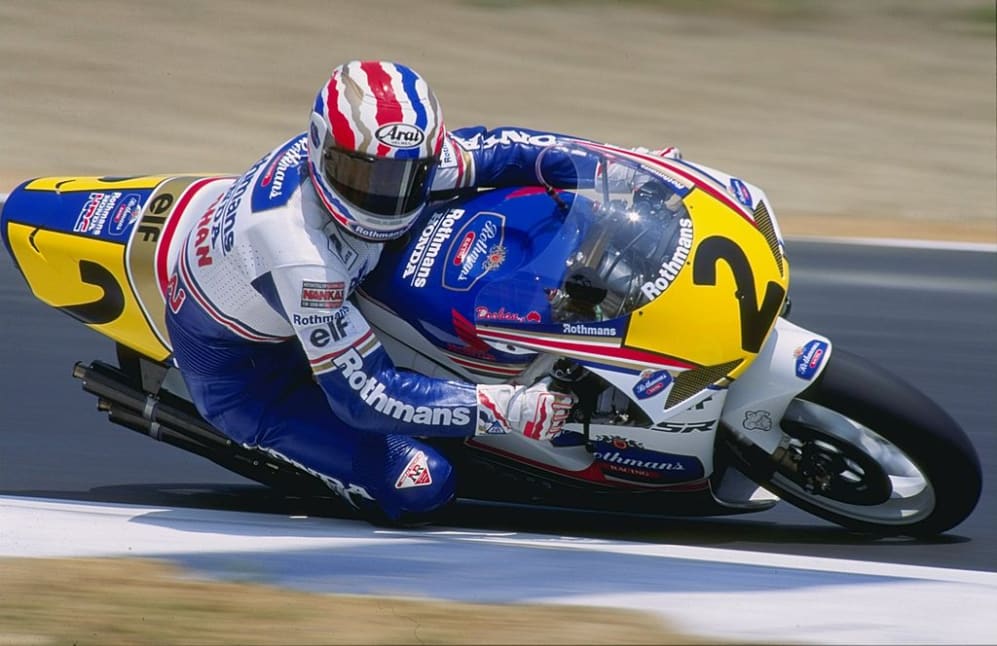 TC: What are you thinking about when you're lying in hospital?
MD: Well, you're probably not thinking, because you're fully immersed into what you're doing. Nothing else matters. I think that's a mindset of a racer.
TC: Did you ever question if you wanted to continue racing?
MD: Absolutely. Especially after the end of '92. I didn't have a firm contract for '94, so I couldn't really sit around and not ride. It took until the beginning of '94 before I was healed from that accident. In '93, I rode with a leg that was oozing puss out of a hole in my leg, but I had to continue. I was in reasonable pain, but I still felt I had unfinished business.
I had won a race with my leg like that. I couldn't use the rear brake any longer because my ankle was functionally fused. I adapted the rear brake under my thumb and I won a race with the leg which wasn't healed and actually had a 20 degree angulation in it. You could actually grab the ankle and grab the knee and flex the leg. The leg is extremely important, because you steer the bike through your midsection and your legs. I won a race and got multiple podiums that year with the leg like that.
I knew if I got strong enough I could perhaps win. That was the only thing that kept me going. In the back of my mind, I was saying 'What am I doing?' I did 10 seasons, '89 through to '99, so 25 years down the path now. But I mean, at that point in time, nothing else matters.
TC: Do you think racing drivers and bike riders are all thrill seekers?
MD: We don't think so, but we must be.
TC: How have you replaced the adrenaline rush?
MD: Thankfully, I haven't. But aviation's a big part of my life. I'm part owner of a large trading company called Jetcraft and an operational company in Australia with another name. I fly helicopters and I fly so I'm now 'Mick the pilot'. But I'm not taking risks at all. The business side of things is an exciting time for me and I've changed that focus from sitting on a bike to sitting in an office and working.
TC: How have the lessons you learned in racing helped you in the business world?
MD: It's calculated risk, so preparing yourself and understanding what you're doing. You're always going to mess up. You don't win every deal, you don't win every race, and you make mistakes. That's why I think sports are so good for kids because punctuality, discipline, commitment, all that applies no matter what discipline you're doing.
BEYOND THE GRID: Lando Norris on driving McLaren's revival and the responsibility of being the team's senior driver
TC: How much are you enjoying just being back in the paddock, still living the racing life as well as everything else you've got going on?
MD: I'm enjoying being back here. I grew up racing dirt bikes, road racing and then karting with my son. It's just part of my life in motorsport. I love it and still watch pretty much every sort of motorsport I can get my eyes on to.
TC: Australia seems to be in a pretty good place in Formula 1 as well. We've discussed Jack and hopefully he'll get through. But you've got Oscar Piastri doing the business at McLaren as well.
MD: I think it's from Jack Brabham back in the day, to Alan Jones and then Mark Webber. Oscar's the man of the moment and he's doing a great job. Thankfully, the Victorian government support both MotoGP and Formula 1. We've got the event down there for a number of years to come. We had over 440,000 people at the event in Melbourne earlier in the year.
Motorsport in general is well supported. The go-karting National Championship in Australia has over 400 entrants over nine classes. It's a fair way from the rest of the world but motorsport is very much enjoyed in Australia.
TC: One final one from me. I guess you've known Max all his life because you know Jos. He's only 25. Can he still get better from where he is now?
MD: Mentally, without a doubt. It's just phenomenal what he's doing in that car. You can only really compare him to his team mate, but Max can come from the back of the grid to the front quite quickly. He's at the top of his game. When you're at that 25 to 32 area, I think you're in your best space anyway and you continually absorb things. Everything's a lot easier to understand. If he wants to stay here and dominate, I think he's got that all ahead of him.
TC: Crikey! Well, we can look forward to that. Mick, thank you so much for your time.
MD: Pleasure!
To read on, sign up to F1 Unlocked for free
You'll unlock this article and get access to:
Live leaderboard data
Epic experiences and rewards
Money-can't-buy competitions