Podcast F1 Unlocked
FULL TRANSCRIPT: Read every word from ex-Arrows racer Enrique Bernoldi's Beyond The Grid interview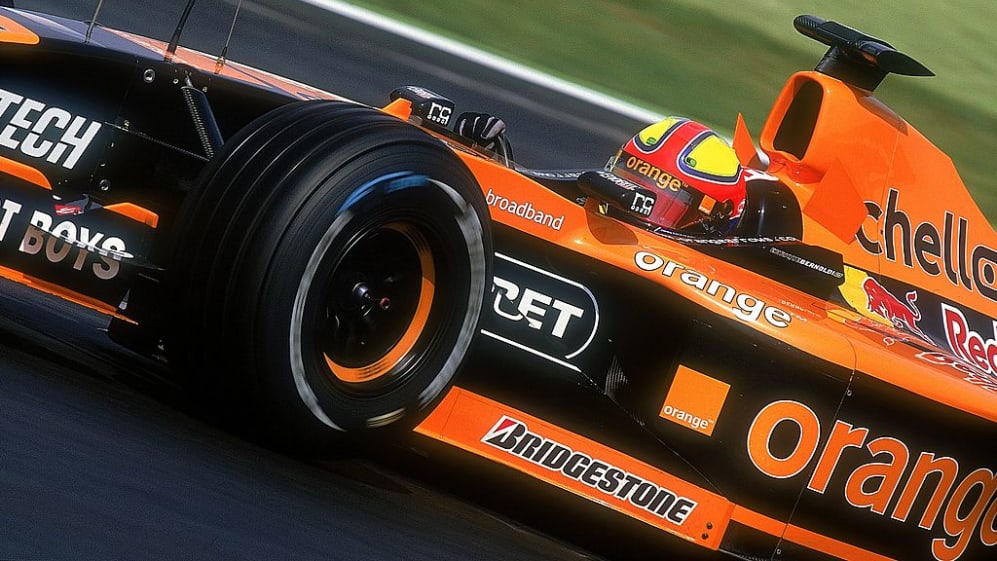 Enrique Bernoldi made his Formula 1 debut in the same race as Fernando Alonso, Kimi Raikkonen and Juan Pablo Montoya. The Brazilian never hit the heights of those three Grand Prix winners, but then given he was racing for an Arrows team that was heading for bankruptcy, that's perhaps no surprise – although he did make headlines with one particularly eye-catching defensive drive in Monaco which incurred the wrath of legendary McLaren boss Ron Dennis...
The Brazilian – who also had a spell as test driver for BAR Honda – is this week's guest on our Beyond The Grid podcast, brought to you by Salesforce, the Global Partner of Formula 1, and you can read every word from his interview with host Tom Clarkson in the transcript below, listen to the episode in the audio player, or head here to catch it on your preferred platform.
Tom Clarkson: It's great to have you on the podcast, Enrique. Thank you for your time, how are you?
Enrique Bernoldi: I'm good, Tom. I'm really happy to be here with you. I heard about the show and it's great.
TC: And of course, motor racing is the Bernoldi family business, because not only has there been your career, but I also now hear that your son Becho is going again and he's karting in Italy. Is that right?
EB: He started last year, a little bit late, but he's doing good. He's progressing. He's been racing in California and racing national levels in the United States. He's doing great – he's won races in the wet, he's won races in the dry – and now we're going to take a shot in Italy to see how he does against the most competitive kids of his age.
TC: Well, Enrique, let's talk about your own Formula 1 career now. I have so many memories of you. The first one is a photograph that's taken on the grid in Melbourne in 2001 before your first race. It's you alongside the other debutants – Juan Pablo Montoya, Fernando Alonso and Kimi Raikkonen. I look at it every now and again. I just think right there, is talent. Can you remember that picture being taken?
EB: Yeah, I can remember that. That was a special day for me. Your first race in Formula 1, you'll never forget. There wasn't many. I wish there were more, but I remember that day, and I believe I was beside Fernando in the picture. We are all young and I think that's a great picture. I think that's a very good rookie class.
TC: That's the rookie class of 2001. Montoya was the senior guy, I guess, coming in that year, having won the IndyCar title. Then he comes to Williams. How supportive was he of you?
EB: Not at all. I knew him. I knew Fernando because I raced with him in 3000. I knew Kimi because we fought for a seat at Sauber. I knew all of them. But in those days, friendships between drivers were not very common. Juan Pablo was also a rookie going against Ralf. I think he was looking for his own career, as I was.
TC: It's really interesting that you say friendships between drivers back then weren't that common because I think the atmosphere in the paddock has changed. You now see drivers playing Padl together and hanging out together. I don't think it happened back then. I don't remember it happening…
EB: It was difficult. I think also we didn't have social media, so if somebody was meeting somebody else at their house, we couldn't know about it. I think there was a little bit more rivalry at that time. There is a saying in Brazil that 'I bring my friends to the racetrack, I don't make friends at the racetrack'.
TC: You mentioned Kimi Räikkönen and Sauber. You tested for Sauber in 2000 and it seems like it was a straight fight between you and Kimi for the seat?
EB: I think I was ready to race at that time. I had done two years in Formula 3000 and in my second year, I was test driver for Sauber. I did a lot of testing, I would say between 12 and 15 days. I knew the car. I could be fast in the car and I think I was ready to go to the big show. I spoke with Red Bull and we all felt ready.
READ MORE: The inside story of Kimi Raikkonen's legendary first F1 test
TC: Why do you think it didn't happen?
EB: It was not like a real straight fight between me and Räikkönen. I think it was the time when Red Bull wanted to be more involved. They didn't want to be just sponsors and I think there were a lot of clashes regarding that. Sauber didn't want to lose their control of the team. I was coming along and I think I was just in the ballpark. I was one of the reasons, but I don't think I was the main reason, for the splitting, and also Sauber that day, when we had a test, I think were inclined to favour Kimi.
TC: You end up at Arrows. Just tell us about the journey that took you there.
EB: When we knew we couldn't get a seat at Sauber, I got invited by Prost to do a two-day test in Barcelona. I end up being the fastest and I could be driving the Prost for the next season. We were really, really close, but Gastón Mazzacane came with a big budget from Argentina, and they couldn't say no to the sponsorship.
They offered me a test drive contract, where I would get in the car on race four, because they had a performance agreement with him that, after three races, they could keep the sponsorship and replace him in case he wasn't matching the performance clause. They told me that was going to happen. I was really close to that seat, but the problem in that situation was that the third race was in Brazil and Red Bull wanted me to be in the third race. For him being an Argentinian driver, the third race was very important, so they wouldn't back out either and that was the deal-breaker because Red Bull wanted me on the third race.
TC: Okay, so that door closes. Were you feeling a bit down about life at this point?
EB: I was depressed and I remember I was at Kitzbuhel ski race. I was sitting at a table with Ralf Schumacher. I was hearing from Helmut Marko that they would take me to Minardi to race alongside Alonso. Minardi at the time weren't that great, so Ralf was joking about it, and I was feeling a little bit depressed. I didn't want to go for the third year in 3000 because I felt that if I would do my third year, I would be like a recycled driver and I would not make it to Formula 1.
Everything was going the way for me to drive in the 2001 season. At that ski race, Tom Walkinshaw was there with Daniele Audetto. I spoke with them and they had a contract with Pedro de la Rosa and Jos Verstappen, so we chatted about stuff, but not about me joining the team. A day later, I'm in Austria and Dr Marko calls me to say 'where are you? You have to go to the airport straight away, you will drive for Arrows next year, but don't tell anyone when you get there.'
The signing was done two days later. I went to Leafield. I did a seat fitting. I slept the night before at Audetto's house and we took Tom's plane at 6am, flew to Salzburg, and we signed the contract at Salzburg Airport in the conference room. [Red Bull owner Deitrich] Mateschitz and Helmut were waiting there. The lawyers and I signed a contract there, and that day, Tom flies me straightaway to Barcelona. I get on the racetrack at 4pm. The track closes at 5pm. At 4.45, I'm in the car and I did like two runs.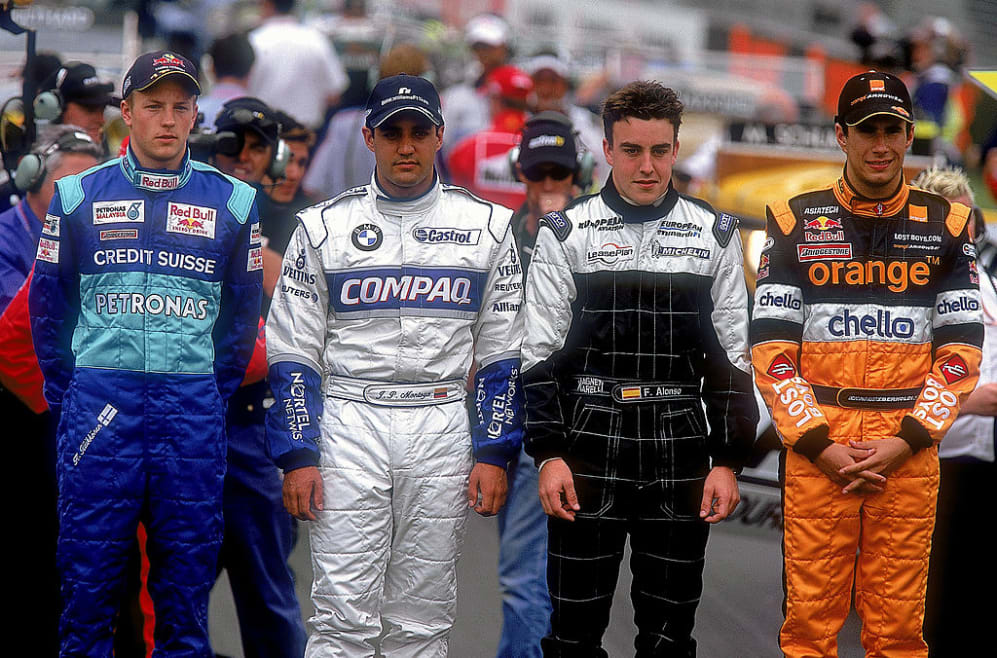 TC: What a relief for you. I'm also fascinated that Dietrich Mateschitz was there for the signing of the contract. The big chief of Red Bull got involved at that level…
EB: I always had a very good relationship with him. He was really supportive because I was the first one. They were not that big and he was actually quite involved. He'd been to my first F3000 races and my first Formula 1 test with Sauber in 1999 at Magny-Cours, which was a real test for me because we'd had a very bad season in '99 in Formula 3000. So it was like, 'is it the driver, is it the car?' I was beating my team mates, but maybe they felt my team mates weren't good enough, so the reference wasn't there.
When I went to drive the Formula 1 car for the first time, it was because they wanted to test me. That day, Mateschitz flew to watch my first Formula 1 test. That's how close we were. We need to go back to the 1998 Formula 3 season. I won a lot of races, but I lost the championship – in my opinion, a championship that I should never have lost. I was a fast guy, but I did too many mistakes. I wanted to prove that I could win every single race, but either I was winning or crashing.
Imagine that you win seven races in British Formula 3, you win a race at Marlboro Masters, you win a race at Macau – you have some options, right? I had some options and one day, I got a phone call at home in Oxford and it was Helmut Marko. He said 'could you send me your CV?' I didn't know who he was, so I just wrote his name and I forgot that.
Gianfranco De Bellis, who was managing my career at the time, comes to watch my last race at Silverstone. He's going to sleep in my house and he sees the name Helmut Marko. He said 'why is this name here?' I said, 'well, yes, he called me. I had no idea who I was talking to.' And he said, 'what, you don't know who this guy is?' I replied 'he's a doctor, right?' We went to Graz and decided that 'Red Bull is giving you a path. If you drive well, which you have been doing this year, they will bring you to Formula 1.'
TC: And then when did you first meet Dietrich Mateschitz?
EB: I went to Graz. I met Helmut and got the offer. I had to go to Macau to race Formula 3 the following week. Before going to Macau, I went to Salzburg, and I went to the Red Bull headquarters at the time. That day, I met Didi. Actually, Helmut said to me, 'why are we signing you?' I said 'because I won many races I thought. Two years before, I won the European Championship in Formula Renault, I won many races, I raced in Macau and so on.'
And he said 'no, not because of that. I'm signing you because of the way you lost. I could never sign a driver that runs away from a fight. I can always polish a fast driver. I can never speed up a slow one.' That stayed with me and that's how I raced with him. I had the green light so I could really push.
READ MORE: Remembering Dietrich Mateschitz, Red Bull and AlphaTauri's quiet patriarch
TC: So, with Arrows, you've tested the car at Barcelona and it's all happened very, very quickly. It must have been hard for you to get your feet under the table, because you retired from eight of the opening 10 races in 2001. For a rookie, for a young guy coming in, it must have been really hard to get your head around the car and Formula 1?
EB: Somehow, we were fast in winter testing and we had very big expectations for the beginning of the season. But we got to Australia and the music changed completely. The performance was not quite the same as the winter testing. Maybe we were driving light compared to the others. The reliability of the car was bringing a lot of problems. The car was breaking all the time, we had hydraulic problems. It was difficult to get the ultimate result, because I was almost never there to finish the race.
Sometimes I was retiring in Lap 2, Lap 3. I really focused on 'how can I do something? How can I show myself?' And we got to the conclusion that it would be in qualifying, going against my team mate, and that's where I focussed quite a lot. Also, you have to remember to score a point at that time was so difficult because you had to be top six, not top 10. If it would have been top 10, I would have scored quite a few points.
I remember I finished eighth in Hockenheim and my engineer was so pissed. He was like, 'how come you don't catch that guy?' But I think it was [Jenson] Button and his car is completely different. I finished eighth and my engineer wouldn't look at my face. Now I see somebody getting a tenth place and it looks like a carnival in the team, with celebrations and so on, so it was really hard.
TC: It's a very demanding environment, Formula 1. Did that element surprise you?
EB: No, I think I had enough experience. I'd been racing for five years in Europe. For three years, I did support races. I'd been driving the Sauber the year before. When you are racing, the pressure is humongous. It's really, really high when you become a Formula 1 driver. Every day you put your helmet on, you have to kill a lion.
TC: Well, your team mate in 2001 was Jos Verstappen, father of Max. Did you have a good relationship?
EB: At the beginning, yes. We were not friends from mid-season on. The tip of the iceberg was in Austria. He crashed on Saturday morning in free practice. When you drive for a small team, you're competing mainly against your team mate. I'm driving and I see the orange car in the barriers or on the gravel. I go 'yes! It's an advantage for me three hours later in qualifying.'
As soon as I stop, I'm giving feedback to my engineer. He says 'get out of the car.' I thought they would change something under my seat. Once I get out of the car, I see Jos with his helmet just beside my car and he takes my car. The second free practice on Saturday morning, he does the last half hour in my car. It comes to qualifying and I out-qualified him. I was happy about that. Then in Magny-Cours, he blows the engine on Saturday morning and they give my car to him. I'm watching from the motorhome and he's driving my car for the whole Saturday morning.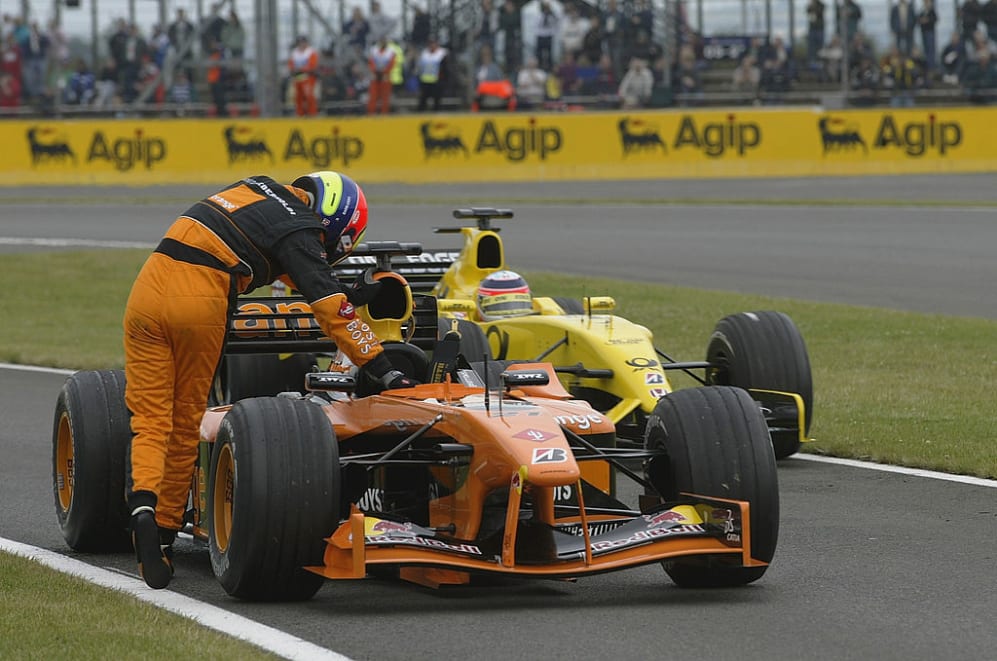 TC: How did the team explain this?
EB: They explained that he was there with the team for many years, that he was the number one driver, and that's how it goes. Also, in Monaco 2001, I had to let him pass. I passed him on Lap 1, and on Lap 2, I was getting radio saying 'let Jos by'. We still had 76 laps to go. He gets my car, I'm the rookie, I qualified ahead of him, and he gets my car. So we start to clash a little bit.
My race engineer was Italian, my engine engineer was Laurent Mekies, and he's fluent in Italian. My data engineer was from Belgium, but he was fluent in Italian. So we only spoke Italian because Jos and his engineer wouldn't understand a word of what we were saying. Many times I got calls on the radio saying 'Enrique, this is a British team. We speak English'. But we were talking about the setup or talking about what we're going to do and about what we're going to try to do to beat him, always in Italian, so they wouldn't understand.
We are friends now. We had a dinner at Istanbul in 2021, sort of like the old guys. There was me, David Coulthard, Mark Webber and him. We were drinking some wine and laughing and so on.
TC: Look, while we're talking about Verstappen, I do want to ask, did you meet Max back then? Because he would have been about four years old…
EB: Yes, I met him many times at many races. Max was a small boy and actually once, he goes by my room in the motorhome just before a race. He goes to the restroom, and he gets stuck in the toilet. He had a little plastic boot and it got stuck in the toilet. I could hear some noises and he's not coming out. I go in and I took him, the boot stayed, and I gave him to his mum Sophie.
TC: You mentioned Monaco 2001 and I did want to ask you about that race. David Coulthard was on pole position. He stalls on the grid, is forced to start at the back, and he comes up behind the Arrows of Enrique Bernoldi and he cannot get past.
EB: That felt like eternity. Everybody says 'oh, it was your best race in Formula 1. That was so great, and so on and so on, you hold a guy which had a two-and-a-half second faster car than you.' The track also helped me, you know, it's not that I'm holding him in Monza or in Hockenheim. But what I take as a compliment for me, is that I was under a lot of pressure. I had no power-steering on my car, that thing was heavy, and I had the pole-sitter going all over my mirrors and I didn't do a mistake.
I think that's what I take as a positive point for me. The more laps pass by, the more Arrows start to come on the radio and say 'yes, let's go, keep him behind,' so the feeling grew in me to fight against him. And McLaren, I have to cross in front of their pits. I'm passing by, walking quite fast, holding my helmet, and I heard like 'OI OI OI!'. I looked – Ron Dennis! And I go like 'oh my god'. He said 'what do you think you were doing today?' And I said 'I'm racing, right? That's what I was doing.' He said 'well, fighting with the pole-sitter for 14th place is not racing. If you don't learn the good manners for racing, I have the power to finish your career tomorrow.'
I said 'I'm sorry but, if you lost the race today, it's not my fault. It's because the car couldn't start on the formation lap.' Then came Norbert Haug, he was screaming half in English, half in German. I could barely understand what he was saying and I just left. I never had any confrontation with David. We spoke the following test, which was in Magny-Cours, he spoke to me and said, 'I understand you are fighting for your career. You are in the back of the grid. I'm sure you had some radio calls to hold me back, I understand.' I think he would have done the same.
And if you remember, the following race was in Canada. Who gets called for the press conference? Me, David, Michael Schumacher and Jacques Villeneuve. The first question is to Enrique Bernoldi. I'm thinking, 'I'm sitting beside Michael Schumacher, David Coulthard, Jacques Villeneuve, why is the question for me?' The question was about Monaco. Michael took the microphone and didn't let me answer. He said, 'enough of you guys. He did what he had to do and I hope if he gets in that situation again, he does it again.' I got a text from him that night to say 'you did completely right'.
BEYOND THE GRID: Red Bull's legendary designer Adrian Newey on the secrets behind his immense success
TC: So you got a text from Michael on the Sunday evening of Monaco saying you'd done the right thing?
EB: Yes, I had a sort of relationship with him because during my Red Bull years in Austria, Ralf lived in Salzburg, so we met quite often. We went skiing and I went to his house and so on. I had a relationship with the family through Ralf in those days. And yes, that was a very good gesture from him. I really enjoyed that and that meant a lot to me. That night, I had dinner with Didi Mateschitz in Monaco and he was very, very supportive, very excited about the race and how things were going. From the people around me, I got the right energy about that.
TC: And I imagine Tom Walkinshaw was saying similar things as well...
EB: Tom Walkinshaw was happy. I think he went to talk to Ron after the race. When I got back to the pits, my engineers were like 'what took you so long?' The word spread and I think Tom defended me. He said to Ron, 'the day you pay my drivers, you tell them what to do.'
TC: What kind of vibe did you get from the fans about what you'd done that day?
EB: I'm Brazilian. I would say that I always got a lot more support in Europe, either in Austria or in Italy, and sometimes in England because I spent two years in England. But being Brazilian is hard. We had Senna, Fittipaldi, etc. Either you're a hero or you're zero. I always felt that way. Going to the following race, I would get more requests for autographs or pictures, I started to get a little bit more popular after that race.
TC: Let's bring it on to 2002 now. Your second year with Arrows in Formula 1. The Asiatech engine is gone, replaced by a Cosworth. Jos Verstappen is replaced by Heinz-Harald Frentzen. How good was that package?
EB: It was definitely an upgrade. The first time I drove the car, I came out and in the first run I was over a second faster than my previous ever fastest lap at Valencia. I felt the car straightaway was better, the engine was better, but how much better? I only finished two races, we had a lot of reliability problems again. I think potentially we had a way better car and we were overall a better team.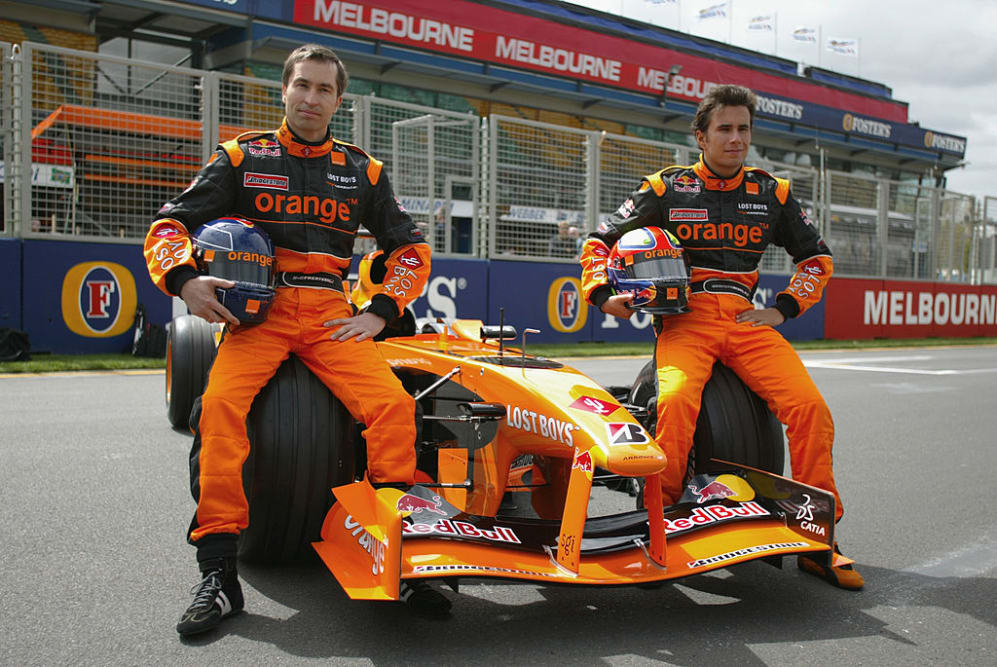 TC: Heinz-Harald Frentzen, how much of a challenging teammate was he?
EB: He was really fast. I think he's the opposite of Jos. Jos was really good at the start, really aggressive, good at the race. Frentzen was really fast in qualifying, not so aggressive at the start, not so aggressive in a fight, but if he has to do race pace, he would be really fast. I think from the guys I compare myself with on data from my whole career, I think he was the fastest guy that was ever beside me in the car. He had a driving style which was very smooth. The way he spoke with the engineers was very technical.
He used to have a small camera in his pocket and on the grid, he used to go and take pictures of the other cars, and he was trying to engineer the design of the car himself. He was like 'look at how that wishbone is designed, we need to do that'.
In 2002, I drove the first day at the Valencia test. My comments were 'everything's better, engine better, aero is better, we are faster, everything is good'. Heinz-Harald comes on day two, he does the first couple of runs, and everybody goes to the motorhome. He says 'the car is a dog'. We thought we had a rocket compared to what we had last year. He said 'there is mid-corner understeer, there is a snap oversteer, the rear-wing is stalling, I never drove anything like that in my life'.
That was the difference of a driver that drove for big teams. He had over 10 years' experience in Formula 1, I was just in my second year and drove cars that were limited, and he comes in and says 'this car is like a dog'.
TC: Of course, it all goes wrong mid-season, doesn't it? The team runs out of money and it's forced to stop. At what point in the year were you aware that there were serious problems?
EB: Once we stopped testing. We didn't do much during the winter testing. I got sick. I was overtrained. I was training in the mountains in Austria. I went to a test in Barcelona and after 15 laps, I was completely gone, exhausted. They took me to the doctor and I was overtrained, so I had to stop for two weeks.
Before going to Melbourne that year, I had very, very little mileage. I did three laps in Valencia, 15 laps in Barcelona, I did a full day at Silverstone and that's it. We didn't have the resources to do much testing, much less than the year before. The car was better but there was no development going on. I think that was the lack of money. We were lacking some upgrades, we would sometimes have pieces for only one car, and not enough testing.
TC: And the troubles become public at Magny-Cours, at the French Grand Prix, when both you and Heinz-Harald go out to qualify, but with the intention of not qualifying. I mean, that was such a confusing message for a racing driver, right?
EB: Yeah, that was made clear for us – 'don't put the car on the grid'. That was an order. We had to fake. We started the lap fast, pushing, and on the last sector I slowed down quite a lot. Heinz-Harald slowed down a little bit less. We made sure that the times were not in the 107%.
BEYOND THE GRID: Heinz-Harald Frentzen on being Germany's F1 cult hero
TC: And then did you think that was the last time you were going to be driving that car? Was it a surprise to then actually get to the German Grand Prix?
EB: The problem started at Silverstone. I remember, we didn't do Friday so we only did Saturday. But at Silverstone, we had good pace. In the last part of the race, I think I was P5 or P6. I would have scored points there and unfortunately the car broke again.
TC: So when Arrows shut down, how confident were you of getting back on the grid?
EB: I was confident that I could find a seat. I was prepared to get to Formula 1 on the driving side and from the pressure point of view. But I was not prepared for the legal stuff. I wasn't prepared for the politics involved. I still had another year on my contract with Arrows, so I was locked in because my contract was going to be a three-year contract and they disappeared after two. Legally, I was under contract. I didn't take any measures to make me free. I didn't hire a lawyer or anything. In my mind, I was quite naive. I thought that they're gone, so it should be no problem.
I was actually in very advanced discussions with Jordan, until they say they can't hire me. Also, my contract with Red Bull was finishing that year too. I was more or less out in the woods. I tried to do everything myself and that's what made me be out of the grid. I sort of let the politics, the negotiations and the legal stuff out of my mind. I always tried to focus on the performance, on the racing. I was a little bit immature on that and it was a problem I ended up suffering from. If I realised my mistake and how big everything could become, maybe I would have approached it in a different way.
TC: Well, there is one more chapter though, isn't there? Which is BAR, where you became a test driver. How did that opportunity come about?
EB: Who made that happen was Didier Coton, Mika Häkkinen's manager, and Olivier Panis's manager at the time. I met Didier in Monaco, by coincidence in a restaurant. January 2003, I'm jobless at the age of 23, 24. I'd been a Formula 1 driver for two years and now I'm jobless. It was a really bad feeling and I honestly didn't know what to do. One day I was in my apartment in Monaco and I realised, 'I don't have a helmet, I don't have an overall.' After two seasons in Formula 1 racing, I was sitting in my apartment in January, jobless, without a helmet, without anything. I could not even do my job.
Then I meet Didier in a restaurant. I say 'can you get me back to Formula 1?' He says 'oh, you are four or five months too late. If we were having this conversation while you were still racing, probably I could have kept you on the grid. Now you're out, I don't know if I can get you in.' It's always difficult to come back. It's difficult to make it, but it's more difficult to come back. So Didier says, 'you need to do something, you need to drive something, because nobody will say 'Oh Enrique, come and race for me,' if you're sitting in your home in Monaco. You need to be racing.'
So I said 'okay, I have the helmet, I have the suit, and it has to be single-seater which is fast.' I call Jaime Alguersuari Sr, the President of the World Series by Nissan, and I said 'can you find me a team?' I started driving. The team was a very nice team. They became very good friends of mine. Out of those two seasons that I did with them, I won five races – always in the wet, we could never win in the dry, which says a lot. The car wasn't that good, but I had fun.
I finished third in the championship and one day Didier comes to me and says 'you're going to go to BAR Honda. You're going to do a fitness assessment. If you are fit, they will consider putting you in the car for three days. If you do well in these three days, you might get something out of it.' I drove the rest of 2004 and all of 2005, testing for them, driving over 22,000km. It was the best car I ever drove. The engine was so powerful, it was like a rocket. There's no doubt that's the fastest car I ever drove in my life.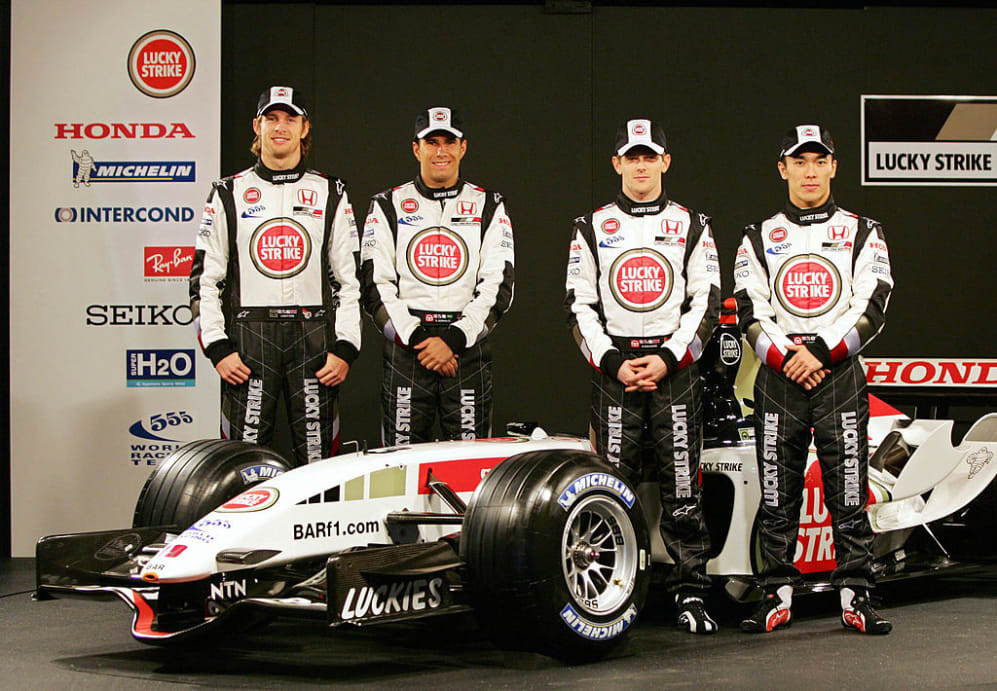 TC: Was there ever talk of a race seat there?
EB: Well, they had Jenson and they had Takuma Sato doing really well, so there wouldn't be an opening there. But we tried to be there and stay there, thinking maybe something would open up. As I said, it's always difficult to come back.
TC: Talking of your fitness, wasn't there one test, at Paul Ricard, where you did 176 laps in a single day?
EB: 181. I was quite fit at the time, I think, because I was very bitter. I felt that I deserved better than how things ended up with Arrows. I actually became fitter in the time when I was jobless, compared to the time when I was actually racing. I think that's one of the reasons why I got in the car and they offered me at test drive contract. I remember, talking about the performance of the car, I qualified in 2002 at Silverstone. I did 22.0, with six or eight kilos of fuel in the car. I remember telling my engineer, 'I didn't leave anything on the table.'
And with BAR Honda, I drove that a year and a half later. I hadn't sat in a Formula 1 car since Hockenheim in my last race with Arrows. I started with 60 kilos of fuel in the car. The last thing I wanted to do is to crash the car on the first run. I was taking it really cautiously. I looked at my first timed lap and I did 20.6, so you see the difference between teams, performance and engine. It was the first time I had power-steering in my life.
I liked it because I had a very smooth style of driving. I hated understeer. If you give me a car with understeer, anyone can go faster than me. I hated understeer so my car was always very pointy. I always used a very little amount of steering input. Having the power-steering, I didn't lose any feeling, because I was never applying much steering lock, so for me it worked perfectly.
BEYOND THE GRID: Jenson Button on his 2009 title, his toughest team mate and more
TC: How do you reflect on Formula 1?
EB: Of course, I would like to have done better. I got frustrated. I got sad for quite some time. I did mistakes. When I was inside the car, I gave 120% all the time. I really gave everything while sitting in the car. Was I a complete driver? No. I could have looked into more details – my fitness, my mental preparation – to be better. Things that I see that I could have done better, I didn't do at the time. Inside the car, I think I was good. Outside the car, not that good.
TC: And these are all lessons that you can pass on to Becho, your son?
EB: Yes, I tell him, 'you don't need to be good where I was good. You don't need to win the things that I won. Just don't do the mistakes that I did.'
TC: So wise, Enrique. But of course, you also stay in touch with Formula 1 now, through being a driver steward. Do you enjoy that?
EB: I like it. Of course, if I could be a Formula 1 driver again in my twenties, I would love that. But this is past for me now. I can go and do my job, see friends, see people from the past, I'm doing something that I understand, that I did my whole life, so I enjoy it.
TC: Well, thank you very much for your time. It's been great to talk.
EB: Thank you, Tom.
To read on, sign up to F1 Unlocked for free
You'll unlock this article and get access to:
Live leaderboard data
Epic experiences and rewards
Money-can't-buy competitions