Podcast F1 Unlocked
FULL TRANSCRIPT: Read every word from ex-Red Bull racer Vitantonio Liuzzi's Beyond The Grid interview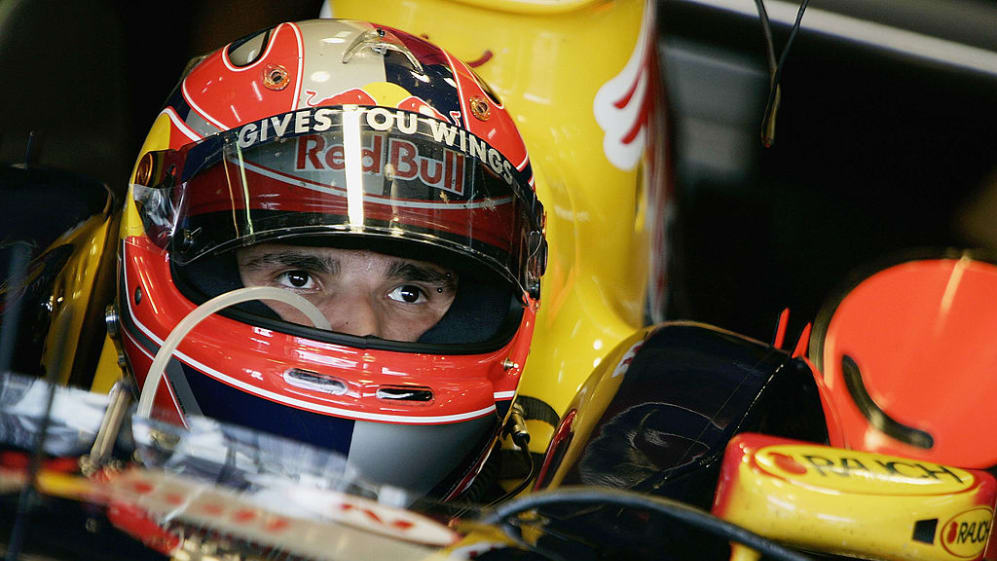 Vitantonio Liuzzi was one of the first ever Red Bull drivers – but his stint with the team was long before their championship winning days, and he also had spells in F1 with Toro Rosso, Force India and HRT, before hanging up his crash helmet.
The Italian – who now acts as a driver steward in F1 and runs his own chain of restaurants – is this week's guest on our Beyond The Grid podcast, and you can read every word from his interview with host Tom Clarkson in the transcript below, listen to the episode in the audio player, or head here to catch it on your preferred platform.
Tom Clarkson: Tonio, thank you for your time. It's great to have you on the show. Your relationship with Formula 1 has changed over the years. You are a driver-turned-FIA steward these days. How is life, first of all, as a driver steward?
Vitantonio Liuzzi: Totally different, I have to say. It has been a huge change. I obviously used to prefer driving because I love adrenaline in my life. But I have to say that this step has been a big change in my career and being on the other side of the desk, it's quite interesting because it shows how many tools people used to have to judge us.
Now I can see from the other side why I was discussing with stewards in the past and why many times they could have been right, because they had so many tools to analyse things. I have to say I enjoy this position. I enjoy to be back at the Formula 1 track, in the paddock where I grew up, and it is always a nice feeling because Formula 1 is always my life.
TC: When you see an incident on track, can you tell immediately who's at fault?
VL: Pretty quickly. I have to say that 90% of the idea, I make it quickly. As I said before, we have many tools to analyse the accident with the cameras there, with radio communication between the drivers and the engineer, with the telemetry. A lot of tools that are really important to see the motion or how the accident arrives and what the driver is thinking or what the driver is doing in the car.
We analyse quickly all these details so we have really professional people inside our room that makes this happen really quickly and that will help us to judge in a short time. But sometimes, of course, at the beginning of a crash I feel sure about the result but after, with all the camera angles and the radio communication, it changes my mind.
TC: That's really interesting. And the drivers, when they come into the stewards room, do they try and pull the wool over your eyes or do they not bother because they know you're a racer and you can read the situation?
VL: We are drivers so we always used to find an excuse for what happened. They all keep trying. Mainly in a fair way, some try to play games or they try to play politics. When they explain, they try to be smarter. But at the end of the day, we recognise this pretty quickly because we have been in the same sport as them.
We listen to what they say. We put that into consideration before we take a decision. We share our information. The driver advisor steward is there mostly to analyse the accident, but then we decide all together the final consequence.
TC: Now, Tonio, what about your own career? How do you look back on Formula 1? You did 80 races, you scored 26 points. I lived through all of those races from the media centre, and it seemed to me to be a case of right place, wrong time. Is that how you look back on it?
VL: Yeah, you took the words from my mouth. I was definitely one of the lucky drivers to reach Formula 1 because there are only 20 in the world and I felt really lucky to reach that target. But of course, as you say, in my career, I had a good chance because I have been with good teams, but always in the right place at the wrong time, because I was always what I call the 'startup' of everything.
I was at Red Bull in their first year, at Toro Rosso in their first year, Force India the first year, HRT in the second year. Every time I was one of the drivers that helps the development of the team. As with every business, when they start getting results, winning some points and money, involvement in the team gets bigger and bigger, there are many times that politics is entering the team because there are more interests inside the team.
I was always really weak in that. I was only basically a driver that wanted to go 110% every single lap of qualifying, practice and race. I was always myself and maybe this was not helping me because I was always saying everything I felt. That was a big shame because I think we had really great performance every time, really great opportunities, but the politics didn't support me.
READ MORE: LIGHTS TO FLAG – Vitantonio Liuzzi on beating Michael Schumacher, Red Bull politics, and his new role in F1
TC: When you think of yourself as a driver, what do you think were your greatest strengths?
VL: Speed. Definitely my speed. In my career I had team mates like Daniel Ricciardo, Sebastian Vettel, drivers that have been champions, have won many races. They were team mates of mine, but I was always really fast and competing with them without any problem in terms of pure speed. But in the end, my career took a different way and it's a shame because I felt that I could have given a lot more to the sport and to myself. I cannot say it didn't work because it was still quite a decent career, but it could have been much better.
TC: Technically, were you strong?
VL: Technically, I was really strong. I was really good at developing the car. I was used many times from Red Bull, when I was a Toro Rosso driver, to do the tests for them in 2006 and the beginning of 2007. I was working a lot in the wind tunnel with my engineer because I love the aerodynamics side, I love the technical side and I used to love being part of the development of a car, something that not every driver likes.
But for me, the technical side in developing the car was part of a complete driver and I really enjoyed spending time in the wind tunnel, especially with Force India because I spent a lot of time with them in England. It's something that I really love.
TC: When you were a kid, were you big in the sciences?
VL: Not at all. I cannot say that I was the best at school because I was not. But I was always curious. I always liked to push myself to the limit. I used to love airplanes in general, but I never thought I would ever end up being a Formula 1 driver because I was playing soccer, as all Italians do when they are kids.
I just became super passionate about the technical development when I was a go-kart driver, because when I was driving I used to love following my mechanics, understanding the changes in the car, understanding why something was happening when you change a rear axle, the chassis, a tube dimension, the angle of the camber, all these things that are really technical. I used to be curious to understand what was happening in the car and what I was feeling in the car when driving.
TC: Well, Tonio, you were a brilliant kart driver and I want to discuss one world championship in particular. That was 2001 at Kerpen. Michael Schumacher did that race and you beat him! What are your memories of it?
VL: I think that was the most important day of my career because it made me the most famous karting world champion in history, thanks to Michael Schumacher, who came to race with us that weekend at his home track. I won the championship there and I was famous all around the world because I was the guy who beat Schumacher. It was an amazing day and a big switch in my mentality.
At the beginning, I thought he was coming and stealing our fame because we were fighting for the championship, and he came and nobody took care of us. We were part of this race in Kerpen. But then working beside a Formula 1 world champion, I realised how professional in the state of mind you need to be to develop yourself as a Formula 1 driver.
You really saw the passion and the focus that Michael had in his eyes when he was driving, even just a go-kart. That made the big switch in my head because I thought that if I wanted to become similar to him, I had to become a lot more focussed, working much harder. It gives you an idea of how hard it is to become a Formula 1 driver.
TC: Did you have much contact with him over that weekend?
VL: Really little. He was surrounded by hundreds of people and it was difficult to talk to him. Obviously, we spoke a little bit on the podium and I have to say that we became a little bit friends there because after when we saw each other in other occasions, and once I arrived in Formula 1, obviously for me was a hero, and he had a lot of respect for me because of that event in go-karting.
He used to love go-karting, and I think he respected me a lot because he knows that the go-kart driver is a big benchmark to see the level of a driver. Michael especially used to go quite often go-karting in Italy and we did a few events and charity races together. It was amazing because there was a lot of respect between us.
TC: What did that win in 2001 do for your career?
VL: Of course, it changed drastically everything because it made everything so quick. I was maybe the fastest driver to jump from a go-kart to Formula 1 because I ended up winning this championship in October or November 2001. And in September or October 2002, I tested the Formula 1 Williams in Valencia. This transition was really short.
That day in Kerpen, there was Jonathan Williams, the son of Sir Frank, and we starting talking about the future. He was following me since a while because he was passionate about go-kart drivers and he was looking at young talent coming through. He started keeping an eye on me during that that year in 2001, and once I won the championship, we started talking about a potential test in 2002.
TC: Can you tell us a little bit more about that first Formula 1 test? It's November 2002, nine months after you've won the karting world championship. You go to Valencia. Did you feel ready for a Formula 1 car?
VL: I think when you are so young, you want to go over your limits. You never think if you are ready or not, you just go. You just sit in the car, close the visor and go. Physically I was definitely not ready because I remember at the end of one day of testing, I couldn't even eat because I was keeping my head up with one hand and putting the food in my mouth with the other because my neck was destroyed.
I think I did 74 laps in one day so physically I was struggling. I think it was also a result of my performance because I remember I was really fast, pretty close to Juan Pablo Montoya with the used tyres. Then, when he had new tyres, he had eight tenths on me or something like that. He could keep up with the neck because he was trained enough and me, I couldn't keep my neck so I was slowing down in some corners and I was losing time in those specific corners. That was all because of physical so definitely my physical side wasn't ready.
THIS WEEK IN F1: 10 quiz questions on all the F1 news after the Sprint weekend in Qatar
TC: Tonio, when you're so fresh out of karting, how do you explore the limit of a Formula 1 car?
VL: You just try and you are shocked the first few laps when you jump in a car with nearly a thousand horsepower already. It was incredible. I remember the feeling I had when I went on the throttle in the first couple of laps. I was shocked. I said 'wow, this is incredible' and the adrenaline I had in myself was huge. But it's something that feeds me. I live off adrenaline and this was giving me an even bigger boost to try. It was an amazing feeling. After a few laps, it becomes natural. Lap by lap, you get closer to a limit that you think never comes because Formula 1 seems limitless for the performance that it has.
TC: Let's fast forward a year. You've just done your first season in Formula 3000 and you get another test, this time with Sauber alongside Felipe Massa. Do you feel that you explored the limits of the car better then because you had that much more experience?
VL: Definitely. I was definitely a much stronger person. I had one year behind me of Formula 3000. It was already much tougher physically compared to Formula 3. My test in Jerez was a mega test and we went really fast. But unfortunately, they killed my dream at 0730 in the morning before we jumped in the car.
Basically, speaking to Mr Sauber, they confirmed [Jacques] Villeneuve had to drive that year. That was the year Villeneuve came back after a few years. Before my test, Mr Sauber told me that we were going to have the test, but the seat was already gone. But I enjoyed the test, it was still a great experience and I thank Sauber for that.
TC: When you get told on the morning of your test that you're no longer in the running for a race seat because Villeneuve's got it, does that take the pressure off? Does it make you angry? How did you feel?
VL: For sure, you become really disappointed because everything you are dreaming of, it falls apart. It doesn't make things easier. Maybe in terms of pressure because you drive with less pressure of making mistakes, so you want to try more, you enjoy more the test.
But for sure, the world collapsed on me in the morning at 0730 when I received that phone call, but as I say, it was an amazing experience and it was part of the learning. It was a shame because I think that position in the moment of Sauber, after changing to BMW, I think it could have changed my career. But these are the sliding doors of a Formula 1 career.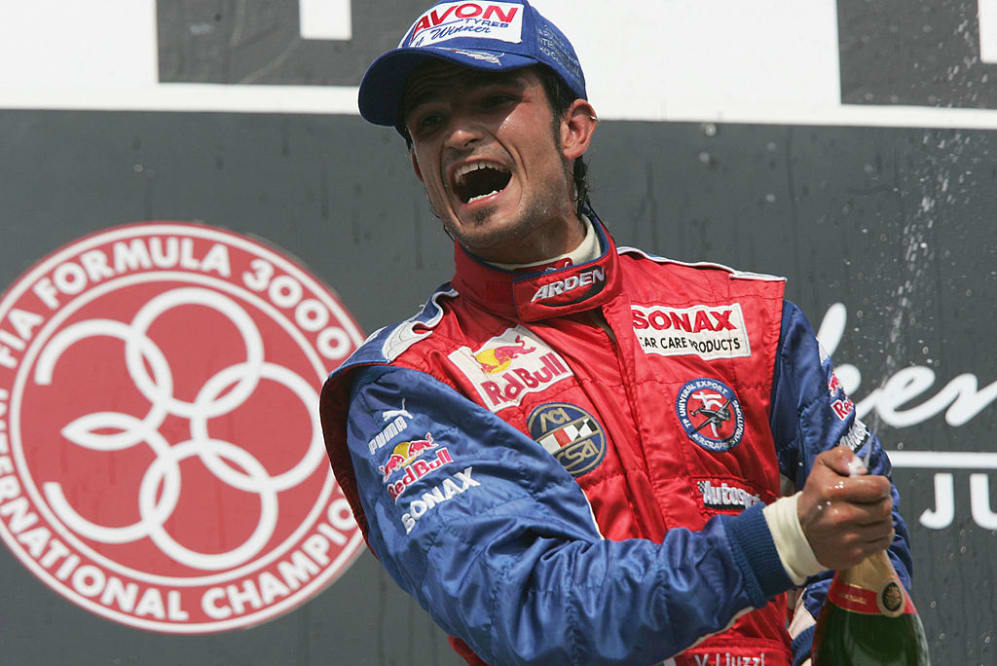 TC: Well, look, the big chance comes, thanks to Red Bull. When did you first come on Dietrich Mateschitz's radar?
VL: Since the beginning of my single-seater career, I was always part of the Red Bull family. I will be always thankful forever to Didi because he was the person that made my dream come true. I was always under the radar of Didi and I used to be one of his favourite drivers.
After what happened at Sauber, I think he was already thinking about a project in Formula 1, buying a Formula 1 team. He thought it was the right time for me to step up into the project of Red Bull being a Formula 1 team. He wanted me to drive. But obviously when he started the Formula 1 team, there was already David Coulthard as the experienced driver in the team, leading the technical side of the environment.
Me and Christian Klien had to share the seat, if you remember, in 2005. This was a decision that he took because he wanted to give me the possibility finally to drive, but then unfortunately it was not the right decision for both of us, for me and Christian. We were both trying hard for our career but it was not really useful to have four races and then stepping out to give a chance to your colleague. We decided to stop after the first few swaps.
TC: Can I ask you a little bit more about Didi Mateschitz, because I remember at the time you describing your relationship with him as being paternal, like your racing father. When you look back on it now, do you still feel that way?
VL: Definitely. We lost a special person because he had a really personal heart. He really put a lot of passion in his brand. The brand Red Bull is a huge family. Every time we were together, it was never like a business conversation. He was always such a nice person, really friendly, really helpful and ready to help you in anything you need. He was really a person with a huge heart and I will be thankful to him forever. It's a big shame that he's not here.
TC: Without him, would you have made it into Formula 1?
VL: Good question. I had a lot of sliding doors. I was definitely one of the young guns coming up from single-seaters so maybe I have would have had the chance. But he also supported me in single-seater category so I don't know if me and my manager, only ourselves, would have been good enough to find other sponsors because motorsport is really expensive.
You need to have big support from sponsors. I didn't have family money to support my driving when I was younger, so without Red Bull, I don't know if I would have been in Formula 1. Possibly yes, because I was winning everything that was in my career in the early steps; karting, Formula Renault, Formula 3, Formula 3000. Everything I was doing, I was doing it right. But then you never know, the chance to be in Formula 1 is only for 20 people.
TC: Final one on Didi Mateschitz. Did you have his mobile number? Could you ring him any time?
VL: At any time!
TC: Isn't that a crazy thing? The big boss of Red Bull, one of the biggest companies in the world, and you as a young 20 something, could just phone him up?
VL: Yeah, I get goosebumps when I think of it. But that's the way it was. That's what I mean with the personal heart. He has many thousands of athletes around the world but he is there for his brand, for his people. He was always there for you.
READ MORE: Remembering Dietrich Mateschitz, Red Bull and AlphaTauri's quiet patriarch
TC: So that 2005 season, you had David Coulthard as the lead driver, and you and Christian Klien sharing that second car for at least the first half of the year. How did you and Christian rub along? Did you share data or were you hyper-competitive with each other wanting to outdo the other one?
VL: No, we were actually sharing everything because it was the mentality of the team that we were sharing the data analysis. We were pushing all three, me, David and Christian, to give more to the team, to give more information, more data, and push ourselves to the limit. There was nothing hidden between us.
Me and Christian were already Red Bull athletes outside of Formula 1 so we were friends. After this experience in Formula 1, we became really good friends. Obviously when we closed the visor, each of us was driving for our own career because we were going at 110% to achieve our goal to get a seat. But then after, when we were in the garage with the engineer, out of the track, we became really good friends and we were helping each other to work for the same target. It might sound weird, but he became one of my best friends in life. Christian is a fantastic person for me.
TC: You talk about the vibe in the team being very open and honest, everybody pushing in the same direction. Off track, I very much remember Red Bull being the party team back then. Was that a distraction?
VL: I think I was handling it pretty well. Red Bull were more focused in marketing because they were an amazing brand. There were so many parties during the year and obviously as a Red Bull athlete, they invited me and I was going there. But I think I was managing quite well. At the track, I was one person. In the events, I was a different one. I think I was one of the best characters for Red Bull because I really linked with the brand. I used to love their mentality because I live off adrenaline, similar to Red Bull with all the crazy sports they do.
At the beginning, it was difficult because when you're so young, obviously you see parties, and everything around it can distract you. But when I was switching back into race mode, I was a different person. I was still pretty different from other drivers in terms of looks, but only because I wanted to be myself.
TC: Tonio, you keep talking about being an adrenaline junkie, and because of all the sports that Red Bull are involved in away from motor racing, did you do all that as well?
VL: Everything! Red Bull made me feel like a kid in the chocolate factory!
TC: What was the coolest thing you did?
VL: They made me drive a MotoGP bike and I can confess now that the only motorbike I drove before that time was a big scooter. They organised half a day at Silverstone with a Suzuki 600 bike. That was my only experience before a MotoGP test at Valencia. That actually also went quite well because I was only 11 seconds off the pace from pole position.
I drove the acrobatic airplane as well. These are some things that I will always remember in my life. I was also trying to organise a jump without the parachute because that's what I mean about living off adrenaline. I did skydiving on the Thursday of the Formula 1 race at Spa!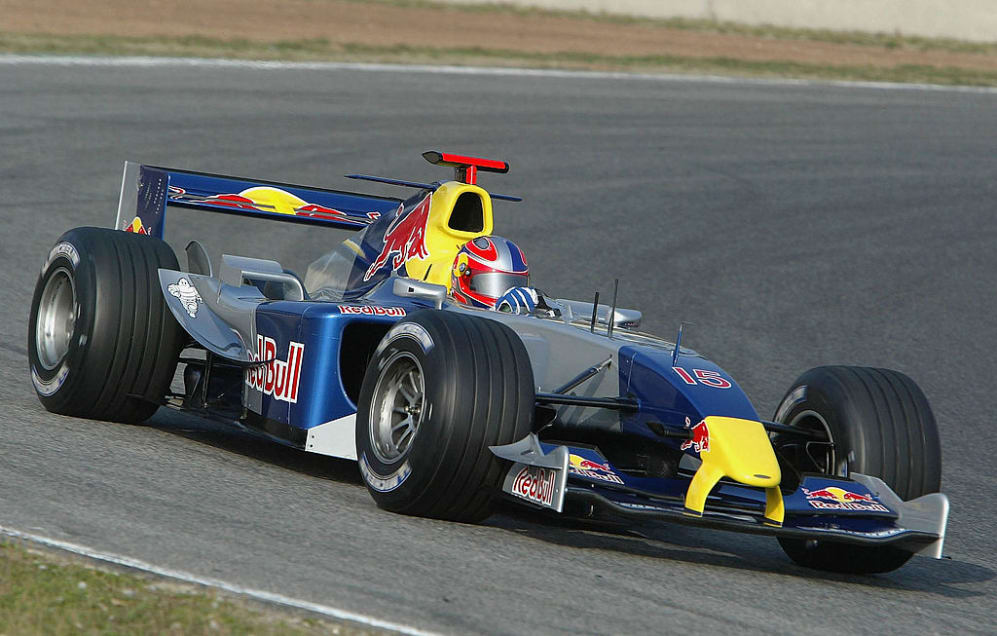 TC: Oh, my goodness – the perfect Red Bull driver. Look, your team mate in 2005, David Coulthard. Let's talk about him. How easy was David to work with and what was the biggest thing you learned from him?
VL: The biggest thing I learned from him was definitely the commitment with the team because he's a really professional driver. I think he is the perfect image of a driver. He was really strict, really methodical in the way he worked with the team. He knows how to talk to people. Saying that he's really political might sound weird, but he knows how to talk with media, with team principals.
He knows how to put himself in a strong position for the best of him. Some drivers are really good at talking to someone. Some are not good at talking at all, they just drive. He's really good in the marketing and political aspect as well. It's something I always wanted to learn from him, but I never reached this goal.
TC: So it seems to me that knowing what you know now, aged 43, if you went back and had your Formula 1 career again, that aspect is maybe the one thing you might change?
VL: Definitely. You need to know how to handle yourself with people and sometimes this is hard to accept, but you cannot say everything you think. You have to filter sometimes what you are thinking. This was a problem, I never had a filter in my time.
TC: At the end of 2005, the Red Bull Racing dream ends, but you switch to the baby team, Toro Rosso. Minardi's just been bought and renamed Toro Rosso. How exciting was that project for you?
VL: I felt really great. After what happened between me and Christian in 2005, Didi said to me 'Tonio, don't worry, next year we are thinking of buying the Minardi team. We want to make a full Italian team based in Italy, with you as a main driver.' So I felt really privileged and it was an amazing thing for me. Finally, I realised my dream to drive the full season with a Formula 1 team and to be part of a big project.
I couldn't choose any better team to start a full season with. The team kept growing, improved the facilities, the number of people, and the people in Italy were really amazing. The group of people coming from Minardi was an amazing group of hard workers who were passionate about motorsport and Formula 1. I still have a lot of friends from there still with AlphaTauri them that I see on track. It's amazing to see how much passion they put into the sport.
TC: How good was that first Toro Rosso car?
VL: In the first year, you cannot expect too much. We also had a V10 with less power because we couldn't organize a V8 engine like all the others, so we drove with a V10 with less power, less revs. It had a lot more bottom because there was a lot less delay when you were going on the throttle compared to the V8, it was a lot stronger in the low revs, but the power was weak because there was a restrictor on there.
The revs were four or five thousand less than they should be. It was overall weaker than what all the others were using. But it was an interesting first year. It was a good experience for the team and for me. We also had some good races. It was a shame we lost the podium in Montreal. We had a few occasions where we could finish in the points, we did score a few points in a couple of races, but we could have achieved a lot more.
BEYOND THE GRID: David Coulthard on the highs and lows of 26 years in the F1 fast lane
TC: You leave Toro Rosso at the end of 2007, you become test driver for Force India in 2008 and then in 2009, when Giancarlo Fisichella goes to Ferrari for the last five races, you get the step up to race for Force India. The first race is your home race at Monza and that was another podium gone begging…
VL: Unfortunately another one... It seems that every time I was close to the podium, there was something dark. First race back in the car, Monza. Free practice on Friday, you could easily see that I was getting back I the rhythm pretty quickly. Saturday in qualifying, straight away I was fast. At the time, we used to qualify with the fuel we had to start the race with. I end up in Q3, I was really pumped up. The car was perfect, I was felling good and I wanted to for the pole. Seems like a dream, but I was really feeling good and the car was really amazing.
Then I hear on the radio before Q3 starts, Vijay Mallya saying 'Tonio, I believe in you, you should go with the full tank for a one-stop strategy.' I say 'no, please Vijay, let me go for the two-stop. At least then we can fight for the pole.' He says 'No, Tonio, we believe in you. You have to go for the one-stop. We've put Adrian Sutil on the two-stop and you go for a single stop.' Maybe sometimes I'm too soft, but I felt always really thankful for the position that they gave me.
I still made an amazing qualifying because I got P7 with a full tank going for the single stop. In the race as well, we start catching up and I had 17 laps to the end after my pit stop. I was P3. My consistency and speed was for P2 or P3 at the end but then a gearbox issue stopped me with 15 or 16 laps to the end. It was really another dark day, even though everything was perfect until the last 15 laps.
The gearbox gave up and these are the things that change your life, change your career. When you end up in the podium, you enter into a different group of driver. I had a few chances, four or five times, of being on the podium. But for whatever reason, the car always broke. Maybe the car always hated to see me on the podium. We didn't know what the reason was, but it was a shame because these are the results that can change your future and your career.
TC: We're going to wind the clock back a couple of years. By China 2007, you've got Sebastian Vettel as your team mate. How did you rub along with Sebastian? What are your memories of being his teammate?
VL: Pretty good. Sebastian was an introvert when he came to Formula 1. He was really, really young and we were totally different people. We had a different kind of character and attitude. I was young and wild, but Sebastian was more quiet compared to me. He had a more straight way of seeing things. Even though he was with the adrenaline brand of Red Bull, we had a totally different approach with the team, with the fans, with the brand.
I always thought that Sebastian was amazing in creating a group. He had a lot of similarities with Michael Schumacher in terms of method of working on track. He was a really great person to bring the people towards him, to convince them about the right things to do. He was dragging the team really strongly and this is one of his qualities and characteristics that I respect a lot.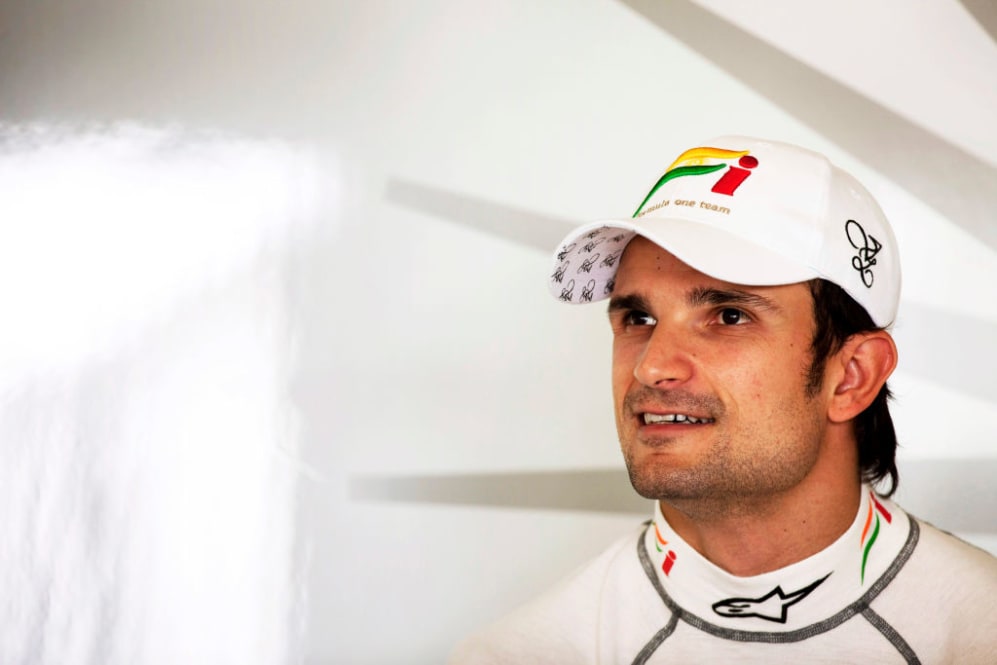 TC: Was he immediately fast?
VL: He was okay. He was not crazy fast at the beginning, especially in the year when we were team mates. I was never struggling in terms of pace. I never had a problem of speed. This was always my great quality, but he was definitely really good in being at the right place at the right time, in the strategy and tyre choice. I think he was born under the right star because he always had the luck going towards him. But you create your own luck and in this he was always really good.
TC: Given that you were able to match him for speed, how disappointed were you that you got shown the door at the end of the year?
VL: Super disappointed. Ultra disappointed. It was a decision by Gerhard Berger because he wanted me out of the team. At the time, he was part owner with Mr Mateschitz of Toro Rosso.
TC: Why did Gerhard Berger want you out? It doesn't seem to make sense on paper at least?
VL: Because he was pushing for Sébastien Bourdais at the time. When I received the paper that said I was not going to be a Toro Rosso driver anymore, I was super surprised and shocked because I'd had a really good year and a really good performance. I didn't expect it at all so I was really pissed off about that. But it was pretty clear that it was for other interests that were in the team due to Gerhard's ideas and project. But we are employees and they decide what they do with their team.
TC: Were you expecting Didi Mateschitz to fight your corner a bit more than he did?
VL: I understood why he didn't because he was the guy that put Vettel in instead of Scott Speed, so he decided for 50% of the team during the year. So he left the other 50% to Gerhard because he was part owner with him. That's why my time ended with Toro Rosso.
Helmut Marko offered me a test driver seat at Red Bull for 2008 but the offer from Force India at the time was pretty good. It was a four-year contract and I was really pissed off with this situation with Gerhard, so I didn't feel comfortable to stay. Now it's in the past, as I say, I'll be forever thankful to Mateschitz for the support in everything, but definitely my block in continuing with Red Bull was Gerhard.
BEYOND THE GRID: Gerhard Berger on partying, practical jokes & more
TC: So your final team is HRT in 2011. It wasn't a competitive situation. The team was run by your former F3 boss, Colin Kolles. What's the attraction for a guy like you, who's super fast, to go and just be at the back?
VL: My Force India seat was taken by Paul di Resta. They hugged me at the end of the Christmas party and then I received a letter on 4th January that I was not going to be their driver for 2011. I was shocked and the way it happened I didn't really like. But it's part of the business once again.
So I end up in January without a seat. The season was going to start soon. I didn't know what to do. There were no other seats available and there wasn't even space as a test driver with the big teams. Mr Kolles was always one person that believed in me. He brought me to Force India as well. He will always be one of the person that I will always be thankful to. He offered me this chance and for me it was like a transition year where I could try to negotiate a position for the future. I decided to take this chance. They were really nice people and it was a good year. I cannot say that I enjoyed driving the car. It was a really tough season because the car was really difficult to drive. But I think we made a big effort during the season, a big step forward.
I felt part of a good environment, where there were possibilities to improve, not to become world champion, but possibly to improve. In the meantime, I was negotiating with Renault and another team, but it didn't work. When the HRT owner Mr Carabante went out, there were political changes inside the team, and I gave up because the situation was too confusing. I decided to stop and try other roads.
TC: I did want to ask you before you go, who on the current grid most reminds you of yourself?
VL: It's difficult to say. You might think I believe too highly of myself, but Max has a lot of characteristics. Obviously he's a super champion, I'm not trying to compare myself with Max, but I was pretty similar because I used to try to bring the car over the limit every time and sometimes even too much as I was putting myself over the limit many, many times.
Sometimes I spun, sometimes I crashed. But this developed my speed potential and I think it's a little bit towards what Max did at the beginning. Now, he's nailing everything because he's not making any more mistakes and he's super-fast everywhere he goes.
TC: It's funny you should mention Max because in that championship-winning F3000 season that you did in 2004, you won all but three races. You kind of had your own Max moment?
VL: Yeah, we had nine pole positions out of 10 qualifying sessions and we won seven races out of 10. Once you start having that loop at the beginning of the season, then you fight against yourself to get better and better. You realise you have the team working super well at the time. There was an amazing team, a super car, and it was a super package together with me, because I was one of the young guns at the time.
They were nailing the pit stops, the strategy, the setups, and there was a massive understanding between me and my engineer when we were talking on the radio. Within seconds, we were understanding which way to go with the setup. This is also a really important thing for a driver, to trust 100% your engineer, and to understand each other really quickly. That was an amazing year and I understand why Max is always pushing himself to the limit, even now. It was amazing. We can say that we felt a little bit like him at the time, but you never think about that. You always just want the maximum at each race.
TC: And what does the future hold? I hope we're going to see you as a driver steward with the FIA at lots more Formula 1 races because you're excellent at it. But away from racing, I'm talking to a restauranteur?
VL: Yes, together with my wife, we started a separate business in food and beverage. Now we have five restaurants in Italy and the family is growing in terms of the restaurants. We have four in Milan and one in Pescara, the city where I grew up. Now we are working on different projects around the world.
TC: For when people are next in Italy, what's the name of the restaurant?
VL: In Milan, it's called Penelope a Casa or the Dome Milano – that is on the main cathedral square in the centre of Milan, so these two are the brands in Milan.
TC: Well, very good luck with that and many congratulations on what was a great career. It didn't get you the wins that you deserved in Formula 1, but you left your mark on the sport that will last forever.
VL: I have to say that I feel this when I come back to the track. I feel a lot of love with all my friends and the people I grew up with, and the respect I used to have from them in the past and still now. I enjoy being at the track, I enjoy being a steward because I think it's good for the sport to have people like us involved in the decisions.
I hope that I stay more and more involved in Formula 1 because I feel it's always my life. I don't know if I will race again in some category, because I always have the adrenaline and the need for speed in myself. In the last couple of years I've not been racing that much and I'm suffering but we'll see.
TC: But are you still parachuting, skiing and motorbiking?
VL: Of course, of course!
TC: Tonio, thank you so much!
VL: Thank you guys!
To read on, sign up to F1 Unlocked for free
You'll unlock this article and get access to:
Live leaderboard data
Epic experiences and rewards
Money-can't-buy competitions