Podcast F1 Unlocked
FULL TRANSCRIPT: Read every word from Giancarlo Fisichella's Beyond The Grid podcast interview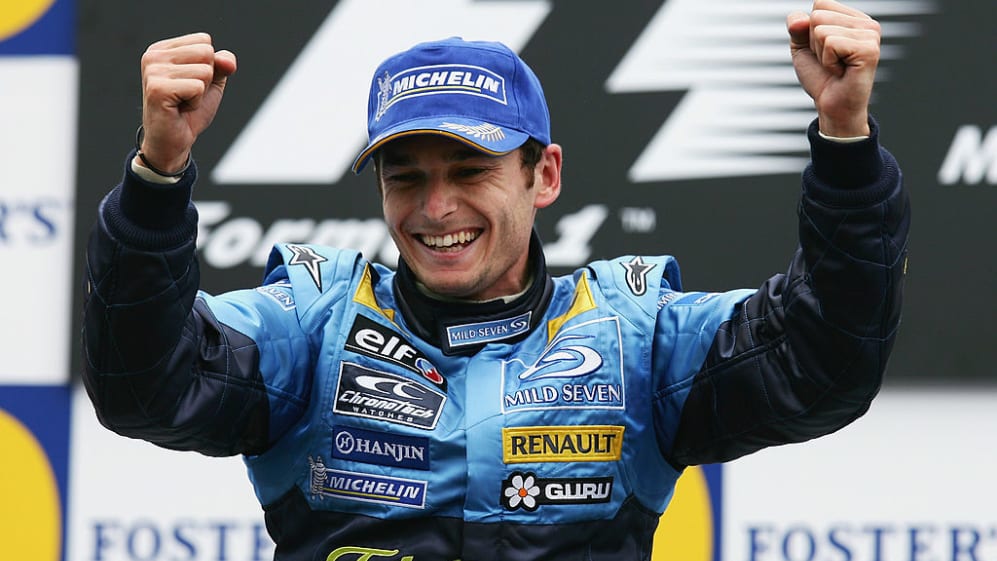 Giancarlo Fisichella raced in Formula 1 for 14 years, notching up 229 starts, 19 podiums, four pole positions and three victories – as well as helping Renault twice win the constructors' championship in the mid 2000s.
The Italian is this week's guest on our Beyond The Grid podcast – and you can read every word from his interview in the transcript below, listen to the episode in the audio player, or head here to catch it on your preferred platform.
Tom Clarkson: Giancarlo, it's fantastic to speak to you again. How are you?
Giancarlo Fisichella: Hi Tom, it's fantastic for me to speak with you. I remember, a long time ago, you came to Rome, to my house.
TC: We had a great barbecue, I seem to remember. Do you still watch Formula 1 races?
GF: Yes, sometimes. When I'm free, I'm happy to watch the race. I was in Monaco just this Saturday gone. It's a bit different from when I was in Formula 1, different style, but it's still Formula 1 – the best motorsport when you talk about motor racing.
TC: And what a day to be in Monaco. You must have seen those final laps of Q3 with Verstappen bouncing off the walls, Fernando putting in a sensational lap. It's one of the best qualifying sessions I've ever seen. Would you agree?
GF: I agree, it was an amazing qualifying session. They were so close. Monaco is a fantastic circuit. It's a very difficult circuit physically and mentally, minimal mistakes can cost you a crash. It's so important to be precise. All of them, they drove very well. It was a fantastic qualifying session to watch.
TC: Now, one of those names I've just mentioned, Fernando Alonso. Your former team mate at Renault. Just how impressed are you that he's still operating on that high level all these years later?
GF: I am impressed. But I knew that because, Fernando, you know, how quick he is. He can take the same speed and he has much more experience than in the past. Fernando is in one of the best moments of his career and he can win a few races this year with a good car. I'm happy for him and I wish all the best for him.
LISTEN: Fernando Alonso talks his F1 career – and his remaining ambitions on Beyond The Grid
TC: How does age affect racing drivers? As you have got older, have you got slower?
GF: In my experience, I can say the speed is about the same. I am still quick. I can do the same lap time as the quickest driver. I do feel more tired during the stint, I sweat more. The double, triple stint in Le Mans is more demanding for me than a few years ago. But I'm still able to do it, so I'm happy.
TC: Well, let's bring it onto your own Formula 1 career now. When you think of your 14 years in F1, what's the first thing that springs to mind?
GF: I'm happy and I'm very proud to say I've been there for 14 years. It was my dream when I was young. The dream came true. It's so difficult to get in Formula 1 and it's so easy when you're in Formula 1 to finish your career. But I've been there for 14 years, so I'm happy about that. Obviously, I won races. I got some pole positions, some fast laps. The target and the dream was to win the championship. I didn't get it, but I did my best and I will never come back.
TC: Not even now at the age of 50?! I saw all 231 of your races at the track, and I always felt that you were a driver who deserved better to get more wins and there was a lot of bad luck. Do you think that had the cards fallen differently, it could have ended in more race wins?
GF: Yeah, I'm more convinced than you because I know what happened to me. Most of the seasons that I was in F1, I was not driving for a winning team. I was driving for a winning team in 2005 and 2006 at Renault with Fernando. The first race straightaway in Australia, I took pole position, I won, so I said 'this is my year.' But then just after that, the second race I had a few mechanical and technical problems. I didn't score enough points to compete for the championship. When it is like that, you need to work for the team and you need to work for your team mate.
TC: And then 2006, you win early on in the year in Malaysia. But did the same thing happen again? Did you suddenly find yourself with a few technical problems and then before you knew it, Flavio Briatore was saying 'Giancarlo, we need you to support Fernando.'
GF: That's exactly what happened. But I am a professional driver and I said 'I am here for you. I am here for the team, for Fernando, I work for you. Let's win the constructors' championship.' And we won it in 2005 and 2006.
TC: Tell us about the relationship with Flavio. Was he a straightforward boss? Did you enjoy driving for him?
GF: Absolutely. I had a very good relationship and friendship with him already. In 1997, he called me to drive for Benetton. I remember one test with the Benetton at the end of 1996. Just after, he called me to London and I signed a contract for five years with him for Benetton. In 1997, I was at Jordan, but I was under contract of Benetton and then I went to Benetton from 1998 to 2001. Flavio is very clever. He doesn't give you two chances. He's very straight. He won championships, not just with me and Fernando, but also with Michael [Schumacher] at Benetton in the past.
TC: If there's one man who you owe your career in Formula 1 to, is it Flavio?
GF: First of all, I have to say thank you to Giancarlo Minardi, because my first season was in 1996, and Giancarlo put me in the car. Then Flavio was very important for me. Not just in 1997, but also in 2004. I was racing at Sauber and I was doing a very good season. At the end of the season, he called me and said 'we want you next year for Renault'. So that was good for me. I was always happy to race with him.
TC: I always felt that you'd gone to Sauber because you thought there might have been a chance of getting into Ferrari because they had the Ferrari engine in the Sauber. Was that the motivation to go to Sauber in the first place?
GF: Yes and no. I mean, it was good motivation. It was good to work a bit closer with Ferrari and racing with the Ferrari engine, but there was not a lot around for me. In 2003, I finished the contract with Jordan and there were just a couple of seats free and this was the best option for sure.
TC: Now to the first of your victories, Brazil 2003. Look at the photographs of the podium and it's Kimi Raikkonen on the top step. There wasn't even Fernando Alonso in third place because he was in the medical centre as he'd had a massive crash that brought out the red flag. What a bizarre way for you to win your first race in Formula 1. How do you reflect on that now?
GF: It was over 75% of the race. In that moment, I overtook Kimi so I was leading the race. Just after that, there was a huge crash by Mark Webber and then by Fernando. It was a huge crash. They decided to came out with the red flag and the race was over because it was more than 75% of the race. By mistake, they gave the victory to Kimi. But myself, and especially the team, were pretty sure we were the winner. We did an appeal and after a few days, they understood the problem and they gave me the victory. They gave me back the trophy two weeks after in Imola. But I didn't celebrate my first victory on top of the podium. It was a bit sad.
LISTEN: Eddie Jordan on the life and times of his iconic F1 team
TC: Can you remember who informed you that the FIA had actually made a mistake and that you were the winner? Was it Eddie Jordan?
GF: Yeah, it was Eddie Jordan. I was at a PR day for one of the Jordan sponsors. Then he called me and said to 'Giancarlo, you're the winner now, you are the winner. The FIA recognised their mistakes so we can celebrate your victory. Thank you, thank you!'
TC: And of course, it was Jordan's 200th race as well, so there was lots to celebrate. Did Eddie have to pay you a win bonus afterwards?
GF: Even if there was a bonus, he didn't pay me!
TC: What was Eddie like to work with? People say that he was brilliant with young drivers. Is that how you found it?
GF: Yeah, he was. As I said, in 1997, I was a Benetton driver, but there was no space on the team because they already signed a contract with Berger and Alesi, so they gave me the possibility to run with Jordan in the winter testing and my first test was straightaway very, very good. Eddie was really happy about this test and I went to his house in Oxford. He said 'we want you for next year. We really believe in you. We have a good car, let's do the deal.' And we did it. The car was quite good. I scored my first podium in Canada, the first points of my career in Imola, which was my home Grand Prix. I scored fourth in Monza. I was nearly about to win the race in Hockenheim. I was second in the qualifying session and I was leading the race, but unfortunately I had a puncture. The puncture broke the sidepod and the rear end of the car, so I couldn't continue my race. That was a shame but it was a very good season.
TC: There were several near-misses in '97. There was also Argentina and your crash with Ralf Schumacher. Ralf went on to finish on the podium. You could have finished on the podium, yet you had to retire?
GF: Argentina was another great race for us. We could score second and third easily. We were fighting for the position and in the middle of the race, Ralf crashed into my car and I had to retire my car. There was a possibility to score easily second and third, but there was a crash and that's part of the race. I was a little bit angry with Ralf.
TC: You and Ralf were both at the same stage of your career. You were both hungry, you were both quick. What was he like? Was he super competitive with you or was he very relaxed? Did he share data? What can you tell us about the Ralf Schumacher of 1997?
GF: Ralf was young and competitive. But it was important to be quicker than your team mate. During the season, I was quicker than him. I scored more points than him. It was very competitive. He's not been my best team mate; always watching you strangely, not happy to share the telemetry, he was not working as a team mate or for the team. It was just important for him to be in front of me, that was the target and that was my target as well.
TC: You go from Jordan to Benetton. The last year there was 2001 – the car wasn't competitive and Jenson Button comes in. What are your memories of Jenson?
GF: Jenson is a really nice guy. In this season, we were struggling a lot with the car, especially with the engine. It was not strong enough. Maybe for Jenson, it was more difficult for him with less experience than me. I remember one day, we were with the mechanics and we were wearing Rolex watches. One of the mechanics said 'if this year we get on the podium, you're going to buy a Rolex for us.' I said 'okay, no problem, because this year we will never score a podium.' But, unfortunately, we scored a podium in Spa. It was a fantastic race. I overtook four cars at the start and then I scored third. I bought eight Rolex watches for my crew, that was nice.
TC: You're a man of your word. That's a great story. While we're talking about Spa, I always felt there were two tracks in particular where Fisichella was brilliant. One was Spa, one was Montreal. What was it about those two racetracks?
GF: Montreal is the kind of circuit with strange chicane, low level of grip. I was always comfortable and you had to be confident because there's a very low level of downforce. The car was so difficult to drive there. I scored four podiums in a row and I scored the first podium of my career there. Spa is a completely different circuit than Canada, but if you ask the question to all the drivers, most of them will say Spa is the best circuit because it's over seven kilometres, there are ups and downs, different kind of corners, Eau Rouge where you need to be flat out if you are able to do it. Especially in the past, it was so difficult to be flat in the qualifying session with new tyres and low level of fuel. Now it's much easier. But it was fantastic. I scored a podium there already with Jordan in 1997, a few more, and then the last one with Force India was amazing.
READ MORE: 6 Winners and 5 Losers from the Canadian Grand Prix — Who made all the right moves in Montreal?
TC: I'm trying to get to the bottom of the brilliance of Giancarlo Fisichella in a Formula 1 car and I feel there must be something about those two tracks that brings out the best in you. You mentioned low grip in Montreal. Was it that you could feel grip. Was that what stood you apart from everyone else?
GF: It could be because also when it's raining, when it's wet, there is very low grip. I scored my first pole position and my first victory when it was wet so it could be.
TC: Just to go back to some of those team mates now. You had a young Felipe Massa next to you in 2004. You outperformed him. But could you see a future star in Felipe Massa, even back then?
GF: Felipe was very quick. It was difficult to beat him, but he was young with less experience and was sometimes doing mistakes. But in terms of speed, Felipe was very, very good.
TC: Why was Fernando Alonso different to the others. What stood out about him?
GF: Fernando was my strongest team mate. Fernando was very good in all circumstances; low grip, high grip, and especially in the race, he was very, very consistent and focused. He didn't make a lot of mistakes and was good in communication with the team, with the radio. He was also political, but that's part of the job. So Fernando was a very strong team mate.
TC: When you say he was political, what do you mean? Is that him just trying to get better equipment than you or a better strategy than you? How did that play out?
GF: In the team, he was quite strong. Briatore was his manager. The main sponsor was Telefonica, which was a Spanish sponsor. So he was quite strong within the team.
TC: And for all the reasons you've just said, did you feel that the team favoured him ahead of you?
GF: No, I think once you lose the possibility to fight for the championship, you need to work for the team, for your team mate.
TC: I always felt that Alonso liked you, Giancarlo, and that the relationship between the two of you was good. Is that how you remember it?
GF: We worked together very well. We were sharing telemetry, ideas, problems with the car. Before the race, sometimes we were playing cards with Flavio Briatore and our physio. It was so fun. It was important for the atmosphere in the team, to work well together, to have a good friendship with your team mate. Once we were on the track, we were so focused. It was important to have a good team mate like Fernando as a reference, or for him having me as a reference on lap time. It was always a good point to find the limit for each other.
TC: In 2007, Alonso left the team to go to McLaren. Heikki Kovalainen comes in. You are now the number one driver at Renault. Just describe how you felt coming into that season. Did you see 2007 as your big opportunity?
GF: Before the start of the season, yes. I was quite confident. I was really, really happy to work for the third year in a row with Renault. I was hoping to have the same car as the year before, but unfortunately it wasn't like that. The car was not quick enough. It was difficult to score a podium, to score a point sometimes, so it was unfortunately a difficult season for me.
TC: Was one of the reasons that you'd had to switch from Michelin tires to Bridgestone tyres. How much did that affect the performance?
GF: That was the main problem. The car in 2005 and 2006 was tailored for the Michelin tyres, and Fernando's style of driving. Unfortunately, when we switched to Bridgestone, the car was completely different. When you came out with a car, you can do some development, you can recover but unfortunately, the handling of the car was difficult all year and that was a tough season.
TC: Did you have to change your driving style for the Bridgestone tyres?
GF: With the Michelin tyres, it was very important to be very aggressive with the steering wheel at the turn. With the Bridgestone, it was the opposite style of driving so it was difficult to start again from the beginning. Already in the first test in the winter time, when we came out with the new car, it was different to drive. We were not sure if we were quick or not, but I was not comfortable like the year before.
TC: So you then go back to Jordan, effectively, except it is now called Force India. It is owned by Indian billionaire Vijay Mallya. How had the team changed for 2009 under the new ownership?
GF: Yeah, there had been a lot of changes in the team so it was a new team and let's say it was like a Serie B team in Italy, which is not a top team. In 2008, I was struggling quite a lot with the car. It was so difficult to be in top 12 or top 14. It was nearly impossible to score points. We were always on the back of the grid, but in 2009, the new car was better than the year before. At the beginning of the season, we were struggling but it was better and suddenly in Spa, with a new aerodynamics package, the car was completely different. Straight away, Saturday morning, I was so quick, I said 'hey guys, we can score points tomorrow. We can maybe get in top 10 for the qualifying session,' but nobody expected to be on pole. Unfortunately, after the first start, we had a Safety Car, and after the Safety Car, Kimi overtook me because he had the KERS and in Force India, there wasn't, so for a few seconds he used the extra power and he overtook me. And I follow him for the whole race, the whole race I was one second behind him, it was difficult to catch him at the exit of the corner because he was using the KERS. I finished second just behind him. But this result was unexpected, nobody was thinking about it before the start of the race.
F1 NATION: Red Bull take their 100th F1 victory and Verstappen equals Senna – it's our Canadian GP review
TC: So many questions from what you've just told me. First of all, how good was that pole lap? Would you say, of your four poles, that was the best lap?
GF: Yeah, that was the best because I did a perfect lap, even though I had wheelspin at exit of Turn 1 and Turn 8. But it was an amazing lap. Sometimes I go on YouTube and I watch it!
TC: When we had the Safety Car in the race, although you were in the lead at that point, did you know that you were in trouble?
GF: Yeah, because behind me there was Kimi with the KERS. I knew I needed to do something different, but it didn't work. There was too much difference on power. He could use the KERS at the exit of the corner. If you use it for two or three seconds, you gain 30 or 40 metres. Then it was difficult at the end of the straight to catch him and get closer. Today, with DRS, it's an easy life.
TC: What a sensational race. Yet afterwards, everything seemed to happen very quickly. Luca Badoer struggling in the Ferrari having replaced the unfortunate Felipe Massa after his accident in Hungary earlier in the year. How soon after the Spa podium did you get the phone call?
GF: Honestly, just after the race, my manager Rico told me 'Giancarlo, there is a possibility. Get ready and think about it. There is a possibility to race for Ferrari for the next five races. Obviously, we need to find a compromise with Vijay, with Force India and with Ferrari. But there is this possibility.' Two days after, he called me and said 'tomorrow, Stefano Domenicali is waiting for us in Maranello.' I talked with Stefano, then we talked with Vijay. He was very nice to let me leave to Ferrari. I knew it was a difficult decision because the Force India was really competitive in this moment. I knew in a Ferrari, straightaway in the race, with the KERS, with the front-flap adjustment, all the new stuff for me, I knew it was maybe better to not go to Ferrari. But this was my dream since when I was young and I was the at the end of my career. I said yes straight away. It was very difficult. In every corner, my engineers were telling me what to do with the KERS, with the front-flap adjustment, the switch for the differential control. Plus the car was not quick enough. Apart from Spa, which he won, it was also not quick enough for Kimi. It was difficult for him to score points. It was a difficult end of the season for me, but it was my dream since when I was young and I'm happy about my choice.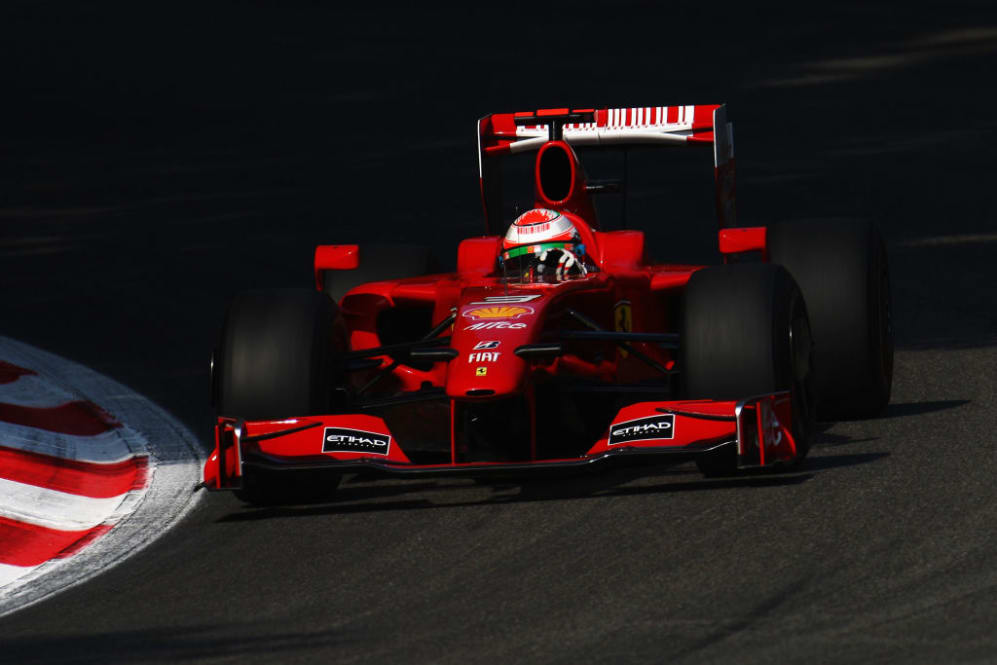 TC: I'm going to put it to you, Giancarlo, that had you stayed at Force India and got some strong results at the end of that year, you would have stayed in Formula 1. Yet, you were forced to leave at the end of 2009 because it hadn't been a great ending with Ferrari and Alonso was coming in the following year. Would you agree with that statement?
GF: Probably, if I was to continue the season with Force India, I could score some more podiums, especially in Monza, but also in the rest of the season, and maybe stay one more season. I'd never go back. I'm happy with what I've done so far. I'm still racing in the Ferrari family.
TC: And as an Italian racing for Ferrari in Formula 1, how different did the media treat you?
GF: Incredible. At my first race with Ferrari in Monza, I realised how important Ferrari having an Italian driver was for Formula 1. Everybody, all the media, all the people, all the fans, were around me. It was amazing.
TC: And did you feel pressure like you'd never felt before?
GF: Pressure, of course, but also power. But unfortunately it didn't help me. I was struggling too much.
TC: And how was Kimi as a team mate? Was he helpful? Did he give you some advice?
GF: Just 'ciao, hello'. Kimi was ice man. It's his style; a bit cold, doesn't spend a lot of time with engineers and is very closed as a character.
TC: Well, it's interesting just to see the photograph behind you in your office, Giancarlo. It's you in the Ferrari. Although you only did five races for them, I can see what it means to you to have raced for Ferrari. Of course, you stayed with Ferrari and you're still with them today. So since retiring from Formula 1, how's life been? Thirteen Le Mans, you've won it twice. Describe that race – 24 hours instead of two hours, it must have been a bit of a shock for you?
GF: First of all, I remember the first time I drove the Ferrari 430 very soon after I retired in Formula 1. I jumped in the car. I went out with the pit limiter on the pit lane. I switched off the speed limiter and went on the full throttle position, I called in on the radio and said 'maybe the engine is broken.' It wasn't broken. It was just complete different power, grip and style of driving. I spent quite a lot of time learning how to drive the car. But once you learn, it's amazing. It's a fantastic championship. The biggest difference is that you share the car with two other drivers. In Formula 1, your team mate is your biggest rival. In endurance race, your team mate is your best friend. He has to be your best friend. You need to find a good compromise on set-up so that the car is good for everyone, because on your own you cannot win. You win with three drivers. You win with a team. You do over 30 pit stops during the 24 hours, so there's a very intensive preparation.
READ MORE: 'We should be very proud' – Ex-F1 driver Giovinazzi hails 'fantastic' effort as Ferrari make winning return to 24 Hours of Le Mans top class
TC: Do you sleep?
GF: For a couple of hours maybe but if you are fighting for the victory, you stay there. You watch the race and you are on the radio talking with your engineers, with the drivers in the car. It's a very special race. The two victories, when I was on the podium, I felt very, very happy like when I won in Formula 1. It's an important race to win.
TC: Away from racing, I believe you're a disc jockey. 'DJ Fisi'. Tell us about that.
GF: When I was younger, I was happy to sometimes enjoy a Saturday night and the disco. But I was also attracted by the DJ. I was watching what they were doing with the decks and seven or eight years ago, I asked a friend of mine, she's a good DJ, to give me some lessons. I learned quite quickly and I really love it. I play some weekend of Formula 1 Grands Prix; in Hungary, in Singapore, in many places. But I also play in Ibiza.
TC: What time do you come on when you're in a Ibiza?
GF: It was around 3am. It was quite late, but it was nice. It's good training for Le Mans!
TC: And Fisi, what about the next generation? Are there going to be any little Fisis coming through the junior Formulas. Your son Christopher, has he had a go?
GF: No, he's 20 and at university now. He was a good football player, but unfortunately he's broken ligaments twice and now he's stopped. He's studying now and he's a nice guy.
TC: Is he as good at football as his dad? You used to play in all the celebrity matches a lot with Michael and Fernando. That always looked like it was a bit of a highlight for you.
GF: Football was my favourite hobby. I am a big supporter of AS Roma, you know. When I was young, I was playing every day. Now, when I can, I like to play. I was a little bit disappointed because the last game in Monte Carlo on the Tuesday before the race, I had a fever so I couldn't go. But next time I will be there.
TC: Don't be modest. Are you the best football player among the F1 drivers? What about Schumacher? Michael was always good wasn't he?
GF: He was good, he practised a lot. He was also training with a team when he lived in Switzerland. It was nice to play with him. Fernando's another good player. He's very technical.
TC: Well, Fisi, enjoy the football. Enjoy everything that motor racing continues to give you. It's been so wonderful to catch up.
GF: It's been a pleasure. It's been a fantastic chat with you and I really enjoyed it. It's been nice to talk about my career and remembering all the races, so thank you very much for your time!
To read on, sign up to F1 Unlocked for free
You'll unlock this article and get access to:
Live leaderboard data
Epic experiences and rewards
Money-can't-buy competitions