Podcast F1 Unlocked
FULL TRANSCRIPT: Read every word from Heinz-Harald Frentzen's Beyond The Grid interview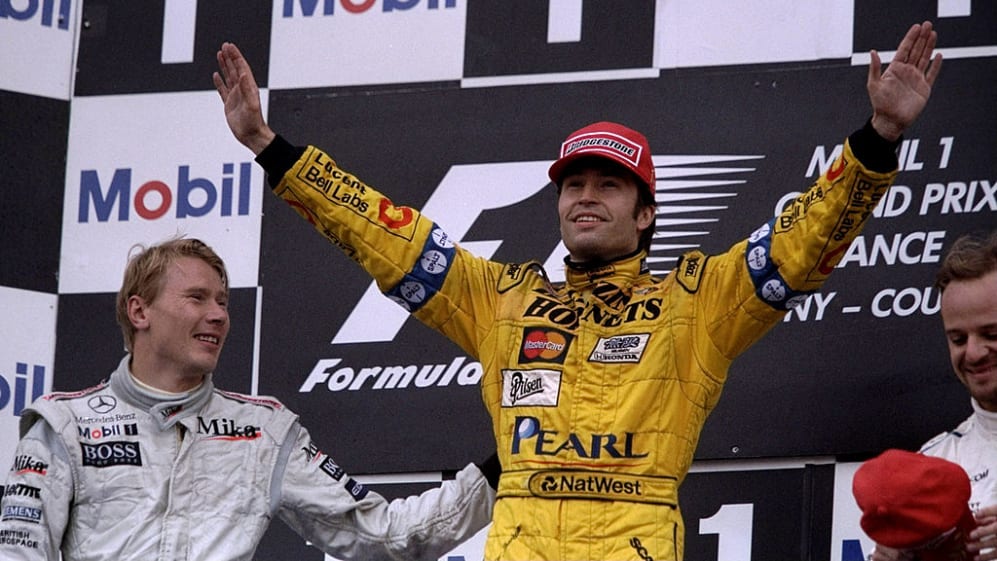 It is said that the one man who really had the measure of Michael Schumacher before the German ace graduated to Formula 1 was his compatriot and Mercedes sportscar team mate Heinz-Harald Frentzen. H-HF joined the F1 grid in 1994 and went on to win three Grands Prix – and mount an unlikely title tilt with Jordan in 1999.
The former Sauber, Williams and Jordan racer is this week's guest on our Beyond The Grid podcast, and you can read every word from his interview with pod host Tom Clarkson in the transcript below, listen to the episode in the audio player, or head here to catch it on your preferred platform.
Tom Clarkson: Heinz, it is great to see you again. How are you?
Heinz-Harald Frentzen: Thank you very much, Tom. It's a pleasure to see you again after so many years.
TC: How do you reflect on your Formula 1 career?
HHF: Well, first of all, I cannot complain. It could have been better, yes, but at the end of the day I had a great time and that's how I see it now. I was a bit sad when I stopped in 2003 because I wasn't happy how I finished. But then after a while, I thought I'd just escaped a bad accident at Canada in '99, so be happy and take it as it is.
TC: Sam Michael came on this podcast a couple of months ago and he said the two fastest drivers he worked with in his career were you and Lewis Hamilton. What do you say to that?
HHF: That's very nice of him to say that. If he says that and he means that honestly, that's a great, great honour. It's his opinion. I don't really take it too seriously, though.
TC: What were your greatest strengths as a driver?
HHF: I made a big jump in lessons in Formula 1 between '96 and '97, when I joined Williams, because at Williams, I realised that being fast as a driver is not enough. I understood that the only way to be fast is to understand the car 100%. I did not understand the Williams car, how it worked. For example, I had switches and functions which I had never seen before. This car was way ahead of everything I have driven before.
TC: Just out of interest, was your team mate Jacques Villeneuve able to get his head around all of that?
HHF: Yeah, the biggest problem for me was that Jacques knew the car, knew all the tricks, and I had really never seen something like that.
TC: And you failed to finish in the opening three races. Did that ramp up the pressure as well?
HHF: Yeah, it was a bit difficult because Damon Hill won the championship the year before and everybody was really shocked when I joined Williams. Everybody asked why. Then having such a difficult start to the season, everybody was questioning Frank. We then found out that Adrian Newey left the team because of Frank and Patrick's decision to take me on board without letting him know. The pressure was very high. It was simply that I didn't understand the car at all initially. By the time I was getting along with it, the season was halfway through and it was done basically for me.
TC: How was it working with Patrick Head and Frank Williams?
HHF: Patrick was a little bit more complicated. He has an opinion and we tried to convince him in a different direction. It was very difficult. Frank was more the guy who was thinking, observing and making his decisions. Patrick was more involved in technology. For example, at my first win in Imola in '97, he was so upset. You'd think he would be happy but he was so upset. We knew that Michael Schumacher was going to be strong in Imola. I was going to try to stay out as long as possible because in those days, pit stops were crucial for overtaking. Today it's very easy with the hybrid system and the wing coming down. But in those days we had to fight very hard to overtake and Imola was impossible on a normal condition to overtake.
The second chance to overtake is in the pit and that means to stay out longer. That was always the challenge, to be out longer than your competitor. I told Patrick that I'm going to use my trick in sportscar racing, where it's impossible to overtake, just in case I'm not in front at the start and I would like to increase my laps. I could easily increase by two laps with the fuel-saving system. So I was saving between 10 and 15% of fuel. And Patrick was saying 'no way, we want to see you racing. We want to see you on track to give everything. That's racing. I don't want to see you saving fuel.'
Patrick didn't like it at all. The good thing is that it worked out because Michael came in one or two laps earlier than me, and I saved two laps extra. That's why I beat him in Imola. But Patrick wasn't happy for the way we did that.
LISTEN: Sir Patrick Head on life at Williams
TC: What was the overriding emotion as you stood on the top step at Imola?
HHF: By this time, I said 'oil on my soul'. It's a German saying – the moment where you are suffering because nobody expected you to win. It was one of the hardest seasons of my life at Williams. It was a bit of a relief when I did have the chance in Imola.
TC: But having got the win, did you then expect the floodgates to open? Were you expecting more wins thereafter?
HHF: I knew it was possible. My biggest challenge was to understand the car properly.
TC: Did Jacques help in any way? What kind of team mate was he?
HHF: No, he was quite happy to beat me. We didn't really have a bad environment. We could get together anytime and drink a beer. There was a story that he was playing games with me. Definitely not, because I could see where he was having that advantage. Jacques Villeneuve and Jock Clear was an unbeatable combination, because Jock Clear knew everything about the car and all the tricks. Of course, he's working for Jack and not for me. I did ask him sometimes a few questions and he tried to help me as well on occasion, but it was not like that would be presented to you.
TC: What was the greatest thing you learned in those two Williams years?
HHF: The greatest thing is not only the speed that the drivers have. The speed is not the point. The point is really to improve the car in areas to gain lap times. What I understood is that in corners, it's important to have a better balance, and even if it's difficult to have a better balance in that corner, it makes a big difference in the lap times. If in all the rest of the corners or the track, the balance is s***, but in the end the lap time is faster, that's what counts at the end of the day – the lap time. I had to live with terrible oversteer, for example, on entry and so on, but I managed to get the important corners, which was essential for a good lap time. That was the trick.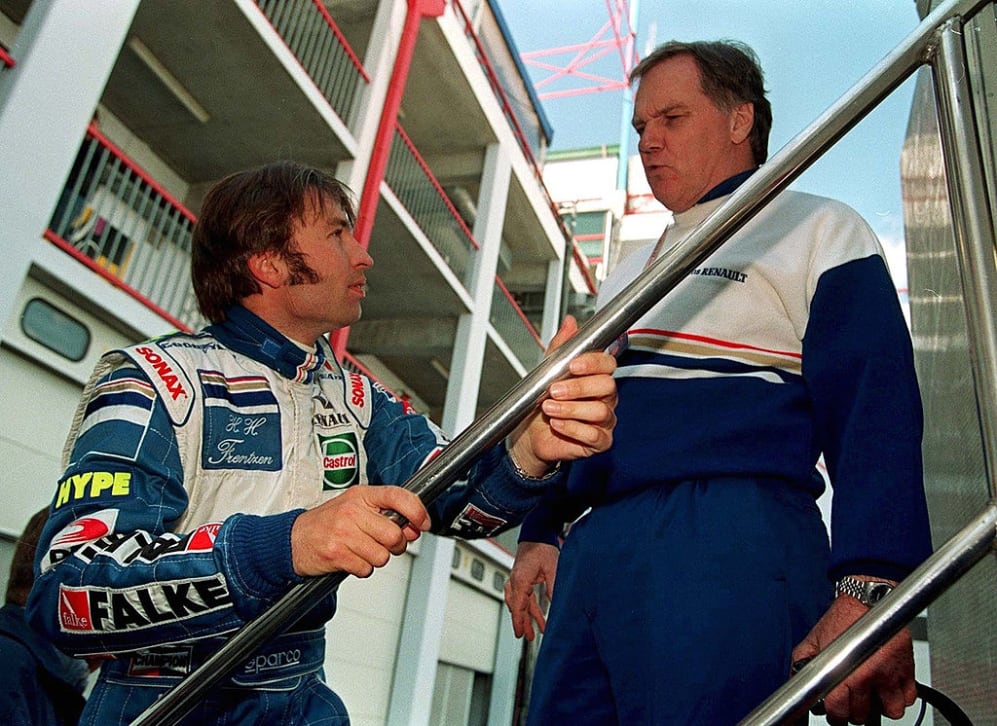 TC: So, although it was a bruising experience at Williams, you came away a better driver?
HHF: Well, I came out as a much more thoughtful driver. I knew much more about the racing car because, at Williams, we were allowed to touch everything. Roll centres, anti-dive, anti-lift, caster, brakes. You cannot imagine what toys we got on the car. Most of those things were banned for '98. The FIA came with this new rule book to say we're going to get rid of all these technical issues and go back to the basics. We were not able to do any changes to the differentials anymore.
TC: Put us in your shoes at the end of '98. What were you thinking? What were your options?
HHF: It was a very hard time for me and the Heinz-Harald Frentzen market value was a bit lower. Although I had a much better chance in '98 against Jacques, we more or less did the same qualifying and races, but my market value was bad. Not many teams were interested in me. Only Eddie Jordan contacted me and my manager, and knew he could get me very cheap. He was so happy if you could save some money on a good deal. Eddie was the happiest man alive.
He gave me a very low base salary, but a lot of points money. And I don't know if he was happy about that, finishing third in the championship, or paying so much money at the end of the season because it would have been better for him to give me a higher salary. But at the end of the day, we were all happy. Eddie was happy and I was really happy with the new circumstances in the team.
TC: You must have come out fighting in '99, feeling that you had something to prove?
HHF: Yeah, I was extremely motivated. First of all, Sam Michael, who was my race engineer, and the people around us now working on the car, they were quite open to me. Coming from Williams, they were probably also interested in the input I was able to give. What I had learned at Williams was very helpful to improve the car or get the maximum out of the car.
TC: Was '99 your best season in terms of what you were doing behind the wheel?
HHF: Yeah, somebody said to me that if we would run the same points system like Formula 1 runs today, I would have been world champion with the current points system. I couldn't figure it out. But somebody sent me a message about that and calculated it. If I would have won the world championship, that would be a completely different life for me afterwards.
TC: I just want to set the scene for the listeners. You won in France, brilliant victory. You won again at Monza. The very next race was the European Grand Prix at the Nürburgring. The weather conditions weren't great, but you were completely dominating and after your first pit stop, the car grinds to a halt. Shock horror for everybody watching at home. What happened?
HHF: It was a problem with our anti-stall system. I knew immediately that was the problem. I was so furious with myself as well, because we have a sign on the steering wheel that you have to use the clutch. Normally Sam would also come on the radio and say use the clutch to disengage the anti-stall security system. I missed it in the pit stop. It's so painful because that would have made a huge difference.
READ MORE: Jordan insider explains real reason Frentzen retired from the '99 European GP
TC: Do you think that was the moment when that '99 Championship slipped away?
HHF: It was a big shock. We were coming from a high, a very high, to Nürburgring, and with the result in Nürburgring, we got out with a big low. It was difficult.
TC: So you finished the championship third. What did Eddie Jordan say? Because it was far and away the best season the team had up to that point.
HHF: Yeah, like I said before, he was happy on one side but on the other side, he wasn't so happy because he had to pay so much money.
TC: Tell us a little bit more about EJ. I mean what kind of a team boss was he? Did you rub along well together?
HHF: Normally yes. In normal circumstances, we had a very warm relationship and he was a very funny person most of the time, always full of jokes. I was so impressed when we were going for sponsoring events, with the things he was telling. He was a very good salesman. I was so impressed.
TC: But then in 2000 and 2001, the performance wasn't there. There was a lack of reliability. Eddie ended up getting rid of you halfway through that 2001 season. What's the story there?
HHF: Well, it started a little bit in 2000 and my second year with Jordan. I was facing the point that we had to talk about because my contract was going to expire. But Eddie came very late with this moment and then he said 'What are your terms? What do you want to do next year?' I said, 'listen, I would love to stay with the team. I've got somebody who's interested, but if I have this same combination with Sam Michael, with the team that we worked so good together with, I would be happy to stay. We have to make sure that this combination will be ready for me next year.'
Eddie said 'Oh yeah, everything we can do and arrange for you.' So I was happy. First thing when I signed, Sam said to me, 'oh, sorry, I'm not with Jordan next year.' And I was shocked. I was so upset with Eddie because he promised me that Sam would stay. We had our first complicated situation there. I was really upset and the team was really upset that I was upset. I was really disappointed because I was looking forward to my terms.
We got a new race engineer and Eddie Jordan came with David Brown. We had our chat together and I was quite impressed with David. He was a really smart, experienced race engineer, and somehow we got going with the situation. But since then, Eddie and me, we had a bit of difficulties. It was not the same. Then we went to Melbourne and we started basically as good as we started or went through on average in '99. The car was superb. It was the best Jordan car I'd ever driven. I was very happy. We had a little bit of a struggle in some areas, but I was very motivated and optimistic that we could achieve something.
I started well in Melbourne, qualifying in front of the Williams with strong BMW engines. I had a good start, I think I was second or third. But there, the problem started. Barrichello was coming up and making a very motivated move to overtake me. He just pushed me off there, so I went to the back of the grid, but managed to finish sixth. We finished in the points. But something must have happened after that day in Melbourne. I don't know what happened, but since then nothing was the same anymore. We arrived in Malaysia and since then I was really struggling. I don't know what happened. Everything was different.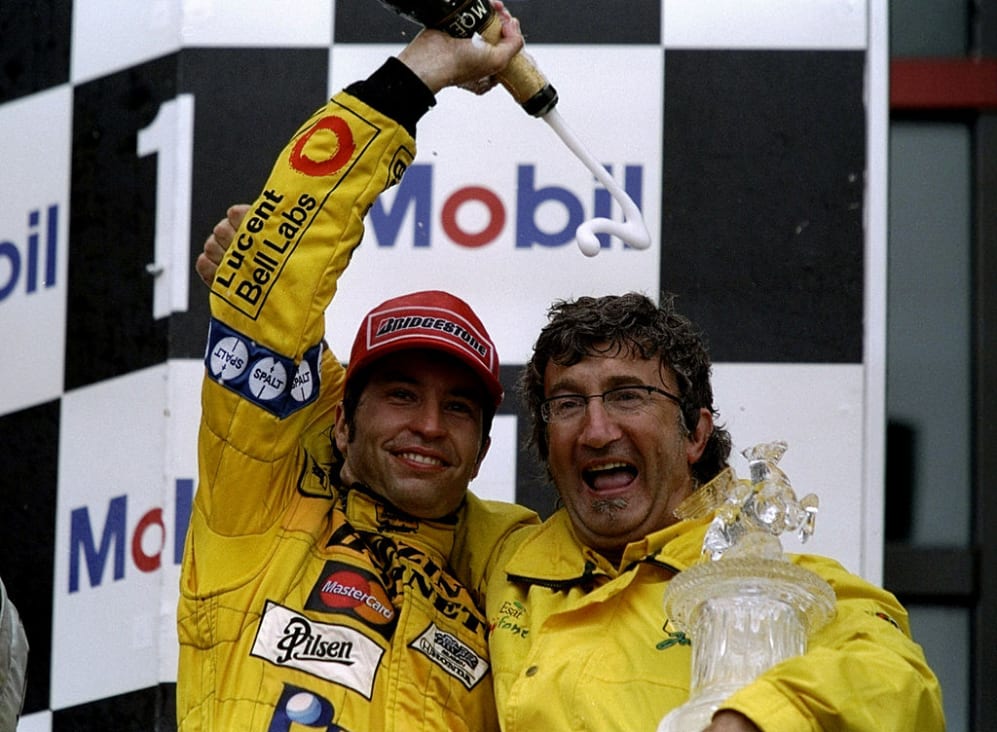 TC: Even to this day you have no explanation as to where the performance went?
HHF: I have no explanation. All of a sudden, it was like somebody pulling the plug. I had no more high moments. I was struggling to beat Jarno Trulli. Jarno was starting to get faster than me. Something was not running round anymore, until that famous day after Magny-Cours when Eddie sacked me.
TC: What reason did he give?
HHF: There was no reason. He just out of the blue came up with this letter with a lawyer and informed me so that was a big shock. It was a little bit anticipated because Eddie was getting strange every time, more strange each race towards Magny-Cours. I didn't understand the world. I have no explanation. I don't know what Eddie would have to say that. I listened to some of his comments about that. But I never understood what he really meant here.
TC: Why don't we talk about the Mercedes Young Driver programme now? It was yourself, Michael Schumacher and Karl Wendlinger. You were the trio that Mercedes wanted to do something with. Describe, first of all, the atmosphere between you three. Were you friends or was the rivalry between you too intense to be friends?
HHF: We had a socially very nice relationship, I have to say, because we were part of the team and we were not competing against each other, maybe only in lap times. Of course, we tried to be better than each other, but in a nice way. We went always together in the same hotel and we did things together. We went together for lunch, dinner or whatever.
When we had free time, we did many things together and exchange information as well. It was really a harmonious situation. I can recall it as one of my nicest times. I really enjoyed it because we had the chance to drive the whole day with a sports car and learn as much as possible.
TC: Were your personalities very different?
HHF: A bit, yeah. Karl was very quiet, but sometimes funny. Michael was really motivated, not only being fast on the track, but when we went out playing billiards. I couldn't get any decent conversation with him because he was so focused on beating me and Karl that we couldn't make any jokes. I said one day, 'come on, Michael, just give it a break. Just talk about something else instead of always competing with each other.' He had his moments when he had a distance to his job or, let's say, the competitiveness. Then he was a really funny bloke.
WATCH: Frentzen's win for Jordan and Minardi at the sharp end – 5 French GP feelgood moments
TC: I'm told that there was very little between you in terms of lap time. So where were you different?
HHF: It's hard to say. We were pushing each other all the time. In case I was faster or set the fastest lap, Michael was just doing everything the next run he had to beat that time. We also had to do long distance tests, like 20 laps in a row. The outcome was that we tried everything to beat each other and that's where we learned quite a lot. In those days, you had fights on the track, beating each other, but you'd never be upset after or before the race to each other. The race was always a different story.
TC: The three of you make it to Formula 1 at different times. Michael gets the leg up at Spa in '91 and then you and Karl get your different routes into Formula 1 as well. But when you're all there, how different was the relationship between you?
HHF: Basically, we more or less lost contact because we were running in different teams. You could just hardly get any situation together, maybe at the drivers' briefing, but you don't really get in touch as much as we had before. In that moment when you are separated or driving against each other for different teams, it just basically isolated us. You haven't got much chance to talk. Of course, we could have a chat here and there, but we had competition.
TC: And when you got into Formula 1 in 1994, Michael Schumacher was already a race winner. Was he pleased for you that you'd made it?
HHF: Oh yeah. I remember he wanted to know everything when I did my first at Sauber in 1993. Michael was, I found out later, ringing all the time, calling Peter Sauber or journalists to ask 'What is he doing?' He really was interested to know what was happening because I think he was very happy that finally I did make it as well. I think the biggest help Michael did for all of us, is that Flavio Briatore gave him a chance in Formula 1. In those days, experienced drivers were more valuable than young drivers. It was so difficult.
The team bosses in those days didn't like to have young drivers to crash their car because it was very expensive and it was the habit to have experienced drivers. So putting a young driver in the Formula 1 team was really a big risk for the teams. Michael opened the door for all the young drivers. He opened the door for me at the end because Peter Sauber obviously saw what Michael did. That's why Peter said 'if Michael is doing such a good job, I have to call Frentzen.'
TC: You and Karl Wendlinger get the nod to race for Sauber in 94. How excited were you to be team mates again?
HHF: Oh, it was really like a family coming together. It was the nicest thing on earth for me to be in Formula 1. I never really thought I would eventually make it. I was so happy to be in Formula 1, you can't imagine. It was very difficult not to love Peter Sauber. He was a quiet, respectful person, but he was a very warm personality, so I felt really nice and welcomed at Sauber. I could feel that he was giving a lot of confidence to us drivers. He treated us very respectfully and giving us the confidence that we can go for it.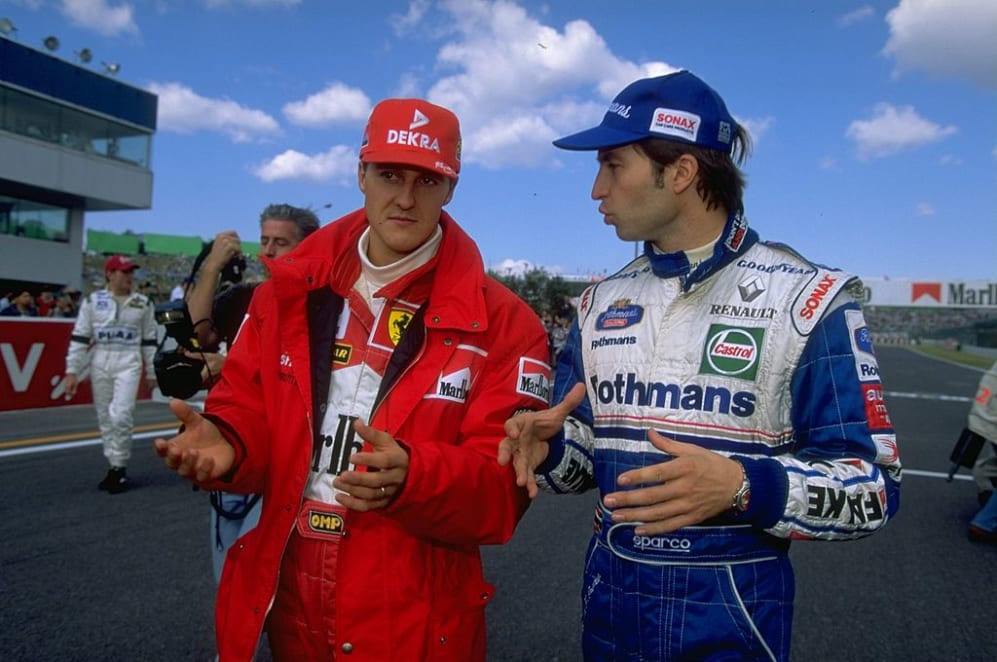 TC: Heinz, that '94 season was a tumultuous season for Formula 1. For a young guy like you, we go to race three at Imola. Roland Ratzenberger loses his life on the Saturday. Ayrton Senna loses his life on the Sunday. We then go to Monaco and Karl has a bad accident there. Just tell us where you were mentally at that point.
HHF: I was very down. I was so mentally high, pumped up and happy, during the first races driving for Sauber. Then, all of a sudden at Imola, this shock. It was such a shock. It was unbelievable. You thought you were in a different world. You're coming from a high and all of a sudden you are absolutely in a complete low. Then you question yourself, is it really necessary the sport we are doing and taking so much risk?
TC: How did you justify it in your mind?
HHF: Well, I packed my stuff and went to Austria myself to sort it out. I didn't want to go home. I wanted to sit there myself and think about what to do. And the end of the day, I said. 'listen, this is what I like. This is what I love. When it's your time, it's your time. But you cannot give up all your dreams you had built up before. This is a risky job and we have to do it.'
TC: Now, Peter Sauber has gone on record as saying that you are the most important driver in his team's history. I wanted to ask you why you think that is the case. What did you contribute to Sauber and was it the way you picked up the team after Karl's accident at Monaco in '94?
HHF: Well, I think partly it has to do with the situation at Sauber in '94. Sauber became under pressure with the results in '94. Norbert Haug got involved and there were rumours that Mercedes might go somewhere else. After Ayrton Senna died, I got a call from Frank asking me to come to Williams in '94. That was just before the race week had started. I was meeting Frank and he was asking if I would join Williams. That was only three races into the season.
I was so happy that I was at Sauber. I said to Frank 'I cannot leave the team'. I had such a difficult time to get into Sauber and Sauber did everything to convince Mercedes that I would be the right guy because Mercedes had their doubts that I would be the right guy. Peter was doing everything so I get the job in Formula 1. I said to Frank, 'I am so grateful that I got the chance that Sauber have given me in Formula 1. I cannot just leave the team after three or four races and join. I cannot break my contract.'
BEYOND THE GRID: Lando Norris on driving McLaren's revival and the responsibility of being the team's senior driver
TC: How hard was that for you to turn down what was the most dominant team in Formula 1 at the time?
HHF: It was very hard. For me it was impossible to slap somebody in the face, for Peter to give me so much trust and confidence, it was not possible.
TC: Did you tell Peter about this offer from Williams?
HHF: Oh, he got to know that. Somebody told him later because after that '94 season, when it was clear that Mercedes was leaving to McLaren, Peter gave me as a present, my first Formula 1 car as a thank you. My mission was clear. I was staying with Sauber no matter what, even without Mercedes, I was sticking with them. Then we had this very difficult year in '95, where we were basically nowhere at the start of the season. The car was so terrible and we weren't able to be in the top ten, but we managed to get the first podium at Monza in '95 and, towards the end of the season, be regularly in the points.
That is another point I wanted to say. You know why I never got a chance at McLaren? In '94 at Adelaide, my manager came to me. All Formula 1 teams were celebrating the end of season and then I had a call to say Ron Dennis wanted to see me. Ron Dennis came to me and said, 'Hey, Heinz, how is your English?' I said 'there might be some improvement in my English' and then I said for fun, 'and how's your German?' because we knew that Mercedes was coming to McLaren. He had a stone face.
I was thinking I was funny and my manager just pushed my arm and to be like 'what the f*** did you say?' I saw the face of Ron Dennis and he never, ever spoke again with me. He was so upset that I made this joke. That's why I never really had a chance at McLaren. Ron Dennis, for some reason, didn't like my sense of humour.
TC: Do you think you were happiest when you were racing for Sauber?
HHF: Well, more or less. I felt that that I was welcomed in the team and I got a lot of support. I liked the food, I liked the people, I liked Swiss people. I really enjoyed the time at Sauber. We had a few occasions which were a bit tough, but at the end of the day you need to have also tough situations. It cannot be so easy for racing drivers to have sunshine all the time. It's better that you get pushed by someone. They were looking for a driver who could push me, because everything was running for me so easy.
Obviously, Karl had the problem with the crash and after the crash, he was not the same. I felt very sorry for Karl. He had a comeback at the end of '95 again. But he couldn't do it because he got such a headache when he was running a car. I was really sad for Karl because we raced so many years together in Formula 3. He was my main competitor in the Formula 3 season. He won the championship in 1989 and he was very strong those days. But after the crash, he was never the same.
TC: So if we fast forward to life after Jordan. You bounce from Prost to Arrows. You then end your career with Sauber in 2003 and get that wonderful podium in your penultimate race. But Prost and Sauber were both on their last legs. Did you see many similarities between the two teams?
HHF: More or less. I mean, reviewing all the years, sometimes you realise it's little details that make a big difference. When Eddie sacked me, I was really motivated to kick ass to the Jordan team and go to Prost. I was shocked when I joined Prost. The car had a good performance on one side, but it had a fundamental problem. The steering wheel was so heavy in the corners. As soon as you turn the wheels in the corners, it created a massive understeer. Because I was so motivated, I tried everything to get the maximum out of the car.
I had a nice guy who was the race engineer at that time for the car. We looked at the data and we couldn't find the problem. We figured out it wasn't an aerodynamic issue. It must have been something else, but we couldn't find it. I was so disappointed. It was such a challenge. I spent so much energy analysing the problem.
I knew Alain was under pressure. I knew this might be his last year. If there's no more good results, then he will be giving up his dream of running the team. I started to get to know Alain in that short time I was racing with Prost. I felt so sorry. I mean, we were both in a similar situation. I was just sacked and I had to start again, and he was in a situation that he couldn't find a way out. I was so happy that I could eventually race for him the next year because I liked him so much.
TC: Was he someone who you'd always looked up to as a driver?
HHF: Well, I was in favour of Ayrton because since a young kid, I was a fan of Ayrton. But when I got to know Alain Prost, I found out that he is a really nice guy, too.
BEYOND THE GRID: Alain Prost on Ayrton Senna, his 1993 title – and almost rejoining Ferrari
TC: Did you ever tell Alain that you were an Ayrton fan?
HHF: Not really. I was a bit upset sometimes because I was on Ayrton's side and Alain was doing games. But at the end of the day, they are racing drivers and they do all kinds of tricks. But I really admired Alain; the way he talked and the way he thought. I was giving everything because also I wanted to beat Eddie and his bloody yellow cars!
TC: When did you make the decision to leave F1? Was it before you got that podium at the penultimate race?
HHF: Eddie came in Suzuka in 2003 and tried to convince me to do another year with Jordan.
TC: How long was that conversation?
HHF: Very short, because for me I just couldn't do it. Today you would call it burnout syndrome. I was absolutely finished and I was already looking forward to do DTM because I thought it might be a different story and just purely racing, making some money and having fun. That was my idea. I didn't want to start again from zero.
TC: What aspect of Formula 1 exhausted you? Was it the travel? Was it the pressure? Was it the constant need to think about how to improve the car?
HHF: No, nothing like that. I loved all the challenges. But at the end, I felt in my last year that I was basically overpaid. I was capable to get a lot more out of the car. I knew the difficulties of the Sauber car. I knew that if you make a few changes to the car, the car would go one second quicker. I knew that. But every other driver could do the same job as me. Nick Heidfeld was beating me occasionally.
If you can't touch anything on the car, if you have similar cars, there's not much difference in the settings you can make from the intelligence of the driver to increase the car's performance. I wasn't able to do that. I wasn't allowed to touch anything. I was coming to the race weekend and just being paid for driving, not using my brain. I was only allowed to use the brain to keep my foot off something else.
TC: I just want to throw your stats at you now. 10 years in Formula 1: 160 starts, three wins, two poles. Do you think you achieved what a guy of your natural ability and technical bent deserved?
HHF: Oh, it's hard to say. When I finished in 2003, I wasn't happy with how I finished because I thought I could have done more, achieved more. I was blaming myself that I was not politically strong enough, like dealing with the situation with Eddie when he kicked me out. Since I had the event with Ron Dennis, I was afraid to open my mouth because clearly I closed my door at McLaren. I realised I cannot talk too much. I didn't start to get political either. That's not my type of character. I loved more the technology, but I could not convince the people of the directions which I would like to go. I blamed myself there. I found myself not being a complete racing driver, not capable to get the people behind me, to convince them.
TC: I think you're being very harsh on yourself. After you retired from all forms of racing, what did you do to replace the adrenaline rush of being a racing driver?
HHF: Very hard to say. I did some racing in DTM and I found myself in danger because the moment I'm sitting in the car, the moment I start the engine, I'm back in this situation where I'm 100% focussed and I shut up everything that's around me. It's only me, the car and the racetrack. That for me was a perfect situation for disconnect. Now where I find this, is motorbiking. When I go on a motorbike and cruise around, I have the same sense of disconnect from the world, from all the baggage you have behind you. That's a similar feeling I had in racing. That helps me to relax.
TC: Heinz-Harald, enjoy the biking. Thank you very much for your time. It's been so good to catch up!
HHF: Thanks, Tom, for giving me a chance to talk about the past. I hope I'm doing it for a lot of people who followed racing and want to know the stories behind it. I've been completely disconnected now for several years. I know how it is if you are a motorsport fan, so I hope I can give people some information they wanted.
To read on, sign up to F1 Unlocked for free
You'll unlock this article and get access to:
Live leaderboard data
Epic experiences and rewards
Money-can't-buy competitions