Podcast F1 Unlocked
FULL TRANSCRIPT: Read every word from Logan Sargeant's illuminating Beyond The Grid interview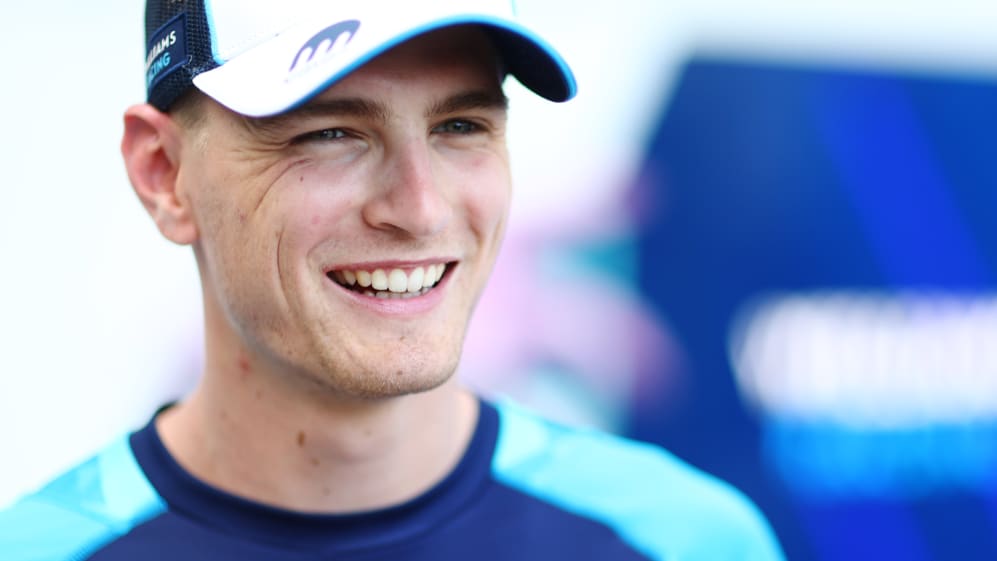 Logan Sargeant is finding his feet in Formula 1 this season as he competes in his rookie campaign with Williams as the sport's only American driver.
The 22-year-old is this week's guest on our Beyond The Grid podcast, and you can read every word from his interview in the transcript below, listen to the episode in the audio player, or head here to catch it on your preferred platform.
Tom Clarkson: Logan, it's great to have you on the show. Thank you for your time. We're speaking on the eve of the Monaco Grand Prix – your fifth street track in six races. There's no messing when it comes to the venues to start your Formula 1 career…
Logan Sargeant: Yeah, they've definitely decided to pick the tricky ones for the start of this year, but still enjoying every second of it. I've been here before, so it gives me a bit of an idea of what to expect. Heading into this European leg of the season, it's an exciting time. I feel like I've already learned a lot through the first five and just looking to build upon that for the rest of the year.
TC: Do you like street circuits?
LS: I love street circuits when I'm comfortable with the car, and at the moment it's still a work in progress of becoming more and more comfortable with the car. I think what I really love about the street circuits, and Monaco in particular, is the adrenaline that it gives you. There's not many times anymore where you get out of the car and your hands are still shaking – and you still have like this sense of like a wow factor. Whereas a lot of normal tracks don't really do that to me after all these years. That's the nice part about coming to a street track.
TC: Hands are still shaking. That's amazing.
LS: Yeah, you get out of the car and you're still shaking from all the adrenaline that's just been put through your body throughout a session on a street track.
TC: And does Monaco require a different approach to the other street tracks? Is this one unique somehow?
LS: I think every street track's a little bit different. Jeddah, for example, is another really difficult one. Whereas here, it's all a bit slower, but it's extremely tight, twisty, bumpy. There's a lot of factors. But at the same time, I think one really good thing about this track is that it's quite small, so you end up getting a lot of laps throughout practice so the tyres are able to hang on for quite a while. You have quite a lot of time to build into the weekend and really build up to it, whereas most of the other tracks, it's not quite like that.
READ MORE: Sargeant picks out what he is enjoying the most about F1 so far – and the main area he needs to improve
TC: I think back to 2019 when you finished third at Macau and it hadn't been actually a stellar season of Formula 3 for you back in 2019. Yet you go to Macau, which I'm going to tell you I think is the hardest street track of them all. And you nailed it.
LS: I agree. I remember when I went out of the pits for the first time in Macau and I did the first outlap. I thought to myself, there is no way that you can push here. Like, how is it possible? It's just crazy because when you go outside of your comfort zone, especially in that situation, and then you start to do it and you realise you can do it, I feel like those are the moments that are most rewarding and that you grow the most from, to be honest. Because from where I started that weekend, just thinking there's no way this is even possible, to ending up being extremely quick and having an awesome weekend, it's amazing. That goes down as probably my favourite ever race to this point.
TC: How different has the reality of Formula 1 been for you compared to the dream of Formula 1?
LS: That's a tough question. I feel like the dream of going to Formula 1 is very similar. You're driving the best cars in the world. It doesn't get much better than that, honestly. I enjoy every single lap and every chance I get to get in the car and there have been a lot of special moments. I mean, even the parade lap in Miami was super, super, super cool. It was really lovely to have that support. The fans chanting 'USA' in the stands, that was really cool. But there's a lot more that goes into it. It's a busy schedule; a lot of marketing, a lot of media, a lot of commitments, a lot of time on the sims. You don't get much time to yourself so I'm learning how to do all that and not let it mentally drain me as much, and also have time to just hang out with some friends and go play golf on the weekend or something like that.
TC: But do your goals change? Because when you're in Formula 3, the goal is to get to Formula 2, right? So you've got to do everything in your power to have a good season in Formula 3 to enable that to happen. You then get to the pinnacle and there is no step higher, so does it require some adjustment from you as to what the next goal is?
LS: I think the adjustment is more in, at least for me this year, understanding you're not in a car that can win. It's all about building yourself and helping push the team forward. It's a very different mindset. Of course, we want to win, but realistically we have to just go out and maximize the performance of the car and whatever that is, it is. That's the difference. Whereas in F2 and F3, you got to win every single weekend. But I think in terms of mindset, you always have to have a good year. That doesn't change whether it's F3, F2, or F1, the goal is to perform well and either move up from F3 to F2 or stay in F1. That's the goal.
TC: What's the biggest thing you've learned so far?
LS: I think the biggest thing is how good everyone is on the grid and the smallest mistakes or the smallest margins make the biggest differences, whereas in previous years you can be a bit off the mark but get away with it. Now it's very crucial to be picture perfect. That's a lot easier said than done.
TC: Is the act of driving a Formula 1 car similar to Formula 2, or have you had to rethink all of your inputs?
LS: I think generally, we know how to drive. You have the base pace, but then getting that last bit comes down to having confidence in the car. That only comes with time and understanding the things that you can do within the car. Now all of a sudden, we have so many tools that we can change through a lap that can make a huge difference on balance and ultimately lap time overall. That's a whole other thing to learn. There are small things that you have to change in the way you drive so there's a lot a lot that goes into it.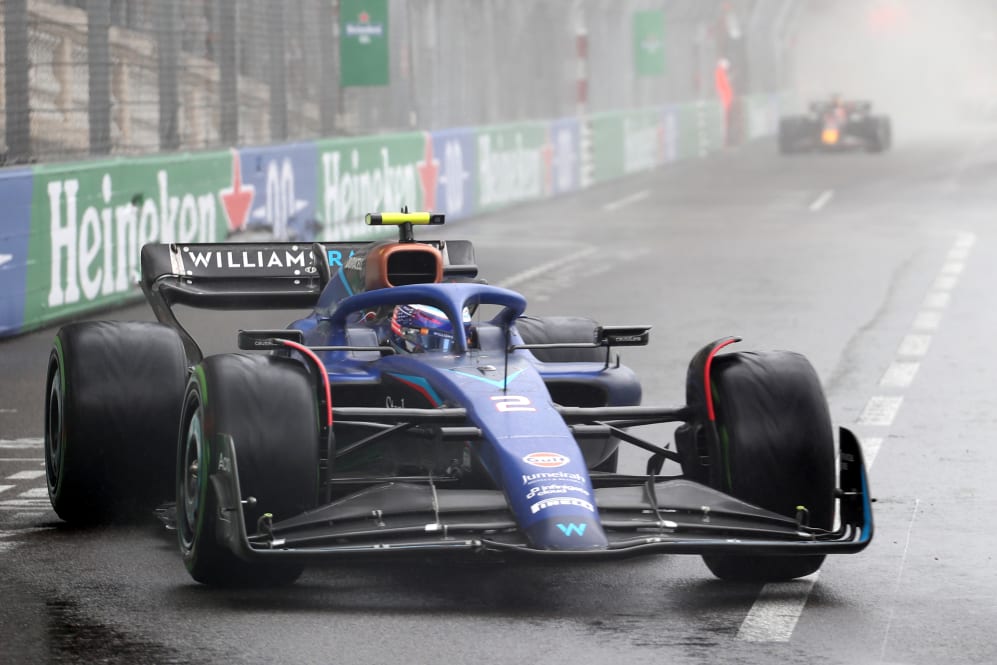 TC: And what about you and Alex Albon? Has he helped you navigate the potential potholes?
LS: I feel like I haven't asked him a whole lot. I obviously look at his data. I learn from his onboards, his data, and whatnot. But we go through everything in the engineering briefings together. It's not like I ask him on the side, anything in particular. I just try and pick up what I can from what I see in the data and then try to take things in and do it as well.
TC: Williams is the only team this year to be fielding two former karting world champions.
LS: Alex won the world championship? I didn't know that.
TC: Do you talk about karting with him?
LS: Yeah, occasionally we'll talk about missing the karting days as well because of how fun it was as kids and at the same time, no pressure, just going out to have a good time and go as fast as you can. It was really good racing as well. You could start last and if you are quick, come through the whole field and, win a race. That's something that I think we miss. But we also take time in the winter whenever we get a chance to get back in the car and do some laps.
TC: Tell us a little bit more about your karting career. Let's go back to the beginning. Why karting for you? Because I read somewhere that there isn't a history of motorsport in your family. Is that right?
LS: Honestly, just very fortunate to have had a family that could help support me in racing. Me and my brother got go-karts for Christmas at the time. We just we had quite a few different fun things that we could do and we were just fortunate to be in that position. Then we just started karting and one thing led to another. It wasn't meant to be anything other than just going out and having something to do with my brother and my dad.
TC: So did your dad race with you?
LS: He had a kart as well. He started with us so we were just like messing around. He jokes that I got everything from him. But we all started together and from there, we started racing in Florida, then nationally throughout America and then we went to Europe. And the rest is history.
TC: Tell me about the move to Europe. Is that when it started to get serious for you, when the whole family went to Switzerland with you to support your racing career?
LS: Yes and no. Obviously, it was serious to the point that we moved for racing and also fortunate that Dad had some business there so there was a reason for all of us to go. I was 12 years old. I don't think it can be 100% at that point. You never know what's going to happen.
ANALYSIS: Why Williams promoted American Sargeant to a race seat in 2023
TC: How was the dream sold to you? I'm just interested as a 12-year-old, 'son, we're going to move to the other side of the world.'
LS: I was pretty naïve to be honest. I didn't really understand it. I think that honestly helped me. I know my brother moved back after two or three years. I feel like he was at a point in life, especially with his age, that made it more difficult. I was younger, I didn't really care and I didn't really understand the implications of it.
TC: It's a well-worn path – Brazilians moving to Europe, Oscar Piastri coming from Australia, to England as well. But at that point, Formula 1 wasn't the goal? It was just a stage of life. Is that what you're saying?
LS: I think everything builds and I don't think there was a light switch moment, like 'okay, we're going to raise an F1 driver'. All kids say that they're going to race in F1. That's what everyone wants to do. But you also don't realise how much work goes into it, how many years go into it, how difficult it is, how many ups and downs there's going to be, how many opportunities there's going to be to decide to stop, honestly. There's so many hurdles and to say you're going to do something, there's a lot more to it than just saying it.
TC: Was the standard of karting higher in Europe than it was in the US?
LS: Yeah, we were racing through the US and basically got to a point where we were looking for higher levels of competition.
TC: Because you were winning everything?
LS: Well, I don't know, I don't want to say that. That's actually not fair because I have a few really good friends who are now in IndyCar. I raced with Patricio O'Ward, Colton Herta, Kyle Kirkwood, the list goes on. There were a lot of really good drivers in America as well so we had a good core group of drivers, but at the same time, we also knew the depth and level of drivers that were in Europe and also understood that if you did want to go to F1, that was the route.
TC: Let's break this down. You're racing against Pato O'ward, Colton Herta, guys destined for great things in IndyCar. Your childhood hero was Jeff Gordon. Why the passion for F1?
LS: The first year of F1 I watched was 2008, the year that Lewis won. I was seven at the time. I loved watching NASCAR back in the day, but we watched everything. We watched IndyCar, we watched NASCAR, we watched F1, so it was a bit of a full racing weekend for us. F1 was hard to watch at that time because of the time difference. That's why I watched more NASCAR and IndyCar. But I think it was more just looking for that level of competition that brought us to Europe. Then all of a sudden that leads you down the path to F1. Things build and everything comes together for a reason, and it just all fell together really.
TC: I've read a quote from you, in which you say you didn't feel that welcome racing in Europe. First of all, did you say that? And if that is the case, why?
LS: I don't know if I meant it in that exact way. Everyone I've ever worked with alongside me has been super, super supportive and they've always been welcoming. But I always felt like there was a bit of a thing against being an American racing in Europe. That's just how I felt. I felt like you're sort of looked down on a little bit and not expected to be as good for whatever reason. But the people I've worked with and everyone who has ever helped me along the way, have been more than great.
TC: Even after you won the World Championship in karting, you felt that?
LS: I don't know if it was more just in my head or not. Again, once I got to great teams in F4, F3, F2 between Carlin, Prema and even R-ace in Formula Renault, those teams always completely believed in me. Especially Trevor Carlin, he's done so much for me. From that point of view, there were a lot of people who supported me and believed in me, that's for sure. But I did feel like at times it was definitely more difficult, I would say more at the start than through my Formula career.
TC: And that desire to prove people wrong – is that still somewhere deep down a source of motivation for you?
LS: At the end of the day, I feel like it's more a battle with myself. No matter who you are, people want to talk down on you. It doesn't matter if you're Max Verstappen, Lewis Hamilton, me, whoever. There's always going to be people who don't want you to succeed for whatever reason. But I think for me it's more about the self-battle and the mental challenge with yourself. I believe it's all a mental game, to be honest, because I know that I have the ability to do it. It's just about getting in the right headspace and doing it. I feel like when your mind is completely clear, is when you go and drive your best.
TC: I remember David Coulthard telling me that he felt throughout his career that he was, and I'm quoting him now, 'swimming against the current,' and how hard it was, but it forced him to just get better and better. He could never relax. He felt he had to keep pushing. And it was a good source of motivation for him.
LS: It is like that. I really feel like you're against yourself and that's how you get better. That brings me back to those moments where you go outside of your comfort zone when it's something you don't believe that you can go and do, and then you do it, and then you get over that hurdle. You just keep building on that and you build this foundation. It's about building such a solid foundation that you can't be broken. That's what the best drivers in this sport have.
TC: And what are the other drivers on the grid like towards you personally? Have they been welcoming?
LS: Yeah, I think so. We're all so busy on the weekends, the only time we really see each other is in the drivers' meetings and those go on for hours. But other than that, I really only speak with the people I know, which is Alex, Oscar, George from time to time. Other than that, I feel like we're all so busy with our own thing that you don't really get a chance to talk too much.
BEYOND THE GRID: Sam Michael on engineering his rise to the top of F1 and the people who influenced his life the most
TC: Now you mention Oscar Piastri. You've raced as teammates for many years. Are you proper mates?
LS: We're definitely friends. Again, our schedules are so busy, it's not like we really hang out outside the track. We did have a game of Padel the other day. It was me and my trainer, Ben, versus Oscar and his trainer, Kim. Let's just say we took the 'W'. It was close. Oscar said he needs a rematch. Honestly, we had one of the most insane rallies. We ended up winning the point, but we were all just in awe of the performance that we had somehow found within us to keep that rally going. We started yelling and laughing and I forget how we won it, but I think Ben put a nice shot in and got us that point. It got to the point where we just couldn't believe it.
TC: You raced in karting together, then Formula 4 and Formula 3 of course. Is it like a sibling rivalry between you guys?
LS: I wouldn't go that far. It was weird because even though we were always so close, especially in our F3 year when it was as close as it could get, we never had a tension. Of course, we both wanted to win, but at the same time there was such a level of respect and the fact that we we've been racing together forever, I never felt like there was a tension that was maybe made out to be. I feel like it's always been very friendly and at the same time just a good, competitive, healthy rivalry.
TC: One final topic with Oscar I want to explore is 2020. You're teammates at the best team in Formula 3, Prema. You are level on points going into the last race at Mugello. What did you guys say to each other just before going to the grid?
LS: Honestly, I can't remember, but I'm sure it would have just been a 'good luck, may the best man win' kind of thing. It's not like we wouldn't have talked before or after. I think it comes back to the point of, we both wanted to win, but there was never any disrespect or tension or anything like that. It was always healthy.
TC: You end up finishing third in that championship. That last race didn't go quite as well for you as it did for Oscar. How difficult was it for you to pick yourself up after that?
LS: Yeah, it was difficult. I let that one slip. The last two rounds, we had a lot of opportunities to put big points on the board and we didn't. It is what it is. But I was still really proud of that season. I thought the pace I had, especially in qualifying, was really, really good. I was still happy with how it went. Disappointed with how it ended, but it was still a really good year. Then to come off of that and really have nothing that I could see in the future. I don't think I got close to not racing again. I definitely needed some time off. I was quite lucky that season ended in September. I did the post-season F2 test and other than that, I didn't drive for maybe five months.
TC: Was that intentional? You just wanted to get some space?
LS: I didn't have anything. There was nothing to do. I was just waiting to see what would eventually happen. The plan was just go and race some LMP2, some GT stuff. Honestly, I think I would have probably ended up getting something in IndyCar at the time.
TC: Did you talk to some IndyCar teams?
LS: Yeah, I was meant to do an IndyCar test before Williams came along with Foyt. That was a possibility. I think there was always going to be something, but I'm glad I went a different direction.
TC: Who was managing you at the time?
LS: Harry Soden at Infinity. He's George Russell's manager as well.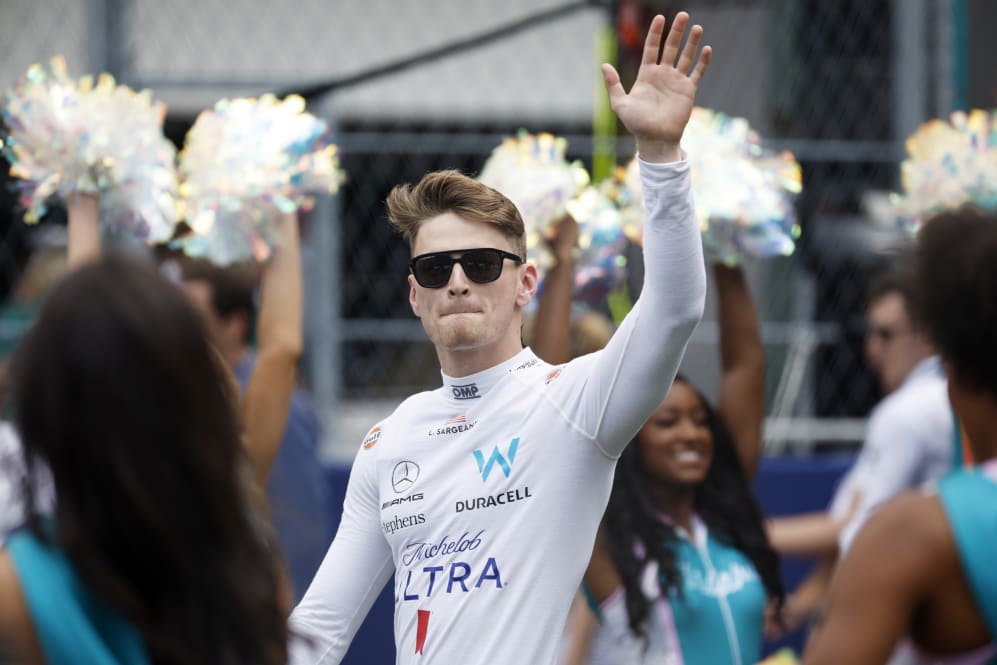 TC: Because that was the moment that Oscar Piastri got Mark Webber, wasn't it? Do you think if you'd had someone like Mark in your camp, it could have panned out differently?
LS: No, I don't think so. I was at a point where there was really nowhere to go at the time, with no one being at fault for that. I think I was very fortunate when Charouz gave me that F3 drive, which I was completely against at the start of the year. I didn't want to do a third season. I knew I was going from the best car to the worst car and I knew that would unravel some of the great stuff that we did the year before, but I think we ended up going into it and having a really good year, all things considered.
TC: Your win in Sochi was absolutely sensational and I think more people have talked about that victory than probably any other one you did in Formula 3.
LS: Yeah, it was cool because when we started the year, I don't think we were really genuinely close to being able to win a race. Then we were able to build through the year, get the car in a better place, and then at the end we finally won in the last round of the championship. That was a nice way to end it there and ultimately that's what opened the door to being able to race with Carlin and having Williams. That's where Trevor Carlin really helped and showed his support in me.
TC: At what point did Williams get in touch?
LS: I wasn't told until a week before they announced it in Austin, so I wasn't aware until October of that year.
TC: But obviously the negotiations had been going on a while?
LS: I don't know how long, but they definitely kept me out of the loop for a while, just in case it didn't go down the right path. But they were definitely ongoing well before I knew.
TC: Talk us through the phone call, who rang you? How did you feel?
LS: It was nice just to know that I was going to finally have an opportunity. I felt like I deserved it after that 2020 year. Then going to see Oscar dominate, all that did was tell me that I could do it as well. I was just excited to have the chance to go and do it myself and to have a good year and finally race in F2.
TC: What does the Williams Academy offer its young drivers?
LS: Honestly, a lot. To me, maybe more than others, because they really gave me that opportunity and that chance to prove myself. They believed in me from the very start. I felt like from day one, it's just been a constant push to help me become the best driver I can be, to become the best person I can be. I've learned so much in the team and they're so welcoming as well. I think it's a great place to be. As a young driver, you're working with the team that you're racing for in F2, F3, and you're also getting to be with Williams at races because they're on the F1 weekend. So you get to see a lot and you take in a lot. Even just talking to Nicholas and Alex last year in the debriefs; the way that they deliver feedback, the way they drive their car, being able to see the data and going against them on the sim, that's something that not everyone gets.
BEYOND THE GRID: Scott Speed on his journey to F1, his 'absurd' Red Bull contract, his Toro Rosso exit and crazy final race
TC: Did listening to that reinforce in your mind that 'yes, I can do this because they're not saying anything that I don't say?'
LS: Driving wise, I wasn't worried. I think Alex in particular is very good at understanding what the car is doing, the way that the tyre is behaving. Honestly, it's one of the most in-depth debriefs I've ever heard. That's something I'm trying to get closer to because it is quite impressive. That's another thing that I'm able to learn from and build on from him.
TC: How much feedback do you think a driver needs to give an engineer?
LS: The engineers get a bit annoyed if you waffle on for too long, being too detailed. It's more 'get to the point – what are the big issues, the main limitations, where do we need to go and how are the tyres behaving?' There is a point where it's too much and that just annoys the engineers at that point. It's about delivering the right amount of important information and being efficient. That's how you get the most out of it.
TC: And what are the big issues for you? What do you least like in a car?
LS: I really like when you're able to combine on the brakes on entry and that's something we've been struggling with this year. That means when you have quite a bit of brake on while you're already turning into the corner. That's to avoid front locking in the entry to the corner so that's something that we're trying to improve on. I don't like a car that's under balanced so that means when it has too much understeer. I like a car with good front, but also has that rear stability to give you the confidence to really throw it in and trust that the rear is going to stick.
TC: How often do you get a car like that?
LS: Oh, it's very rare. It felt special in Jeddah qualifying. We had a really, really good car. I'd say that's where the car felt the best.
TC: I wanted to ask you about Jeddah. You come off the back of a really good debut in Bahrain, close to Alex in quali. You then go to Saudi. What actually happened in quali? I still haven't quite got my head around that. You really were flying. What happened?
LS: Yeah, we went back into the analysis on the session. We believe we could have qualified seventh or eighth. It's a painful one. In hindsight, I needed to do a better job. I was flying, but I didn't get it together. My first push lap is probably the best first push in quali I've ever done in my life. That was a really cool moment. I put a big lap on the board, but that got deleted because I crossed the white line at pit entry - which was a bit frustrating because it's a temporary rule for that track in particular.
TC: Were you were aware of it going into the session?
LS: I was. However, they hadn't given us any warnings through FP1 up to FP3. They did tell us, but because they hadn't given any warnings for that, I didn't expect it, so I must have crossed it by ten millimetres. That was painful. It was literally just crossing the white line. But my fault for sure. I shouldn't have done that. I still had plenty more opportunity in the session. I was on another great lap, but we weren't fuelled for that lap so I had to box. I hadn't set a time to that point, even though we were flying. I got a new set of tyres on and then I had a spin. That's where the session went to no good.
TC: Do you believe in momentum? If you hadn't crossed that pit entry line and you'd made it into Q3 in Jeddah, do you think the season would have built differently for you?
LS: No, I don't think the season as a whole. I think that session would have built very differently and I think we would have ended up having a really, really good session. But I don't believe that would have affected the following rounds.
TC: What about Williams? Can you just describe the vibe inside this team?
LS: I feel like we have so many different ones because the engineers are so different to the mechanics and then we have a great marketing team. As always, the engineers are intense. They're focussed. They want to get the maximum car performance. The mechanics are a great group of guys and girls. They're all very welcoming, they're all super fun, they're all excited. Every weekend they're doing their best. And the marketing team are a lot of fun to work with as well. I feel like the mechanics, because we're having opportunities, seem really motivated. I think them seeing that we can go out and get a good result has really given them that motivation to work that much harder and put that much more effort in for us. That's obviously so appreciated. Engineering wise, I feel like they're always on it.
TC: I think at this point last year the team had three points on the board. You've only got the one point from Alex. Is there a sense of frustration because this car is definitely better than last year?
LS: Yeah, I think the team as a whole has taken a step forward. Honestly, I didn't know that about the points from this year to last year. I think we're all aware that there could have been more points scored. Alex has had some really good opportunities. But at the same time, I think that's been taken more as a positive that it's able to go and do that. The motivation is there to go and get it. Whereas last year, from what I understand, there was more external factors that needed to happen in order to end up in that position. This year, it's more that we know we can do it on pure pace.
TC: And were you a fan of Williams as a wee lad?
LS: Yeah. I mean, growing up, I just loved watching the greatest drivers. I wasn't super invested in a specific team. I was watching Lewis, Jenson, Alonso and Massa at the time. It's kind of crazy to know that they were in it when I started watching it, but that just makes it even cooler. You always end up, once you make it, to come in against someone that you've seen on TV. It does make it special. Seeing them on track while you're out there is pretty cool.
TC: You mentioned James Vowles earlier. What's it like working with him?
LS: So good. Honestly, he's so supportive. He really, really understands driving and the sport as a whole. He understands it takes time to build and is willing to work with me and help me in any way he can. He's such a good leader and I really feel like he's put the team in the right direction. I love working with him. I think he's a great person to have in our corner and push the team forward.
BEYOND THE GRID: Oscar Piastri on his F1 debut, dealing with the pressure and bringing back McLaren's glory days
TC: He races a bit himself. Does that help in terms of him understanding what you're going through?
LS: I think it does, honestly. He understands driving and that's important. He knows how cars need to be driven. Because he's an engineer, he really understands tools and the way that we can drive it to go quicker. That is so beneficial, more than you would understand.
TC: Does he sit in the meetings and make suggestions?
LS: Yeah, he does. He's in all the engineering meetings, pre-briefings, post-briefings. He's there. Any input he has is definitely delivered.
TC: There is an elephant in the room between you two though, isn't there? I'd like to think you nearly worked together when he was at Mercedes. Am I right in thinking you went to Mercedes with a view to becoming a Mercedes young driver and he chose a different route?
LS: I don't remember it completely like that. I remember it more in a sense of, I had just finished that 2020 season. It was just a disappointing end of the year, of course. But I went to Mercedes, did two days on the sim. I loved it. I honestly thought it was a great two days and from what I understood at the time was that they wanted me to do another year of F3 with Prema. That just wasn't the route that we were ready to take. That was another big boat full of cash that wasn't there. So I feel like there were more variables than that.
TC: Have you and him talked about that? He told the media 'I was wrong and it's really nice to be with him now and to be proven wrong.'
LS: I'm glad he is happy to have me now. It never concerned me or worried me in any way at all. Honestly, I was in such a weird point at that time in my career. It wasn't even a thing to me.
TC: Well, let's throw it forward to the remainder of this year. What are your goals between now and the end of the year?
LS: I think I have a lot. I want to get to a point where I'm really comfortable in this car and have the confidence to go out there and really push earlier on and trust what's underneath me. I think that comes with going to tracks that I know. It's just going to be about trying to get to a point where I'm extracting all the performance from the car, week in, week out, and that's where I want to get to.
TC: We're going to some permanent racetracks quite soon. Will that somehow make it a bit easier?
LS: I think so. I love GP tracks. We're going to have quite a few tracks now that I'm extremely quick at. We're going to do our best to make those good ones.
TC: Let's name one track where you think the car will be good?
LS: Silverstone. The car will be good and I'll be good there.
TC: All right, watch this space. Logan, thank you very much for your time. It's been great to chat. Good luck with everything.
LS: Thank you very much.
To read on, sign up to F1 Unlocked for free
You'll unlock this article and get access to:
Live leaderboard data
Epic experiences and rewards
Money-can't-buy competitions