Podcast F1 Unlocked
FULL TRANSCRIPT: Read every word from Mario Andretti's Beyond The Grid interview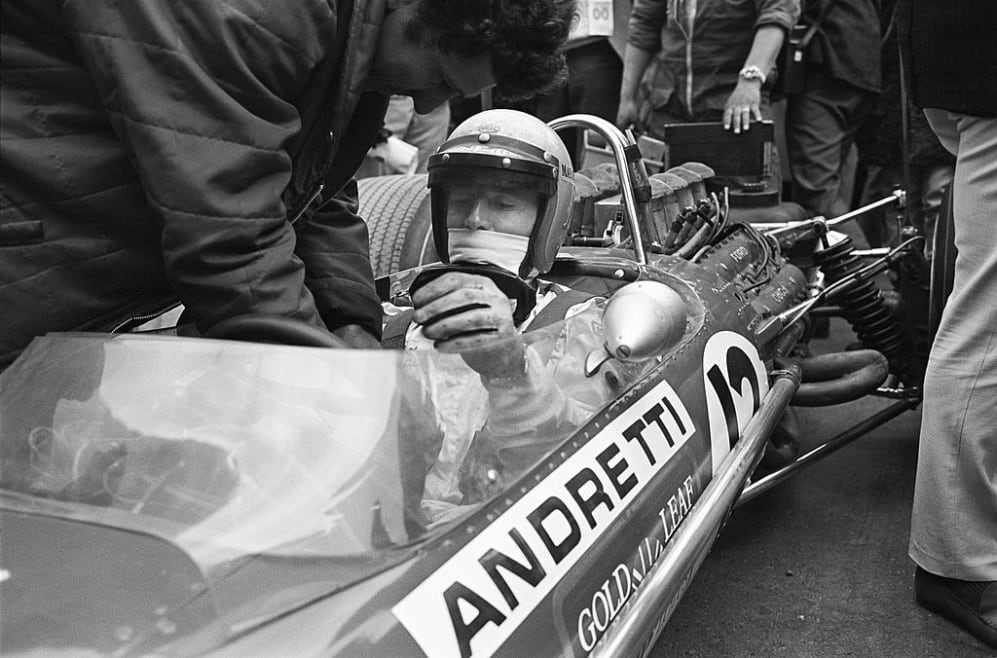 In 1978, racing against some of the best drivers in Formula 1 history, Mario Andretti became Formula 1 world champion with Lotus.
The Italian-born American is this week's guest on our Beyond The Grid podcast, and you can read every word from his interview with host Tom Clarkson in the transcript below, listen to the episode in the audio player, or head here to catch it on your preferred platform.
Tom Clarkson: Mario, it is great to have you on the show again. How are you?
Mario Andretti: Wonderful, thank you. Thank you for having me.
TC: You do look ridiculously well; it has to be said. You get younger rather than older...
MA: Well, happy life!
TC: Let's talk about something that happened 45 years ago. The 1978 World Championship, which you won. How do you reflect on that achievement now?
MA: If I'm ever depressed any time, I can just go back thinking about that situation, how important it was in my life, because that was my original dream to be a Formula 1 driver, let alone winning a World Championship. If you can imagine, 1965, Jim Clark won Indianapolis. I finished third, so obviously we had time to chat. We were saying our goodbyes after the banquet. I said to Colin Chapman, 'Colin, someday, I would like to do Formula 1.' And he said, 'Mario, when you think you're ready, we have the third car for you.'
Now, can you imagine how I felt at that point? So I went on and I lobbied like crazy to get road races into IndyCar. When I drove midgets in 1963, there was one road race at Lime Rock, Connecticut, and I won that, and actually it was Mark Donohue that was driving, just for that race, a rear engine Offenhauser with a two-speed gearbox. I beat him on the last lap because I only had one gear and I had to blow the engine before I got to the start/finish line because I was out of gear, and there was no rev limiter, so all the valves just came out of the heads of that Offy engine.
But the point I'm making, I was working up to that. The one thing that I wanted to do is, for instance, be part of the Ford Le Mans programme, because we had miles and miles of road racing for testing. And who did I befriend at that point? It was Bruce McLaren. He and I became good buddies and at dinner, I would just pick his brain until he was ready to go to bed. It was so useful for me because he was such a technical driver.
Then here we go in '67, we win the 12 hours of Sebring. So in '68, I called Colin and I said, 'Colin, I would like to do the last two races of the season.' And he said, 'Right, I'll have a car for you.' Then at Watkins Glen, I didn't expect to be on pole and have Sir Jackie Stewart next to me. I was as surprised as anyone.
BEYOND THE GRID: Sir Jackie Stewart on surviving and thriving in F1's most ferocious era
TC: It was an extraordinary achievement to start your first Grand Prix on pole. I'm fascinated by what you said earlier about lobbying for more road races in IndyCar, because was that early part of your career all about preparing yourself for Formula 1?
MA: 100 per cent. There was one problem, however. We were earning so much more in IndyCar because of the tyre testing and the tyre war between Goodyear and Firestone. I was one of the drivers that was contracted to Firestone and they wanted me in the States. Otherwise, I would have probably pursued Formula 1 since 1970 at least, and guess who took my seat? Emerson Fittipaldi.
To some degree, I regret that, in the sense that I would have had a longer career. But at the same time, I had to be realistic and the sport was not enjoying the safety we're enjoying today. I never dwelled on this, but I was losing friends left and right with families. I had a young family at the time and I was trying to provide, to the point that if something happens to me, at least they're cared for. That was very important and I could not just disregard that fact and that's what kept me there.
TC: So when you started to commit to Formula 1 full time, was it a case of, 'Okay, I've got enough cash in the bank, I can now do what I really want to do?'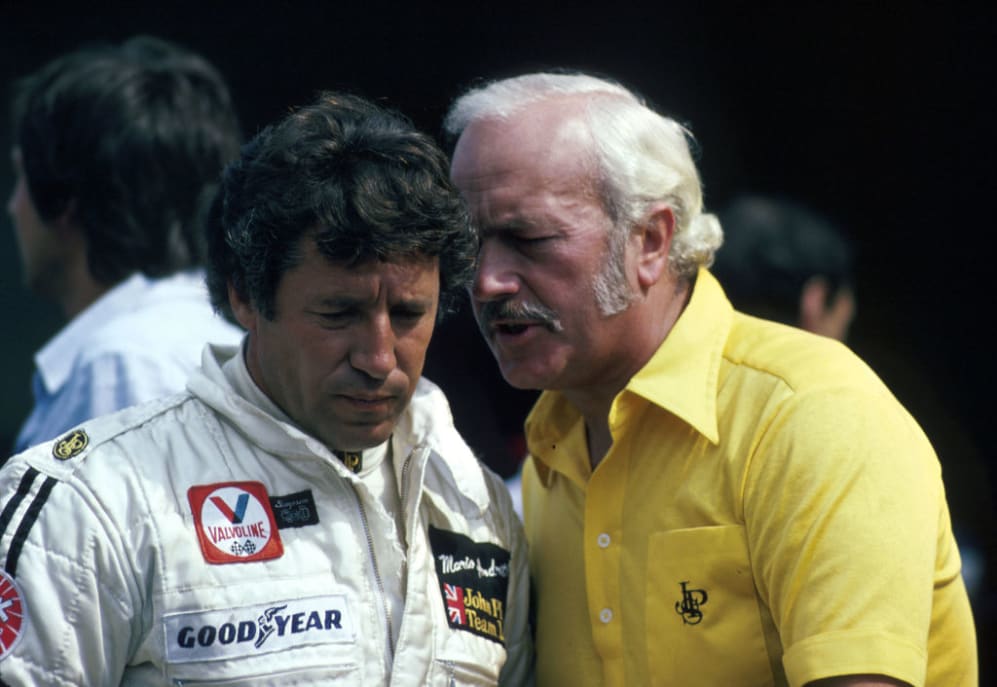 MA: Exactly right. I felt that it was time. First of all, I was of age. I was like 35 already when I dedicated with Parnelli. That was a US team. But I look back in my life, so many negatives become positives, because the negative was, that in '76, after Long Beach, unbeknownst to me, they had decided they were going to pull out of Formula 1. Chris Economaki, the broadcaster, came to me and said, 'Mario, what's your take on the fact that this is your last Formula 1 race?' Can you imagine? I couldn't even find first gear, I was so upset.
But the next day, at the Queensway Hilton, Colin Chapman had probably the worst race of his career there, because he had so many distractions. He had the car company, the boat company, and so forth. The racing was not even secondary. Anyway, I'm having breakfast by myself. I'm looking at him, he's looking at me, so I joined him, and we were commiserating with one another.
I said, 'Colin, I don't have a drive, they've pulled out.' He said 'Mario, I wish I had a decent car to give you.' I said, 'We will make that car better if you'll have me, but I need to be number one.' Any team, especially in those days, there was only one best engine, one best chassis, and so forth. We shook hands at that point, and you can see, even in '76, the season got better and better. We got a couple of podiums and won the last race in Japan.
He said, 'Mario, next year, the car is going to make this one look like a London bus.' I just loved that energy. It was so golden for me to be able to be with Colin when he was 'resurging'. When you look at Colin Chapman's career, it was peaks and valleys. Whenever he got really interested, he usually created a world champion. I was part of that moment when he did that.
I told him, 'Colin, please delegate responsibility to someone with the car company and come back racing.' And Hazel, his wife, said, 'Mario, good, good, good. Tell him that.' So that was really when he was all in then. We fed from one another. There was energy there and we both knew what we wanted. These are moments in your life that are so precious because they're there forever. You look back and figure 'what if this wouldn't have happened?'
TC: Let's talk about that '78 season now. How confident were you going into that season? You'd finished third in 1977. Did you feel that you had the momentum within Lotus to go that next step?
MA: Oh, don't forget, I ran out of fuel two times leading any one of those races that I could have won [in 1977]. It would have been a World Championship. We had so many issues with the engine situation and reliability. I think Cosworth was trying too hard to experiment with our engines. I didn't need that. I needed a reliable engine and I paid dearly for that.
Just like in Sweden, I got a 36-second lead. I had to stop for fuel and I tried to communicate that I really needed it. But by the time I got in, they had to go look for fuel. If they could have just poured it in, I could have even managed second, and that would have got enough points for the World Championship. So going into '78, I felt very confident in so many ways. You always try to be realistic, but I felt that we definitely had a chance of winning that championship.
BEYOND THE GRID: Red Bull's legendary designer Adrian Newey on the secrets behind his immense success
TC: How did you view the competition going into '78? There was obviously your team mate, Ronnie Peterson, but the Ferraris, having won the title the previous year, how seriously were you taking them?
MA: Very seriously. You can never discount that. The driver combination, plus the cars, and the notorious reliability of the Ferraris, is something not to discount at any time. It was a question of 'let's minimise mistakes and try to bring it home'. Of course, if you look at the amount of pole positions that I had, the car was fast. By making the ground effect more efficient, you had to clean up the exit of the diffusers in the back, so we had inboard brakes in the Lotus 78, and Ronnie and I, we had brake problems every race, especially with full fuel at the start.
That's what killed me at Watkins Glen, for instance, because it was hard on brakes. We had to do a lot of pumping. We fought that the entire season. Unfortunately, that was the one weakness the car had. At Monza, for instance, I won the race and Gilles Villeneuve finished second, and we both got penalised for jumping the start. But the whole race, I figured if I get by him, he'll get by me again because of the braking. I just tried to save the brakes.
I had one shot going into Ascari on the last lap. I figured this was do or die. I got by him and won the race. Personally, I thought I drove the best race of my life, and nobody knew it because we were penalised. To be honest, I was going to protest because actually when the light went red, and it was going to be green at any time, he went and I reacted and I stopped. He was already in the chicane. Then the green came on and I went on. But they were not going to penalise Ferrari only. Not at Monza. I think we would have overcome that, but it didn't make any difference in the championship.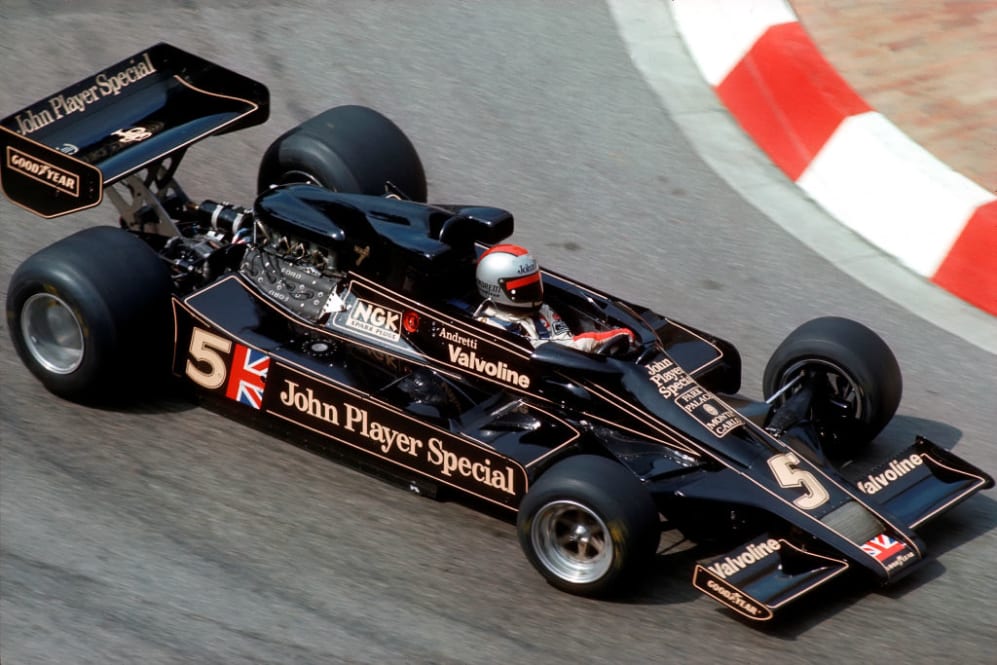 TC: Mario, what was your greatest strength in '78?
MA: I think knowing the car really well. I think the car was really talking to me. I was making the slightest changes, and this was something that was really paying me back. I knew the corners that were really key, where you could actually gain the most time, and give up a little bit somewhere else.
But I would lengthen one side and shorten the other side, so when you arrive in a corner, the inside wheel would open up more than the other. When you're really in a sweet spot of the car, this is what means pole versus second place. It's something that you feel. You can't even explain it.
TC: You know how you say if you're going to copy someone else's set-up, you've got to go the whole hog or not at all? I'm getting the impression that no one else could have driven your set-up. Is that fair?
MA: No, they could have. When the car was right, anybody would have loved it. As far as the feel that a race driver has, when things are right, everybody recognises that. Trust me.
TC: Do you think you would have been so effective that year without Colin Chapman?
MA: The best part about him was that he'd keep my mind fertile, because every time I would come in, he would throw things at me. Sometimes I felt like slapping him but he kept me thinking. We had that relationship because he knew the car, he knew so much, and he could almost see what I was saying.
There was something special there. Because he was full of information in his own mind, out of 10 suggestions, I could pick maybe one or two that I wasn't thinking about. I think it was a natural thing. He and I never ever, ever, had a cross word. I don't know what it is, but we just somehow bonded. I felt that I needed him, I really needed him so bad.
READ MORE: Former Lotus boss Peter Collins on working with Chapman, Hakkinen and Mansell
TC: Now, you've mentioned Ronnie Peterson. I did just want to talk about him a little bit. He won two races and finished second in the World Championship. Of course, he passed away after Monza, following that start-line accident. But can you start by telling us about your relationship with Ronnie and how it compared to other team mates that you'd had?
MA: We had a personal relationship outside of the track. We both had young families and our wives got on quite well. When he would come to the States, we'd go up to the lake and we had so much fun, competing against one another, playing tennis. We had such a good time together and after practices, we would discuss things. He knew that we were not going into a lot of details. We had our own thing to do. 'If you get by me,' I said, 'I'll fight you to the end.'
We were at Zandvoort. When I won there, I broke the exhaust on the right side, so we lost some power and it burnt the lower bodywork. I lost the floor on the right bank and the diffuser was coming apart. He was coming alongside and I would just chop him. He came in and said, 'Why did you chop me so bad?' I said, 'It was up to you to get alongside me a bit earlier. When we're out there, we're out there for blood, man. No favours!' But I had tremendous respect for him.
TC: So how do you reflect on Monza? Because it was meant to be the happiest day of your life, something that you'd been building up to, winning the World Championship. But of course, there was that huge shadow of Ronnie's death…
MA: That should have been the happiest day of my career for sure. I could not celebrate. How could I celebrate? I lost one of my best friends and I could not believe that I lost him, because I walked up to the accident and you could tell that he was in shock, but he was alive. I figured he's going to have a problem with his leg and be limping for a few months, but he's alive.
Next day, I'm driving to the hospital, I was paying the toll, and the gentlemen recognised me. He said, 'Did you hear? Put the radio on. Ronnie Peterson just died.' I thought, 'Oh, my God, oh my God, oh, my God.' I just could not believe that.
TC: How did you compartmentalise the dangers? Did you take a chip out of your brain every time you got in the car? Is that how you justified what you were doing?
MA: I could not dwell on that aspect of it. I lost my best friend at Riverside, Billy Fox. We were rooming together, and I'm out there to qualify right after he was killed in Turn 9. If I would have dwelled on that, I would have quit a long, long time ago. Quite honestly, we never discussed it, even as a family. My wife just understood me. I knew what she was thinking all along but it was never part of the conversation because it was there. The danger was there.
But if you're going to dwell on that, then you just start doing something else. You just don't belong. That was my nature. I wanted this so bad. I could not believe me doing anything else with my professional life and being happy and satisfied. I was selfish, but I was willing to take the risk. Sometimes I feel guilty. Why was I spared? But do I take it for granted? No, I count my blessings every day, trust me.
TC: So you win the World Championship in '78. How did it change your life?
MA: It changed my life forever in the best possible way. When I hear it, it's all sweet memories. Whenever things are not going so well, that's what I think about and how lucky I've been.
TC: Did you have a good party with Colin?
MA: We did eventually. It took a while to be able to loosen up.
TC: How did Colin deal with the fact that you weren't solely focused on Formula 1? Even in that championship-winning year, you did eight IndyCar races, you did 24 Transatlantic crossings…
MA: That's a good question. I had a business manager but, as far as racing contracts went, I did it all myself, because nobody can know what I want. For instance, we're at Silverstone, we're testing and it's a free weekend coming up. Of course, I'm racing for Roger Penske in IndyCar. It was a Wednesday and Colin said, 'Oh Mario, are you staying in Europe?' I said, 'No, I'm going back, I'm driving this weekend.' He said, 'You can't do that.' I said, 'I know. But I will. Fire me.'
There's no one on this planet that was going to control my destiny in the sport. No one. Now, I always kept in mind that I won't conflict sponsors, I'd respect all of that, and I'd always be there when called for. I never missed a test or anything else because I knew what my main effort was.
READ MORE: Brazil's lost champion? David Tremayne on Carlos Pace, the racer after whom the Sao Paulo circuit is named
TC: Did tiredness come into it, though? If you've just done a 200-mile oval race at Michigan, were you jaded when you turned up for the next Grand Prix?
MA: No. As a matter of fact, that was the best thing, because you're always on it. Sometimes if you're out of a race car for two weeks or whatever, it takes you a couple of laps just to get used to the g-forces or whatever. But when you're doing it all the time, that was the best thing physically for me, because psychologically, I feel I can deal with this better than anybody.
TC: What about jet lag, though? Did you suffer from that?
MA: No, I'm really a good traveller. That's a blessing. Every time, wherever I went, the first thing I always did was go on local time. You had to deal with that and I sleep well on a plane. When I was called down to test in Monza, it was the weekend before the race in 1982, and it was agreed that I would test there on Sunday.
I arrived there on Saturday morning, drove to Maranello, and we had lunch at The Cavallino with Mr Ferrari. Then we went to Fiorano to get fitted up in a car. I said, 'I'd like to do a few laps,' and I ran 87 laps that day, and set a track record that lasted eight years – after I'd got off the plane and been flying all night. When the adrenaline's there, you can just do it.
TC: I did also want to ask you about the driving talent in '78, because it was a vintage year for Formula 1. There were eight world champions, or future world champions, on the grid. I'm thinking you, Lauda, Scheckter, Fittipaldi, Jones, Hunt, Piquet, and Rosberg. That is a hell of a bunch of drivers. Did you ever race on such a quality grid elsewhere in your career?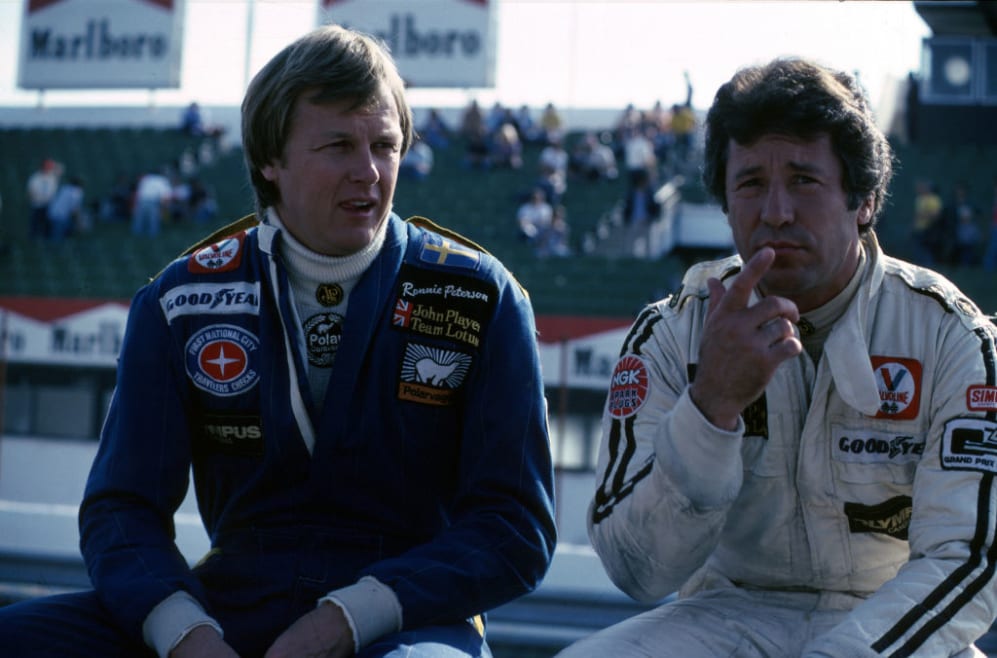 MA: When I look back at some of the grid, I say, 'Oh my goodness, that was interesting.' People ask me 'who was your toughest competitor?' There were many. That's when I look back and think how fortunate I was to be on the same track, doing the same thing with that calibre of drivers.
That's what makes you work harder. You need that. That's what gives you all the energy in the world to just improve your skills, do whatever it takes, watch what they're doing. Then the ultimate satisfaction is to be able to win over someone like that. When you win, the premium of that win depends on who finished second. No question about it. We all think the same.
TC: You were clearly a hell of a competitor. Was it the lure of success, as you've just described it, or was it a fear of failure that drove you on?
MA: For me, it was the lure of success. At the beginning, the very first race that Aldo [Mario's brother] and I did, we built our own car. This is 1959. Aldo won the first race. I won the second race, which was my first race. After you do that, winning is the only thing. I gave up more than one race by making a mistake, by not being okay with second or third, by just really forcing the issue.
If I have any regrets, I was so infatuated with just winning. That's why I have some special appreciation for some of the drivers even today, like Fernando Alonso. I look at this man and he loves what he's doing. He even gave up Formula 1, took a sabbatical and he picked it right back up. There's something inside, the desire that gets you there. I never lacked desire. Passion and desire. That's what drove me.
TC: How much did you study your rivals back then? Would you look at videos of what they were doing, how they drove?
MA: The best thing is when you're behind them, like some of the apexes from Alan Jones. It was not really my style to do the late apex like that because of the ovals. I started picking that up and I really improved my situation by looking at somebody. Someone that's in front of you, they're in front of you for a reason. There's always something that you learn. You never have it all, I think I probably learned something up to the very final race of my life.
TC: So when you look at the current grid, who stands out? Who has the qualities that you think are important in racing?
MA: I'm looking at Max. Watch Singapore. He fought to the end with what he had and that's the spirit. He learned something from that and put it to good use for the following races. But the spirit is there, that super confidence. And I see a resurgence of Lewis as far as the fight that's in him.
Okay, in Qatar, there was a mistake, but he was going for the lead no matter what. He thought, 'My team mate is going to back off.' Well, the team mate had the same thought. But I like that kind of drive at this stage of their career – it's still there. That's what you look forward to watching.
READ MORE: Horner says Verstappen has a 'burning desire' to win as he compares him to F1 greats
TC: Vegas is just around the corner. It's a huge moment for Formula 1 to be going back to Las Vegas. Of course, you raced there back in the day at the Caesars Palace car park. What do you remember of that version of Las Vegas?
MA: Well, what I remember was getting tremendous amounts of vibration coming out of the corner, because there was so much first gear driving through there. Both years with Formula 1, I had suspension failure. I had a wishbone breaking. You had to be on throttle in those times and we had the turbo engines that were like a switch, on or off. When the power came on, suddenly you had 900 horsepower. You only needed maybe 650 at this point.
That track at the time was a wonderful go-kart track, not for Formula 1. That's why it only lasted two years. But then they ran two more years of Indycar, they modified it somewhat, and I finished first and second there. I have great memories of that. But my goodness, the beauty about what's happening now is that there's true investment in the paddock area and everything which is there. That infrastructure remains and when you have that type of investment, you know you have a future. It's beautiful. I mean, the interest that we see for Vegas is just unbelievable.
TC: And now we have three races in the States. Do you feel that Formula 1 has got traction here now that it's never had before?
MA: Oh, absolutely. I was watching the weatherman last night. He was trying to be an expert, explaining how the weather is going to affect the race. That's beautiful to see. The ambience that you're going to have in Las Vegas, that's going to be a spectacle of its own. The drivers will love it.
TC: Mario, thank you very much!
MA: Thank you!
To read on, sign up to F1 Unlocked for free
You'll unlock this article and get access to:
Live leaderboard data
Epic experiences and rewards
Money-can't-buy competitions