Podcast F1 Unlocked
FULL TRANSCRIPT: Read every word from McLaren boss Andrea Stella's Beyond The Grid interview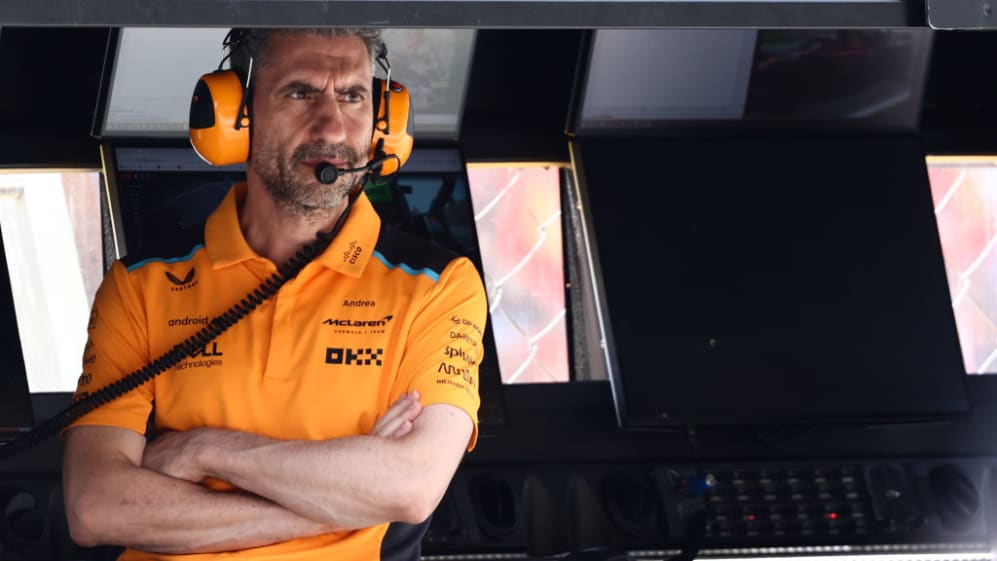 McLaren have been the great turnaround story of the season this year. From barely being able to scrap for points in the first half of 2023, they've leapt up the order and are now the second fastest team behind Red Bull, and scoring points and podiums aplenty. The man masterminding that success is Team Principal Andrea Stella.
The Italian – who also spent 15 years working at Ferrari – is this week's guest on our Beyond The Grid podcast, and you can read every word from his interview with host Tom Clarkson in the transcript below, listen to the episode in the audio player, or head here to catch it on your preferred platform.
Tom Clarkson: Andrea, it's great to have you on the show. Thank you for your time. How are things?
Andrea Stella: They are okay, I would say.
TC: We've seen a remarkable turnaround by McLaren this year. 17 points in the opening eight races and then 145 points in the next eight races. Have you exceeded your own expectations?
AS: As you may know, I'm not one that works by targets or expectations. I really work by process, by identifying what's the right approach, what's the right vision, and then let results come to you. But in this case, if you had asked me like six months ago, I would have said that's never going to be possible.
Somehow this has happened, which is credit 100% to the entire team at McLaren that embraced the vision and the approach that we set and transformed that into a performance project, that once delivered to the car, made the car much more competitive and allowed Lando and Oscar to score that many points.
TC: If you took this car now back to Bahrain, first race of the season, how much faster would it be?
AS: I would say we would be seven or eight tenths quicker, which I think at the time would have been close to second or third row on the grid. So from a competitiveness point of view, that's similar to what we have seen recently. It would have certainly been short of one second, no more than that.
TC: Can we delve a little bit deeper into what you've done to this car? Tell us how difficult it's been to rectify the shortcomings of the MCL60.
AS: I think the main issue with the car was that it was underdeveloped in several areas. From an aerodynamic point of view, I would say it was underdeveloped in various components. But it wasn't only aerodynamics. There were some other aspects of the design that could have been exploited more and this is what we did.
It wasn't simply rectifying issues, it was more about accelerating development and making sure that this development is as overarching as possible, considering all the areas of the car where you can generate performance in lap time.
READ MORE: Norris and Piastri insist closing down 79-point gap to Ferrari is 'doable'
TC: How easy was it to hit on the right development path? Was everyone agreed about what to do with the car?
AS: For me, the real aspect on which I needed to focus, and I needed to work on with the key people in the team, was the approach. What is the approach? What is the vision? And like I said in the previous question, just almost let results come to you. Let's not think about the results. Let's just think about 'how do we deliver performance projects in this many areas of the car, such that we can be innovative, such that we can be fast in developing, but also developing at a pace that is sustainable over time?'
We don't want to have an impulsive delivery of a project and then run out of steam for three months. We want to have sustained improvement, especially from the aerodynamic point of view in all areas of the car. This was the mission statement and I can't be grateful and thankful enough to the people that I could work with, and all the people in the team for how enthusiastically they embraced this approach. That's actually what happened. The fact that you then deliver a couple of good upgrades is just a result. But if you only think about upgrades without creating the conditions for this to happen, you can get lost very easily.
TC: I'm really interested to hear about your management because you are actually an engineer. Aerospace Engineering in Rome and then a PhD in aerodynamics. You haven't been on a course about how to be a team principal, yet you seem to know how to lead. Is that natural or is it something you've just developed over the last 25 years in Formula 1, from observing Ross Brawn to Jean Todt to Zak Brown?
AS: I've been exposed to collaborating with people that were just excellent. They were excellent at personal level, excellent at professional level. They gave the sense of the level of motivation you need to actually be successful, which is slightly beyond what most people are comfortable with. That's why I think if you want to be part of our journey, something we said very clearly at McLaren is that you need to learn to be comfortable with being uncomfortable, because this journey is necessarily going to be uncomfortable.
It's for us, especially in leadership positions, to create the conditions for this discomfort to be enjoyable. That's where personal relationships become a key element. If I think back about my years at Ferrari, I saw, by example, leaders behaving and demonstrating that personal relationships are important. For me, as a junior engineer, I received a strong imprinting. I just saw a culture being established in a team.
At the time there was less talk about culture in the team. Now there's so many books or so many courses, it's really a topic, talking about culture. But at the time, this was something alive. It was something that you could experience, live and breathe every day. For me, having received this imprinting and having been exposed to working with these excellent people, it was more about development. The script was almost set and then you need to evolve, develop, and you need to be open minded and make sure that your ego doesn't get in the way.
TC: How nervous, how uncomfortable were you feeling going to Austria with that first upgrade?
AS: While we were in development, we got reassurances that there was a high probability to be good with the track. Correlation is never perfect and should never be taken for granted. It should always be approached in a very cautious way. But during the development of that upgrade, we had some hints, some steps, which increased our level of confidence. We approached the car on the ground with optimism and I think it was a Sprint event, wasn't it? We decided to do it at a Sprint event because we had this reassurance along the way.
TC: Can you remember Lando's first words describing the car after the first run at the Red Bull Ring?
AS: In reality, I remember my first impression because I think we started immediately with some continuous laps. You couldn't necessarily see the outright lap time but I remember myself, looking immediately at overlays and I could see that the speed we were carrying in the corners compared to the other car was encouraging. I said to myself, 'this extra speed we are carrying must be coming from the car.' I was trying to give myself some positive messages and then this was entirely confirmed in the data and in the clock, because the car effectively gained a few tenths from a lap time point of view.
TC: Can we talk about the drivers? Lando continues to improve year on year. What's impressed you about him this year?
AS: It goes back to one of those elements which everyone talks about, improving every year. But how many people approach this with real determination to take every single opportunity to actually improve? That's what makes the difference. I have to say that, when Lando joined the team, he was almost mature from this point of view. I think clearly he went through a journey in his junior categories. He must have been supported very well in terms of maturing the importance of this element. He already had the mindset of this continuous improvement.
He is obviously right now establishing himself as one of the top drivers in Formula 1, and in addition to confirming his natural speed, I think what's becoming more and more apparent is how bigger his race craft is becoming. For instance, we saw how well he could cope with the shortcomings from a balance point of view of what we often call the 'McLaren characteristics', which we are working hard to remove of the car. But he adapted thanks to these continuous improvements.
You just don't adapt from one day to the other, it's always going to be a game of marginal gains and it's always going to be like you almost don't recall exactly when you took a significant step. It's just the little steps every single day, but they require the determination that I was talking about at the start. One element that also shows the maturity is that Lando kept being supportive of the team, even when the team wasn't performing very well.
We have a mission which was to provide Lando with a successful car. We were not meeting this expectation at the start of the season, but he kept being supportive. What I'm very pleased about is that this gained Lando the authority and the respect within the team. It goes back to the culture, it goes back to the personal elements that are important in such a long journey, and I think in the behaviour and the example Lando gave when things weren't working very well, he gained his ranks.
READ MORE > F1 ICONS: McLaren's Lando Norris on MotoGP legend Valentino Rossi
TC: And in terms of how he drives the car, what really stands out for you?
AS: First of all, Lando gives you the characteristic, like some other top drivers that I was lucky enough to work with, that their perception of time is zoomed in very much. He talks about what happens in half a second like it happened in one hour. The capacity to perceive and isolate all the little things that happen from his point of view as a driver, or from what's happening with the car, is pretty impressive.
TC: You've worked with some of the great drivers as you say – Michael Schumacher, Kimi Raikkonen, Fernando Alonso to name three. Can we talk about Lando in the same breath as those guys yet?
AS: I think the ingredients for Lando to be able to succeed, like these drivers have been able to succeed, are coming together. When it is about natural speed, I think Lando can compete with some of these big names like Schumacher or Fernando Alonso. The real success factor is in making the race craft bigger and bigger, creating as much as possible adaptability, because you're never going to have the perfect car. You're never going to have the perfect situation.
It can happen. We want to succeed even when there's a 50/50 probability to do that, then you want to make the difference through your continuous improvement, adaptability, understanding the situation better than your competitors, and gaining a competitive advantage. Definitely Lando is on a very strong path from this point of view, and I think the evidence is that as soon as we gave him a car that was able to compete for podiums, he just achieved it. He's clearly there. I think if anything, it's more on us now to give him the machinery to be able to capitalise on his own qualities.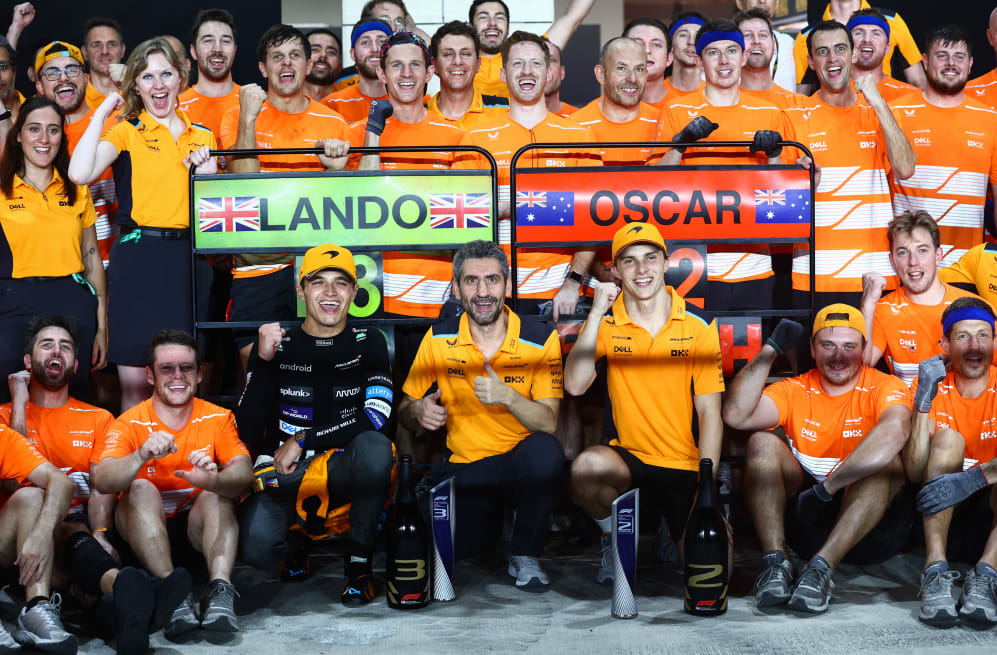 TC: Can you feel any frustration coming in now that he's still yet to win a race?
AS: I could give a political, diplomatic answer here, and say 'oh, no, you know, he's doing so well, no frustration.' But then I would say, 'what kind of driver is this?' These guys, they compete since they are a young child, they have this natural inclination and ambition to win, not only to be fast. It's something that is very deeply programmed in their DNA.
So having been close to winning races and not having been able to do it, or having this clear ambition and realising that you're not going to compete for points, like what happened at the start of the season, it must create quite a significant blackout in this natural white framing that these kind of drivers have.
I would be surprised if there was no hints at all. I would say 'this is a robot' or he's lying to us. We don't want him to be a robot and we don't want him to lie to us. We need to be natural and we can cope with it. What makes the difference is that he kept being functional, constructive, and instrumental to the progress of the team. That's the real difference.
It's not to suppress or negate your ambition, your feelings. They are the engine, they are the energy that drives our continuous improvement. It's how functionally you approach them, especially when you are part of a team, that makes the difference, and that's what has made the difference in the respect and the authority that Lando has gained in the team for his own behaviour.
TC: What about Oscar Piastri. What did you expect from Oscar in year one?
AS: There were clearly strong efforts to get Oscar and that was very much based on what he had achieved in the junior categories. But once we started working with him, we understood, first of all, those efforts were worthwhile. We also understood why he was so successful in the junior categories, winning championships three times in a row at the first attempt.
He goes back in this category of drivers whom, you put them in a car, you put them in the simulator, and they just immediately show their natural speed. And for Oscar, I would say especially in high-speed corners, it's almost his natural ground. Normally drivers are more comfortable in low speed, but Oscar almost doesn't really perceive the associated elements of being so fast. He seems to be in his comfort zone in these high speed corners and then, more technically, he's working on developing the low-speed stuff.
As he does this development journey, what impressed us is his awareness. His awareness of what the opportunities are, even before he looks at an overlay or looks at any telemetry. He has this capacity to self-recognise where there's more to come from either himself or from the car. I know drivers that can be fast, but they definitely need external support to see what is possible, either from themselves or from the car. Oscar has this characteristic very developed in terms of being a good judge of these opportunities.
READ MORE: Piastri thrilled after overcoming 'very stressful' Qatar Sprint race to score first F1 win
TC: Given what you say about fast corners, it's not a surprise that he gets his first front row at Suzuka, which is unbelievably fast, and then of course the first podium. But even after the celebrations in Suzuka, he also said 'I wasn't fast enough in the race.' Is that what you're talking about? Him being able to see immediately that there was more to come?
AS: From the first laps in a Formula 1 car in Suzuka, which is not only high-speed, but an old-school track. It's narrow and as soon as you put the wheels one meter too wide, you may find the gravel and you may see the barrier coming very fast. So it's more how rapidly he progressed from being a rookie driver in Suzuka to putting the car on the first row. That's quite an impressive journey, if you consider how rapid you need to, not only identify the opportunities, but embed in your own driving what your hands, feet, and brain is going to process at quite high speed, and drive the car as fast as you can.
I think his comments after the race shows that he's a rookie and if anything, to be consistent in the race is where experience actually plays a fundamental part. I think he just acknowledged, 'I know I could have done better.' And in the final stint, I think he had already capitalised on some of the learning through the race and he cashed in some improved performance. He's definitely a quick learner, he has a large capability from a self-awareness point of view, and then he has this capacity and capability to drive according to the opportunity identified, which for me is a definition of talent.
TC: When you talk about the importance of experience, how good can Piastri get in five years' time?
AS: I don't really work by targets. I don't really work by projection. I only work by Oscar, the team around Oscar, McLaren – 'what do we need to keep this pace of development?' And then we see where we end up in five years. Let's say, if I really needed to project, in the first season he puts the car P2 in qualifying in Japan. It means the gradient is quite steep. For me, I felt immediately the responsibility more on me than on the driver. Me and the team, we need to make sure we give these guys a good car and drivers, they are not going to be a problem at all.
TC: As we've mentioned, Andrea, you did spend 15 years at Ferrari. What did the tifosi make of you, an Italian, becoming the team principal of one of Ferrari's arch rivals?
AS: I can definitely recall that there was some emphasis on me being Italian, or me coming from Ferrari and now being team principal at McLaren. But to be honest, I haven't seen anything that was out of kilter. I think all these reactions were actually quite balanced. If anything, I was very pleased and refreshed by how this was received in Italy.
We have to remember that I've been at McLaren since 2015, so it was not like a move straight from Ferrari to becoming team principal. I was already properly embedded within McLaren and perceived as a McLaren employee, so I don't feel this was such a discontinuity in this respect.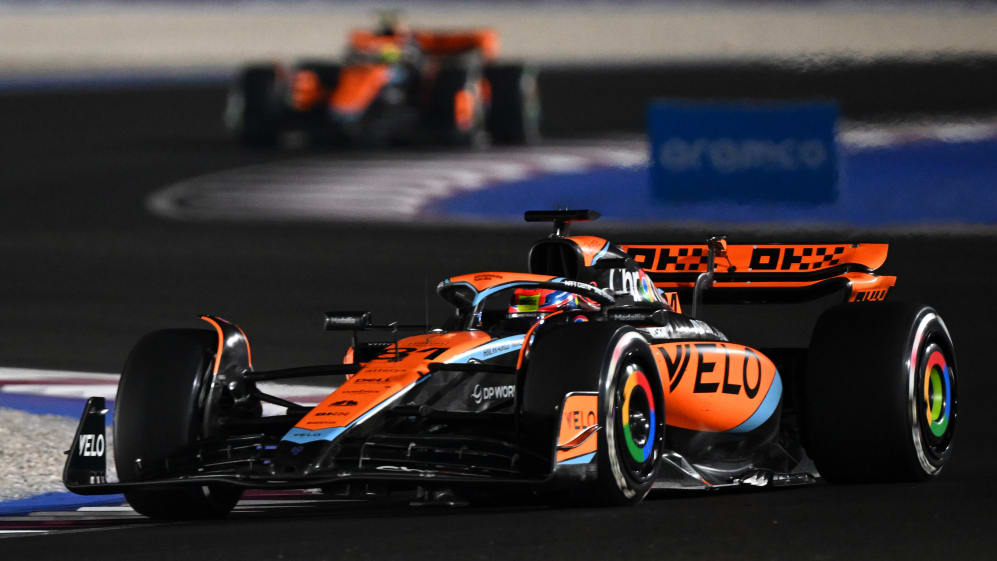 TC: Let's talk a little bit about Ferrari now. How did you end up working there?
AS: It was 2000. I ended up working at Ferrari thanks to the fact that Ferrari were in the process of selecting a couple of young engineers to work as performance engineers for the test team. At the time testing was free, so at Ferrari I think at some stage we had three test teams.
There was this selection process. Ferrari asked some universities if they had some names that they wanted to suggest or people that had interest for Formula 1. I had already had the chance to express my interest for Formula 1 with the people working with me and the tutor of my PhD thesis. I was lucky that there was this knowledge from one person to the other and I ended up in the pool of the candidates.
TC: What was it like to have three test teams, to have all that resource behind you, and how different was Formula 1 back then?
AS: It was different because right now, you try to maximise what you can do to generate as much performance as possible within the constraints. As soon as you have an idea, as soon as you say 'I want to go testing there', 'I would like to make this development from a car point of view,' you immediately need to frame this project or this idea within some kind of restrictions in the regulations.
This is not a negative comment. I think these restrictions are there for a reason. This helps in creating a level playing field and creating and securing the longevity of this sport, and the viability, from a financial point of view, of this sport. If, 23, 24 years ago, you had an idea about how you can improve performance, in most of the cases, you didn't have these restrictions. So it was all about how we can make it happen – 'who do we need, what resources do we need, where do we need to go? Let's create it'. You are forced now to think within boundaries, while at the time you were almost simply forced to think 'how can I go an extra mile compared to my competitors?'
BEYOND THE GRID: Fred Vasseur on his 'biggest challenge' and pursuing the 'pinnacle' with Ferrari
TC: You're in the throes of trying to make McLaren the winning machine. But what made Ferrari so devastatingly effective back then? Is there anything that you learned then that you can apply now?
AS: In 2000, when I joined Ferrari, that was a team in a journey that started four or five years before, with Jean Todt, Michael Schumacher, Ross Brawn, Rory Byrne gradually joining the team, James Allison, Nikolas Tombazis. The main element I think was the seniority and the quality of the people involved. It was just extraordinary. I think some of them, they even accepted to stay in a certain role, knowing that they were absolutely ready to pick one higher level had they gone to another team. But they kind of accepted to stay in that role because that's what was needed to create what was possibly the strongest team that we have seen in Formula 1.
Their seniority was required to create these incredible standards in every single area. Even from an engine point of view, the people I had the luck to collaborate with were so competent. Every conversation was just for me such a rapid increase of what I knew about Formula 1. I think quality and seniority of the people was the main element. All of this was led by Luca di Montezemolo, who was incredibly successful, super charismatic and a real team-builder. Every meeting with him, you'd come out of the meeting like 'I feel part of this team, I feel like I want to work with my mates, I feel like I want to contribute to make this team successful.'
Then we had Michael. Michael was the emotional engine, the energy drive. His ambition, his drive to win. I struggle to find the right attribute because this ambition to succeed was so big that it needed a team to manage. It needed Jean Todt, Ross Brawn, Luca all around Michael to balance, create and distribute this ambition across multiple people. I think energy comes from emotions. He was fuelling energy in the team by his commitment, by his determination, by his ambition to succeed for himself and for Ferrari.
It was very contagious. If you weren't motivated and you happened to work with him, your level of motivation came immediately. And being comfortable to be uncomfortable was really regular. That's the standard, because we are here to succeed, there's no other option. We are here to succeed but we are mates, which again travels on an emotional kind of pathway. That was a sense of family. The people on that journey, they felt not only like mates, but like we are connected at a personal level.
Michael was a very sensitive person. I think he needed to connect with the team to carry this enormous ambition to succeed. The way you could do that together with him was to provide him with the solutions to succeed – whether it be the car, the setup of the car, the traction control, engine braking, differential control, understanding the right approach to a corner. That was the way to contribute to him, and you could be pretty sure that he would transform it into a success.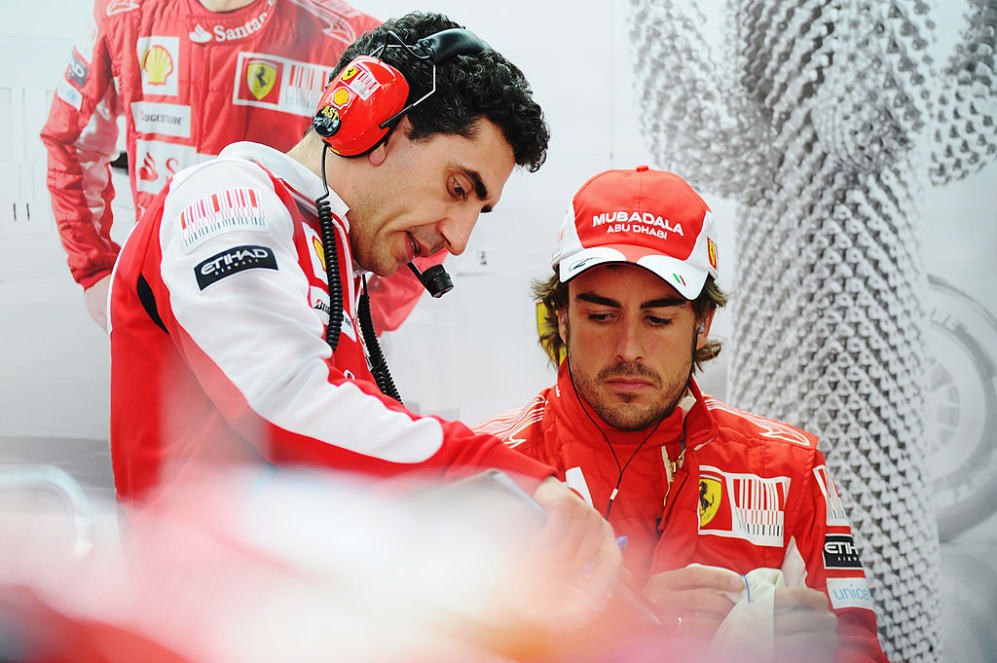 TC: And what made Michael so brilliant inside the car?
AS: First of all, Michael was fast. I remember we were going for one single lap in FP1 and the single lap was so naturally fast. He didn't need to find the references. His control of the car, especially his control of the rear end, he was just very gifted. He was entering the corner as fast as he could think. His perception of speed was that you enter as fast as possible and then let's see how we can manage to get out of this corner.
When Rubens [Barrichello] was his team mate, they were very complimentary because Rubens was very good in corner exit. Looking at the overlays, it was clear for Michael in some places we can be aggressive in entry so we need to think more about exit and that's how you can gain some time. They would benefit very much from working together as team mates.
Then he was very quick in high speed and at the time there was much more high speed than now, because with the current generation of car, or even the previous generation of car, there's so much grip that some of the high-speed corners, they are actually flat, but the duration is minimal. But at the time with grooved tyres and V10 engines, the corners were corners. Like corner one in Suzuka, which now the drivers don't even think there's a corner, it was making the difference for lap time, and that was a corner in which he was just entering in a way that the team mate might have thought 'I'm not sure I'm going to attempt this, maybe I just accept I'm going to lose a tenth here'.
So at the time, these characteristics of corner entry and speed were very rewarding, but it also meant that he was very aggressive on the rear tyres, or sometimes we were losing some time in exit, so we needed to work on these things. When we needed to select the tyre for a weekend, Rubens could select softer tyres because he didn't have blistering and we were blistering with Michael. So you are quicker but you need to use harder tyres, and that's not real economics because we are giving away being quicker as a driver for the fact that we need to use a harder compound.
When you needed to work on these aspects, you could see adaptability was also a very developed quality, and ultimately his intelligence, the cleverness, the neurons were very powerful in that individual. If I think about Michael, if I think about Fernando [Alonso], they trust the people they work with. You need to somehow gain their trust. But they never put themselves in a position where, 'oh, now you have to convince me.' They always stay with you at your level. As you start this process of gaining the trust, they never put themselves on the podium, one step up, they stay with you independently of the starting point.
Like if I think of myself, after two years in Formula 1 being performance engineer of Michael Schumacher, clearly I was miles behind where he was, but I never felt I was in this position. I always felt he was there with me at the same level. Then he needed to take me through the journey. Hopefully I was able to contribute to his journey. But it's this balanced approach and this ultimate sense of we do have to trust each other, that is a common trait to these great champions.
BEYOND THE GRID: Lando Norris on driving McLaren's revival and the responsibility of being the team's senior driver
TC: Can I ask you just one question about Fernando? How close to recreating what Schumacher had at Ferrari did Fernando get?
AS: It's an interesting question. We certainly went very, very close to succeeding in his first year at Ferrari, which is very different to how Michael started the journey. He had three victories pretty much out of his immense talent, rather than outright competitiveness of the car. I think in Michael's journey, there's been a proper journey. Ross Brawn came on board, Rory Byrne came on board, James Allison came on board. There was so much continuity in this journey, where you keep identifying what you need to add and you keep building brick by brick, if that makes sense.
I think this is something that we missed during the Fernando era and we could have built it, but definitely it would have needed a lot of continuity and this brick-by-brick approach that was established in the mid-nineties at Ferrari.
TC: And so the continuity and the seniority that succeeded so well at Ferrari, I'm sensing, is what you're trying to create in Woking at McLaren?
AS: There are some elements of the script that haven't changed over the years, independently of the role that I've been on. Continuity and seniority do form part of this script and this is what we are trying to do at McLaren as well, yes.
TC: And then we've got the arrival of David Sanchez, Rob Marshall, others as well I'm sure. What does 2024 look like for the team?
AS: The development that we had in Austria, the development in Singapore, and all the other areas that we have improved that may be less visible, that's the result of the people that were already at McLaren. The 2024 car will be the result of the people that are already at McLaren. Like I said before, I can't be thankful and grateful enough for, not only the quality of the efforts that were produced at McLaren by the team, but how, independently of our position, we go hand-in-hand and we trust each other. This is a characteristic that, without which, the work of the team would be disjointed.
So in 2024, we will see what we are able to do in terms of continuing with the development of the car, we already have a full exploitation of the infrastructure that came to fruition – wind tunnel, simulator, manufacturing facilities – and then we definitely wanted to work on this seniority element. Bringing what we call horsepower to the team. We want to compete with Red Bull, Mercedes, and Ferrari. It's a daunting mission and we need to be well-equipped.
TC: Andrea, best of luck with everything that comes up. I've loved this chat so much and I hope you might come back on the pod one day in the future. Thank you very much for your time.
AS: Thank you.
To read on, sign up to F1 Unlocked for free
You'll unlock this article and get access to:
Live leaderboard data
Epic experiences and rewards
Money-can't-buy competitions