Podcast F1 Unlocked
FULL TRANSCRIPT: Read every word from Pierre Gasly's Beyond The Grid interview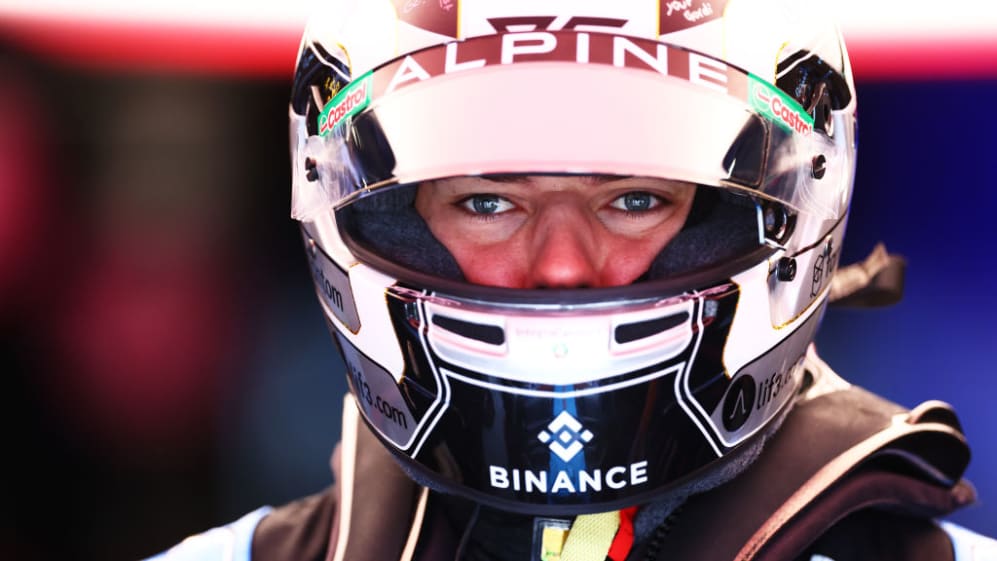 Pierre Gasly is a Grand Prix winner who left the Red Bull family last winter to take up a new challenge: helping Alpine fight their way to the top in Formula 1.
The Frenchman is this week's guest on our Beyond The Grid podcast, and you can read every word from his interview with host Tom Clarkson in the transcript below, listen to the episode in the audio player, or head here to catch it on your preferred platform.
Tom Clarkson: Pierre, it's lovely to have you back on the podcast. How are you?
Pierre Gasly: I'm very good, fantastic!
TC: It's been five years since you were last on and you don't look a day older…
PG: I've got a slightly bigger moustache compared to the last time we did it, but yeah, that's what I was thinking in the lift coming up here. I was trying to think back at our last podcast, and it was a long time ago.
TC: We recorded it in Sochi, 2018. A lot has happened since then, but you look very well. I'm putting that down to living in Milan…
PG: Yeah, this is partly the reason, but there are a lot more reasons to it, I would say. I'm definitely feeling happy and excited, and really enjoying the ride and the whole process. There's a lot to talk about over the last five years, quite a lot happened in my life, especially inside the paddock, but I'm definitely in a happy place at the moment.
TC: Tell me more about Milan. You moved there in 2020. Why did you do that?
PG: Initially, when I started in Formula 1, I obviously started with Toro Rosso, which is based in Faenza, a couple of minutes away from Bologna. I straightaway moved from Milton Keynes to Bologna, which is a lovely town, and I love Italy in general. I love the culture there. I love the way of living, the emotions that you get from the country. I can really feel myself and feel that it's matching with my personality.
I moved there for two years and straight away I was thinking, okay, Bologna is very nice and a lovely town, but I would like something slightly bigger. I was planning to move to Milan already when I was with AlphaTauri and I just made the move after two years living in Bologna. I moved to Milan three years ago and I'm the happiest I've ever been. It's lovely food and I'm a foodie, so I suggested to Yuki Tsunoda to have an eye on a couple of places in Milan, he'll be happy there.
I'm the only F1 driver, so whenever I go back home, I can really disconnect. I have my own routine with my gym, with my physio, and I have access to everything I need to stay on top of my game. I get the peace that I also need so it's a very good place for me.
TC: And as a city, I get the impression it feeds your various passions for fashion, for football. Are you an Inter Milan fan or is it still PSG?
PG: I'm still a PSG fan and this is for life! But that's one of the first questions I was asked when I moved to Milan straight away. People were like, 'are you Milan or Inter?' I still haven't figured it out. I've got a couple of friends in both teams and I always try to go to San Siro and I love it, whether it's Milan or Inter, because they are both top of the league in Serie A, so I go there really enjoying the game.
Last year I went to a Champions League game and they were facing each other, and I just couldn't really make my mind up. But they're definitely two of the greatest teams of football in history.
READ MORE > Behind the scenes with Pierre Gasly: The Alpine racer on that Zandvoort P3 and hanging with football stars at Monza
TC: Now, what about Pierre Gasly, the racing driver? We're getting to the end of year one with Alpine. How do you feel it's gone?
PG: There has definitely been a lot of learning with the team, a lot of evolution over the past ten months. I will say we are on the right trajectory and the right path. The starting point was lower than our ambitions at the start of the year. It hasn't been the smoothest start of the year or the easiest way to get familiar and comfortable inside the whole environment.
But I think the way we've dealt with it and the way the team has welcomed me, they've had the right mentality and the right attitude from the start. It's been quite nice to blend inside the team, create these links and this automatism you need to perform at your best as a driver. Obviously there have been these learning curves with the guys in the first part of the year. But I really feel like since we came back from the summer break, I can feel the relationships, the communication, the trust and all the processes we've put in place, really start working and you can see it in terms of results since we got back from the summer break.
It's been definitely better and as a team, I feel we're performing at a better level. Still far from what we want to achieve and far from what I want to achieve with the team in F1. But with the performance we have this year, recently I can feel we're really extracting the best from the package we have.
TC: What did you do in the summer?
PG: It's always been really good for me the summer break. I won my first race after the summer break. I've always had a great second part of the year, but the first part of the year was obviously a lot of learning and getting to know each other within the team. So the communication, the efficiency you get from the time you spend with the team, and the understanding of what type of car I need in terms of car setup and the direction I want to take, it doesn't click straightaway. They need to understand my driving style, the way I speak with them, the comments I make about the car, and understanding which way we go to set up things around me. So it took some time.
And on top of that, I don't think I've ever been as unlucky in Formula 1 than I was at the start of the year. We were all involved in some tricky situations. Looking back at Melbourne, we were doing an amazing race with two laps to go, and we dropped ten points there. That was pretty rough. There was Monaco, we were running in third and made a wrong strategy call, which cost me third place. It just felt a bit sub-optimal where the potential was there, but I was going back on Sunday thinking, 'if we'd have done things perfectly, two more points were available for us'.
It just felt we missed this one or two per cent from just executing and really being on top of our game. I think this is what has changed. We're working in a much better way, much more efficiently. The team understands me better. When you put all these ingredients together after the summer break with less bad luck, then we're able to perform where we are – really extracting the best out of this package. It's also more fulfilling.
I'm feeling happy because, obviously I want a faster car, I want us to be in that fight with the guys ahead of us, and I'm pushing the team week after week to especially work on next year's car and come with a stronger package, but the target until the end of the year – because we know we're going to finish sixth in the championship – is to really feel the execution is perfect. So when we get a better car hopefully next season, we're able to execute in the best way at the track and get the best out of the package.
I feel we're getting there. I'm happy because you never know how long it's going to take. I felt straightaway we managed to perform at 97, 98 per cent, but we still needed to unlock this last percentage. I feel like over the last couple of races, we've managed to take it to the next level.
TC: What's it like joining a new team?
PG: It's like coming inside a new company, which is brand new to you and a massive organisation. You're talking about over a thousand employees working for the team and obviously the last piece of the puzzle is put in the car on Sunday and tries to deliver the job after all our guys have done hours, days and months of work to prepare the car in the best way. So big responsibilities, but the intentions were good from the start.
I really felt like Alpine pushed really hard to get me inside the team and partner together for that project of bringing Alpine to the top. I was really excited and I was very happy to discover a new world as well, because I had been with Red Bull for 10 years. I knew everything inside out there and it was the start of a new project in my life. You try to figure out everything in a very short time because you get a day and a half in Bahrain in a new car, a couple of days at the factory, and you're thrown straight into the deep sea in Bahrain for the first weekend of the year.
But there's definitely a lot of excitement at the start of the year. I did go to the Christmas party last year, which was very important because it broke the ice straight away. At the Christmas party, people are in a different mood to the end of the year. They went through a very long season. Everyone was quite tired, but they are happy to celebrate the end of the year.
It was just fun, people were there to enjoy their evening and they were getting to know me. Straightaway I could feel the passion inside the team. I could feel the excitement of having someone new inside the team. It just made me feel at ease and also brought me reassurance that there were the right intentions to work together and try to make it as efficient, as fast as possible.
TC: We're talking on the eve of the Sao Paolo Grand Prix, and you've already won the qualifying head-to-head against your team mate Esteban Ocon. Is that important to you?
PG: Yeah, it's always important. You can ask any team mate, any driver, you know that the first comparison people will have is the face-to-face with your team mate. It's always something that is important. I race to beat all 19 of the drivers but ultimately, when you are fighting Max Verstappen with the Red Bull this season, the chances of beating him are very little.
But then, against your team mate, it's the person that you can compare directly inside the team so it's always important. I knew it would not be an easy one, especially coming for the first time in the team and Esteban has had four seasons with them. I knew it will take time and time is not what I really like. I'm not patient and I really wanted things to work straight away. But it took a few races and now I feel like we're getting on the right path.
READ MORE: Gasly hails 'massive motivation boost' for overhauled Alpine after 'insane' run to P3 at Zandvoort
TC: Do you think a Formula 1 driver's value is judged more on a Saturday than a Sunday because there are so many compromises in a race with strategy and tyres?
PG: Yeah, it's always a tough exercise because you get one lap, it's pure speed. But everything matters. The points are scored on Sunday. Obviously, Sundays over a full race distance, a lot more things can happen. You tend to believe that it sort of evens out at some point - not for me this season, I feel like the gods of luck haven't really been on my side. But if it means we'll be better next season, I'll take it.
TC: Now, so much is made in the media about your relationship with your team mate, Esteban. Have you rubbed along better as teammates than you were expecting?
PG: I knew that it would not be easy, but at the same time I knew that we had grown up a lot. I was a little worried about how he would welcome me and work with me. I've known Esteban since a long time, so I know how we work. We have different personalities, we're just two different types of people, but ultimately I think we've been working really well. I think we understood the responsibility. My main concern was to work well with him, to make sure that we extract the maximum of the car, maximum out of the team, and that we are both pushing in the same direction.
There's always going to be a healthy rivalry, one wanting to beat the other. But what I care about the most is that this doesn't impact the evolution of the team and the evolution of the car. It's fine to have a rivalry, but we both need to work towards the same direction. We've all got to be pushing the team forward and pushing the development. I must say, that's exactly what we've been doing.
I would not say we're friends. We don't spend much time together. But when we get to the track, then we are at work. We are mature, responsible and we are delivering. We have quite similar feedback, requesting pretty much the same thing out of that car and how we'd like the team to develop. In terms of working relationship, it's very formal between us, but that's all I can ask because at the end of the day I just want to be competitive. I know Esteban won't invite me for dinner, but I'm fine with that.
It's very different to what I had with Yuki. Yuki was very unique, and in Austin, I had a chat with Sir Jackie Stewart. It was just very inspiring to hear his relationship with François Cevert. As he was talking, it was almost like I could relate to my relationship with Yuki, in the way that he came to F1 and how I was supporting and trying to help. It was a very genuine and healthy relationship.
Now with Esteban, we're both fighting for our careers. We both want to make it to the top. We both want to be leaders of the team. I accept that and actually embrace the challenge. I embrace the competition because at the end of the day, Esteban is a very fast and very talented driver. He's proven that. That's what you need as a team mate, someone that's going to be pushing you, someone that's going to be pushing the team. You want someone that is competitive.
I really respect that. I know how much he wants to beat me. At the same time, he knows exactly how much I want to beat him every single time. It's not something personal because, at the end of the day, I care about all 19 drivers. I want to beat everyone. To beat everyone, I need Esteban to be pushing me and to be pushing the team to improve the car. That's exactly what we've been doing. I think it's probably not as exciting for the media. There hasn't been all the sparks, stories and drama people would have expected, but it's been great.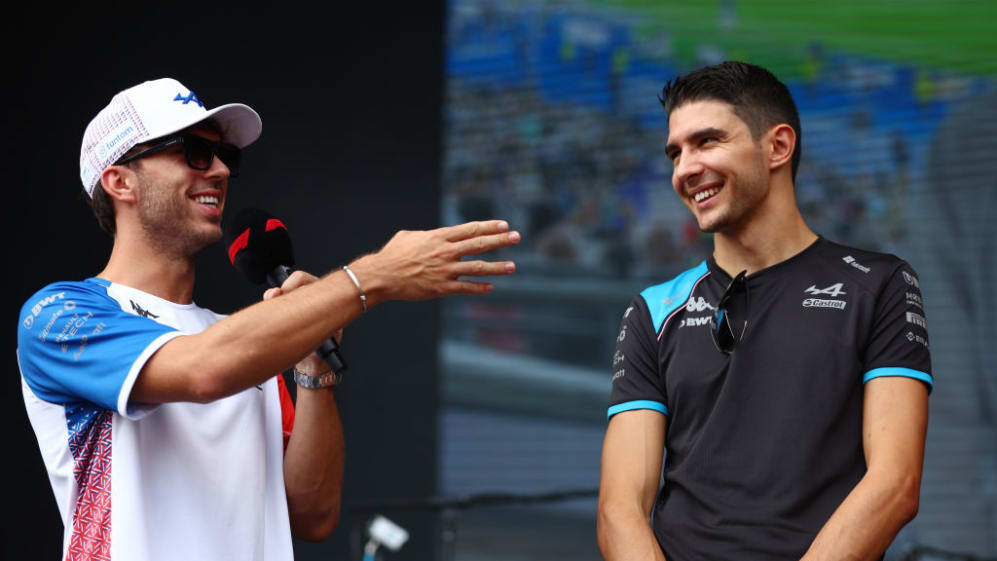 TC: Did it flare up following Melbourne, after the crash with two laps to go?
PG: Honestly, it was tough. On the flight back home, I was just sad because, to me, it was the third or fourth race of the season with the team, and I was fighting with the Ferrari, with the Mercedes. I had the podium in sight, with Lewis and Fernando a couple of seconds up the road, but it was a big result that would kick off your season on the right path. Flying out of Australia after all the work and the efforts, with zero points, was the worst scenario possible with both cars in the wall. I have my opinion and it was a racing incident.
It was just very much a big shame that we both ended up that way. I lost much more than he lost on that day with fifth place, which was up for grabs, but if it would have been anyone else, it would have been pretty much the same. We talked things out. We went to Paris and had a chat with Laurent Rossi. He had his opinion, I had mine, it felt like he could have backed out of it, but he didn't and in the end we moved on, shook hands. We agreed between team mates we've got to take slightly more margin.
I had no idea he was there. Could he have done things differently? Probably, but it didn't happen and in the end that's the way it was. We were fine, we just moved on, and focussed on our job to get the best out of it for the following races.
I know for my team to perform, they need to work in a healthy environment. There cannot be an unhealthy rivalry between the drivers. That's something I'm aware of and something I'm really trying to be careful with, also personally managing Esteban and the way that we interact. If Esteban is not welcoming me into his own bubble, then fine, if that's his way of working.
I know I'll get more out of him by pushing the team in the direction that I need him to push the team in. That's why I'm completely fine with the relationship we have. I think it works well. I need my space, he needs his space, and everyone respects that. I think we both have a lot of respect for the drivers that we are. At the end of the day, I want to win. He wants to win. We've got to be hand in hand to make it happen.
TC: So when you have Yuki alongside you, you're great mates and it's all great fun, does that put enough pressure on you to perform? Do you need outside pressure or does actually having someone like Esteban alongside bring out the best in Pierre Gasly?
PG: It's important, first of all to say, even though I had this sort of bromance relationship with Yuki, it doesn't take anything away from the talent and the speed that he had. I've always said it, I think Yuki doesn't get enough credit and recognition for the speed that he has on some days. If he controls his emotions and his language, he can be extremely fast. People, I feel, are undervaluing what he has to bring.
But even though we were having fun and having a very good relationship, in practice, qualifying, or the race, I wanted to destroy him. Not in a bad way, I just wanted to outperform him in every single session. The desire to be the best, the challenge and the competition will always take over everything else. It doesn't mean that you lose the respect or you're going to take it further than the limit – you'll always play between the rules – but at the end of the day what satisfied me going back home on a Sunday, is feeling I've done the absolute best with the car that I was given. This is the ultimate goal.
READ MORE: Patrick Mahomes, Travis Kelce, Anthony Joshua and Rory McIlroy among host of sports stars to join Alpine's investor group
You can laugh inside the paddock, you can laugh outside the track, you can go for nice dinners, and it just makes it more enjoyable. That's more the way I see it, that it makes it all slightly more fun and more enjoyable. We spend a lot of time away from home, so it's about finding moments which you can enjoy when you're not racing. Obviously, the moment I love the most is whenever I get in that car, fighting the best 19 drivers in the world, and this exercise of beating them and going after every single hundredths and thousandths that I can find in that car, this is the absolute satisfaction.
But when you jump out of the car, if you can make it more enjoyable with your teammate, like the way I did it with Yuki, it's great. But if it doesn't happen, then it's fine. You find other ways with your team, with your mechanics, your engineers, then you find other ways of enjoying the ride as well.
TC: I'm quite fascinated by the atmosphere among the drivers this year. I'm reminded of Abu Dhabi last year, where all 20 of you went out to say goodbye to Sebastian…
PG: That was a hell of a dinner. I remember that moment forever. It was the first time in five years we all got together. That's probably one of the very few times you've seen the real side of people and drivers. You've always got a closer relationship with certain drivers. But it's almost like on that dinner, from the moment we closed the door, we all took our caps off our heads, and you just get whatever you see.
It can be Lewis, Sebastian, Daniel, everyone came up with all sorts of random stories, which I'm not going to tell here! It was just hilarious and it was great to see. We're all racing drivers, we all want to beat each other, you get a bit of banter, sometimes it goes slightly beyond the limits, but at the end of the day we're all just normal people with a life which is quite extraordinary.
TC: Who surprised you at that dinner?
PG: I get on pretty well with pretty much all the drivers. But yeah, Lewis was great, Seb was great, Yuki made us laugh so much. By the end of it, we all looked at each other and said 'why didn't we do it earlier? Why did we wait five years to make that happen?' So let's just make sure that we get to do this again sooner than later. You meet a lot of people in Formula 1 but you can only really rely on and trust very few people, because we spend so much time on the road and we don't get much time at home.
You don't have a big social circle of very strong, close friends. You don't have many of them when you're racing in Formula 1. We probably realised we might have a few more friends than we think in that paddock. It's a life which is difficult to explain and many times I feel quite uncomfortable about saying the experiences that I get in my life, because you'll sound arrogant. You sound like you're going to brag about certain things. I know it's not normal.
Sometimes I have these moments where I think my life is a Hollywood movie. That's why I really like the chats that I can have with Charles [Leclerc], because I know with Charles we're discussing about both of our lives and we won't judge each other. I know it's almost like a happy place, a comfortable place where you can open up. He'll understand, I'll understand him. You really want to stay grounded and enjoy every single moment, but I've learned there are things you can share and other things which you've got to be slightly more careful with the way you present them.
Oops! Error retrieving Twitter post
TC: Rumour has it that Charles is better at chess than you?
PG: The guy won one game over me and straightaway you come up with such a statement! I got his Queen straightaway and I got too comfortable. I thought I had him set up from the start. He had a very good comeback. But I've told him already, revenge is coming very soon!
TC: Now, we've talked about Pierre Gasly the racing driver, and what it's like going to a new team and what you want from the car. Are you now experienced enough to understand that the role of the driver extends beyond the racing car?
PG: The experience at Red Bull helped me massively in figuring out the importance of the work and making sure that the environment is as good as it can be. I think it took me two years, probably three years in F1, before really understanding the importance of the racing driver inside the garage, inside hospitality and inside a factory. We are not more important than any other guy working at the team, but we've got this status which allows us to push people beyond their own limits and beyond what they think.
We are all part of the same team. We are all working towards the same goal. We are all doing different sacrifices to make that happen. Ultimately all these guys are doing sacrifices to give us the best car on a Sunday. I'm really grateful and they need me, but I need them even more than they need me. So it's how you get the maximum out of your guys. It's organising these team events, trying to spend like two- or three-minute chats every day or every weekend, really showing the human side of things, and really making everyone feel as a team. That's what I'm trying to do.
I really want everyone to believe in the project we are doing. We win together, we learn together, we lose together. I'll give my absolute best for all these guys. It doesn't matter if it's a P11, it's not what I want, but I'll do absolutely everything to get the best out of the tools they give me. I expect the same from them. I really need them to give even more than what they think they can give because we've got that power inside us. This is the impact you have inside your race team. But then there's something I've also worked on, which is finding ways of giving back to the community and trying to have more positive action, which can have a positive effect elsewhere.
A couple of weekends ago, I had this helmet for François Cevert, and I was very happy and very proud of bringing that exposure about a French icon and a motorsport icon. It doesn't take much, but I just feel it's about how we live up to the legacies we still have from our sport, from the old champions and legends we had in our sport. It was just a simple helmet but I know the family loved it. We managed to raise a couple of funds which were sent back to a college in France, which was called after him in his region.
IN PHOTOS: Check out the one-off car liveries and special driver helmets at the United States Grand Prix
We did a helmet with the Ayrton Senna foundation in Imola in 2021, which raised some funds for the foundation and helped some kids in Brazil. It's just small action. It doesn't cost much, but thanks to the exposure you get in Formula 1, you are able to use it in a very positive way. When I came into Formula 1, I didn't have this awareness of how big the sport is and all the opportunities that it can bring. Actually, through small action or messages that you're going to vehiculate through our sports, you can have a bigger positive impact elsewhere in the world, whether it's connected to our sport or whether it's completely disconnected and helping people in need.
That's something which I feel is quite fulfilling, not as a driver, but more as a person. Lewis is very inspiring in that sense because he's bringing spotlight on many different topics and I think it's quite good for our young generation that we understand the power. Obviously, he's got the biggest community, the biggest exposure, but we get a glimpse of what's possible.
I think the sport has changed. If you look 20 years back, we didn't have the tools that we've got these days. We need to live inside the time that we are living in, make the best out of the opportunities and use it in a very positive way, because there is a lot of negativity going around. You feel this responsibility of driving a positive message. If it has a positive impact on a million people, fantastic. But even if it's five people, it's just as important personally.
TC: I think there's the perception that your voice has got louder this year since you've been at Alpine. Would you agree with that?
PG: I would agree with that, yeah. I feel the team managed to understand my needs and understand that, to extract the maximum of Pierre Gasly, you need to give him a certain space and freedom. I'm quite easy going and I don't need much, but my focus and desire to be the best is over the top. I've worked all my life to be the best in Formula 1 and that's all I want.
But there's this sort of freedom which the team understood I need, and we really managed to create this environment around me to extract the maximum of myself in the car, but also outside the car, so that I can be quite comfortable at being myself and share that positivity around everyone in the team.
TC: So in hindsight, do you think it was a good thing you leaving the Red Bull family after nine years? How much of a wrench was it to leave Red Bull, after everything you've been through with them?
PG: At the end of the day, when I look back at Red Bull, it was nine and a half years of pure joy – incredible results and fighting for championships before Formula 1. It wasn't an easy way to Formula 1. I got sent to Japan, which at the time felt like a bit of a punishment going into Super Formula, and it was one of the most enjoyable and exciting seasons I ever had. I absolutely loved it and I feel such a connection with Japan now, that every year I wish I could have three or four weeks to spend there because it was an amazing life experience, an amazing championship, a great challenge.
There was a lot of pressure, but I love that pressure. There was a lot of stress showing up in Japan, not understanding anything, a new car, and I had no idea about the racetracks. But I didn't crumble down. If anything, I got better as a driver. Starting in F1 after, it was a roller coaster ride from podiums to promotion to the best team in Formula 1. It was just quite unfortunate that year, that he car wasn't working as well. It was just unlucky timing, things didn't work out the best way. It definitely made me better as a driver and also as a person.
TC: Do you understand why it didn't work out with Red Bull Racing?
PG: 100%.
TC: Have you talked to Helmut about it since?
PG: No, I hope one day we get the chance to. But I know, deep inside, they're smart people. It's the way that it was, that wasn't really fair. But that's the sport and I've learned as well that this sport is not always fair. I really closed the chapter when I left AlphaTauri and opened a brand-new story with Alpine. I think I've reached a level of experience, skills and mindfulness right now, which thanks to my previous experiences, allows me to be better today than I was yesterday.
BEYOND THE GRID: Liam Lawson on how he's thrilled but 'unfulfilled' with his F1 debut
TC: So if that six months with Red Bull Racing has made you a better racing driver, 2019 was your annus horribilis, because of the professional side of it, but also what happened to Anthoine Hubert at Spa. How did Anthoine's passing affect your relationship with the sport?
PG: It was a shock. I was just in my phone's photo library, looking back at some pictures and I ended up seeing the pictures with Anthoine from back in the days when we were at school together, and the last dinner that we had in Budapest before the summer break. We were actually planning to go out and the last minute, I didn't feel like going, and I remember just saying "bye" from the sidewalk and I still see him standing there next to my friend.
At that time I was still with Red Bull and a couple of days later I got dropped. He sent me that message that I shared. I don't think anyone's prepared in their life to lose a friend and a very close friend at such a young age. Sadly, it wasn't the first very close friend that I lost. It was super, super tough to get over it, and to go through the same, but in my sport, with someone who I saw absolutely everything with from 13-years-old, living in the same bedroom, every morning going to classes, studying together, and training together. I've always said he made me a better person on track and off the track as well.
But following what happened in Spa, I think it also changed my vision of approaching life in general, and my relationship with the people that are important to me, and appreciating every single second that you get to spend with these close people. Obviously, you can't change life. This is the destiny. And I'm someone who's very fatalist as well. I believe we've all got our story and there are very few things we can do to change our destiny. I think this is something that I've taken from what happened with Jules Bianchi.
It's helped me to accept Anthoine's life story and to carry that sort of pain and grief into something more positive, and try to use the impact he had over my life in a very positive way. That's why I'm also very extremely happy and proud of what we are starting with Alpine, because I know this was his goal. His goal was to be a Formula 1 driver for Alpine and trying to get a win with Alpine. To be in the position that I am in today, I am 100% sure that he's with us and is looking over us. He's going to make sure that great things happen for us.
TC: And Pierre, there is that lovely moment when you're sat on the podium in Monza after your win. You're sat there looking very pensive. Have I heard you say that you were thinking of Antoine in that moment?
PG: I had millions of thoughts in my mind, so it was very tricky to process everything that was going on up there. Obviously, Anthoine was part of it and part of the people that I thought of straight away as I crossed the line. But it's a moment which you dream of a million times as a kid. You fall asleep thinking and dreaming 'I want to be a Formula 1 driver… I want to win in Formula 1… I want to experience what it's like to be on top of the podium after winning a race'.
This whole celebration is going so fast. After Spa, it was important for me to just learn how to enjoy and take the time to live the maximum out of the present moment, because we are always worrying about the future, worrying about the past, and we too often forget to enjoy what's going on. As they walked out of the podium, I was thinking, 'this moment is my moment. It's going to end whenever I decide it's going to end'. This is too strong in terms of emotions. I've dreamt about it so many times that I was just like, 'take a few seconds for yourself, sitting down there.'
It was COVID times. No one was down the main straight. You've got these images of the Tifosi all down the main straight. I'm probably the only guy with no one at the podium in Monza, winning the Italian Grand Prix with an Italian team. I just thought there's so much to process right now, just take a moment for yourself, sit down, close your eyes and embrace that moment.
TC: The moment did live on, at least for a few days. We had front page of L'Equipe, phone calls from the President…
PG: It was like a fantastic chaos. It had been 24 years since a Formula 1 French driver won in F1 and the expectations from our country were huge. I always remember the first time I arrived in Malaysia in the paddock on a Thursday, I did my first media commitment, and the first question from the French journalist was, 'will you be the next French winner in Formula 1?'
Straightaway I understood, these guys have been waiting for a long time. There's a lot of expectation. I said 'I hope so'. That's why I think there was such a great reaction and response from all the country. I think it definitely triggered a bigger interest for Formula 1 in France. That win definitely had a massive impact on my life and my career, but also a pretty big impact in France for the F1 fans.
TC: And when is this French driver sat in front of me going to win again?
PG: I want to say 2024 because this is the clear target and that's the goal I'm working towards. I just want it to happen very, very, very badly next season. It will be tough until the end of the year and someone will need a bit of a miracle to happen. But I really hope we can hear the French anthem on the podium in Formula 1 next season in 2024.
TC: That would be fantastic. Pierre, it's been so good to catch up again. Can we do this before the next five years pass?
PG: We'll make it happen! Thank you.
To read on, sign up to F1 Unlocked for free
You'll unlock this article and get access to:
Live leaderboard data
Epic experiences and rewards
Money-can't-buy competitions