Podcast F1 Unlocked
FULL TRANSCRIPT: Read every word from Valtteri Bottas's fascinating Beyond The Grid interview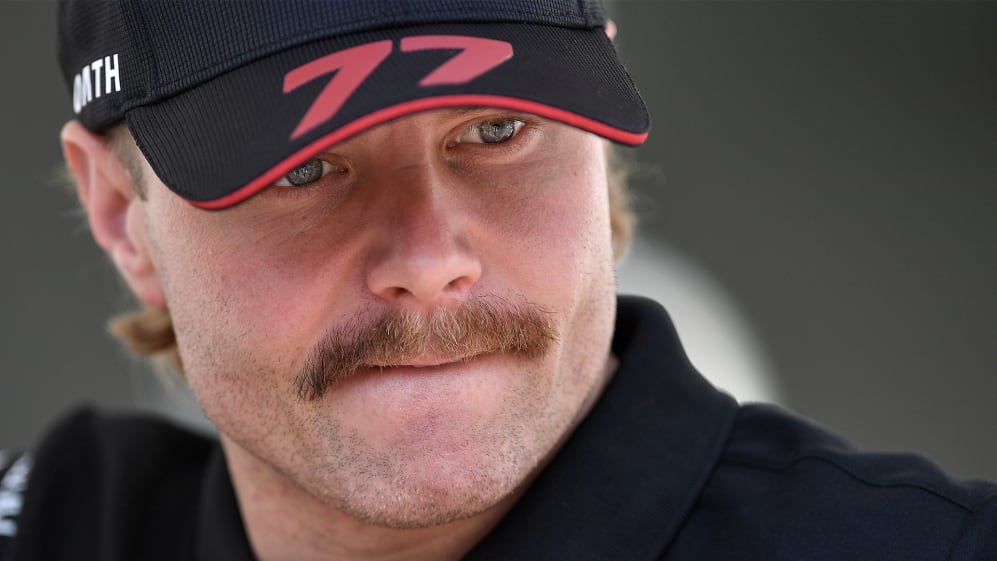 Valtteri Bottas returned to the Beyond The Grid podcast - presented by Salesforce - this week, joining host Tom Clarkson for a chat about his F1 journey to date. They also speak about life at Alfa Romeo, what the future might hold and much, much more...
Read every word from the interview in the transcript below, listen to the episode in the audio player below, or head here to catch it on your preferred platform.
Tom Clarkson: Valtteri, good to see you. How are you?
Valtteri Bottas: Good to see you too. I'm good, thank you.
TC: Now it's been two years since you were last on the show. Time flies and a lot's changed in that time. A new team in Alfa Romeo and a new look. You've embraced change both on and off the racetrack...
VB: It's quite scary how quickly time flies. But it is true, quite a bit has changed. Different colours on the car, different kind of hairstyle, different facial hair.
TC: Let's deal with the new look then. First of all, it's all very Aussie, isn't it? What is it about the Aussies?
VB: I did spend quite a bit of time last winter in Australia. It was five to six weeks actually. I just like the lifestyle. Being there, I wanted to be part of the country and hairstyle modification was one of the things to do. The first idea came a long time ago because my hair was growing a bit, so I thought maybe I need a mullet and it was a joke, but then it actually became true. And now I kind of like it. The main thing in the morning, when I look in the mirror, I see a handsome man. That's all that matters, right?
TC: All very Aussie, but can you surf?
VB: I can't. I've never tried actually.
TC: Why not? I thought you might have gone to the Urban Surf in Melbourne near the airport.
VB: I need to try. It's actually on my list of things to learn eventually. It would be cool.
TC: And do you drive a ute? I think that's another Aussie thing, isn't it?
VB: I don't. But also on the list.
TC: While you're embracing all things Aussie, what about your other half, Tiffany Cromwell? Is she embracing all things Finnish?
VB: She does really love Finland and we recently had a bit of time up in the north. There was still snow there and then some time in the south of Finland, where I'm from. She does love many things about Finland; like the sauna, the lake swims, the Nordic cuisine.
TC: What's coming across is that you seem very relaxed and happy at the minute. Is that true?
VB: I think that's fair to say. I think life is in great balance. I'm enjoying a lot of things outside Formula 1 as well. But people shouldn't think that I'm not serious about F1. If they think I'm just having fun, that's not the case. I'm still working hard with the team and still my dream is to win races. But then when I have time off, then I can really, really enjoy it and embrace it.
TC: But has your approach to the day job changed since you've been Alfa Romeo?
VB: Yes and no. Still, there's this thing inside me that really wants to win, really wants to do the best that I can to help the team. So that never goes away because I want to be as professional as I can when I'm working. But then I would say all the other related stuff to F1, like the media, events, critics, stuff like that, that thing I can take a lot easier nowadays. I don't really stress about things like that. It's just part of it. I would say certain elements about F1 are more easy than before.
TC: And does that make you a better driver?
VB: Time will show, obviously, but at least I feel good. I feel like I have lots of energy and when I come to the race weekends, I always have full batteries, I'm always keen to go and everything is more fun. Normally when you enjoy the sport, the results are better so let's see.
TC: Since you've been at Alfa, your best result is fifth. How difficult is it to adjust your mindset to not winning when you've been at a team like Mercedes before?
VB: It is tricky of course, but I did have quite a bit of time to get my head around it and get used to that thought, that coming to a race weekend it's a different target. But I had time to prepare. When I knew that I was joining Alfa Romeo, there was already time before the start of the next season. Then you really just you start working. It's a different goal in terms of the actual result, but the goal of being at your best, trying to get everything out of the car, everything out of the team - that never changes. The satisfaction comes from different things, like seeing progress and hitting your targets.
TC: So that is what success looks like now for you. It's just maximizing everything around you, including yourself?
VB: Exactly. And hitting targets together as a team.
TC: Now, you've been an Alpha for nearly 18 months now. How do you feel it's gone?
VB: We still have work to do. That's no lie, especially this start of the season has been a bit up and down. But the good thing is there's still lots of races to go and we see where we can improve. But I would say as a team, if I look at everything from my first year to this year, everything is a lot more professional. I think everyone has stepped up their game. Whether it's about the quality of the car, reliability issues, attitude of the people. If you want to be towards the very front of the grid, it's all about the fine details in whatever you do. It's been good to see a bit of a change but, like I said, still a lot to do.
TC: Talking specifically about this year's car, the C43, can you talk us through its strengths and weaknesses?
VB: Strengths, I would say a bit like last year, we seem quite competitive in the slower speed corners and the balance of the car this year is actually very nice. Weaknesses, I would say it's higher speeds. Whether it's about the pure top speed on some tracks or whether it's about high speed corners, we're still lacking a bit of overall downforce, but there's nothing fundamentally wrong with the car. It's behaving quite nicely. We do have some fixes to come to those issues already in the pipeline. I would say our strength this year as a team, we can produce a bit more stuff during the season. In terms of the upgrades last year, that was a bit of a weakness for us, but I feel like now we've stepped up on that.
TC: What about the one lap pace of the car? Looking at the qualifying performances of you and Zhou in the opening three races, neither of you made it into Q3. Was that circumstantial or is the car fundamentally difficult over one lap in qualifying?
VB: It's definitely not been the strength. We definitely need to work on that. As it's only three qualifyings on quite different tracks and conditions, it does show that the pure pace of the car at the moment is not in Q3, which is obviously disappointing at this point. But we're talking about such fine margins, the middle part of the grid is super tight. If you can gain even one or two tenths, you are there. I'm not too concerned yet because we are in the start of the season.
TC: Given your experience with Williams and Mercedes beforehand, now that you've been with the team as long as you have, do you see any reason why Alfa Romeo and Sauber can't win races going forward?
VB: No. Still needs a bit of time. It still needs a bit more people compared to the very big teams. That's about it, I think. Some machinery can be improved, but elements are there. I think we're living in quite interesting times in the team when we look at the years ahead.
TC: Is the vibe in the team very different to Mercedes?
VB: It's quite different. When I jumped from Mercedes to Alfa Romeo, for me the immediate feeling was more like a race team rather than a company. It definitely felt a bit more corporate at Mercedes versus just a pure race team at Alfa. But which one is better? I don't know.
TC: There's been a major change at Alfa over the winter with the departure of Fred Vasseur. How much does the team miss him?
VB: Of course we miss him. He was a big part of the team for a long time and I've known him for a long time. It's no lie that he was one of the reasons I joined the team. Then the next year he left. But I understood him because it's an opportunity that you don't want to miss so of course you go for it. The main thing was that things are taken care of when he leaves and things are in order and there's a right structure in the team. It was pretty seamless the way things went, the way Andreas (Seidl) and Alessandro (Alunni Bravi) stepped up. It's been good to see and I feel like we're in good hands with those leaders.
TC: On the topic of Fred, how did he break the news to you that he was going to Ferrari?
VB: He called me a couple of days before and said 'maybe you've seen rumours, but now I can confirm this happening. But don't worry, things are going to be in place and so on'.
TC: And you say you understand the attraction of Ferrari?
VB: I do. It's obviously windy at the top, but that's the name of the game.
TC: Have you ever had an opportunity there? Were there ever conversations about you joining in 2019, for example?
VB: There was a long time ago. I can't remember the exact year, but I think it was before Mercedes. But then after that, nothing serious because I was always committed to securing the Mercedes seat.
TC: You mentioned Andreas Seidl, who is now the CEO of the team. He joined from McLaren over the winter. Were you surprised at the news that he was coming in?
VB: I didn't really have many names that I could choose and think who would be next. But then it kind of all made sense. He's got good experience, he's a super smart guy. He knows a lot about the sport and the technology. I think as a character, he's the right type as well. He's very direct, which you need. Of course he's in the team for the long term now and I think he's done a great job. But what he can do in the team, the future will show that. You can't see immediate results in anything when you have a new boss.
TC: What impresses you about Andreas?
VB: I think his motivation. He's got very clear goals on what he wants to achieve and he's very performance and result-driven, but at the same time he's good with people. So I can definitely see the motivation there and that fire that you need in this sport. But like I said, it's still early days for him in the team and there's still a lot to do. Time will tell.
TC: So what about your future? Your contract's up for renewal at the end of 2024. Do you want to be there when Audi comes in?
VB: I'm still young compared to some. I'm 33. I still don't see my Formula 1 career ending in the near future and I don't feel any performance losses on my driving or the way I work with the team. It is interesting for the whole race team and company what is happening. Of course, being part of a car manufacturer is something that you almost need if you want to win in Formula 1.
TC: Did you know about Audi coming on board when you signed for Alfa Romeo?
VB: No I didn't. That came after. I don't actually know if they were even discussing it back then. It's obviously a shame to see Alfa Romeo go because it's a really iconic brand that I feel should be in Formula 1. That's how it goes sometimes and things change.
TC: You say that there's no changes in your performance, but are you actually getting better? How does experience work for a Formula 1 driver? You've done more than 200 races now. Compare the Valtteri Bottas of today to the one of, let's say, 2017 when you joined Mercedes?
VB: I've definitely learned so much since then. Definitely from every year, you learn more things about the tracks, you learn more about setting up the car, about racing. You definitely improve with time in terms of the experience and as long as you want to improve, you will. I think it's a beautiful sport in that way. I think the experience helps. When you're facing issues, with the car and solving problems, that's when the experience really comes handy. I'm sure my skin is a bit thicker and I'm less sensitive about things nowadays than back then.
TC: Emerson Fittipaldi, double world champion, came out recently saying that Alonso, aged 41, has another six years in Formula 1 if he wants it. Where do you see yourself? Do you think you'll still be doing this aged 40?
VB: It's hard to say. It obviously depends the way the sport is going. What's the situation in the sport? Which team are you in? How is the atmosphere? At some point, what comes to you is all the traveling. Would you rather be racing another side of the globe or would you rather actually not pack your suitcase and stay home? I think that's going to come at some point. It's pretty consuming. I'm still more than happy to do it for quite a long time. But I'll tell you, when I'm 39, if I go for 40. It's hard to commit to at the moment, but I still have many, many years for sure.
TC: It seems to me you have so many interests now outside of Formula 1. Your business interests just seem to be growing and growing. You talked about coffee the last time you were on the pod. You've now just launched a gin. When you were last on the pod, you gave a brilliant description of what a good coffee should taste like. Now, can you do the same for us for a gin?
VB: A good gin is quite simple. It's a gin that to you tastes good and doesn't burn. It's smooth and has a nice taste. That's in a nutshell. Our gin is inspired with oats because our family has a small farm in southern Finland. We grow oats, so some of those are used in the distillation and that brings really unique softness and sweetness to the gin. It doesn't burn at all and it's not sharp. And then the apple peels are from Adelaide Hills, where Tiffany's from, so it's like Finland and Australia in a bottle. We use the cleanest water in the world, which is in Finland, certified by UNESCO. Other botanicals are being used, but it's a beautiful product and I've heard many comments from people who normally don't like gin. When they try it, they're like 'Oh, that's actually very nice.' It's a passion project, but people really seem to love the product.
TC: Do you see this as your business after race driving when you stop?
VB: Potentially, yes. I feel in life you always need to think a bit ahead and I tend to get into things that I have a passion for. Gin is one of those, together with my girlfriend, and we do have people helping us with the company so I can 100% focus on driving. But then eventually when I have more time in the future, then I can commit more time to it and do more stuff.
TC: And Valtteri, what about racing? Could we see you have your own racing team going forward or is your only interest in racing the driving bit?
VB: At the moment, just purely driving. I mean never say never on certain things, but at the moment I'm all in for the driving part. But what is nice about the future, you never know what happens.
TC: Could we see you managing drivers?
VB: Never say never because help is always needed when you're a young and upcoming driver. When I joined Formula 1 10 years ago, times have already changed since then and I feel like it's getting more and more difficult for young drivers to come through, especially if they struggle financially. I'm really open to any suggestions.
TC: How do you feel Formula 1 has changed in that decade that you've been involved?
VB: I would say the popularity of the sport. Now it's as popular as it's ever been, I believe. I've never seen that many races being sold out. So many people around. There's big traffic jams getting to the hotel and coming into the track. It's definitely quite different to the pre-COVID times. But the racing is good. It's good to see the grid is close, it makes exciting racing. I'm really enjoying it. I think the sport has improved in terms of safety, racing and entertainment. I do like the direction it's been going and there's another rule change in 2026. We'll see what that brings.
TC: And do you like the direction that the tech has gone? Do you like these rules compared to the 2013 spec that you were driving?
VB: If I'm fully honest, the sound of the 2013 car was pretty sweet and the V8. Apart from that, I think it's all good for how entertaining it is and actually as a driver it's good fun as well.
TC: Lewis has talked quite a lot about the weight of the cars and how heavy they are. What's your feeling about that?
VB: That's a bit of a negative. But then on the other hand, you have more downforce. It's a bit of a trade-off and lots of the weight is safety devices and stronger structure so we would love to drive cars which are lighter, but at the moment it's just not quite possible.
TC: For people who don't understand or who have never raced, why is weight a negative?
VB: The car just becomes more agile and almost like a go kart feeling when it's light and the heavier it gets, the more you have inertia in the corners. It just becomes almost a bit more clumsy in terms of the handling, but it's still far away from being a clumsy car. It's still super agile, but everything's relative.
TC: Zhou Guanyu is your fourth team mate in Formula 1 following Pastor Maldonado, Felipe Massa and Lewis Hamilton. How does Zhou compare to the other guys?
VB: Zhou is a very good team mate and a very nice guy. Every team mate is different, it's always hard to compare them. Everyone as a human is different as a driver. For his age and experience, he's really mature. He's obviously got a good education. He comes from a really sweet family. He's just a good human being and a really skilled driver. It's been a pleasure. It's been nice to see him grow and get faster.
TC: There seems to be a good vibe between you guys. You seem very willing to help him…
VB: Yeah, definitely. I know that when you join Formula 1, you need some help. There's so much to learn. Anytime he seeks advice, I'm always there and who knows? Maybe one day, vice versa. We are in this as a team. We definitely want to get closer to the front of the grid. For that, we need to work as a team and we both understand it.
TC: When I list those previous team mates; Maldonado, Massa, Hamilton. Who was the quickest of that lot?
VB: Lewis. I think he's still the quickest driver on the grid.
TC: You think he's quicker than Max and Charles, and he's still the main man?
VB: To me, he's the fastest.
TC: What was he doing that Massa and Maldonado and Zhou aren't?
VB: Well, first of all, he's annoyingly talented! On top of that, he works way harder than people actually think outside the race weekends. And in the race weekends, he's often the last person to leave from the paddock. It's just that combination and he's got big drive inside him to always deliver and do well. His average baseline performance is so good and then he's really consistent as well. It makes him hard to beat. When I could beat him, that was obviously a good day.
TC: Do you still have a lot of contact with Lewis?
VB: Yeah, we still have good friendship. This season, I've travelled with him a couple of times. We always have a good laugh.
TC: Since you were last on the pod, Abu Dhabi 2021 happened. I haven't had a chance to ask you about it. It was your last race for Mercedes. What do you remember about the aftermath of that Grand Prix?
VB: I had a headache the next day, that's what I remember. The aftermath was painful. The whole team was really suffering. Lewis was down, Toto was down. When you lose the drivers' title like that on the last lap, it was unreal. Just big, big disappointment for everybody and it took a while to recover for everyone in the team. It wasn't my greatest memory.
TC: Did it feel odd to be leaving the team under those circumstances?
VB: Probably the best time to leave! It was a bit strange, the last time I went to the factory. They paid this huge respect and I was so thankful for everything they did at the end. When I left, there was fireworks and all the people lined up in the factory. It was actually quite emotional to walk away in that situation.
TC: What about Toto? How has your relationship with him changed now that you're no longer at the team?
VB: Not much, really. I've known him for a long, long time and we still have a chat every now and then. He seems a bit stressed at the moment, which is fair because the only thing good for him is winning. Nothing else. It's just not good enough. I'm sure he's pushing himself and everyone to the limit to get back to the front. He's obviously a busy man, but still a good friend.
TC: Do you still have a business relationship with him?
VB: Yes. He wasn't my manager when I was with Mercedes obviously, for different reasons. But now he's one part of the management team.
TC: One thing you mentioned over the winter, you talked about diet and how you suffered from eating disorders earlier on in your career…
VB: I was so focused on trying to be the best and trying to be as light a weight as I can in terms of physical weight because my team mate was 15 kilos lighter than me. And if the car is overweight, then it might have a deficit.
TC: So it was your ferocious competitiveness that drove you to it? It wasn't anyone telling you to do it?
VB: No, it was just me thinking that's the right thing to do. Things got a bit out of hand; the amount of training and the amount of eating didn't quite match. It just became an obsession, trying to train more and eat less. I lived and learnt.
TC: So how much heavier are you now compared to those early years at Williams?
VB: I think the lightest I was, was maybe seven kilos less than now. You can do it for a while, but it's not sustainable. You need to be pretty close to your natural, healthy weight if you want to do this sport for years and to stay healthy.
TC: Did it affect your performance negatively in any way?
VB: Yeah for sure. Exhausted concentration. With adrenaline, you can do a lot, and with your willpower mentally. But physically, some races were really, really challenging.
TC: Talking of long races, do you harbour any ambitions of going to Le Mans in the future?
VB: Why not? It's not a thing that I've been looking into and thinking I have to do this, but it's one option. I'm pretty relaxed on what it's going to be eventually. I don't know where I'm going to live in the future, where I'm going to be in ten years' time. That's the beautiful thing, the world is definitely my oyster.
TC: Can we just talk about the remainder of this season? What are your goals for the remainder of 2023?
VB: Goals are still as before the season, we want to be better than last year because we need to see progress, we need to do better. I want more points than last year. We as a team want more points than last year. That comes from details. The potential is there and with fine margins this year, it is possible. We're working hard on it and I look forward to see what we can achieve.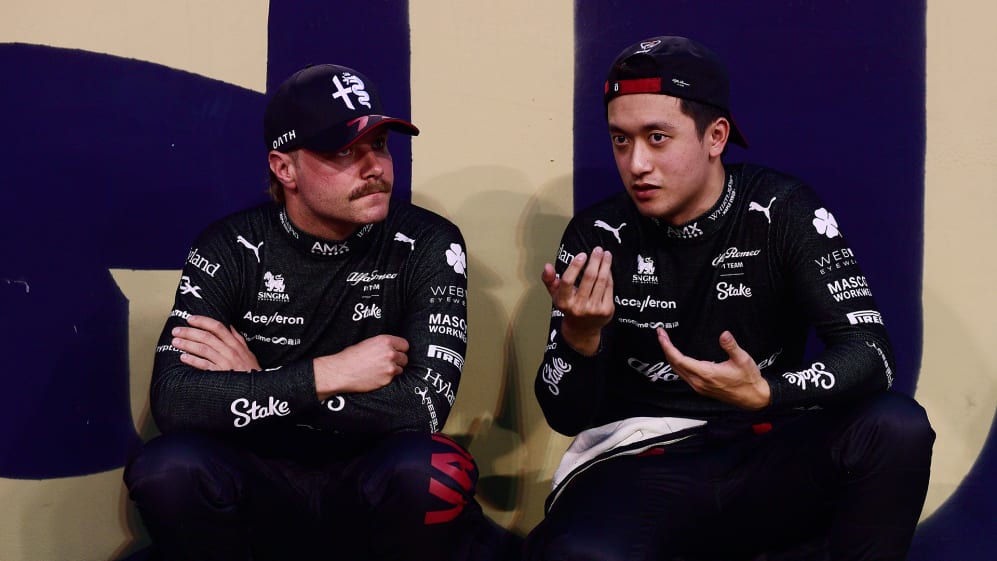 TC: One of the hallmarks of last year was that really strong start and then almost no points finishes in the second half of the year. Is that one of the things you want to see change this year? You want to see constant progress all the way through?
VB: Absolutely. The consistency has got to be the key. At least from what I've seen now, we haven't had those reliability issues that we faced last year. Hopefully that means we can just purely focus on performing and improving the car.
TC: Is a podium possible?
VB: It is. Always in this sport, when you're on the start line, you have a chance. I definitely want to be on the podium this year, so that's one of my personal targets.
TC: If you take Red Bull out of it for a minute, do you think all of the other teams are in the crosshairs for you?
VB: It's always a challenge to fight with the bigger teams, such as Mercedes, Ferrari, and this year even Aston Martin. But it's not impossible. It's so close. We're talking about not so big time gaps.
TC: Do you feel the midfield has closed up?
VB: Definitely. It's way closer than ever before and that brings opportunities.
TC: And that puts more emphasis on what's going on in the cockpit as well. The driver's value goes up...
VB: Yeah, exactly. You can make a difference. If you can really get everything out of the package and if you're fast, then it could be really good.
TC: And knowing the characteristics of your car, is there one race that you're particularly looking forward to?
VB: I think Mexico again could be a strong one. Maybe even Monaco.
TC: Why didn't Monaco happen last year for you guys?
VB: It's a good question. I think the set-up and approach to the weekend wasn't quite working mechanically with this really unique track. But I would say with the slower speed stuff in general, it still feels like we have maybe a bit more potential.
TC: Very good luck and thank you very much for your time. It's been great to catch up again.
VB: Thank you.
To read on, sign up to F1 Unlocked for free
You'll unlock this article and get access to:
Live leaderboard data
Epic experiences and rewards
Money-can't-buy competitions