Image Gallery
GALLERY: Check out the special US GP helmets from Ricciardo, Alonso, Norris and Russell and more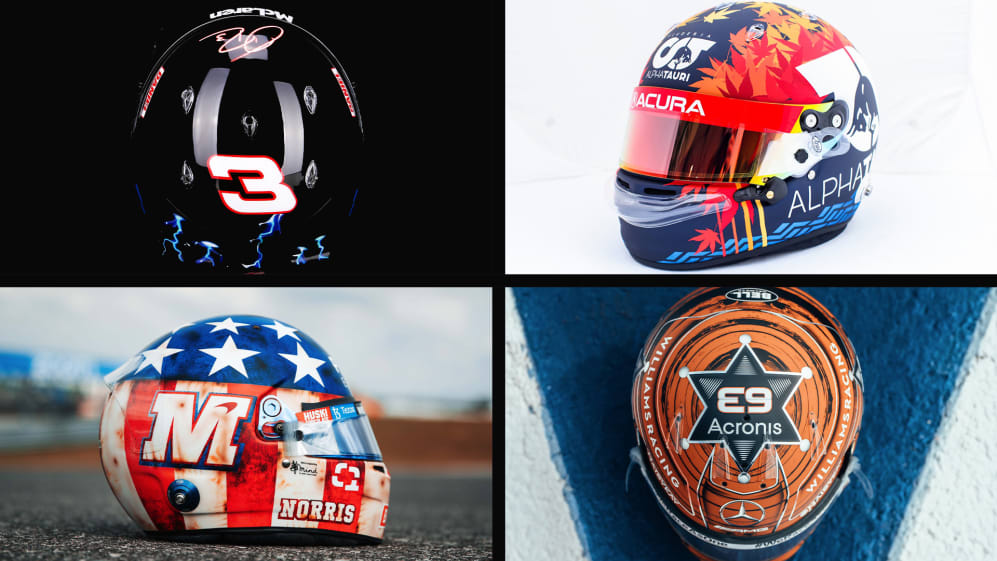 The United States Grand Prix is back and drivers are clearly relishing their return to the Circuit of The Americas for the first time since 2019, with a number of them having revealed special helmet designs for the Texas race. Check out Daniel Ricciardo's Dale Earnhardt Sr tribute, Fernando Alonso's volcanic design and George Russell's sheriff motif below...
View from the paddock: Red Bull are on the up, but history's on Hamilton's side as F1 returns to Texas
The grid has gone all out with one-off designs for this weekend's United States GP, and where better to start than with Ricciardo's homage to his hero, seven-time NASCAR champion Dale Earnhardt Sr? Someone's ready to raise hell, praise Dale, with this jet black design mirroring The Intimidator's own.
Oops! Error retrieving Twitter post
Next up is Alpine driver Alonso's helmet as he stands with La Palma, part of the Canary Islands, whose citizens are currently suffering through a volcanic eruption.
Oops! Error retrieving Twitter post
There's a new sheriff in town it seems as Williams driver Russell has traded his design for a lawman's badge, wood-panelled effect making this the rootinest, tootinest design on the grid.
Oops! Error retrieving Twitter post
AlphaTauri's Yuki Tsunoda is ushering in the autumn with this beautiful design that was meant to be sported by the Japanese rookie at his home Grand Prix. Luckily for us, he's brought it to the United States.
Oops! Error retrieving Twitter post
Yee-haw indeed. McLaren driver Lando Norris has run with the America theme and gone all stars-and-stripes with this design, featuring McLaren's US GP logo on the side as part of their 'Fan Heist' event.
Oops! Error retrieving Twitter post
Mercedes' Valtteri Bottas has relied on his partner Tiffany Cromwell's artistic prowess, the cyclist having produced this wonderful design celebrating the city of Austin. Street art, music, and Texas's favourite greeting all form part of Bottas's US GP helmet.
Oops! Error retrieving Twitter post
It's Haas's home Grand Prix and Nikita Mazepin has clearly understood the assignment with a rattlesnake-printed helmet, longhorns around the team's logo, a horseshoe around his own logo and even a cowboy hat on the side.
Oops! Error retrieving Twitter post
Mazepin's team mate Mick Schumacher has gone for the Lone Star of Texas, his #47 emblazoned on a US highway sign on the dome of his helmet. Look closely and you can even see a cowboy-boot-style flower-motif on the jawline.
Oops! Error retrieving Twitter post
OK, Charles Leclerc's headgear isn't quite American-themed but here's a design you can set your watch to: the Ferrari racer has celebrated the 10th anniversary of his partnership with timekeepers Richard Mille.
Oops! Error retrieving Twitter post