Gasly disappointed to see 'great shot' vanish as he crashes out of Sprint on Lap 1 after super start
Pierre Gasly's chance of success in the Monza Sprint was ruined on Lap 1 after he made contact with McLaren's Daniel Ricciardo and careered into the barriers at Curva Grande. Unhurt, but disappointed, the AlphaTauri driver explained the moment that ended his Sprint.
The Frenchman made a solid start from sixth on the grid, catching the slipstream of Ricciardo ahead in the run to Turn 1. But there, he caught the rear of the McLaren, and the AlphaTauri driver's front wing got lodged under his car, sending Gasly careering into the barriers.
WATCH: Dramatic start to the F1 Sprint at Monza as Gasly crashes out on Lap 1
"I'm doing bad but physically OK," he said afterwards, "but just very disappointed, because we had a great shot and great start, overtaking Lando and Lewis.
"And yes, unfortunately there was this contact with Daniel and broke the front wing, and went straight to the wall as the front wing went under the car."
It means he will start the Grand Prix itself at the back of the grid, and he was asked how confident he was about making up ground from there once the lights go out on Sunday.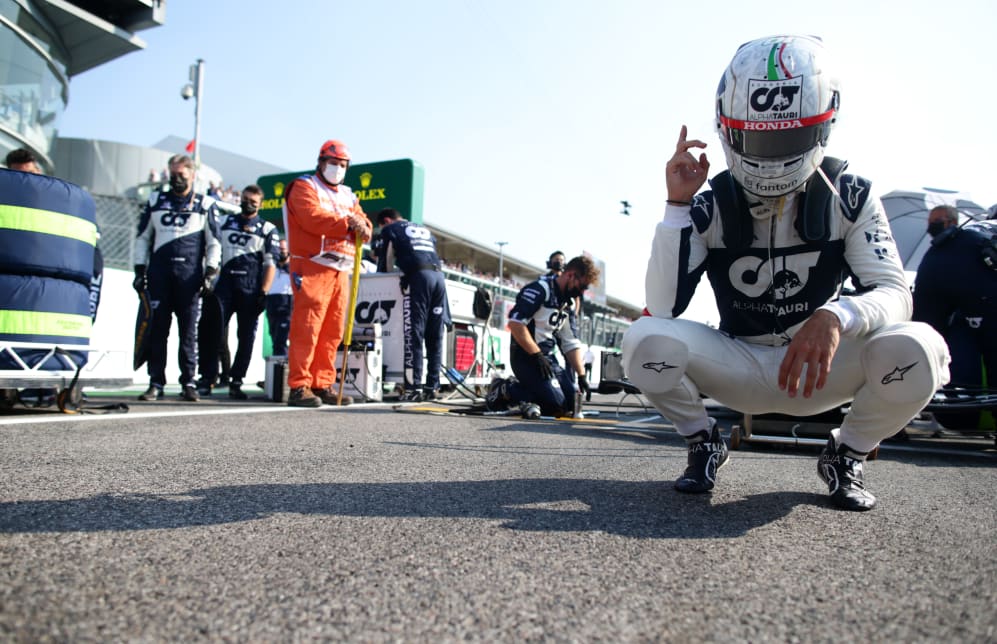 But the 2020 Italian GP winner was disheartened by Lewis Hamilton's own difficulty in passing the McLarens ahead of him, as the Mercedes driver lost ground at the start and couldn't make it past Lando Norris nor Ricciardo – settling for fourth in the Sprint.
"Yes, I think we've been fast all weekend and that's the positive," said Gasly. "On the other note, today I haven't seen many overtakes, Lewis struggled to pass Lando, there were a couple of other cars that yes, seemed to struggle to overtake, so it didn't seem easy.
READ MORE: Hamilton predicts 'easy win' for Verstappen in Italian GP after falling down order in Monza Sprint start
"So we know it's going to be a tough race but at the end of the day we need to find a way to recover and hopefully score points tomorrow," he concluded.
With three consecutive points scores, chances of extending that streak seem slim – but anything can happen at Monza. Just ask Gasly himself…