Hamilton and Perez share their views after dramatic Sprint race clash at Spa
Lewis Hamilton and Sergio Perez have offered up reactions following their Sprint race run-in at the Belgian Grand Prix – an incident that saw Hamilton pick up a penalty for his driving and Perez retire due to damage.
Hamilton was attacking Perez for fourth position shortly after Saturday's wet encounter began, the Mercedes going side-by-side with the Red Bull through Blanchimont and banging wheels as their lines converged.
READ MORE: Verstappen overhauls Piastri in rain-hit Sprint race at Spa-Francorchamps
With a chunk of his sidepod missing, Perez tumbled down the order, took a trip through the gravel and then retired, while Hamilton finished fourth but dropped to seventh with a five-second penalty dished out by the stewards.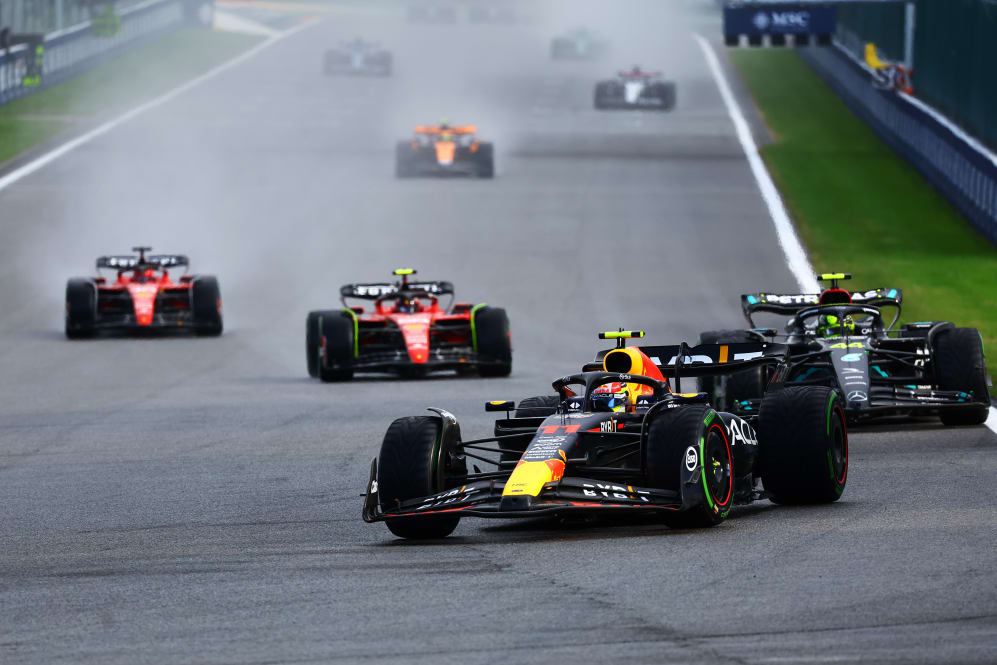 Speaking to media after the session, Hamilton said: "I mean, I feel like it was a racing incident, but… It does feel like it was a racing incident, and in the trickiest of conditions. I was more than halfway alongside him, but yeah, a bit unfortunate.
"Ultimately fourth, with the penalty seventh, [but] you don't really get a lot of points anyway in this session. We'll try and fix the car for tomorrow and hope for a better race tomorrow."
SPRINT START: Enjoy the getaway in Spa as a number of drivers dive into the pits
Perez, meanwhile, commented: "We had a lot of damage from Lewis. He basically took the whole right-hand side of the car. Once we realised about the damage we retired.