Hamilton explains 'difficult position' radio message after coming home behind Russell in Melbourne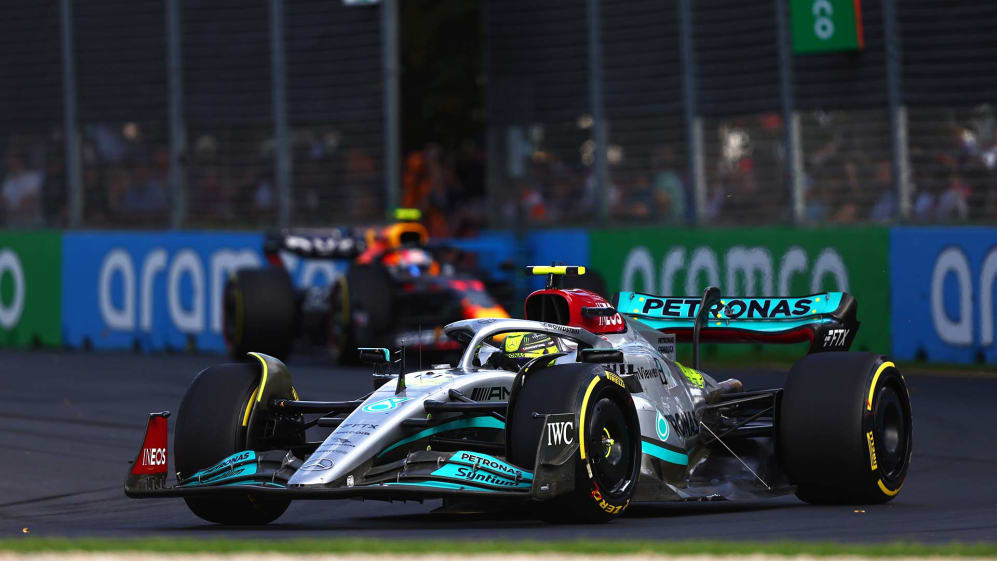 Lewis Hamilton was full of praise for his team after Mercedes bagged something of a surprising P3 and P4 finish in Australia – and explained a late radio message heard on the TV broadcast that he insisted wasn't a criticism of the Silver Arrows and his race strategy.
Hamilton qualified fifth in Melbourne – the first time since 2013 that he hasn't been on pole at Albert Park – and got himself up to third at the start, but was jumped in the race by team mate George Russell who pitted under the Safety Car to eventually finish on the podium, with Hamilton just behind in fourth.
HIGHLIGHTS: Watch the action from a thrilling 2022 Australian Grand Prix
And as the race was entering the closing stages, Hamilton was heard telling his engineer Pete Bonnington over the radio: "You guys put me in a really difficult position."
But when asked after the race if he was angry with the team for allowing Russell to get ahead of him, the seven-time champion insisted that was not what he was getting at, and explained it was instead to do with an issue with his car.
"I couldn't fight for third because the engine was overheating so I had to back off," he said. "I just had to sit behind, but you know – we bagged as many points as we could as a team and that's great."
He added that the team's result in the race looked a long way off when they were battling with the car in practice – and was complimentary about Russell's performance, even if he was frustrated that he was unable to challenge the ex-Williams racer for that final podium spot.
"This weekend, we've had so many difficult moments with the car, so to get ourselves fifth and sixth in qualifying, to progress like we have and have the reliability – we definitely didn't expect to have a third and fourth.
"And George did a great job today – I got to see a bit of the battle of him racing [Sergio] Perez, and I wish I could have been in it, but nonetheless, we'll take these points and keep pushing.
"It was a great team result. I was a bit unfortunate with the Safety Car, but I think we did a great job today; considering the pace deficit that we had to the guys up ahead, I think we did a good job."
READ MORE: Russell says first Mercedes podium and second-place in the championship is 'pretty crazy'
Sunday's race result means Mercedes are second in the constructors' championship, 10 points ahead of Red Bull – and Hamilton said that while they wait for an upgrade that will hopefully close the pace gap to the teams ahead of them, grabbing as many points as possible is all they can do at the moment.
"Yeah, that's the goal right now – while we still have these problems, it's just maximise our points and that's what we've done today."