Hamilton facing set-up 'guestimate' after losing track time to crash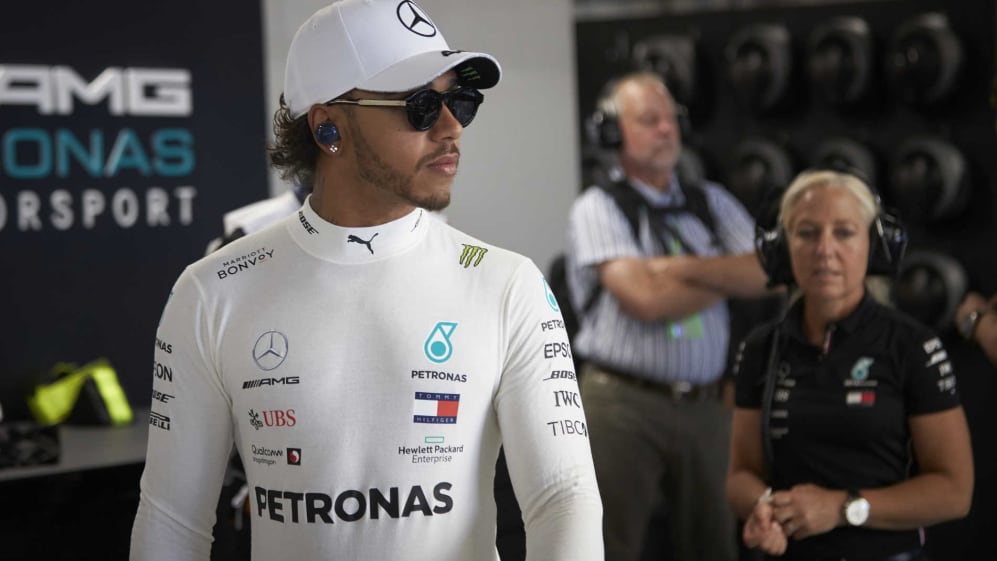 Lewis Hamilton rarely makes mistakes, but the one he made in Canada on Friday could prove costly – it meant the world champion completed just eight laps in FP2, and leaves him uncomfortably short of running ahead of final practice and qualifying in Montreal.
With the rarely-used Circuit Gilles-Villeneuve proving particularly green in the morning's opening session, few lessons were learned. Then, just as things were improving in the afternoon, Hamilton slammed a wheel into the Turn 9 wall, sustaining damage that his Mercedes crew were unable to repair before the chequered flag.
"It was an innocent mistake," said Hamilton. "I'd been multiple laps on the medium tyre and was just really trying to find the limits, trying to find the boundaries – and obviously went slightly over and had a big snap out of Turn 9. I was drifting for a long period of time hoping that I would survive.
"You know, these things happen and from a psyche point it's a real bummer, because you lose a lot of the session. You lose your long runs, you lose your laps of understanding – I only did eight laps – and then I didn't do the long runs."
It's a bit of a guestimate, a bit of a gamble, but it's cool - we've got great, intelligent people who will help me make the right decisions
Hamilton will now have to rely on combining his own limited Friday learnings with those of team mate Valtteri Bottas, as he seeks a set-up that can help keep the resurgent-looking Ferraris behind in the fight for pole position.
"Luckily Valtteri had a good session today, and there'll be a lot of analysis from that," he continued. "Luckily I did the whole run of the medium [tyre], so I've got that knowledge and that's valuable.
"He obviously got to go on to the softs, so understanding how the softs felt for him will be interesting. But that's how we work together as a team – we both migrate, we work together knowledge-wise to move the car forward."
Nevertheless, Hamilton conceded that there could now be an element of guesswork in preparing for qualifying on a circuit where he has taken pole six times previously.
"Now I've got to figure out do I stay where I was or… that's what you lose, that learning. It's cool – I like the challenge of trying to get myself together tomorrow and try and put some laps together again.
"I already know from the medium run that I did, with eight laps, what I would change. But the track ramps up and evolves, the wind changes a little bit, and overnight might shift again.
"So it's a bit of a guestimate, a bit of a gamble, but it's cool. We've got great, intelligent people who will help me make the right decisions."
As for Mercedes' much-heralded new power unit, introduced here this weekend, Hamilton played down the changes when asked if he had noticed a difference on Friday.
"It's so small steps, but you definitely notice a fresh engine – it's crisp, it's more punchy, more abrupt on the shifts. It's mostly the bottom end – when you are accelerating out of the corners."