Hamilton 'gutted' not to secure top-three start for British Grand Prix as Russell aims for podium from P8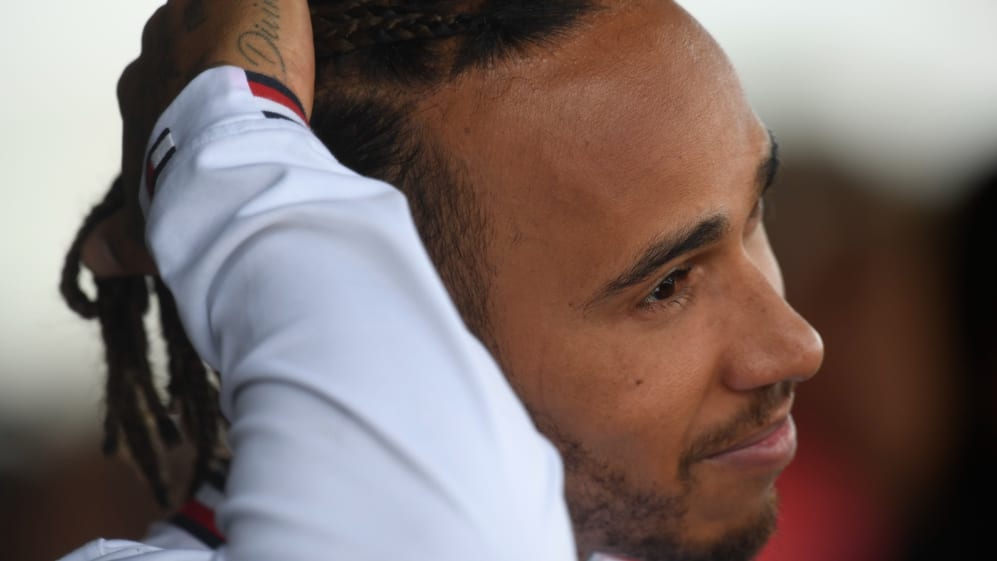 Lewis Hamilton qualified fifth for the 2022 British Grand Prix but said his expectations had lain far higher than that, as George Russell echoed his team mate's comments despite qualifying a career-best P8 at home.
Mercedes entered Silverstone looking to put some pressure on the front-runners with a significant upgrade package donned by both W13s. But after finishing runner-up in FP1 and FP2, Hamilton could only muster up fifth in qualifying, as Carlos Sainz took a maiden pole ahead of Max Verstappen.
READ MORE: Verstappen philosophical after Leclerc spin costs him shot at Silverstone pole
"I'm a little bit gutted because we have such a great crowd here and I was pushing so hard to fight for pole position today, and I think we could have been in the top three; I was gunning for second at least, and to end up fifth makes tomorrow tough," said Hamilton. "But I know I've got this amazing crowd with me tomorrow so I'll try to push forward.
"We brought some parts to the car but it wasn't necessarily a big, big upgrade. But it was definitely an improvement for us and we seem to have closed up a little bit. I think in the dry we wouldn't have been able to compete for a top three or anything like that, but I think in the rain we had a chance today," he added to Sky Sports F1.
Russell concurred, explaining that he made an error on his final flying run in Q3 and ended up eighth – having aimed for much better for his first home race as a Mercedes works driver.
"I think as the session progressed everything got slightly worse. I had really good confidence in Q1 and was in the top three… but didn't have that come Q3 when it mattered. The car definitely had the pace to be P4 or P5 today; I made a mistake when it mattered on the last lap.
"A little bit disappointing but there is promise there… our pace on high fuel could be on par with the guys at the front but obviously starting down in P8 is not going to be an easy task."
READ MORE: Sainz revels in 'emotional' and 'surprising' maiden pole as Leclerc aims for Ferrari 1-2 at Silverstone
Russell made his target for Sunday's Grand Prix clear, saying that he wanted to make quick work of passing the Alpine of Fernando Alonso and the McLaren of Lando Norris ahead for a chance at the podium.
"Get past Lando and Alonso as soon as possible and try to join the fight at the front," he said. "I think there's no reason why we can't be in that fight. But a good start and based on pure pace there's no reason why we can't fight for a podium – but starting down in P8 is not where we want to be."