Hamilton handed 3-place grid drop for impeding Raikkonen in Austria qualifying
Lewis Hamilton will start the Austrian Grand Prix from fourth place on the grid, following a penalty for impeding Kimi Raikkonen during the first segment of qualifying that saw him demoted from his second-place grid slot.
Having benefitted from the absence of Ferrari's Sebastian Vettel in Q3, Hamilton secured a front-row slot for Sunday's race – although he was unable to get within two and a half tenths of a rampant Charles Leclerc, who secured the second pole of his career.
But Hamilton already had the threat of an investigation hanging over his head, after he'd run off the track at Turn 3 during the first segment of qualifying in an attempt to get out of the way of the Alfa Romeo of Raikkonen, leading the Finn to angrily gesticulate at the five-time champion.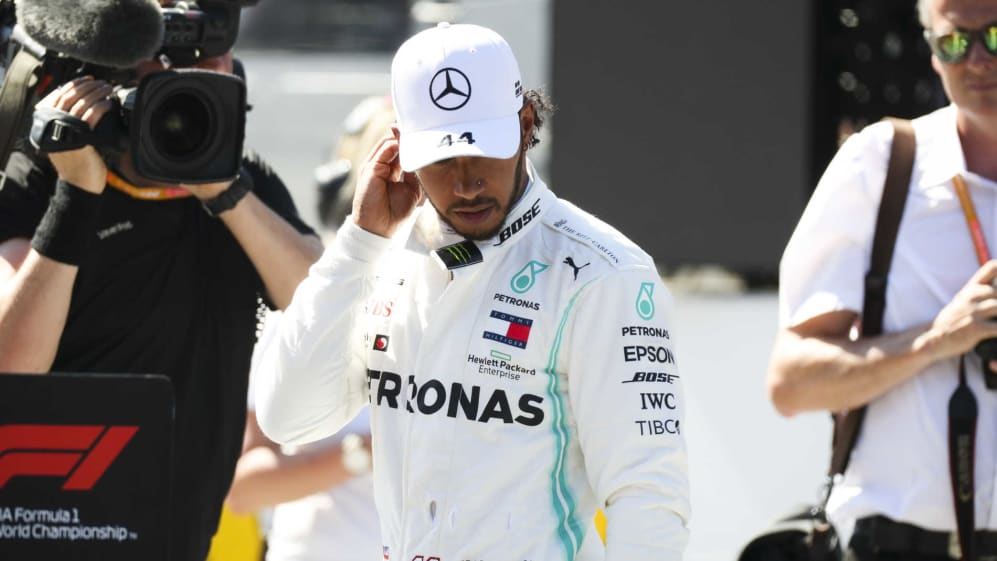 Once the stewards had carried out their investigation post-session, Hamilton was duly handed a three-place grid drop and one-penalty point on his FIA Super Licence – though because of the way in which penalties are applied in sequence, he only drops from P2 to P4.
"The Stewards reviewed video evidence and heard from the driver of car 7 (Kimi Raikkonen) and the driver of car 44 (Lewis Hamilton) and the team representatives and determined that car 44 unnecessarily impeded car 7 at turn 3," read the stewards' statement. "Car 44 had just come out of the pits and was informed of the cars approaching, including car 7.
"Although car 44 tried to take evasive action when he became aware of car 7 approaching on a fast lap, it was not sufficient to avoid impeding car 7, which had to then abort the lap."
For his part, Hamilton admitted he was at fault. "Totally deserved the penalty today and have no problem accepting it," he said on social media. "Was a mistake on my behalf and I take full responsibility for it. It wasn't intentional. Anyway, tomorrow is another day and an opportunity to rise."
News of Hamilton's penalty will be particularly welcome for his former team McLaren, meanwhile, with Lando Norris now promoted to fourth on the grid – his highest ever starting position in F1 – thanks to both the penalty for Hamilton and a five-place grid drop for Haas' Kevin Magnussen for a change of gearbox.