Report
Fast-starting Hamilton beats Bottas in Spain for fifth Mercedes one-two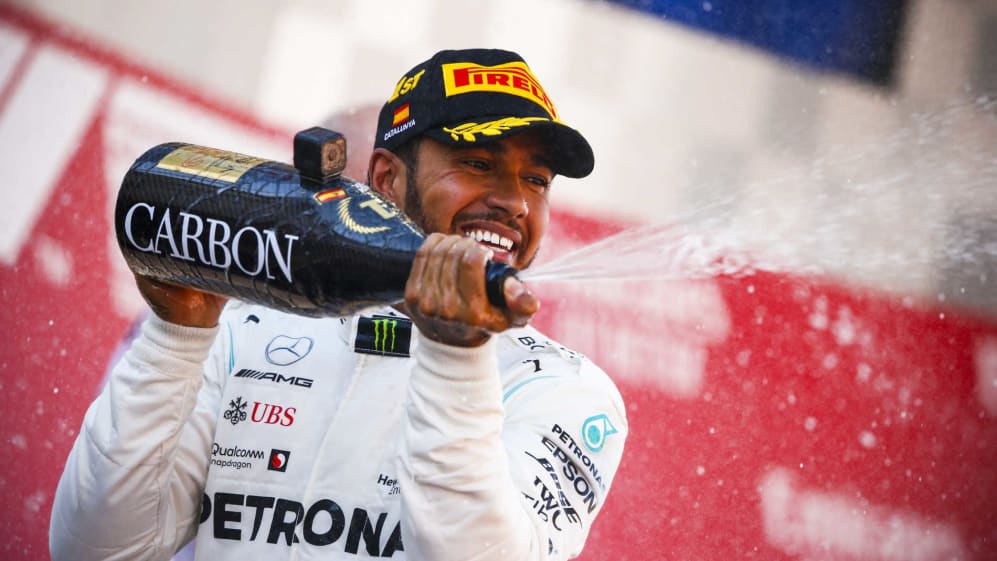 Having been well and truly outgunned in qualifying for the Spanish Grand Prix by team mate Valtteri Bottas, Lewis Hamilton hit back in emphatic style on race day to claim his third win of the season, as Mercedes stretched their current record of consecutive one-two finishes to an incredible five.
After beating Bottas to the first corner, Hamilton then led the race throughout, to net his third Spanish Grand Prix win in a row.
The Mercedes duo were joined on an identical podium to 2018 by the Red Bull of Max Verstappen, with the Ferrari pair of Sebastian Vettel and Charles Leclerc fourth and fifth, Verstappen maintaining his record of having finished ahead of at least one Ferrari at every race this season.
Pierre Gasly was P6 in the second Red Bull, while a late-race Safety Car – after McLaren's Lando Norris and Racing Point's Lance Stroll clashed in the first corner sequence – set up a dramatic finish behind, with Kevin Magnussen eventually claiming a fine seventh place and his first points since Australia.
Haas team mate Romain Grosjean claimed his first point of the year by finishing P10, despite dropping from P8 in a dramatic final few laps after being passed by the McLaren of Carlos Sainz – who maintained his record of scoring at every Spanish Grand Prix of his career – and the Toro Rosso of Daniil Kvyat, who finished P9.
FORMULA 1 EMIRATES GRAN PREMIO DE ESPAÑA 2019
Spain
2019
Race results
POSITION
TIME
POINTS

1

Lewis

Hamilton HAM

Mercedes

1:35:50.443

26

2

Valtteri

Bottas BOT

Mercedes

+4.074s

18

3

Max

Verstappen VER

Red Bull Racing

+7.679s

15

4

Sebastian

Vettel VET

Ferrari

+9.167s

12

5

Charles

Leclerc LEC

Ferrari

+13.361s

10
The race as it happened
It was Hamilton who made the better start of the two Mercedes drivers from P2 on the grid, and as he pulled along the right flank of Bottas, he was joined on the left by the even faster-starting Ferrari of Vettel. The trio headed down to the first corner practically neck and neck (and neck!), and it was clear that something had to give. It was Hamilton who got the advantage to take the lead, while a stream of tyre smoke came off the right-front Pirelli of Vettel as he locked up heavily.
Bottas was pinched by the two cars and forced to gather up a big snap of oversteer before slotting back into second, while Vettel slewed off the track and then re-joined. As he was getting up to speed, though, Max Verstappen coolly sailed his Red Bull around the outside of the Ferrari through Turn 3 as behind his team mate Pierre Gasly was forced to take to the run-off tarmac before easing back onto the track.
That meant that the order as they crossed the line for the first time was Hamilton, Bottas, Verstappen, Vettel, Leclerc, Gasly, while Kimi Raikkonen was last for Alfa Romeo, having gone off briefly into the gravel at Turn 4, and Lando Norris had sunk from P10 down to 16th.
By Lap 12, Leclerc was past his team mate, however, having sharked behind Vettel for a number of laps as the German appeared to struggle on his flat-spotted tyres, with Vettel eventually offering to give up the place over team radio. As Leclerc immediately pulled a one-second gap, Vettel hung on until Lap 20 before begging to be changed for mediums, his rear-left taking two goes to be fitted during the stop meaning he re-joined in P10.
Out at the front, Hamilton had been working hard to break Bottas' resolve, and having been over two seconds clear after just the first lap, a string of fastest laps meant that, by the time both drivers had pitted by the end of Lap 28 – and re-joined in first and second – the gap was out to nearly 10 seconds.
Behind, Verstappen clearly signalled his two-stop intentions by taking his set of new softs on Lap 21 – the only front-runner to have that luxury – while Leclerc threw on a set of hards on Lap 26, with another rear-left issue for Ferrari in the pits meaning he matched Vettel's long stop time of 4.4 seconds.
Ferrari looked to have split their drivers' strategy and on Lap 36, swapped the cars around again, Leclerc letting Vettel go around the outside of Turn 4 before the German came in for new mediums five laps later. Out in P6, he then decisively passed Gasly for fifth at Turn 10, and set off in pursuit of his team mate, who moved to third on Lap 44 when Verstappen made his pit stop.
Bottas followed him in on Lap 46 for used soft tyres, while behind, Norris down in P15 tried to tough it out alongside the Racing Point of Lance Stroll through the first corner complex. It was certainly ambitious, but as Stroll took his natural line, Norris' McLaren was squeezed, Stroll was spun around and both cars were out on the spot – with the stewards planning to investigate the incident after the race.
The resulting Safety Car as the McLaren and Racing Point were cleared up meant that both Hamilton and Leclerc could dive into the pits – probably a relief for Hamilton, whose right rear appeared to have blistered despite his comfortable margin – with Hamilton emerging back in the lead on used softs. Leclerc, now on new mediums, dropped to fifth, behind Hamilton, Bottas, Verstappen, Vettel, Leclerc and Gasly – with a juicy post-Safety Car sprint race for the finish now suddenly on the cards.
Ultimately it failed to materialise for the top six, as they ran from Lap 53 to the Lap 66 flag in that order. Behind, though, Guenther Steiner would probably have been using some of his choice Anglo-Saxon as Romain Grosjean attempted to pass Kevin Magnussen for eighth on Lap 57, the pair getting very close before Grosjean aborted and ran off the track.
Grosjean did the same run off-track a lap later as he tried to fend off an attack from the McLaren of Carlos Sainz. He'd ultimately lose the place to the Spaniard on Lap 59, before falling to P10 when Daniil Kvyat made it past on Lap 61. There'd be no further falling however, with Haas – just – ending up with their first double points finish of the year (and Grosjean earning his first of the campaign so far), while Sainz would have been delighted to once again finish in the top 10 at his home race.
Ultimately, though, the day belonged to Hamilton and Mercedes, with Ferrari once again flung firmly into the shade, while Verstappen again showed fantastic race craft to finish ahead of the red cars and net his third podium of the year.
The key quote
"Firstly I just have to put it down to this incredible team, this is history in the making to have five one twos, so very, very proud to be a part of that and everyone's hard work at the track and everyone back at the factory.
"It's definitely been a bit of a hard first four races, naturally it's a great car but we don't always get along, so I'm grateful that in the race, we managed to settle our differences and get away well. Long, long run down to Turn 1, so I'm grateful for it, and really happy for the whole team." – Lewis Hamilton
What's next?
One of the most eagerly awaited races of the season, that's what's next! It's Monaco and the never-less-than-captivating sight of Formula 1 machinery powering its way through the ridiculously narrow streets of Monte Carlo. Remember that the action starts early, with the opening two practice sessions on Thursday, as is tradition. Join us on May 23-26.