Report
Hamilton seals historic 7th title with peerless wet-weather victory in Turkey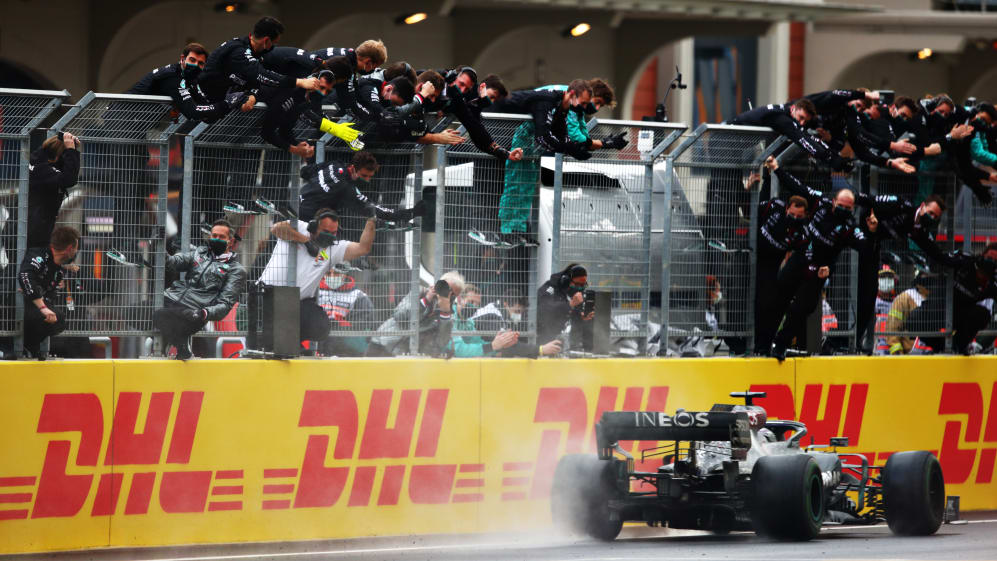 A stunning drive from Mercedes' Lewis Hamilton in the Turkish Grand Prix gave him his 10th victory of the season – and, more crucially, saw him claim the seventh drivers' title of his career, to equal the record of Michael Schumacher, as Racing Point's Sergio Perez and Ferrari's Sebastian Vettel completed the podium after a thrilling race in Istanbul.
Hamilton had started the race in sixth, risen to third midway through the first lap and then dropped back to sixth by the end of Lap 1 after an error at Turn 9. But a decision to change his intermediate tyres just once saw Hamilton drive a masterful race to claim victory by over 25 seconds from Perez.
The win alone was enough to claim championship #7, but it was even more assured after a disastrous race for Valtteri Bottas - the only man who could have stopped Hamilton winning the title today - who spun six times en route to a P14 finish.
FORMULA 1 DHL TURKISH GRAND PRIX 2020
Turkey
2020
Race results
POSITION
TIME
POINTS

1

Lewis

Hamilton HAM

Mercedes

1:42:19.313

25

2

Sergio

Perez PER

Racing Point

+31.633s

18

3

Sebastian

Vettel VET

Ferrari

+31.960s

15

4

Charles

Leclerc LEC

Ferrari

+33.858s

12

5

Carlos

Sainz SAI

McLaren

+34.363s

10
Behind Hamilton, a dramatic last lap saw Sergio Perez overtaken by Ferrari's Charles Leclerc for P2, only for Leclerc to overcook it at Turn 12, with Perez retaking second as Vettel made it through on his team mate to claim a first podium of the season.
Leclerc was left to cross the line P4 ahead of the McLaren of Carlos Sainz, while a spin-filled afternoon for the Red Bull pair left Max Verstappen and Alex Albon P6 and P7 at the flag, ahead of the second McLaren of Lando Norris.
Norris had claimed that place after a late pass on the second Racing Point of Lance Stroll, who'd secured a brilliant maiden pole position and Saturday and led much of the early part of the Grand Prix, only for his race to unravel after a difficult third stint on intermediate tyres. That left him ninth at the flag, as Renault's Daniel Ricciardo completed the top 10.
For all that though, all eyes were on Hamilton, who was in tears as he was congratulated on his slow-down lap, after well and truly cementing himself into Formula 1's record books.
AS IT HAPPENED
After qualifying, Daniel Ricciardo told the media: "I would bet a lot of money that it is not going to be a boring, straightforward race tomorrow… sit tight!" You never spoke a truer word, Daniel. The wet laps to the grid were dramatic enough, as Alfa Romeo's Antonio Giovinazzi slithered into the gravel, while George Russell wiped off his front wing… driving into the pit lane.
At the start, Stroll and Perez got away well off the line, but Verstappen alongside Stroll on the front row went nowhere and was swallowed up by the pack. The Renaults were two of the best cars away, Ricciardo and Esteban Ocon jumping up to third and fourth behind the two Racing Points going into Turn 1.
WATCH: Vettel shoots from P11 to P4 with awesome Turkish GP start
But Hamilton had got away well, too, and as he dived up the inside of Ricciardo into Turn 1, the Australian twitched his steering wheel, appearing to tag Ocon into a spin, with Valtteri Bottas spinning himself into Turn 1 (the Finn would spin again later in the lap too). Sebastian Vettel, starting P11, was the main beneficiary, the 2011 Turkey winner incisive off the line as he climbed to P4.
After all that, midway around Lap 1, it was Stroll from Perez, with Hamilton and Vettel behind. That was until Hamilton slewed off the track at Turn 9, allowing Vettel, the recovering Verstappen and Albon through to take P3, P4 and P5, Hamilton slotting back into sixth, while after his strong start, Ricciardo was now seventh. Meanwhile, at the end of Lap 1, Sainz and Gasly were the biggest climbers bar the sensational Vettel, Sainz jumping from P15 to P9, while Gasly went from P19 to P13.
Williams had opted to start both Russell and Nicholas Latifi from the pit lane and on intermediates – the only two drivers to not start on full wets. It was a bold call to go on the green-walled rubber, but by the end of Lap 6, many of the field were starting to think along the same lines, Leclerc and Bottas the first to try it, before the rest of the field followed suit.
Race leader Stroll had done brilliantly in the opening laps, steadily and calmly building his lead to the point where, by the time all the field had pitted by Lap 13 of 58, Stroll had a 10-second lead over Perez (who'd had a slow stop for inters), Verstappen third – having managed to jump Vettel in the pit stops, despite his own 4s stop – with Vettel, Hamilton, Ricciardo and Sainz behind, while Leclerc and, surprisingly, the Haas of Kevin Magnussen rounded out the top 10.
Giovinazzi's already difficult Sunday came to an end with a mechanical retirement, bringing out a two-lap Virtual Safety Car out on Lap 13. When the racing resumed on Lap 15, Hamilton was all over the back of Vettel but locked up into Turn 12, allowing Albon through, with the Thai driver then passing the Ferrari to claim P4.
In fact, the Red Bulls were looking very much the fastest cars at this stage of the race, Verstappen all over the back of second-placed Perez, after the Mexican had had a slow exit from Turn 10 on Lap 18. Verstappen was too rash, though, and as he got under the rear wing of Perez going through the sweep of Turn 11, Verstappen edged onto the slippery run off and spun wildly, flat-spotting his tyres and diving into the pits for new inters after getting back on track, emerging P8.
That left Albon leading the Red Bull charge in P3 behind the Racing Points of Stroll and Perez, who appeared to be struggling to keep their intermediate tyres cool.
By the halfway point of the race on Lap 29, and with the track appearing to dry out incrementally, it was Stroll out front, but with a lead that had been eroded to just three seconds over Perez, with Albon, Vettel and Hamilton behind – this top five covered by just 10.5 seconds – with Ricciardo leading a second train a further 10 seconds down the road, ahead of Sainz, Verstappen, Leclerc and Norris, who'd passed Russell and Magnussen in quick succession a few laps earlier to get himself into the points positions.
In terms of the championship battle, meanwhile, Bottas was having a tough afternoon, adding a third spin to his tally on Lap 21, meaning that at this point he was P17 out of 19 runners.
The agony for the drivers at this stage of the race was a track that was drying out, but not enough to go for slicks, while most drivers' inters were starting to suffer.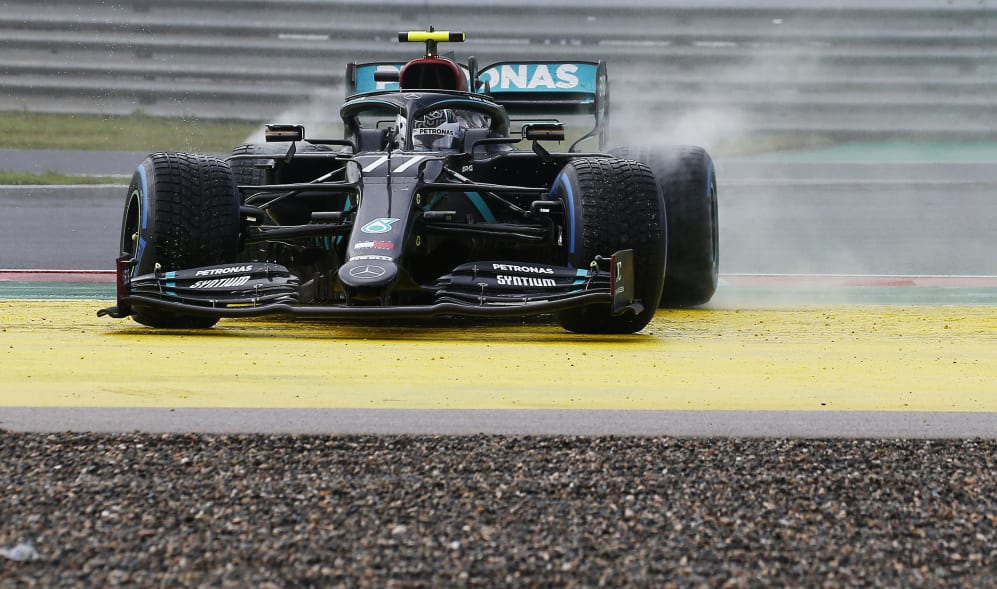 Sainz passed Ricciardo after an error for the Australian at Turn 10, forcing the Reanult man in for new intermediates. Albon then spun at Tun 4 on Lap 34, coming in for his own new inters, with both Ferraris having also stopped for new green-walled tyres.
Stroll stopped himself on Lap 36, leaving Perez with a narrow lead over a hard-charging Hamilton. The Mercedes driver decisively snatched the lead a lap later on the run down to Turn 12, before quickly gapping the Mexican, while Verstappen was now third – with Hamilton at the front seemingly happy on his aging rubber.
Stroll wasn't content on his new tyres, though, with Vettel, Leclerc, Albon and Sainz demoting him to eighth place by Lap 41 – Leclerc then passing Vettel for P4.
That was P3 for Leclerc a few laps later, as the Monegasque passed Verstappen, forcing the Dutchman in for new intermediates at the end of the that lap, Verstappen emerging P7, behind Albon and Sainz – or rather Sainz and Albon, as the Spaniard passed into Turn 12 on Lap 44.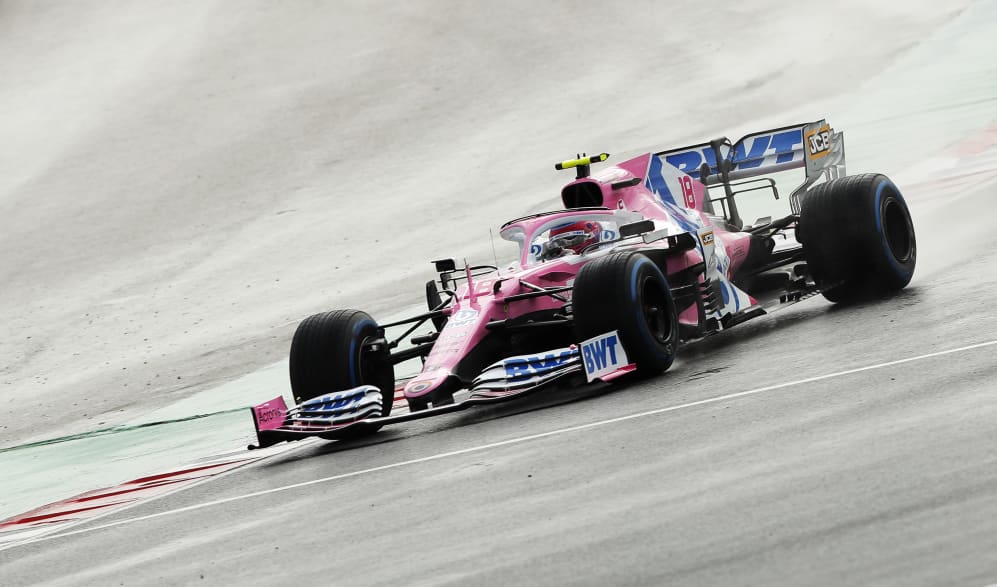 Twelve laps from the end, Bottas' disaster race came into sharp focus as Hamilton, now 18s up the road from Perez, lapped the Finn.
Five laps to go and there was plenty of radio chatter about possible rain coming on the last lap, with Verstappen even seen spinning at Turn 4, suggesting that part of the track might be starting to slick up. Hamilton was over 20s clear of Perez at the front, and well aware that, if the rain came, he'd effectively be left out on the track on slicks.
WATCH: Hamilton laps team mate Bottas in Turkey
Hamilton took a brave pill, though, and refused Mercedes' offer of new intermediates. It turned out to be the right call, with Hamilton pumping out his final laps to cross the line 31.633s ahead of Perez – and claim the championship after a mesmeric performance.
"I'm lost for words," said an emotional Hamilton, having climbed out of the car after what was, without doubt, a true champion's drive. "We dreamed of this when I was young… and this is way, way beyond our dreams."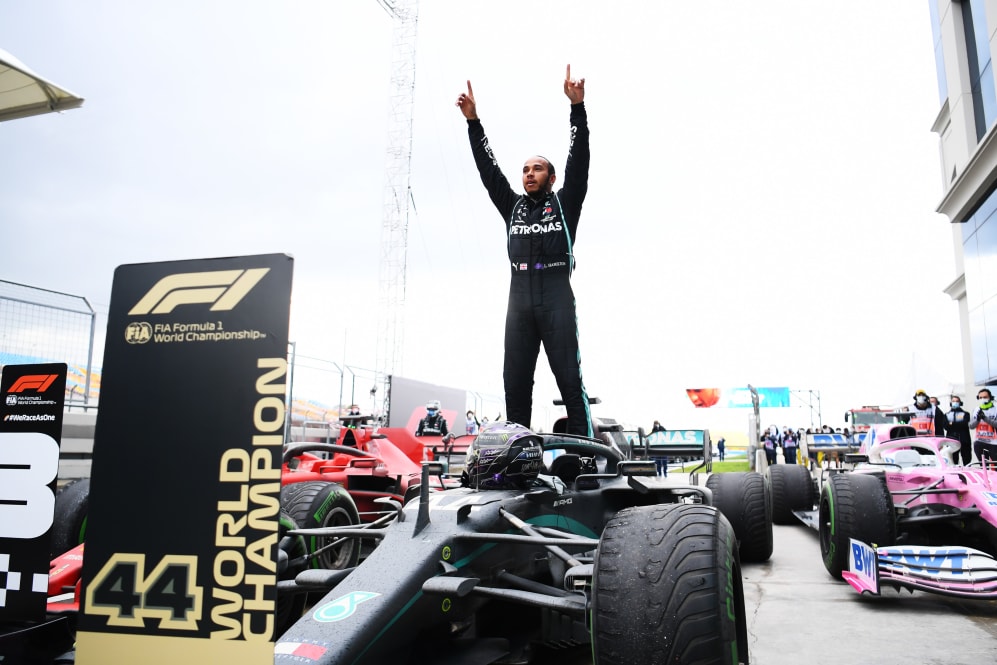 It was an amazing outcome, particularly for a driver who had looked nowhere during parts of this unpredictable weekend. It was a drive that was more than worthy of Michael Schumacher, the driver with whose title wins Hamilton is now tied with.
Putting that to one side, Perez claimed P2 to equal the best finishing position of his career, and his first podium of the year. But that result had looked in serious doubt a few corners from the end, as Leclerc made it through on the Mexican but then overdid it into Turn 12.
Perez nipped back through on Leclerc and crossed the line to equal his two second places from 2012 – while after the tricky year that's been Sebastian Vettel's final season with Ferrari, the German also made it through to claim a very well-earned first podium since last year's Mexican Grand Prix.
That left Leclerc P4, ahead of his future team mate Carlos Sainz, who finished just six-tenths behind the Monegasque after his own brilliant day, having started P15.
Having looked so strong at parts of the Grand Prix, Verstappen and Albon would have been disappointed with sixth and seventh – but not as disappointed as polesitter Lance Stroll, who ultimately dropped to ninth after running off the track and getting passed by Lando Norris two laps from the end, Norris claiming eighth.
Rounding out the top 10 came Ricciardo – who himself had lost out to Norris after a spin at Turn 12 on Lap 48 – while a well-beaten Valtteri Bottas was left to come home 14th out of 17 classified runners, behind Ocon in 11th and the AlphaTauris of Daniil Kvyat and Pierre Gasly in 12th and 13th, as Magnussen finished 17th, having looked so promising early doors.
Hamilton very much didn't need to win in Turkey to claim the 2020 title, and the Briton would have been well aware midway through the race that he could have trundled home, or even parked the car completely, and still been crowned, so poorly did Bottas' race go.
That he took his second Turkish Grand Prix victory by over half a minute shows just why he now stands as a seven-time world champion. Bravo.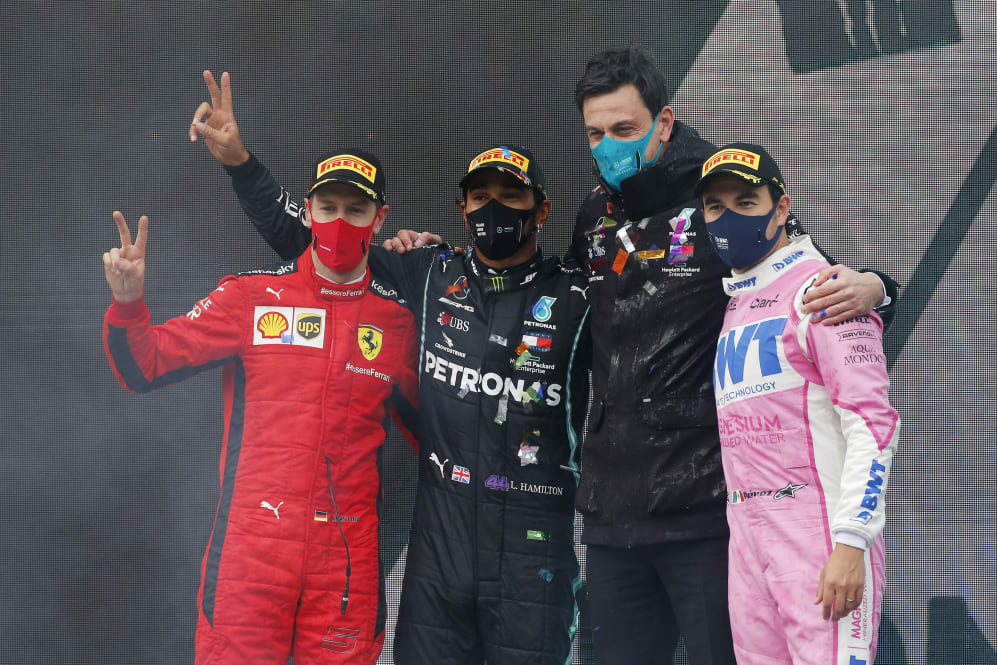 The key quote
"I definitely am a bit lost for words. I think naturally I have to always start with saying such a huge thank you to all the guys that are here and all the guys back at the factory, both our factories, and all our partners for enabling us and giving us this opportunity.
"You know, I wouldn't be able to do this if I didn't join this team and the journey we've been on has been monumental. And I'm so proud of them. I also want to say a big, big thank you to team LH for sticking with me all these years and then to my family, you know.
"We dreamed of this when we were young and when I was young, when we were watching the Grands Prix, and this is way, way beyond our dreams. I think it's so important for kids out there to hopefully see this and know don't listen to anyway who says you can't achieve something. Dream the impossible and speak it into insistence. You have to work for it, you have to chase it and never give up, and never doubt yourself" – Lewis Hamilton, Mercedes
What's next?
With the return of the Turkish Grand Prix now done and dusted, next stop is Bahrain, as we begin the Middle Eastern triple header that will close the 2020 season. Join us for the Bahrain Grand Prix on November 26-29.