Report
Hamilton victorious as Verstappen and Vettel collide in Silverstone thriller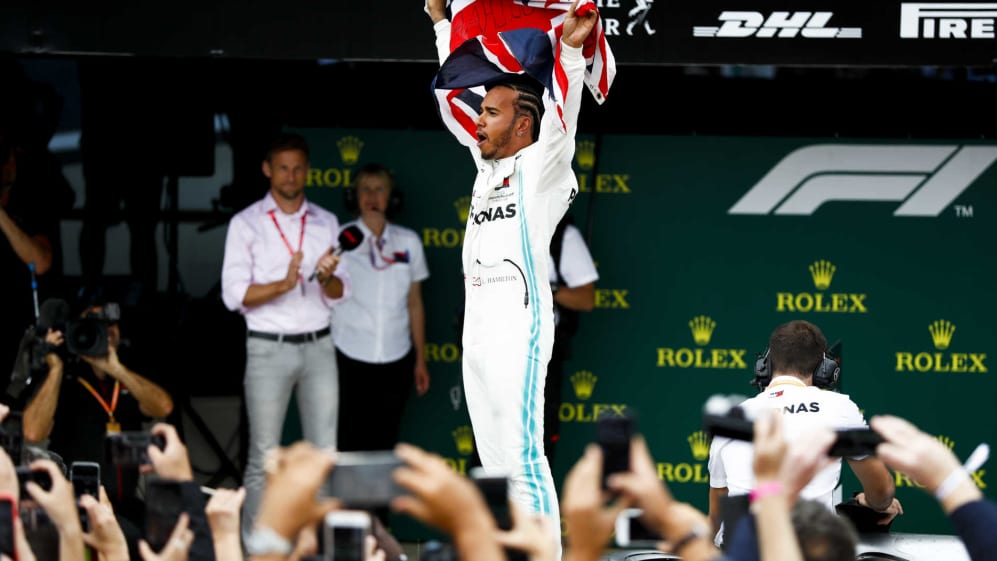 Once again a huge crowd turned out for the British Grand Prix at Silverstone - and once again they were treated to a thriller. Pole-sitter Valtteri Bottas looked to have done everything right as he led from the front and fought off team mate Lewis Hamilton, but a Safety Car intervention gifted his Mercedes team mate a free pit stop, allowing him to leapfrog the Finn and ultimately a record sixth home win. But the lead battle was just part of the story...
Behind the Silver Arrows there was wheel-to-wheel action galore, as the Ferraris and Red Bulls engaged in a tense battle for third. It was eventually won by Charles Leclerc, but only after Max Verstappen had been dramatically punted out of the position by the other Ferrari of Sebastian Vettel...
Bottas led away from pole position and held off a spirited attack from Hamilton in the early laps, before the Briton wriggled through at Luffield – to the delight of a packed house at Silverstone. But Bottas wasn't having any of it, tucking into the slipstream before catapulting his Mercedes up the inside at Copse to retake the lead in sensational fashion.
From there, he controlled the race from the front and was the first to pit, as he was the lead car and therefore was on the optimum strategy, re-joining third, behind Hamilton and Sebastian Vettel. But then Antonio Giovinazzi beached his Alfa Romeo in the gravel, bringing out the Safety Car.
Championship leader Hamilton dived into the pits, as did Vettel, and rejoined in the lead before taking the chequered flag for his seventh victory in 10 races in 2019, with Bottas finishing second. Hamilton hammered home his pace with the fastest lap on the final lap of the Grand Prix, on 30-lap old tyres, usurping Bottas, who pitted late on for fresh rubber.
Red Bull had to settle for fourth and fifth with Pierre Gasly and a recovering Verstappen, while Carlos Sainz, who like Hamilton had a free stop when he pitted under the Safety Car, took sixth, ahead of Renault's Daniel Ricciardo and Kimi Raikkonen. Toro Rosso's Daniil Kvyat was ninth with Nico Hulkenberg snatching the final point from Alexander Albon on the final lap.
Vettel meanwhile trailed home in 16th...
FORMULA 1 ROLEX BRITISH GRAND PRIX 2019
Great Britain
2019
Race results
POSITION
TIME
POINTS

1

Lewis

Hamilton HAM

Mercedes

1:21:08.452

26

2

Valtteri

Bottas BOT

Mercedes

+24.928s

18

3

Charles

Leclerc LEC

Ferrari

+30.117s

15

4

Pierre

Gasly GAS

Red Bull Racing

+34.692s

12

5

Max

Verstappen VER

Red Bull Racing

+39.458s

10
AS IT HAPPENED
Hamilton was visibly disappointed when he missed out on pole position to Bottas by just 0.006s and it looked like it was going to be the Finn's weekend when he held off a spirited Hamilton on track, hitting back when the Brit passed him at Luffield to retake the lead moments later at Copse.
Further back, Vettel slipped past a slow-starting Gasly to take fifth, while Carlos Sainz jumped both Alfa Romeos to run P11. The other McLaren of Lando Norris was making gains too with a slick pass on Daniel Ricciardo's Renault. He had a go at Gasly, the two making contact, but he couldn't make it stick.
Elsewhere, there was more misery for Haas, with Romain Grosjean and Kevin Magnussen banging wheels coming on to the entry to the Wellington Straight, with both cars pitting at the end of the lap and then subsequently retiring.
The clouds may have swept in for race day, but it was sizzling on track up front – with Verstappen renewing his rivalry with Leclerc with an attack on the Ferrari driver. The Monegasque refused to budge and gave the Dutchman the squeeze to retain position – allowing Vettel and Gasly to close. The latter pounced on Vettel to snatch fifth before becoming the first of the frontrunners to take fresh rubber.
Next time around, Leclerc and Verstappen pitted and stunning work from Red Bull got him out alongside the Ferrari in the pit lane. As he was on the inside, he had the track position on exit to get ahead, but Leclerc would not be denied, getting back ahead through the Village complex.
Three laps later, it was Bottas' turn. Slick work from Mercedes got him out in third, behind Hamilton and Vettel. But then the race is turned on its head when Antonio Giovinazzi beached his Alfa Romeo in the gravel at Club, leading race control to deploy the Safety Car.
Hamilton seized his chance and snatched a free pit stop – as did Vettel and Sainz – and they were all rewarded handsomely by gaining track position. Verstappen dived in too for a second stop, rolling the dice with a set of hards, dropping him to sixth.
On the restart, Verstappen attacked Leclerc, the two fighting brilliantly through Vale and onto the straight before Verstappen hung his Red Bull out on the outside before diving back across to the take fifth. That became fourth when Gasly moved aside, and the Austrian GP winner set off in pursuit of Vettel.
It wasn't long before he was on the Ferrari's gearbox, the Red Bull driver getting a run on him into Stowe and getting ahead, only for Vettel to misjudge his braking and clatter into the back of him, sending both of them off.
Both rejoined, but Vettel was forced back to the pits – and was subsequently handed a 10-second time penalty. Verstappen continued with damage to take fifth - although he later expressed his disbelief at how it was possible.
While that was going on, Leclerc had been heaping the pressure on Gasly and was then rewarded after he pulling off a delicious move around the outside of Village. That was for fifth, but became third following Verstappen and Vettel's off.
Leclerc took his fourth successive podium with third, while Gasly secured his best finish for Red Bull in fourth. Sainz takes sixth for the third time this season, but it's not so good for McLaren team mate Lando Norris who lost out because of the Safety Car and ended up 11th.
Ricciardo scored points for the first time since Canada with seventh, while Raikkonen made it three points finishes on the bounce with eighth. Kvyat - another big winner under the Safety Car - was ninth while Hulkenberg, who earlier made contact with Sergio Perez (which broke the latter's front wing), took advantage of a struggling Alexander Albon on worn tyres to snatch the final point.
From start to finish, a brilliant race.