Hartley given all-clear after collision with Stroll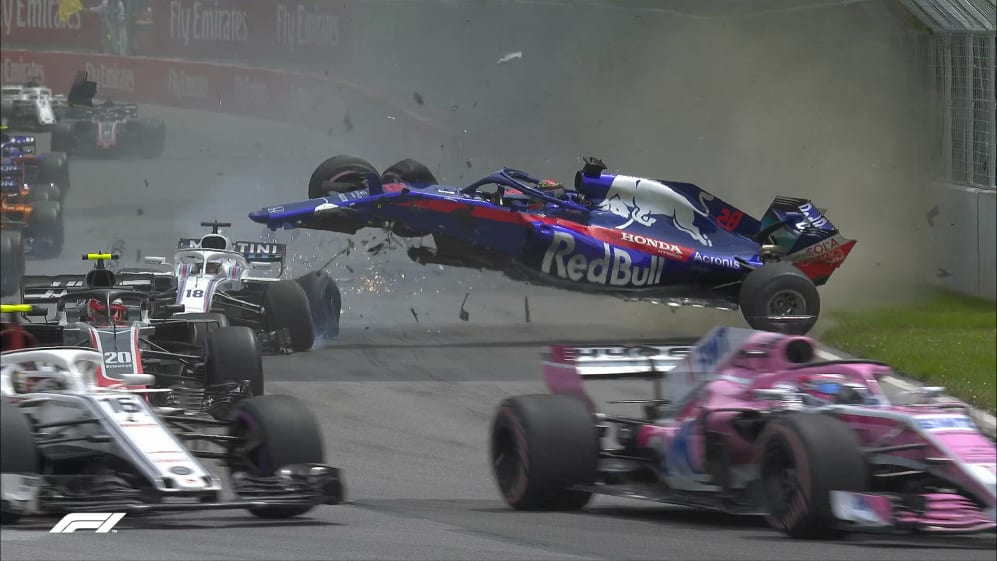 After an encouraging qualifying, Brendon Hartley's Canadian Grand Prix lasted just a matter of seconds. The Toro Rosso driver crashed in spectacular fashion, after being pitched into the barriers by a collision with Lance Stroll. After heading to hospital for a series of tests, fortunately he's been given the all-clear…
Hartley and Stroll ran side-by-side through Turn 5, when Stroll lost control of his Williams, causing it to jolt towards the Toro Rosso driver on the outside.
The two made contact, pitching Hartley up in the air and into the barrier, before both slid off the track into the run-off road at the following corner.
Both were sent to the medical centre after the crash as a precaution, with Hartley then sent to the local hospital for further examinations.
He passed all of those examinations, including two ECGs (electrocardiography), and was set to head back to the track to meet up with his team on Sunday evening.
"I got a good run on Lance out of Turn 4 on the outside, but he lost the car which put us both into the wall," said Hartley. "It's very disappointing as there was room to make the overtake, and I was looking forward to a strong race.
"It's a frustrating way to end the Canadian Grand Prix as I've been really happy with my performance all weekend. I was delayed getting back to the circuit because I was flown to the hospital for precautionary checks. However, I'm definitely fit, healthy, and ready for the next race."
Explaining his side of the incident, Stroll said: "I had good start, I gained a few positions. I got both McLarens I was up to 13th. Going into Turn 5 I was side by side with Brendon, the car got loose from me.
"I corrected it but there wasn't… it was too late by the time I corrected. We were side by side and I touched him and there's wasn't enough room for both of us so we went into the wall.
"Yeah, it's racing, things like that happen. First lap, you're close, side by side, you know. That's how it goes sometimes."
When asked if he had picked up a puncture before the car got loose, Stroll said: "I had some contact when I overtook the McLarens and then in Turn 4, Brendon I think touched me a little bit so there potentially could be, but I haven't sat down with the engineers yet to go over it."
It was the first time this season Hartley and Stroll have failed to be classified at the end of a Grand Prix. They are currently 18th and 16th in the championship respectively.