Feature F1 Unlocked
HINCH'S HEROES: Who makes Hinch's list after a captivating contest in Barcelona?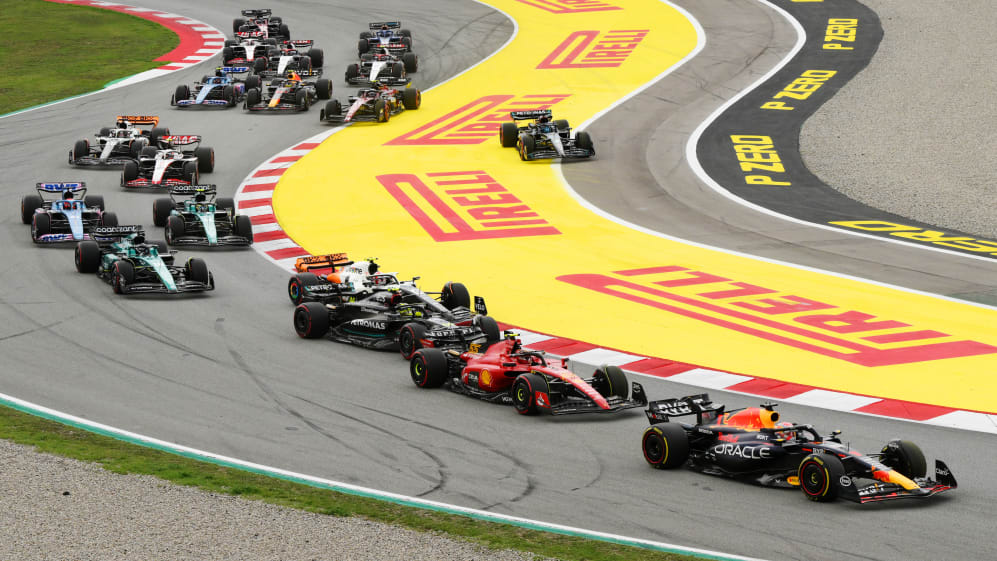 This season, former IndyCar star James Hinchcliffe is taking stock after every Grand Prix and presenting his 'heroes' from the weekend, exclusively for F1.com. Here are his picks from the Spanish Grand Prix at Barcelona…
When Formula 1 comes to Spain we expect to see a raft of car upgrades that have the potential to shake up the established order. While the cars tend to be the centre of attention on Thursday, with photographers tripping over themselves to get spy shots of rival teams' latest and greatest additions, come Friday the drivers are back in the spotlight. Let's look back at who handled the chicane-less Barcelona circuit particularly well this weekend.
Lance Stroll
Right off the bat, out-qualifying his double world champion team mate for the first time this year started off Stroll's race on the right foot.
He made a tremendous getaway and got himself ahead of Lewis Hamilton, and with both drivers benefitting from Lando Norris' contact, found himself in third on the opening lap. From there it was pure defence mode for Stroll as he tried to hold onto as many of those hard earned spots as possible.
READ MORE: 5 Winners and 5 Losers from the Spanish Grand Prix — Who shone in Spain?
Sergio Perez going by was a foregone conclusion, and the greatly improved race pace of the Mercedes cars left Stroll with little chance of holding on to the top five.
He finished behind front row starter Carlos Sainz and, for the first time this year, in front of Fernando Alonso. Though he was no doubt ruing the Aston Martin not being decisively the second quickest car – as it has been for much of the year – it was still a solid weekend from the Canadian.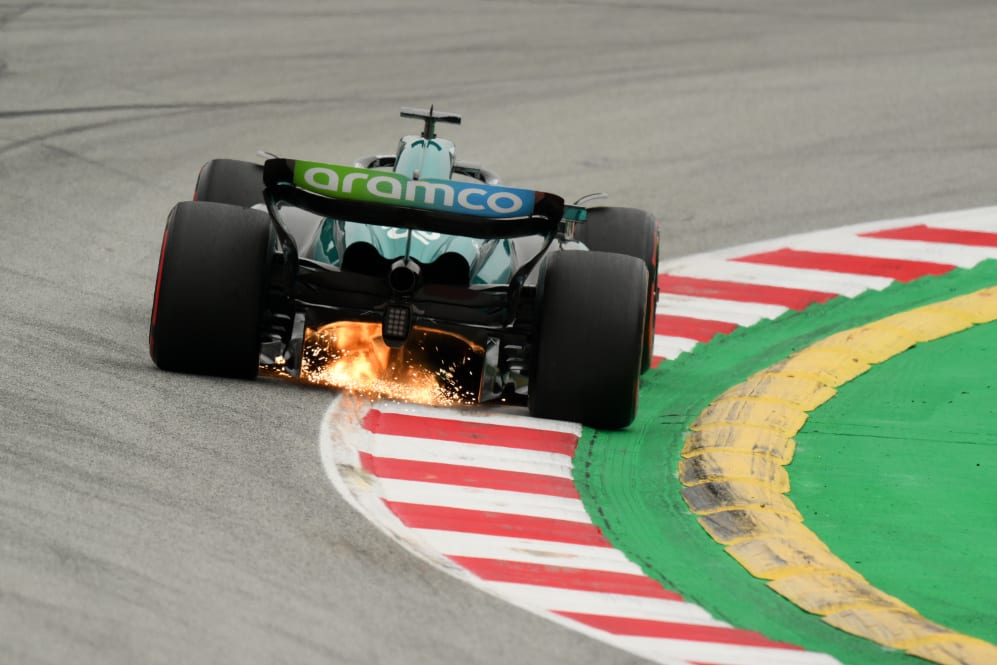 Yuki Tsunoda
Qualifying behind his teammate would have given Tsunoda extra incentive to put up a strong result on Sunday, and that's exactly what he did.
From 15th on the grid he made some spectacular passes to be up to 10th by the time he pitted for the first time. Coming off the soft tyres sooner than most, he did well on the hards not to lose any ground, running as high as seventh at one point before an early final stop meant the longest run of anyone on the mediums to the flag.
READ MORE: Tsunoda upset with 'harsh' penalty while De Vries makes more 'good progress' in Barcelona
When the pit cycle settled he was P9 and on track for his best result of the season. Nursing the mediums he withstood immense pressure from Zhou Guanyu, fighting off a spirited attempt from the Alfa Romeo driver on the outside of T1 late in the going.
Ultimately, race control deemed the defence a bit too robust and he was slapped with a five-second penalty. The call was questionable, but the effort was not. Unfortunately no points to show for what was probably Yuki's best race of the year.
George Russell
Lewis Hamilton seemed to struggle more than Russell with single lap pace in the upgraded Mercedes in practice, even saying on Friday that he thought making it into Q3 would be a challenge, but it was Russell who was on the outside looking in when the clock stopped in Q2.
A sub-optimal Saturday was certainly disappointing, but he duly executed a terrific drive on Sunday, carving through the field in his friendlier W14.
STRATEGY UNPACKED: How Mercedes got Russell on the podium in Spain from P12 on the grid
Though at least one of his passes garnered insufficient praise from the pit wall, he utilized the Mercedes race pace (and the Ferrari's apparent lack of it) to finish third, right behind his teammate and capturing his first podium of the year.
The efforts, along with Hamilton's, gave the Silver Arrows second in the constructors battle for the first time this year.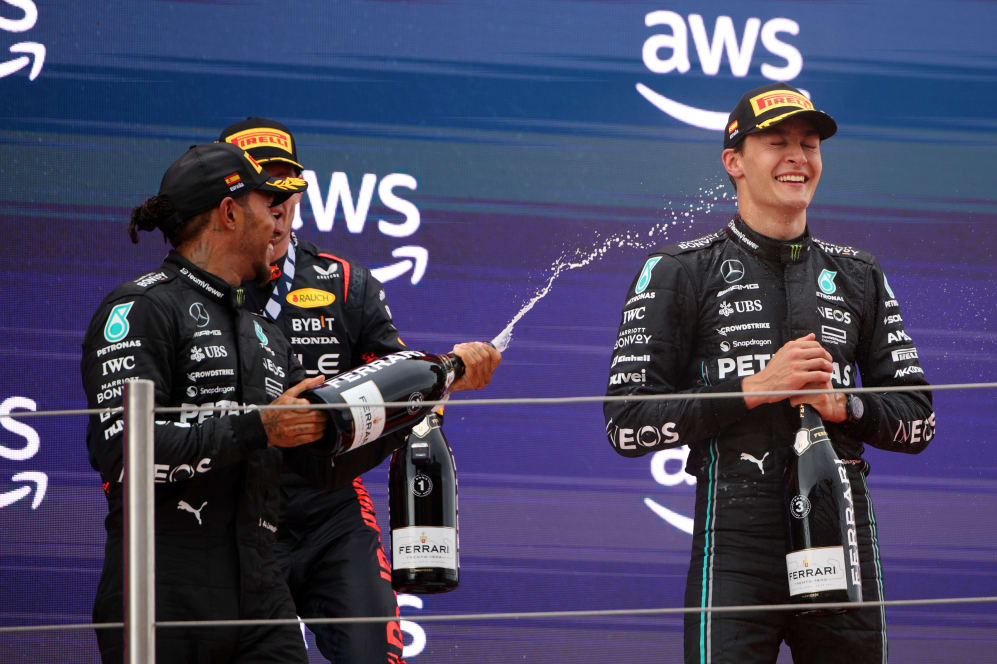 Zhou Guanyu
Another driver with a strong qualifying result, out-scoring his teammate by three positions.
From there, Zhou had a race very similar to that of Tsunoda, with a monster first stint, passing his way into eighth before his first stop. He came out right around Tsunoda and the two worked their way up the order together.
F1 NATION: A Verstappen masterclass and a Mercedes resurgence - it's our Spain GP review
Opting for hards on the final stint didn't give him what he needed to pass Tsunoda early in the stint, but as Tsunoda's mediums wore he went for a big lunge on the outside of Turn 1.
The move itself didn't follow through, as Zhou opted for the escape road, but race control felt he was forced there, handing Tsunoda a penalty, and Zhou two points.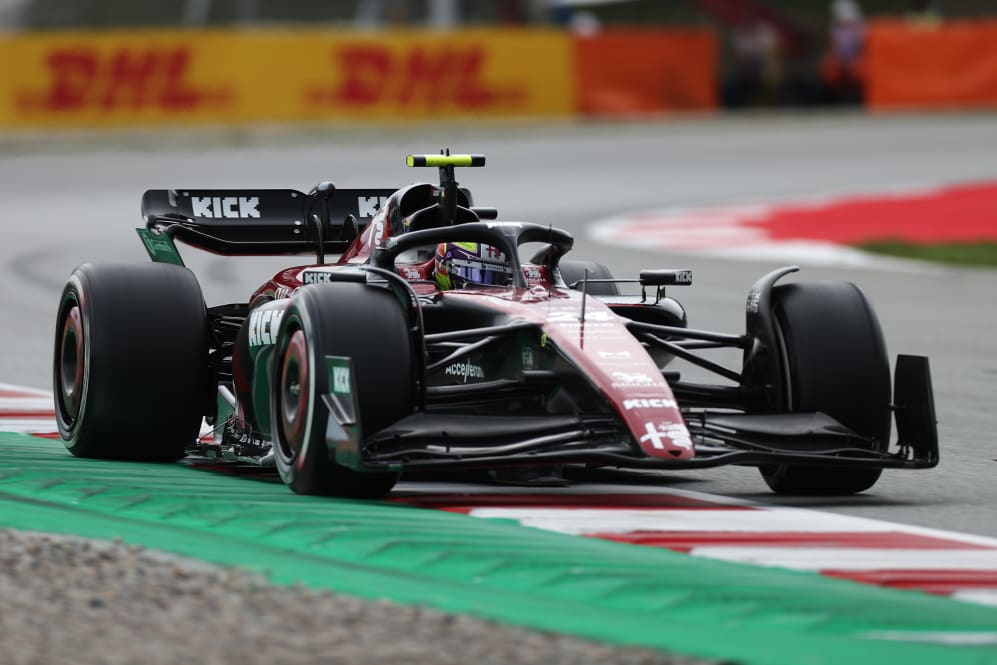 Max Verstappen
I hate to keep beating a dead horse on this one, but like last week, it's not even Verstappen's race specifically I want to talk about. It's a particular moment in the race that deserves a mention here.
Of course a win for the two-time reigning champ seemed an inevitability, but he was hardly out for a Sunday cruise. Nearing the end of the Grand Prix, Verstappen got on the radio and inquired about fastest lap. At the time, Perez held it having pitted late in the race for softs and having the benefit of DRS on the lap he did it.
READ MORE: 'We have to keep on working' – Verstappen vows not to ease off after fifth win of 2023 as he gets set for Mercedes challenge
It was some seven tenths ahead of Verstappen's best. It was implied over the radio that there was no need to push for it given the stage of the race and the fact that one more track limit violation would result in a penalty. Ignoring the fact that a track limits penalty would've had no effect on the result given his lead over Hamilton, he proceeded to fire off a lap three tenths quicker than the fastest lap of Perez. On older tires. Without DRS.
Verstappen's ability to summon a seemingly endless supply of lap time when required (or, in this case, desired may be a more fitting term) is truly astonishing. It hasn't been hard to predict the winner lately, but I think it's important to acknowledge that we're witnessing racing greatness at its prime.
To read on, sign up to F1 Unlocked for free
You'll unlock this article and get access to:
Live leaderboard data
Epic experiences and rewards
Money-can't-buy competitions