Feature F1 Unlocked
How logistics experts DHL are helping Formula 1 hit their Net Zero by 2030 target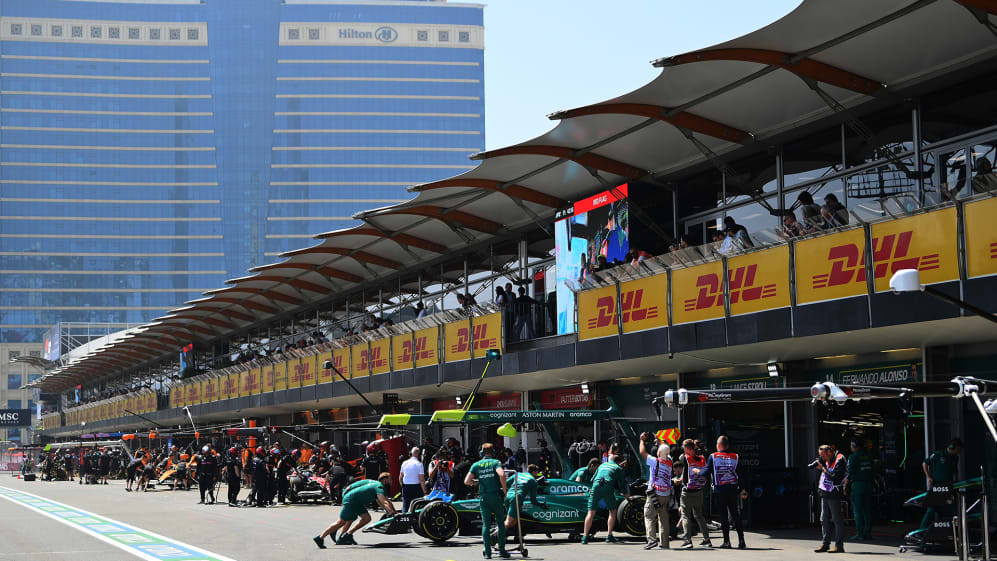 Formula 1 have a stated aim of being Net Zero by 2030 – an ambitious target, but one that the sport is embracing, with help from key partners like logistics experts DHL.
Ahead of the Spanish Grand Prix earlier this month, F1 and DHL presented the latest innovation aimed at making the sport more sustainable – a brand new fleet of 18 biofuel-powered trucks set to deliver the equipment needed for the European portion of the F1 season.
These new trucks are set to cover 10,600 kilometres as they service the European Grands Prix – and though they will lead to a massive carbon saving over their diesel counterparts, DHL believe they will deliver the same level of performance the teams and F1 as a whole have come to expect.
"We are committed to a greener future. We are proud to introduce 18 trucks powered by biofuel," says Paul Fowler, the Head of Motorsport Logistics at DHL. "This is an HVO100 hydrotreated vegetable oil, a generation two fuel, which means it doesn't compete with food production, as per the European directives.
READ MORE: Milestone reached as all 10 Formula 1 teams achieve FIA Three-Star Environmental Accreditation
"We expect a minimum carbon saving of 60%, but we are hoping for a lot higher number, but we will wait for that certification which will be produced after we run the European season."
Formula 1's Head of Sustainability Ellen Jones says the new trucks are part of a wider strategy to make F1 more sustainable.
"When it comes to Net Zero by 2030, you have to make reductions, but you also have to be a part of the latest technological innovations – like the truck fleet," she explains.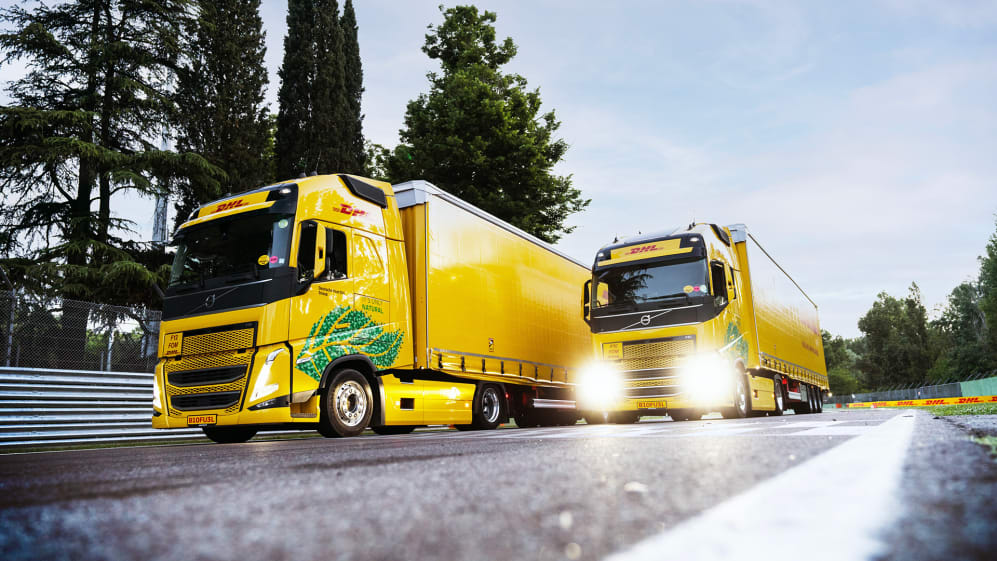 "We want to have a fantastic European season, and this is a way that we can host that European season, but also by a minimum 60% reduce the logistics leg. And that's incredibly important for us, because when we look at the materiality of our carbon footprint, less than 1% is the racing, fuel, and cars.
"When I say how are we going to deliver Net Zero by 2030, two-thirds of our foot print is travel and logistics, so it's fantastic that DHL is bringing these innovations so that we can reduce our carbon foot print."
'Formula 1 and DHL share a lot of values'
DHL have been working with Formula 1 for almost 40 years and became the sport's Official Logistics Partners back in 2004. Each season, 75 dedicated people transport the fuel, tyres, and equipment needed for each Grand Prix. That means moving 1,400 tonnes of freight per race and travelling 150,000 kilometres each year.
READ MORE: Formula 1 and DHL introduce biofueled trucks for European races in 2023 to reduce carbon emissions
So, while the new biofuel trucks are an important step in better sustainability, they are only a small part in the changes DHL are making.
"We look at the whole supply chain, be that air, sea, and road savings," explains Paul Fowler. "So, over the last five years we've been looking at the equivalence package. Traditionally we ran a 747 aircraft, but we moved away from that to a 777 configuration and aircraft.
"There are easy wins and there are transitional wins. That's been five years getting the teams just to transfer the packing boxes to enable us to move from point to point as quick as we can, and a 777 is about 17% more efficient than a 747."
DHL's Managing Director of Parcels in Spain and Portugal, Claude Piwko, adds: "We feel it is our core responsibility and our purpose to improve our green footprint and leave a better and brighter future for generations to come."
READ MORE: Mercedes unveil plans for state-of-the-art 'Silicon Valley-style' F1 campus of the future
He adds: "Formula 1 and DHL share a lot of values. At the racing track, the behind-the-scenes action at Grands Prix – it's all about speed and getting things right the first time.
"Speed is where we emphasise quick and efficient operations, and really drive performance. Precision is about the need for accuracy and attention to detail. And getting things right the first time is our commitment to excellence.
"And obviously there is a shared value of sustainability. Both our companies feel the importance of protecting the environment and reducing our carbon footprint."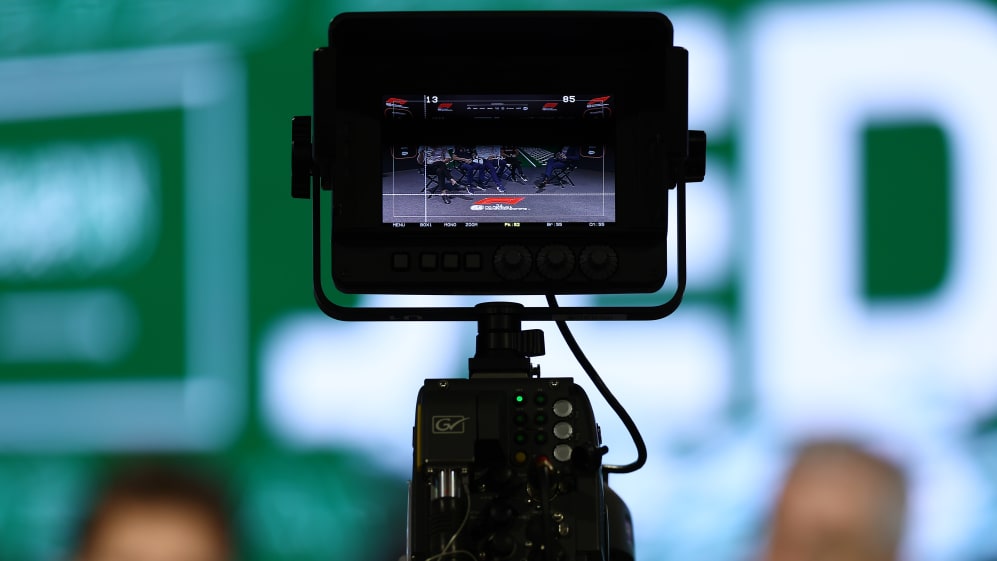 What does Net Zero by 2030 mean for F1?
As well as working with partners like DHL, Formula 1 is exploring plenty of other ways to reduce carbon emissions. For example, since 2020, a large part of the technical set-up required to run and broadcast each race weekend is now operated remotely from a base in the UK, rather than having to transport everything to each race track.
Ellen Jones explains: "When we look at net zero by 2030, what does that mean? That means we are cutting our emissions by 50%, it means we are delivering on sustainable fuels by 2026, and it also means we are engaging our wider sport on the direct action that they can take in terms of reducing their carbon foot print.
Net Zero Carbon: How Formula 1 is going to meet this ambitious target by 2030
"What does that look like in practice for us? You have all 10 teams, you have all of our race promoters, and you have Formula 1 logistics looking at how we can make these reductions. There are some changes which you can make quickly, like let's change to a renewable energy tariff, which we at Formula 1 in our offices and all 10 teams have done.
"There are other changes which are major changes like remote broadcast, which changes the way we operate in terms of the activities that previously used to take place at track, now take place in Kent. That means much of the production, the staff – they no longer need to travel.
"As wonderful as it is that DHL is getting us there, when we reduce what we need to travel, that also reduces our carbon footprint. We continue to take these steps, and this is the next step with our European leg, in terms of the sustainability of our fleet."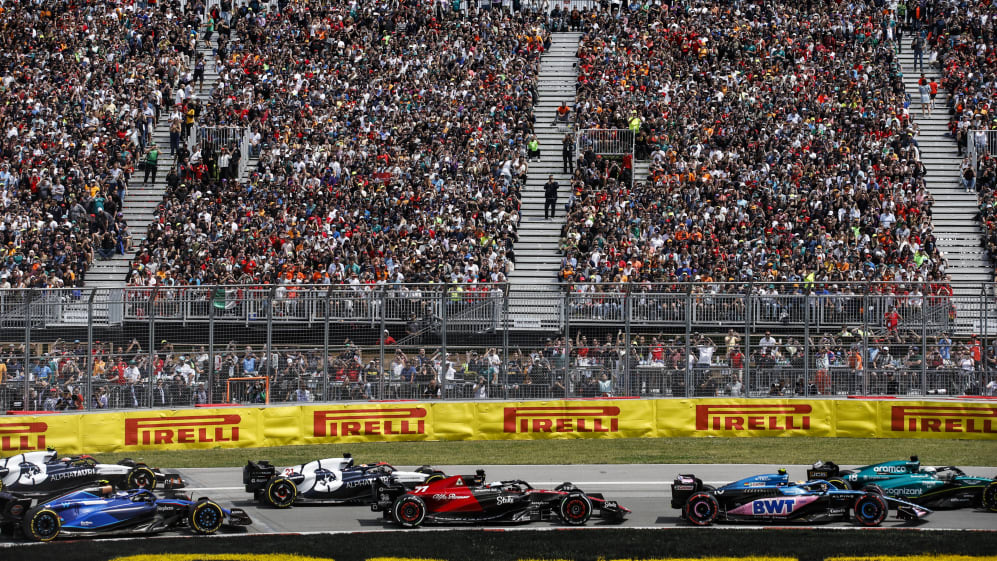 'We each have a role to play'
Jones is keen to highlight DHL's progress in helping to reduce F1's carbon footprint, but she also makes it abundantly clear that everybody has their part to play.
"I think the key thing is that there are tangible actions that we can all take to reduce our carbon footprints," she says. "And we hope through these types of examples you can see how Formula 1 is making those reductions. I can also see how that applies to our lives and our businesses, and it's a collaborative effort.
READ MORE: 'It's the next revolution' – Tech chief Pat Symonds explains why Formula 1 is leading the push for sustainable fuels
"It's not just looking at how we can have the best mode of travel, it's making that decision of, should this travel? Can this be packed in different ways? And we each have a role to play in that delivery and it's fantastic to work with partners like this.
"I hope each and every one of us comes away from this thinking there is clear action we can take on climate action and carbon reduction, and this is a great example and one to be inspired by."
To read on, sign up to F1 Unlocked for free
You'll unlock this article and get access to:
Live leaderboard data
Epic experiences and rewards
Money-can't-buy competitions