'I fought with the spirit of Niki' says Hamilton of 'hardest ever' race win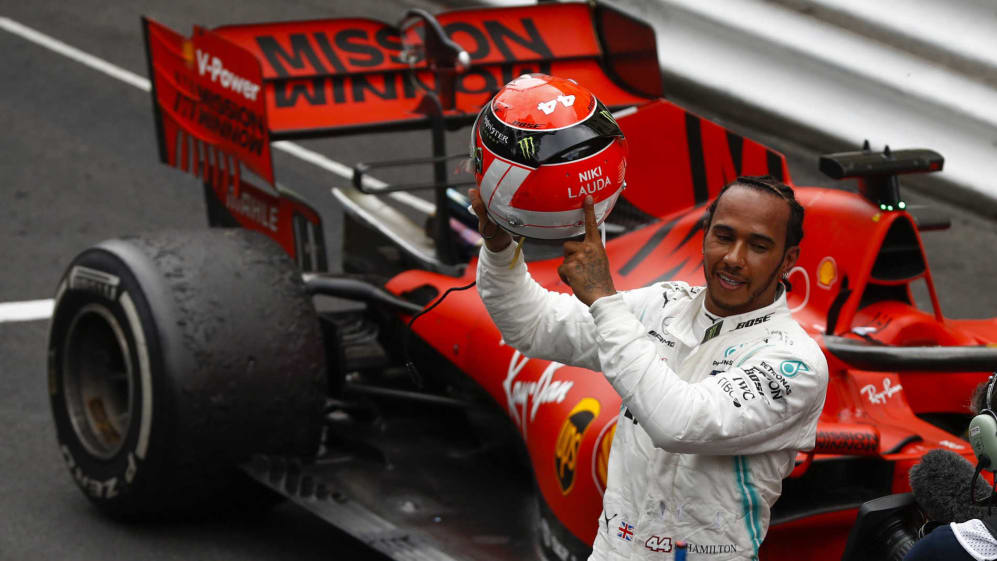 On race day morning in Monaco, Lewis Hamilton revealed he'd be racing in the familiar red helmet colours of the late Niki Lauda, his friend and Mercedes colleague who passed away last week. And the five-time world champion admitted he needed to fight with the spirit of the great Austrian to take victory in the Principality, as he hung on for his fourth win of the season despite struggling with his tyres for the majority of the race.
Hamilton led from pole to flag to collect his third Monaco win – but it was far from easy. When the Safety Car was called on Lap 11 to allow marshals to clear the debris caused by Charles Leclerc's shredded tyre, the British racer was fitted with medium-compound tyres, while those behind him – including Max Verstappen, who jumped Hamilton's team mate Valtteri Bottas to take second on the road in the pits – were put onto hards.
With the predicted rain not arriving, it meant Hamilton was faced with making his tyres last for 67 laps, with Verstappen (who was racing with a five-second time penalty hanging over him for the unsafe release that saw him jump Bottas in the pits) a constant and menacing presence in his wing mirrors – the Dutchman even making a lunge into the chicane on the penultimate lap.
"That was probably the hardest race I've had," revealed a relieved Hamilton after crossing the line, with Verstappen, Sebastian Vettel and Bottas following in quick succession.
"I really was fighting with the spirit of Niki. Niki's been such an influential person in our team, helping to get us where we are. So I know he'll be looking down and know he'd take his hat off today. I was trying to stay focused and trying to make him proud.
"[With Max] it was close. It was a bit of a late dive. Luckily I saw him at the last minute. His front wing was alongside my rear wheels, so he wasn't really fully past. It was a light touch and I move on."
No plans to pit
Throughout the race, Hamilton was vocal on team radio that he didn't think his tyres would last the distance, at one stage telling race engineer Pete 'Bono' Bonnington "You need to hope for a miracle" as graining on his left-front tyre grew worse. However, the Briton said he never thought about overruling his team and pitting.
"I was never going to come in. A few years ago [in 2015] I was in the lead and I came in for a pit stop and I learned the hard way – I lost the race here.
"So I wasn't going to come in – I was either going to crash or finish. Honestly, I was driving around on nothing. You could see how much understeer I had – the car wasn't turning .Ultimately [the medium compound] was the wrong tyre.
"I don't know how satisfied I am at this present moment," he added. "It was so intense – it was probably the most intense race I've ever had. I'm not mad at that – honestly that's how racing should be. It's just difficult when you're out there on your own for so long and there's nothing Bono or anyone else can say or do to help – it's all down to me to bring it home for the team and for Niki. So the pressure just felt immense."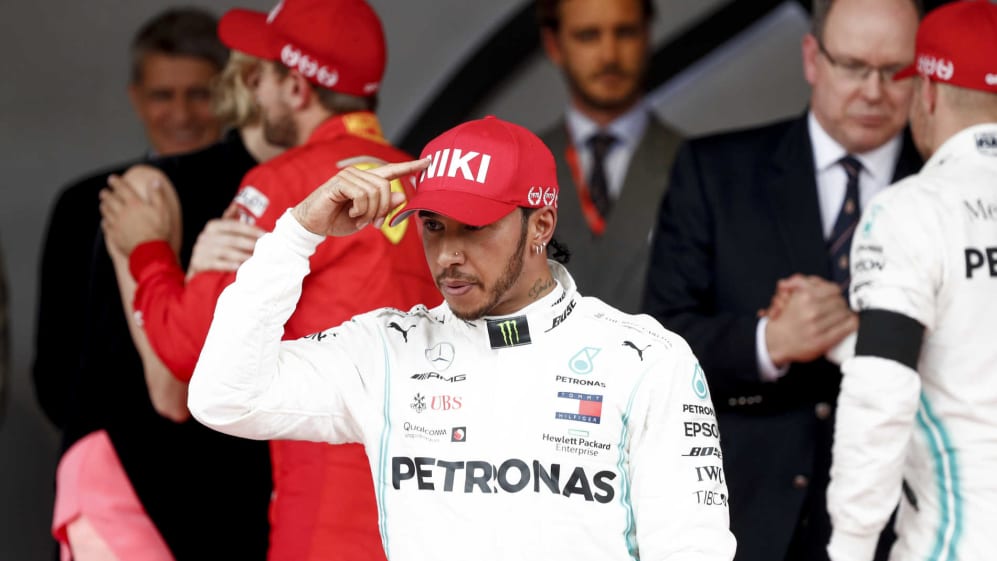 Extending his lead
With Bottas finishing third, Hamilton extends his lead at the top of the drivers' standings to 17 points. And in doing so, he also underlined why he'll be such a tough proposition to beat to the crown.
"There was every opportunity to crack today, particularly with that pressure. I was determined to not crack. I was like 'I'm not going to crack'.
"If you crack up here," he said, pointing to his head, "then you're done – everything is done. So on the positive side I'm strong mentally and I think it's fantastic for the team. Max put on a great race. I nearly crashed like 30 times so I'm grateful I didn't – I did touch the wall quite a few times. I'm so grateful it's over."
"It was a world championship drive for a world champion that isn't among us anymore," added Mercedes boss Toto Wolff. Enough said.