'I paid a high price' – Perez admits he 'took a risk' in race-ending incident after hoping to win in Mexico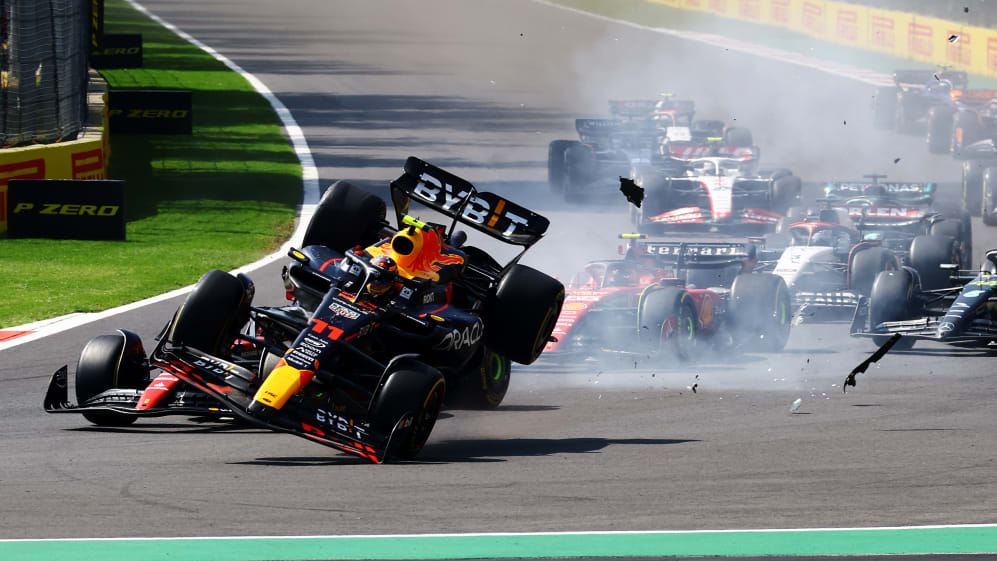 Sergio Perez admitted he "paid a high price" for taking a risk after his collision with Charles Leclerc in the race start ended his Mexico City Grand Prix.
Both Perez and Red Bull team mate Max Verstappen had an impressive getaway off the line, as Verstappen tried to fight pole-sitter Leclerc for the lead while Perez surged into the battle from fifth on the grid.
READ MORE: Verstappen charges to record 16th win of the season after Perez's opening lap crash in Mexico
As Perez tried to go around the outside of Leclerc into Turn 1, the Mexican made contact with the Ferrari, which launched his RB19 into the air and off the track. While he managed to return to the pits, the damage to his car proved irreparable and Perez was forced to retire from his home event.
When asked where he felt the blame might lie in the incident, Perez explained: "To be honest, I really feel it was a racing incident. The gap was there and obviously as a driver you take a risk, going three cars into Turn 1 with these wide cars.
"I took a risk. I paid a high price for it, but I was also honestly not expecting Charles to brake that late, as he was in the middle so he had a bit less room for manoeuvring. I was ahead of him, I thought he was going to bail out a bit more but, obviously in those decisions everything happens really late and, yeah, it just happened everything a little bit too late and unfortunately I had a lot of damage on my car."
The DNF comes after a weekend of huge support from the crowds for Perez amid what has been a mixed campaign in 2023, with Lewis Hamilton now having closed the gap to second-placed Perez in the drivers' standings to 20 points.
RACE START: Perez forced out of Mexico City GP after collision with Leclerc in dramatic getaway
On how he has been feeling about any sense of pressure on him at the moment, the six-time race winner insisted that he remains grateful for where things currently stand, but also acknowledged that he had really hoped to fight for the victory at the Autodromo Hermanos Rodriguez.
"I feel as privileged as ever," Perez said. "Look at the crowd, there is no-one that has experienced this amount of support.
"I'm second in the championship, there are still three races to go, and I tried to go for the win at my home Grand Prix. I mean, what else could I have done? I saw the gap, I went for it. I risked it too much, but I wanted the win today."
READ MORE: 'I will not give up' – Perez's season has been tough but with huge support in Mexico he's determined to end on a high
Perez won't have long to wait to return to action, with the next event on the calendar – the Brazilian Grand Prix – forming the final race of a triple-header with Austin and Mexico City.