Feature
IDEAL LAP: An alternative look at the FP2 timesheet for the Styrian GP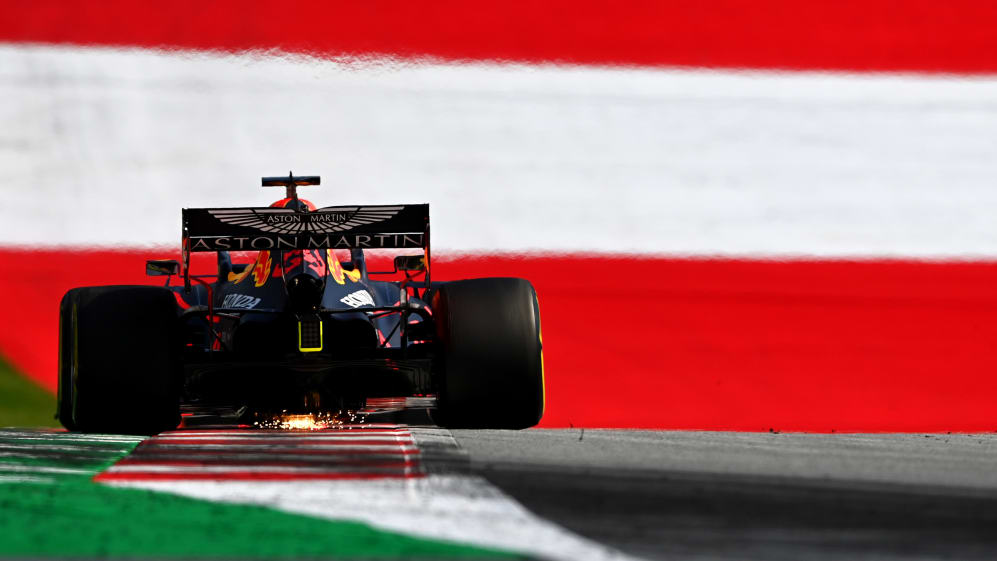 Max Verstappen was top dog at the Red Bull Ring on Friday, setting the pace in the second practice session ahead of last week's winner Valtteri Bottas and Racing Point's Sergio Perez. But as our data shows, Max had the potential to be even further ahead…
The graph below plots a driver's classified lap time against his ideal lap time. What's an ideal lap time? Allow us to explain…
Ideal lap explained
An F1 track is broken into three sectors for timing purposes. However, those sectors are also split into smaller 'loops' or mini sectors. In our ideal lap calculation, we add together a driver's quickest individual loop times from a session, regardless of which lap they were set on.
This gives us a theoretical best lap for each driver i.e. what their fastest lap time would look like if they set their best times in each loop on the same lap. If there is a large gap between a driver's actual lap time and their ideal lap time on the graph, that suggests they are potentially able to lap a lot faster than they showed in any given session. All they need to do is hook up a perfect lap…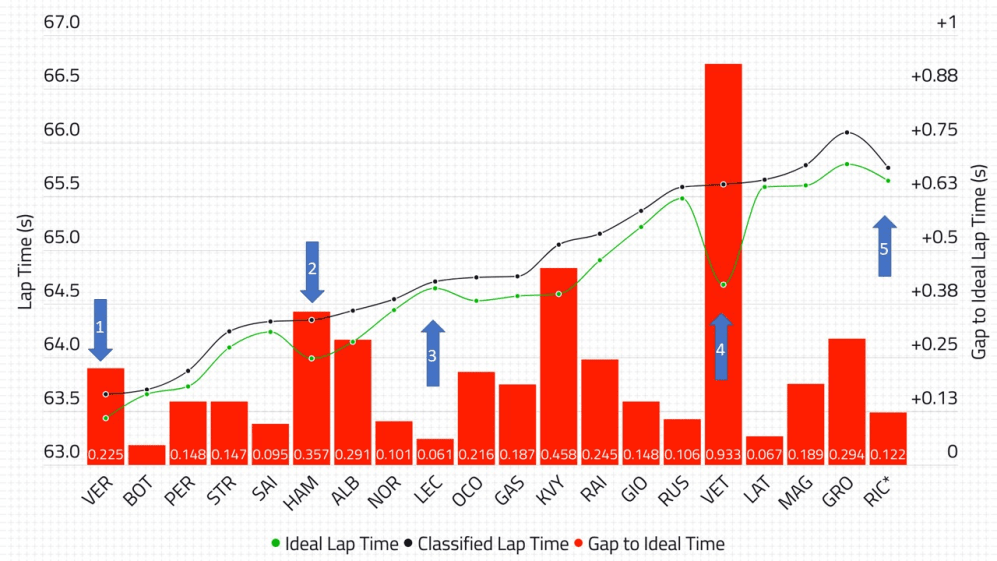 What the graph shows
1. Max could have gone even quicker
Pace-setter Verstappen finished 0.043s up on Bottas in second practice – the Dutchman feeling the team have now hit on a direction in the car that they want to pursue, but as you can see, if he'd pulled together all of his best mini sectors into one single lap, he'd actually have been even further ahead of Bottas. This bodes well for qualifying, where Verstappen felt they made improvements, though he and Red Bull still feel Mercedes have the edge over one lap, when engines are turned up to their quickest mode. Our data backs this up too, suggesting the difference could be as much as 0.5s per lap.
2. Hamilton left time on the table
Lewis Hamilton ended the session in P6, having not quite hooked up a proper lap on the soft tyres, and was at a loss to explain why the car felt normal but his pace was simply so-so. Combining his best mini sectors from the session would have lifted him to fourth, suggesting a lot more performance is possible when everything comes together over one lap on fresh tyres. But he's still got a lot of work to do overnight, as they battle to understand why his pace dropped off as the session wore on.
3. Leclerc maximised his lap time
We don't know how much fuel Ferrari had in the car, or how hard they were running their engine in FP2, but from this data at least it looks like Leclerc was ninth fastest on merit, his best time extremely close to the best time he could have achieved on an ideal lap. Leclerc qualified seventh last Saturday. There's a pinch of salt needed here, mind, as Ferrari's primary focus in this session was running their updated car on high fuel – and internally, there's the impression that they've made gains in this area.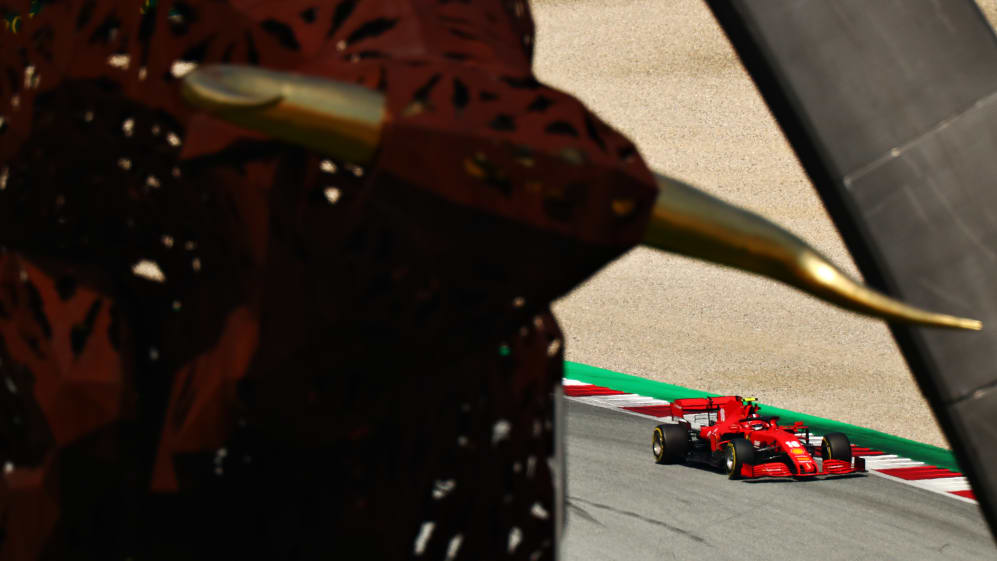 4. Vettel down – but capable of going much quicker
Vettel ended FP2 in 16th place, 1.9s off Verstappen's pace. If it's any consolation to his fans, our data shows an ideal lap would have lifted him to at least 13th, plus let's not forget that he had a quick lap deleted, too, for exceeding track limits. The German was in a chipper mood today, feeling much more comfortable with the car, but he will need to find much more time than that to avoid a second straight Q2 exit in qualifying.
5. Where does Ricciardo fit?
The outlier here is Daniel Ricciardo, who has an asterisk next to his name on the graph having crashed out of FP2 before he could set a representative time. We've used his FP1 best lap here, but the Australian will be expecting top 10 pace in qualifying, having been P10 at the same track last weekend and P9 in FP1, especially as he felt the car improved towards the end of FP1 and that his team mate Esteban Ocon felt they had made progress with the car on both fuel levels from last Friday to this one.
Actual classification vs Ideal Lap classification
| ACTUAL FP2 CLASSIFICATION | CLASSIFICATION BY IDEAL LAP | POSITIONS GAINED/LOST |
| --- | --- | --- |
| VER | VER | 0 |
| BOT | BOT | 0 |
| PER | PER | 0 |
| STR | HAM | +2 |
| SAI | STR | -1 |
| HAM | ALB | +1 |
| ALB | SAI | -2 |
| NOR | NOR | 0 |
| LEC | OCO | +1 |
| OCO | GAS | +1 |
| GAS | KVY | +1 |
| KVY | LEC | -3 |
| RAI | VET | +3 |
| GIO | RAI | -1 |
| RUS | GIO | -1 |
| VET | RUS | -1 |
| LAT | LAT | 0 |
| MAG | MAG | 0 |
| GRO | RIC | +1 |
| RIC | GRO | -1 |