Feature
IDEAL LAP: Why Bottas will be happier than his lap times might suggest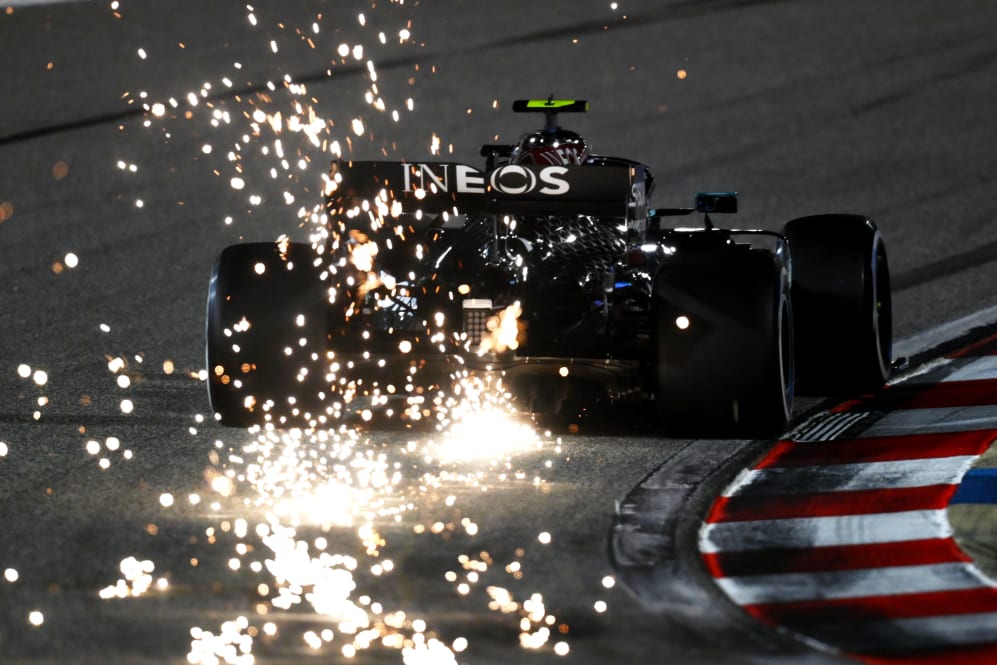 George Russell made a sensational start to his weekend standing in for world champion Lewis Hamilton at Mercedes for he Sakhir Grand Prix, topping the times in both sessions. But if every driver had managed to put mini-sectors together, would the Briton still have managed to lead the way? Let's look at the data.
The graph below plots a driver's classified lap time against his ideal lap time. What's an ideal lap time? Allow us to explain…
Ideal lap explained
An F1 track is broken into three sectors for timing purposes. However, those sectors are also split into smaller 'loops' or mini-sectors. In our ideal lap calculation, we add together a driver's quickest individual loop times from a session, regardless of which lap they were set on.
This gives us a theoretical best lap for each driver i.e. what their fastest lap time would look like if they set their best times in each loop on the same lap. If there is a large gap between a driver's actual lap time and their ideal lap time on the graph, that suggests they are potentially able to lap a lot faster than they showed in any given session. All they need to do is hook up a perfect lap…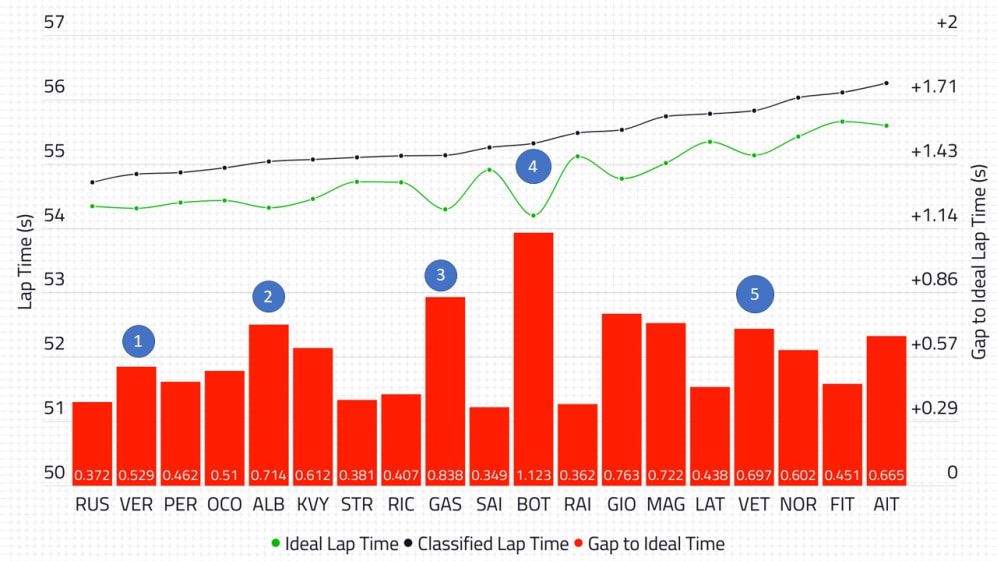 What the graph shows
1. Verstappen was quicker than Russell
Max Verstappen was pipped by Russell to the fastest time of the day in Bahrain, the Dutchman admitting he found the conditions on the outer loop "quite tricky". However, had he put all of his best mini-sectors together, he would have improved his lap time by nearly half a second, which would have pushed him a fraction clear of the Mercedes sub on what is the shortest track on the calendar by some margin.
'We still need to find more' – Verstappen not satisfied despite P2 pace in Sakhir GP Friday practice
2. Albon could have beaten Verstappen
Alex Albon has been on an upward trajectory since Turkey, peaking last time out in Bahrain when he scored the second podium of his career. And despite a spin on Friday at Sakhir, as he did last Friday, too, Albon was closer to team mate Verstappen than he's been for most of the season. And what's more, had he got his perfect lap together, it would have been 0.714s better, putting him ahead of his more decorated team mate.
3. Gasly could be a dark horse
Pierre Gasly was once again a solid top 10 contender, the Frenchman suffering a bruised finger late in the session when a piece of gravel kicked up by Valtteri Bottas hit him – leading to shrieks of pain on the radio. The AlphaTauri loves this place, even on the outer loop, and if he could have got everything together, Gasly would have been the second fastest on the timesheets, 0.838s quicker than he was on the day.
4. Bottas is the man to beat
This was not Bottas' tidiest day, the Finn running wide on multiple occasions and having a series of laps deleted for exceeding track limits, costing him top spot. As a result he ended up way down in 11th, while his temporary team mate Russell shone. However, our data shows that had he completed one clean lap, with all of his best mini sectors, he could have gone a staggering 1.123s quicker, putting him safely top of the pile.
Bottas rues 'waste' of first practice and has his best FP2 lap times deleted on tricky Friday in Bahrain
5. Vettel off the pace as Ferrari struggle
Sebastian Vettel did not enjoy the new layout in Bahrain, the German unhappy with how the car felt, with Turn 2 a particular problem for him with a couple of offs. He could have gone seven tenths of a second quicker if he'd been able to hook everything up, but that would have only improved his position by one. This could be a very difficult weekend for Ferrari and getting out of Q1 could be a challenge.
MUST-SEE: Vettel almost collected by Magnussen after massive spin in practice