'I'm sure Lando didn't enjoy it!' – Albon reflects on more hard-earned points after pipping Norris to P7 at Monza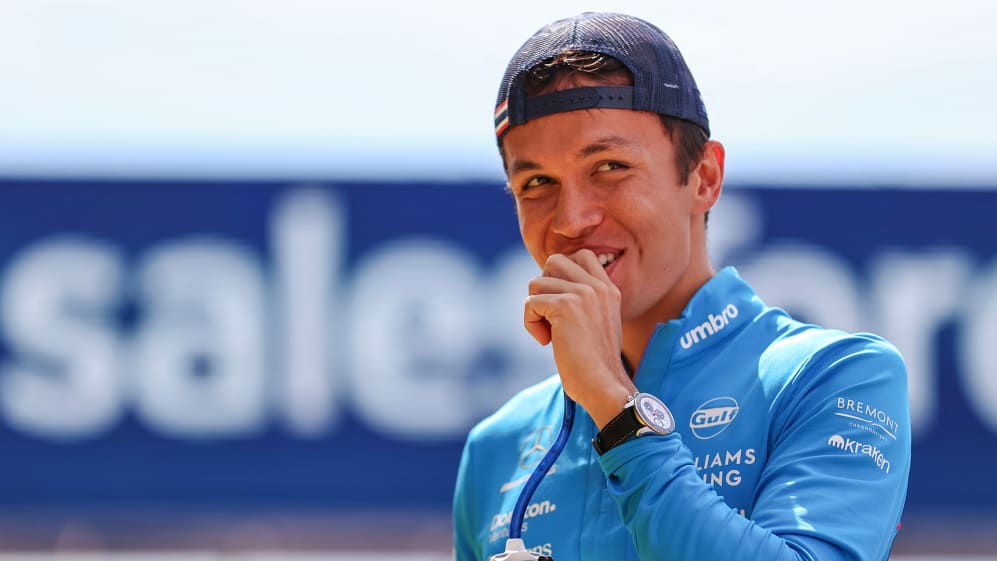 Alex Albon was one of the stars of the Italian Grand Prix weekend, as he showed his defensive skills once more to secure a seventh-place finish and bag more valuable points for Williams.
Albon had his mirrors full of Lando Norris's McLaren for the majority of Sunday's encounter at Monza, but pulled out all the stops – including some expert car placement on several occasions – to beat his rival to the flag by three tenths of a second.
MONDAY MORNING DEBRIEF: Why Ferrari's set-up and strategy gamble to win in Monza didn't pay off
While it marked a loss of one position from his P6 grid slot, with Lewis Hamilton managing to get ahead in his Mercedes late on, Albon still matched his best result of the season from Canada, which also featured a defending masterclass.
Reflecting on his run to the points, and tight battle with Norris, Albon said: "[I'm] very happy – that was a tough one. I'm sure Lando didn't enjoy it too much, but I did!
"We went into the race with that hot track temperature and we knew it was going to be a really tough race. On the laps to the grid before the race even started, I could tell it was going to be a long race. The degradation even on the laps to the grid was super high.
"It was pretty clear after four laps that it was going to be a tough one. When the McLarens came out of the pits behind me, I thought they were going to get past me, and now it's trying to keep Fernando [Alonso] behind. But we managed to keep everyone behind."
With his race also completed on used tyres, the Thai-British racer – who scored consecutive points for the first time in his Williams career – added: "I wouldn't want to do that race again, but I'm super happy. I think in moments like this, we've just come back from two races scoring points – as a team, we need to really enjoy these moments.
READ MORE: 'I never would have believed this' – Verstappen in shock after making more F1 history with Monza win
"From where we were at the start of the year to now, it's been amazing. I don't think the next few races are going to be easy for us. I think they are going to be tricky, so let's enjoy these runs and get ready for maybe Vegas."
On the other side of the Williams garage, Logan Sargeant turned his 15th-place grid slot into a 13th-place finish, having briefly fought with Valtteri Bottas over the final point before being given a five-second penalty for clashing with the Alfa Romeo man.
"It is what it is," the American rookie said of his race. "[I was] just unfortunately limited with options to try and get the car in the window today, and I think that hurt us quite a lot.
"I just struggled with so much oversteer and that hurt me trying to keep the tyres alive. I tried to hold on as long as I could. I tried to make the one-stop work, but unfortunately, I just fell short."
FACTS AND STATS: Sainz comes closest yet to beating record-breaking Red Bull as Verstappen trumps Vettel
Asked if he felt he was making progress, Sargeant reflected: "Saturday was a good step forward, we just struggled with the medium tyre in qualifying and that hindered where we were starting today and ultimately what was achievable. I think there was more on the table this weekend, for sure.
"I'm a little disappointed not to extract that, [but] everything has been more under control. I'm starting to deliver laps when I need to, it's moving in the right direction. I just need to keep working hard, keep piecing things together, and it will come in the end."