Feature F1 Unlocked
Inside Red Bull's rocket ship – How its remarkable dominance was achieved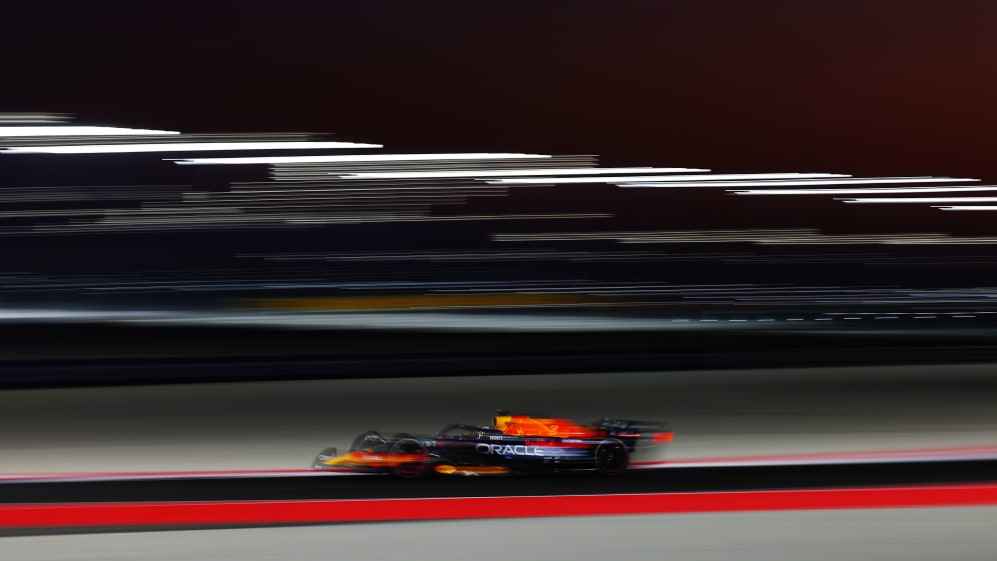 Crossing the line in Japan to take his 13th win of the season, and in so doing seal a sixth constructors' title for Red Bull, Max Verstappen paid tribute to the car that had taken the team to 15 wins from 16 races.
That machine also looks set to carry the Dutchman to his third straight title this weekend in Qatar.
PADDOCK INSIDER: Verstappen has had the most remarkable season – an impending third world title sees him join a list of F1 greats
"What an unbelievable season," he said. "You can all be very proud, you've built a rocket ship of a car."
Verstappen isn't wrong. Across the 16 races so far, the RB19 has only finished off the podium nine times, and with Verstappen just once. So far, it has brought the team 623 points, with another 309 still available.
Taking maximum points from the final six races would give the team 932 points, 173 more than it scored in its best ever season in 2022. In short, the RB19 is proving to be one of the greatest cars Formula 1 has ever seen.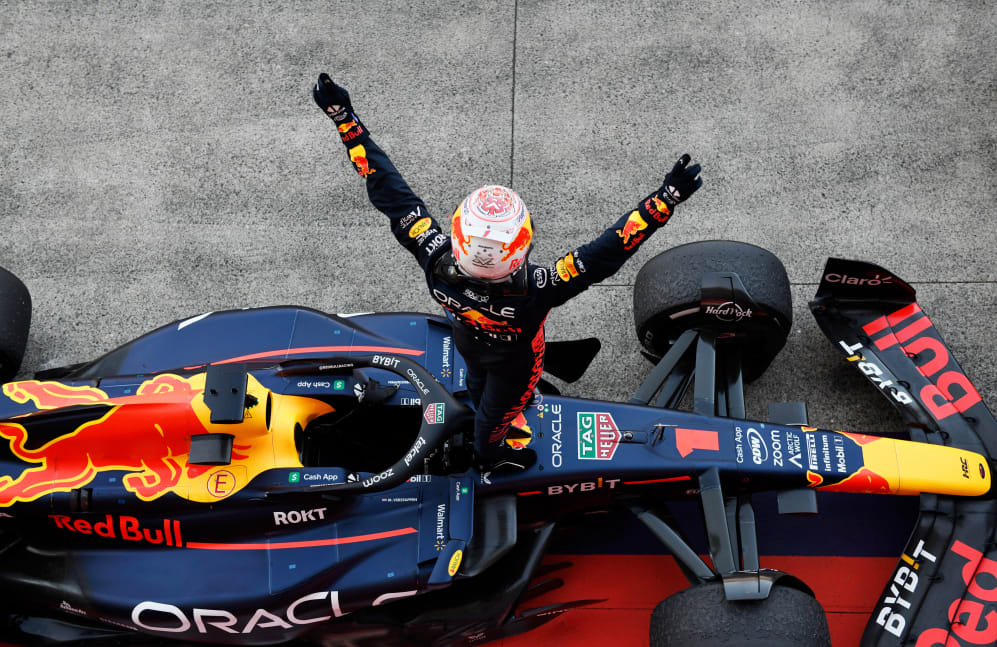 "It's unbelievable," said Team Principal Christian Horner after the race at Suzuka. "Last year was a very strong year for us but to have kept that momentum rolling with the challenges we have had is testimony to all the men and women of the team that have worked tirelessly to have produced a car as competitive as we have had, and that Max has made such good use of.
"To produce the kind of car we have and achieve these results is an incredible performance."
The question is then, how has that extraordinary performance been achieved? For Horner it's about being broadly competitive everywhere. "We've been 99% consistent at the front of the field," he says.
Reaching and maintaining that level of competitiveness is no mean feat, and as the team behind the car explains, it has been the result of excellence in every area, from design and development to day-to-day operation to, of course, the driver leading the charge.
READ MORE: Leclerc reflects on how 'exceptional' Verstappen has evolved since their karting days
Design
With the rules set largely stable, and having interpreted the new regulations brought in for 2022 better than all their rivals, Red Bull went into the design process for the RB19 already at an advantage, as Chief Technical Officer and legendary designer Adrian Newey admits.
"RB19 is clearly a very close evolution of 18," he says. "I think what we did manage to do [with RB18] was get the architecture right. It was [a matter of] sitting down with the rule book and trying to understand what architecture [we needed] in terms of where do you put the front wheels, where do you put the rear wheels relative to the fixed bits of the chassis, engine and gearbox.
"In my case, I concentrated on the architecture and then the front and rear suspension, because they're the kind of key bits that you want to try and get right if you possibly can."
Not that the RB18 was perfect. Overweight at the start of last season, it got progressively slimmer through development. But with RB19, weight was a fundamental aspect the design team, led by Technical Director Pierre Wache, wanted to address.
"It was clear that the weight of [last year's] car was not at the level we wanted," says Wache. "This was a general performance gain.
"The second was our capacity to change the weight distribution as a set-up tool, because we were overweight. That was a target for RB19.
"Also, with the RB18 we had quite a lot of understeer in low-speed corners and we had to improve that situation. And then, generally, we wanted more stability in high-speed corners."
READ MORE: Horner says Wolff and Mercedes will be 'plotting' to topple Red Bull in 2024
Dealing with rule changes brought in to cure the porpoising that afflicted various cars last year also caused a number of headaches.
"It was quite a large change but we decided to try to recover it by aero development and we more or less managed that," adds Wache. "The aero department did a fantastic job to recover [lost downforce] and to overcome the challenge of the rules."
And the result? "I don't think we understand more than others, I think we compromise better than others," Wache says. "I think everybody understands, more or less, that the influence of mechanical grip starts to be higher than in the past, and the stiffness has a big role in that.
"Then the link between the aero characteristic and how you have to run the car is bigger than before. I think it is how we developed the car that gave us a better compromise. But it's not because we understand better."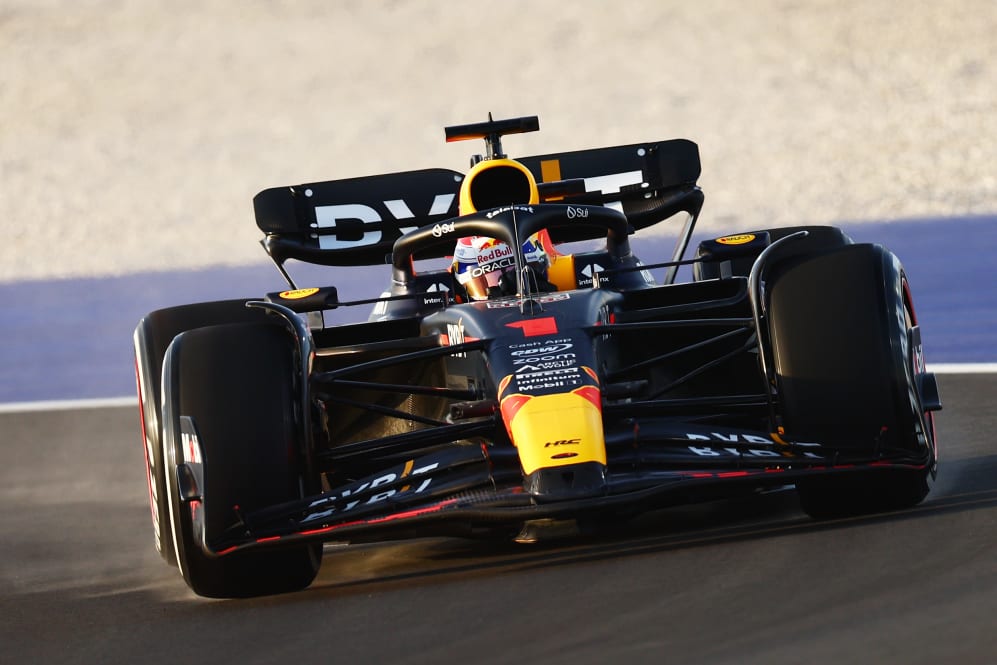 Development
The development of the RB19 has undoubtedly kept Red Bull and Max at the head of the field, but Horner is adamant that they have not brought a vast amount of upgrades to the car over the course of the campaign.
"I think we've been fairly limited in the amount of development that we've done on the car, but I think the development that we've done has been effective enough to maintain a reasonable margin," he said in Japan.
"I think the team has done a great job in efficiently developing the car and reducing the weight. The whole technical team and operational team have done an amazing job to maintain, across the variance of circuits that we had, this kind of performance."
READ MORE: A closer look at the 12 constructors' title-winning cars Adrian Newey has designed
On the surface, the major aerodynamic developments came in Azerbaijan and Hungary. At the former, the team revised the car's sidepods and seven races later they did the same again, except in Budapest the alterations were much more comprehensive – with even wider, narrower inlets on the sidepod, a new engine cover and a new floor, all aimed at maximising performance at a circuit like Hungaroring, but also bringing gains generally.
For Wache, the careful implementation of upgrades has been another key to success. With the team's wind tunnel time down under the FIA's Aerodynamic Testing Regulations (ATR) due to its 2022 title win and then reduced by a further 10% as a penalty for breaching the cost cap last year, the team have had to be selective about what they bring to the car. For Wache, the structures only brought greater efficiency.
"It is a disadvantage for sure," he told Autosport in August. "But it is an advantage, to push the team to make sure that you don't explore useless stuff. The efficiency of what you look at has to be reviewed, whereas before it was not as reviewed as much. It helps us to be hungry."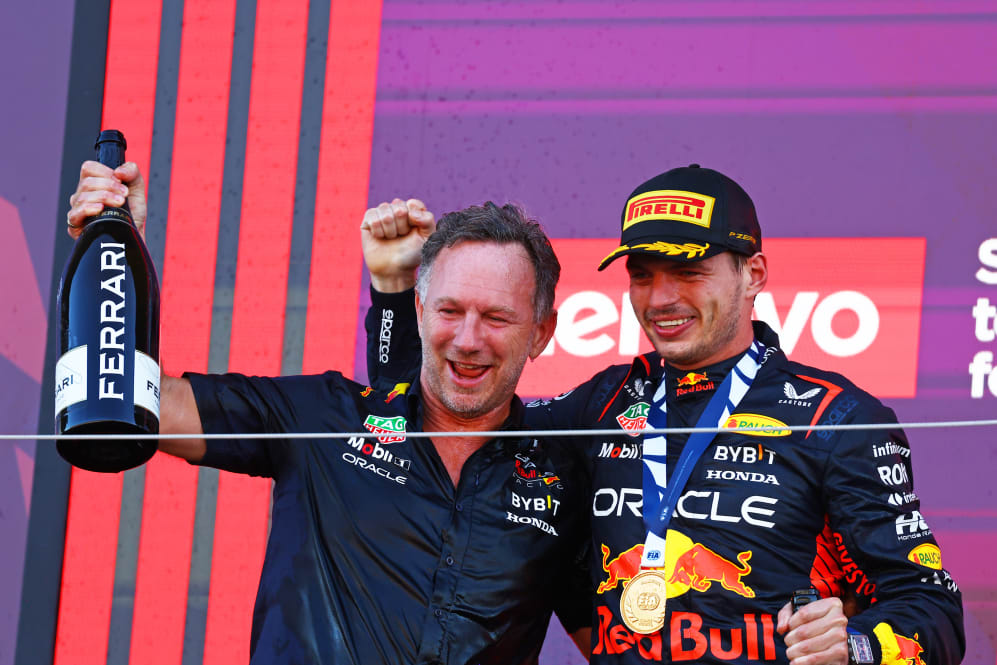 Day-to-day
The development path of the RB19 has been consistently successful but its dominance has also been founded on the predictability of its behaviour and its straightforward nature. While the teams behind – Ferrari, Mercedes and latterly McLaren – have all struggled with restrictively narrow operating windows for their cars, the RB19 has been a model of adaptability.
"Ultimately, we're blessed with a very competent car – different circuits, different downforce levels, different speed ranges, from Monaco to Spa," says Paul Monaghan, Chief Engineer, Car Engineering.
READ MORE: From stable leadership to design genius – Former Red Bull drivers on the secrets of the team's success
"Its weaknesses are not such that we can go to one track thinking we might get a win and other tracks we're going to struggle. We don't fear them as such."
He adds that RB19 is also straightforward to dial in to each circuit's characteristics.
"We can get a balance on the car quickly and the drivers can be reasonably settled with it," he adds. "So their feedback has all been constructive criticism, as opposed to 'this thing's terrible to drive'. On the whole, I'd say it's an exceptionally good car."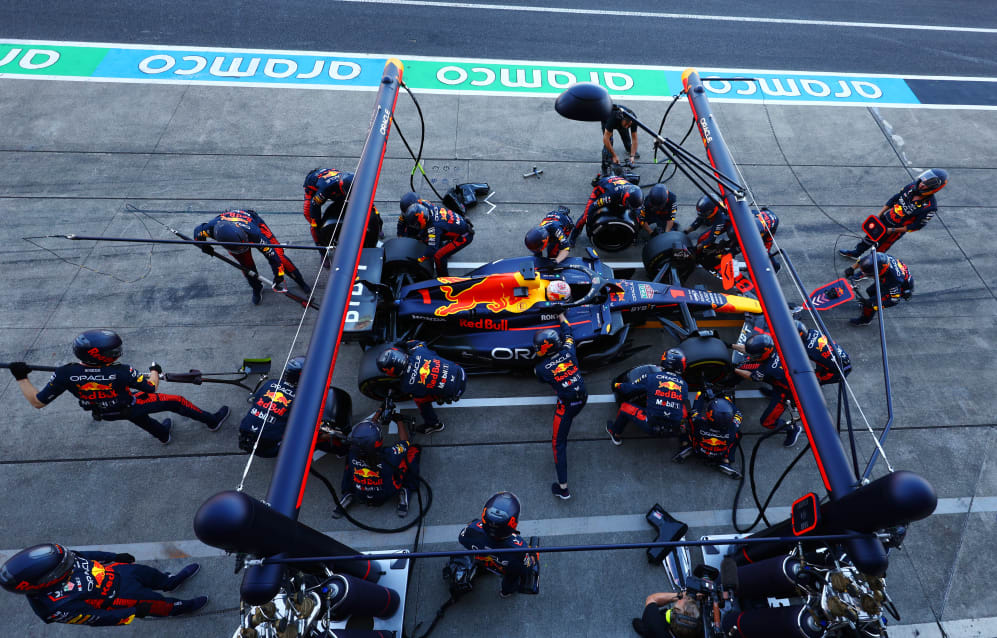 In the cockpit
While the RB19 has proved to be markedly quicker than its rivals, its advantages have only truly been exploited by Max Verstappen.
Although Sergio Perez began the campaign strongly, holding second place just six points behind Verstappen after four rounds thanks to wins in Jeddah and Baku, the Mexican driver's title charge began to splutter thereafter, and in the closing stages collapsed altogether.
Verstappen, though, has just got better and better. After losing out to Perez in Baku, Verstappen took a record-breaking 10 wins on the bounce from Miami to Monza. An oddly disastrous weekend in Singapore briefly slowed the Verstappen juggernaut, but normal unstoppable service resumed in Japan, where he took win number 13 for the year and secured the constructors' crown for Red Bull almost 20 seconds ahead of McLaren's Lando Norris.
READ MORE: What's happened to Perez's precision race craft?
To best illustrate his extraordinary dominance, he's single-handedly scored more points so far than any of his rival teams.
"I think his all-round assuredness is one of his greatest strengths," says Monaghan of the soon-to-be three-time champion. "He can have a bad session, bounces back the next session, and he's right on it. He doesn't make many mistakes.
"That's a pretty good indication of his level of self-confidence. I think his self-belief, his belief in the car and the team is very strong and he's a fabulous team player. And aren't we lucky to have him?"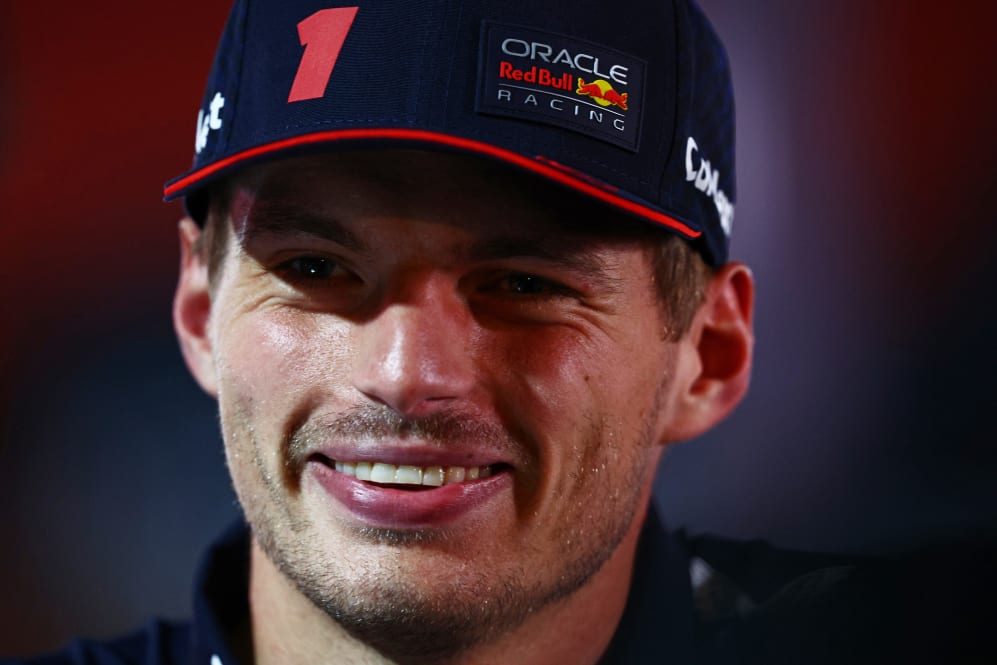 The RB19 and Verstappen represent one of the most potent packages the sport has ever seen. And while the outfit is likely to beat Mercedes' record of 19 wins in a season by the end of 2023 and take a record number of points, Horner insists they won't stop there.
"To repeat a season like this… it's a golden moment for us," he says. "To do better than we are doing I think is impossible.
"We are riding a wave and we want to ride that wave as long as we can. But F1 is a fast-moving business, you see how quickly teams move up and move down. There can be zero complacency. We have to keep pushing the boundaries."
And for Red Bull's rivals, that's an ominous prospect.
To read on, sign up to F1 Unlocked for free
You'll unlock this article and get access to:
Live leaderboard data
Epic experiences and rewards
Money-can't-buy competitions