'It's definitely closer than we expected' – Hamilton surprised by gap between Red Bull and Mercedes
Lewis Hamilton missed out on pole position by the considerable margin of 0.388s to Red Bull's Max Verstappen at the season opener in Bahrain - but said afterwards he was pleasantly surprised to be so close, adding that Mercedes had made a "really good step forward" from pre-season testing to the first round.
Mercedes looked uncharacteristically out of sorts in testing, and their pace deficit to Red Bull became clear as Verstappen topped pre-season sessions two weeks ago. The Silver Arrows immediately branded Red Bull favourites and here, Verstappen dutifully delivered with the fourth pole position of his career.
Qualifying report: Verstappen takes pole for 2021 season opener after outpacing Mercedes in Bahrain
Hamilton explained that he was still content with P2 on the grid, just ahead of team mate Valtteri Bottas in P3, as his W12 wasn't as far back as he'd expected it to be after a tough three days of testing.
"Yes, it's definitely closer than we expected," said Hamilton after qualifying. "I think this is a really good step forward for us coming this weekend - we thought it [would be] double the gap that you see today, and so that's really down to some really fantastic work from the men and women back at the factory."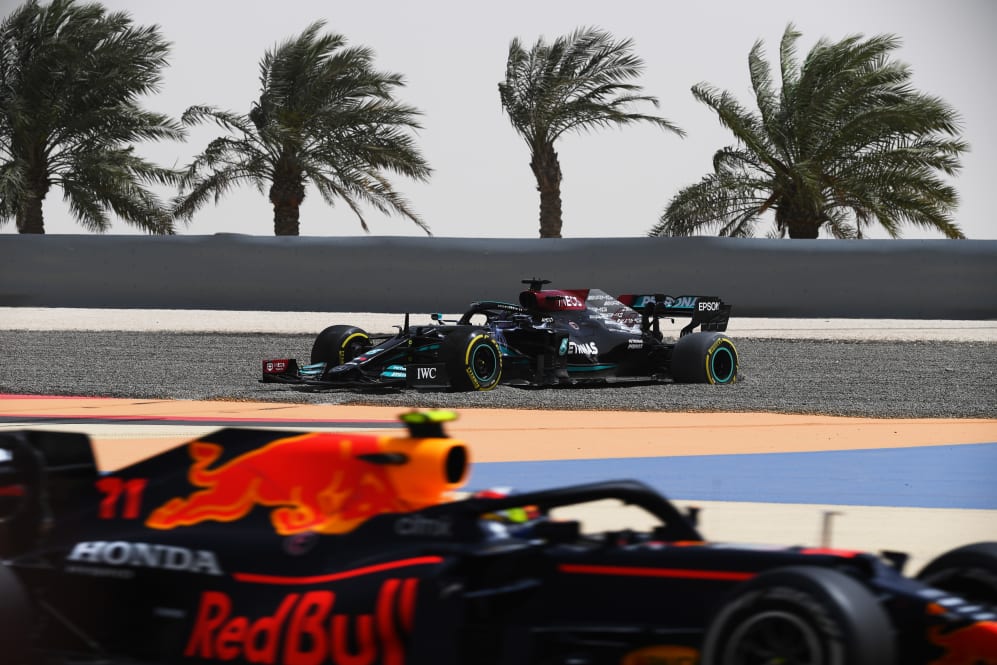 While Mercedes may have missed out to Red Bull on short run pace, Hamilton was asked whether they can make up the deficit on long run pace on Sunday evening in Bahrain - and his answer was pessimistic.
"I think it'll be difficult to say," he replied. "The pace gap they've got today, usually they carry through into the race; they're very strong in race conditions. I'd like to think we can close up a little bit, but I think they have at least two-tenths [of a second] in hand."
As for Verstappen's wonderful effort that saw him go top of the table by nearly four-tenths today, Hamilton said he left nothing on the table in fighting the Dutchman for pole position.
"Congratulations to Max, he did such a great job, so fast on that last lap. Absolutely gave everything I had but unfortunately it wasn't good enough," said Hamilton.
"I mean there's always more, but it was the best that I could do, that's for sure; I got absolutely everything I could from the car. I think we did a really good job from testing to come here, the lads back at the factory – they've really done such an amazing job," he added.
There's just one more sleep until the first Grand Prix of the season, and we're primed for a dazzling duel in the desert between Red Bull's pole-sitter Verstappen and the defending champion Hamilton starting alongside on the front row.
Only twice has Hamilton won the season opener in his long career, while Verstappen has never done it - nor has he won in Bahrain. It's all to play for...
AS IT HAPPENED: Follow all the action from qualifying for the Bahrain Grand Prix