'It's pretty wild' – Home fans 'stoked' for Melbourne's F1 return, says Ricciardo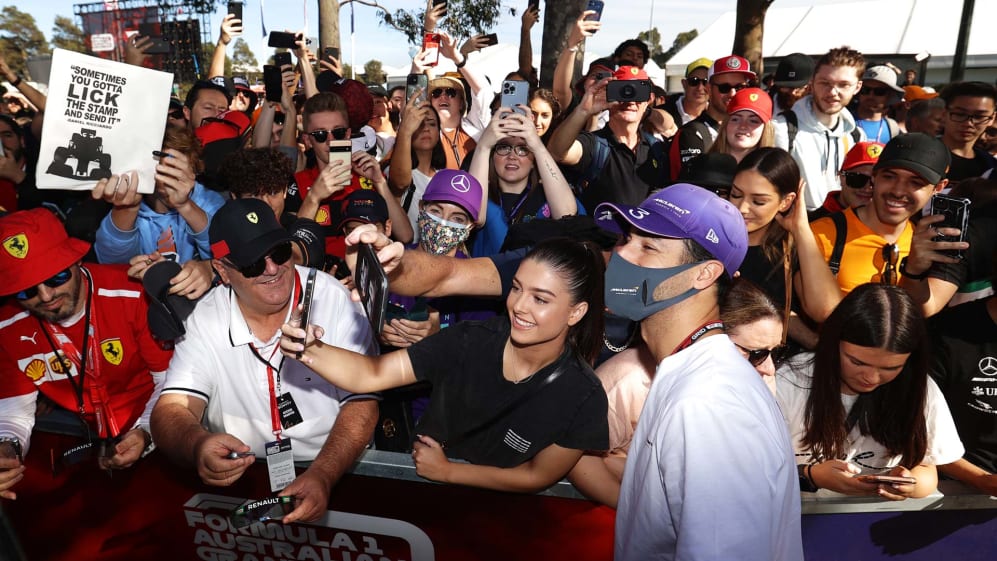 McLaren's homecoming hero Daniel Ricciardo faced what he called the "busiest Thursday" he's experienced in F1 as the Australian Grand Prix returned for the first time in two years – and fans gave him a warm welcome at Albert Park.
Since Ricciardo last raced (and retired from) the 2019 Australian Grand Prix, he has scored two podiums for Renault and a win for McLaren – notching up 234 points in the process – but what hasn't changed is the "pretty wild" crowd in Melbourne.
WEEKEND WARM-UP: Anticipation builds around the return of the Australian Grand Prix
"It's always been pretty wild here so there's no denying that. I don't recall ever competing at a quiet home race – I think it's always been pretty good, and the reception's always been there – but it felt like it was turned up a notch or two, or three..." said Ricciardo on Friday.
"Obviously we'll see now the crowds coming more and more over the weekend but for a Thursday, I'm talking about around the world, it was the busiest Thursday I've experienced walking around a paddock. I think everyone's just stoked to have the race back here; there's a lot of motorsport enthusiasts and you feel that."
The track layout itself has, however, undergone a raft of changes with many corners having been reshaped to improve the spectacle – and Ricciardo was one of the drivers involved with the project along with compatriot Mark Webber, Damon Hill and David Coulthard.
"I'm going to claim [credit for] all of it if the race is wicked and awesome and everyone's talking well about it," joked Ricciardo. "Already back in 2019, a few of us drivers were involved in the discussions about how we can make Albert Park a little more racer-friendly for Sunday, open up some of the apexes.
READ MORE: Why the Albert Park changes should add up to a thrilling racing spectacle
"It's always been a fun track, so from a drivers' point of view it was always enjoyable but not, I would say, a track that provided the most amount of overtaking. I was trying to encourage that and see if we could keep the character of the circuit and help out on Sunday.
"I'm confident it's better but it's just at what scale? I think we'll have a good race and, with these new cars as well if we can follow and run a lot closer, I think we'll be in store for a good one."
Ricciardo aims to get off the mark with points at his home race, having finished 14th in Bahrain before facing a DNF in Saudi Arabia – McLaren sitting eighth in the championship ahead of Albert Park's return.