'It's very satisfying' – Verstappen highlights the factor that 'made the difference' during his mega Miami comeback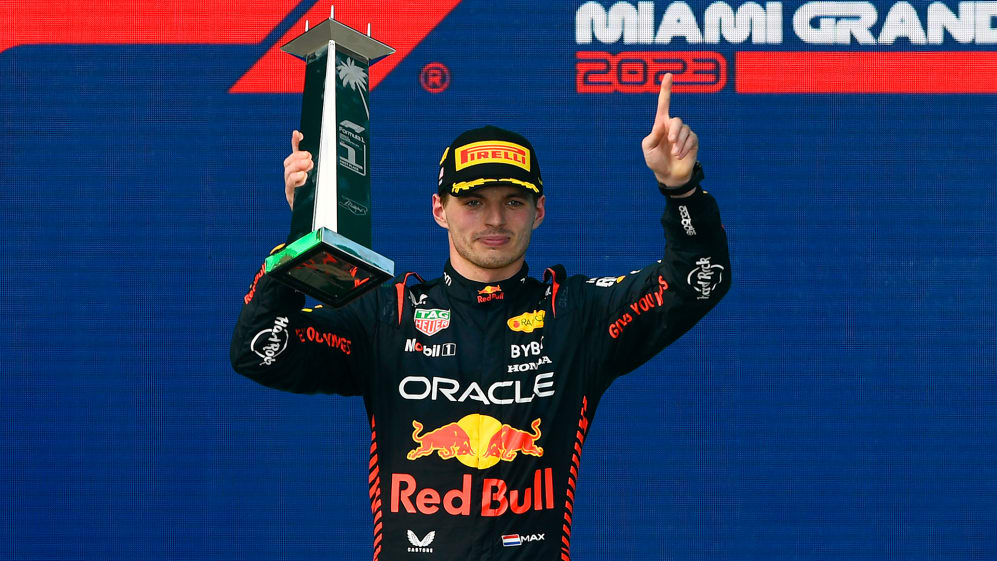 Max Verstappen could not hide his delight after crossing the line to complete an impressive recovery drive from P9 to P1 in the Miami Grand Prix, saying his long first stint on hard tyres – and the pace he maintained – played a crucial role in the victory over Red Bull team mate Sergio Perez.
Verstappen started on the fifth row of the grid after making a mistake on his first Q3 run in qualifying and not being able to complete a second attempt when Ferrari's Charles Leclerc crashed out, triggering a red flag.
READ MORE: Verstappen overhauls Perez for Miami GP victory as Red Bull intra-team battle steps up a gear
But on race day, Verstappen made light work of the cars ahead of him and, by Lap 15 of 57, was running second to Perez, who had lined up in pole position on medium tyres.
When Perez pitted to swap to hards on Lap 21, Verstappen stretched out his opening stint and eventually made his mandatory stop 25 laps later, rejoining just behind his team mate and on much fresher medium rubber.
Verstappen cleared Perez with relative ease heading into the final 10 laps and pulled clear during the run to the chequered flag to finish more than five seconds clear, bringing his championship advantage back up to 14 points.
After jumping out of the cockpit, Verstappen said: "It was a good race. I stayed out of trouble at the beginning and then just had a clean race, picked the cars off one by one. Then I could stay out really long on the hard tyres and that's where I think we made the difference today.
"I had a good little battle with Checo at the end. We kept it clean and that's the most important [thing] – it's a great win today.
HIGHLIGHTS: Watch as Verstappen eclipses team mate Perez to win Miami Grand Prix
"Yesterday was of course a bit of a setback. Today we just kept it calm, kept it clean, and for sure, winning a race from P9 is always very satisfying."
As for whose idea it was to start the race on the hard tyres, Verstappen added: "We started talking about it yesterday. We didn't know what the weather would do, but we were quite confident it would pay off, and luckily it did today."
While Verstappen now leads Perez by 14 points in the drivers' standings, Red Bull are 122 clear of nearest rivals Aston Martin in the constructors' battle.