'I've just been unlucky a lot of the time' says Norris after falling from P3 to P7 in Abu Dhabi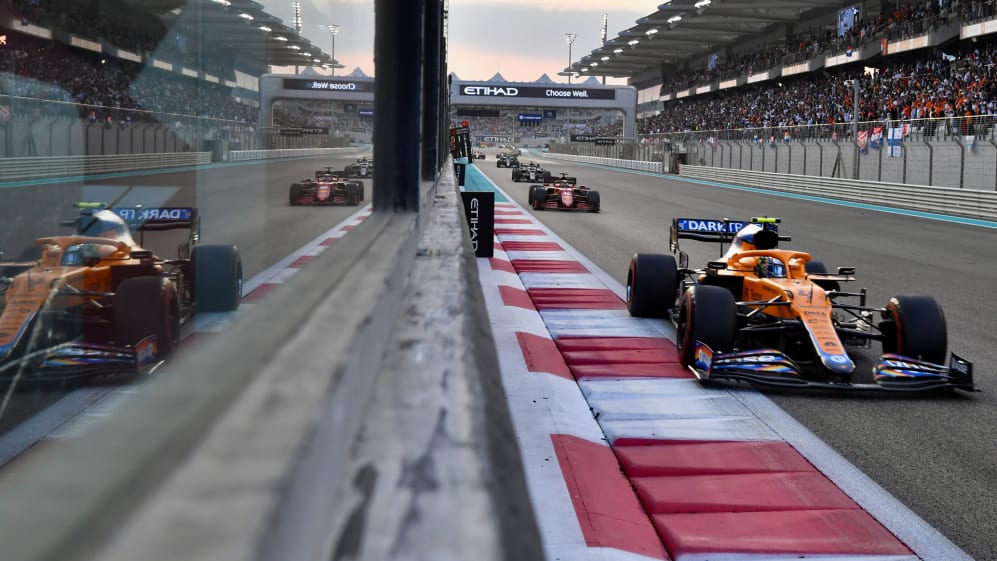 Lando Norris started third after a great qualifying performance in Abu Dhabi. But the McLaren driver ended the race seventh after a puncture – and later said he rued his luck in the latter part of the season.
Norris was just four points off P5 in the drivers' standings ahead of Sunday's race and, having qualified higher than Carlos Sainz and the other Ferrari of Charles Leclerc, had a solid chance ahead of claiming the position.
But he lost out to former team mate Sainz at the start, the Spanish driver having been promoted to the podium late on as Sergio Perez retired – while Norris fell down the order with a slow puncture late on and ended the race seventh.
READ MORE: Unpicking the Safety Car period that turned the Abu Dhabi Grand Prix on its head – and Mercedes' protest explained
Having settled for sixth in the 2021 standings, he said: "I believe Ferrari had better pace than us today, they did have all weekend, just [in qualifying] I got ahead of them because of just doing a better lap.
"Today they had much better pace. I was going to finish behind [Carlos but there was] nothing I could do; Carlos drove a good race, even finishing just behind him I think I would have been ahead of him [in the championship].
"Yes, it sucks. I did everything I could, all year. It's still been a great year, I've still had a lot of fun, just the second half hasn't been so good, and I've just been unlucky a lot of the time. Just very draining because it's a lot of effort that goes in and very little reward for what we could or should have deserved in the second half.
"That's the way it goes, that's Formula 1, that's racing, I just need to come back next year better," he added.
As for the late pit stop that saw him drop to ninth before clawing back places in the final Safety Car restart, Norris – who lost a chance of finishing P4 in Qatar due to a slow puncture – said: "I just got unlucky again; another pit stop because of a puncture cost me P5 in the championship.
BUXTON: Born to race, lightning quick, ruthless on track – and now Max Verstappen is a world champion
"But nothing I can do," he concluded. "I did everything I could do, tried so hard again but just another tyre let go."
Norris still ended up one point ahead of Leclerc in the overall standings, the Monegasque taking the final point in Abu Dhabi, with Norris therefore finishing a career-best P6 in the standings as he readies himself for his fourth season with McLaren.