Podcast
Juan Pablo Montoya on driving for Helmut Marko, beating the Schumachers and why he quit F1
In qualifying for the 2018 Italian Grand Prix, Kimi Raikkonen drove Formula 1's fastest ever lap, trumping a record that had been set at the same venue 14 years earlier. The driver who'd set that record was Raikkonen's former team mate, Juan Pablo Montoya, who in his brief five-and-a-half season F1 career, with Williams and then McLaren, earned a reputation both as one of the sport's best-ever one-lap drivers and equally as one of its most ferocious racers.
Montoya's first taste of Formula 1 came when the young Colombian was selected as a test driver for Williams for the 1997 and 1998 seasons, alongside his active duties in International Formula 3000 – where, incidentally, he was fielded by Dr Helmut Marko, who'd later go on to oversee the Red Bull Junior Team programme.
But when Frank Williams opted to run Alex Zanardi for 1999 rather than promote newly-crowned F3000 champion Montoya, it looked as though the Colombian's career was destined to be played out in the United States. He took up a drive in the CART series with Chip Ganassi Racing, sensationally winning the title in his rookie season, while also claiming victory at the 2000 Indianapolis 500 (Montoya and Fernando Alonso are the only two active racing drivers requiring just one win to complete motorsport's Triple Crown).
Then, in June of 2000, came the call he'd been waiting for.
"I remember I was in Colombia in a hotel," Montoya tells host Tom Clarkson in the latest episode of the official F1 podcast, Beyond the Grid, presented by Bose, recently selected for Apple Podcasts' Best of 2018 list.
"[Frank Williams] called me and said, 'Do you want to race Formula 1 next year?' And I'm like, 'I would love to but I can't because I have a contract with Ganassi.' And he said, 'But you want to?' And I said, 'Yeah.'
"'I'll take care of it. Done.' Okay – I'm racing in Formula 1."
He was signed up with Williams for 2001 alongside Ralf Schumacher, and the pair were partners for three seasons before Montoya was lured away to McLaren for 2005. But although it's Ralf's brother Michael who looms large in F1 history, Montoya believes that the younger Schumacher sibling remains underrated as a driver.
"He was very, very, very, very good – I think he was a lot better than people thought," he says. "I remember my first test in Jerez, struggling to keep up with Ralf. It was hard work. I remember he was really, really quick, and every time I got closer, he moved up the bar. And he kept moving up the bar and it was like, 'Oh my God'.
"The problem with Ralf was, on his A day, like when he was really quick, if you could beat him – it didn't matter [if it was] by one-thousandth of a second – you had him… He started doubting everything he did and he'd just spiral out of control from there."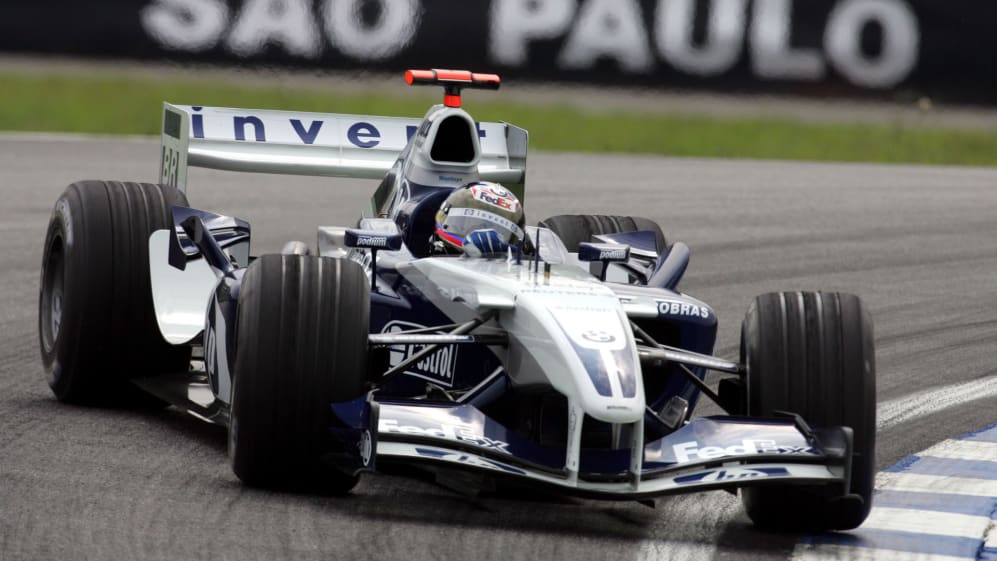 In a wide-ranging conversation, the seven-time Grand Prix winner goes on to discuss the thrill of driving F1's early-2000 era cars on the limit, reveals what really happened when he acrimoniously departed from McLaren midway through the 2006 season, and opens up about why he always felt like an outsider in the F1 paddock.
He may not dish out the sort of media-friendly answers that professional sportspeople often feel obliged to give – but that's just what makes Juan Pablo Montoya such a fun, spiky and refreshing interviewee, and he doesn't disappoint here! You can listen to the latest episode of Beyond the Grid in the player above, or via Apple Podcasts, Spotify or your favourite podcast app – and don't forget to subscribe to make sure you don't miss out on future episodes…
And to check out all the episodes to date, including conversations with Montoya's racing contemporaries Mark Webber, Jacques Villeneuve and Nico Rosberg, click here.