Kvyat and Sainz accuse each other over first-lap clash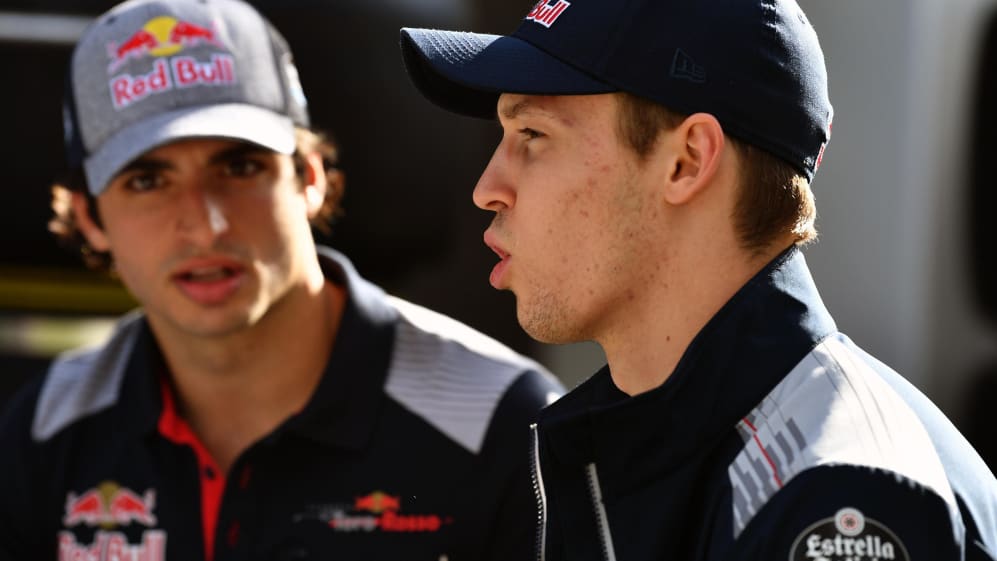 Daniil Kvyat and Carlos Sainz blamed each other for the first-lap collision that effectively ruined Toro Rosso's race ambitions at Silverstone on Sunday.
The pair went into the Maggots/Becketts complex side by side, but as they rounded Becketts Kvyat lost traction on the inside and washed out wide into the side of Sainz. The Spaniard was eliminated on the spot, and while Kvyat was able to continue, a subsequent penalty and floor damage left him struggling in 15th at the flag.
"It is very clear on the cameras what happened," Sainz said afterward. "We were battling for position, giving each other space, then one car loses control and collides with the other no?
"A shame for sure, not good for the team, but it is a discussion and analysis that will stay in between us. It's something we need to talk in between us."
Kvyat, though, said Sainz has cut across him, and felt his drive-through penalty for 'rejoining the track unsafely' and thus causing the crash was unwarranted.
"The frustration is that I overtook around Turn 11 - and then obviously you get to the dirty line and the understeer," Kvyat said.
"The car comes with such a massive speed and since you have the understeer and your team mate just doesn't see you and comes across just like that, you crash.
"My frustration is because of the penalty – [the] stewards say you race you race and then this thing happens. My race is damaged, his race is damaged, and they penalise me. I don't know what they are looking for there."
Asked whether the accident would sow further tension at Toro Rosso, Sainz – whose future has been subject to widespread speculation – added: "When there are situations out of your control, it's not like I'm going to be tense about it.
"I'm relaxed, it's one of those things that happens once or twice a year and we need to keep our head up and cheer up the whole team, as they must be disappointed about it, and turn the page.
"At the moment I am not thinking about anything else than going to Hungary with my Toro Rosso team and try to recover this bad couple of races."
As well as his in-race penalty, Kvyat was issued two penalty points on his FIA Superlicence, taking him to nine points in total for the past 12-month period. A total of 12 points results in an automatic one-race suspension.