Leclerc admits mixed feelings over 'emotional' home pole, as he faces anxious wait over crash damage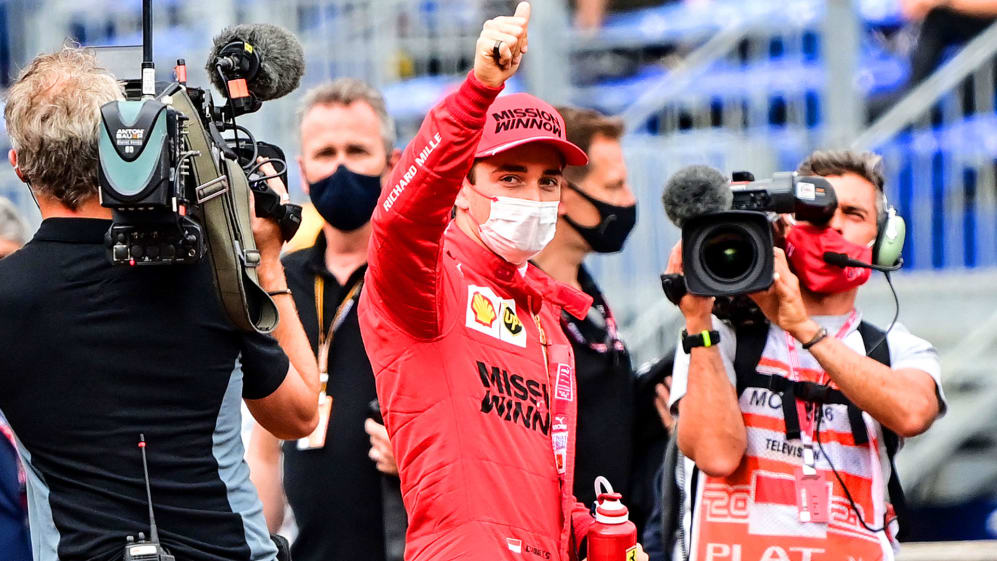 In one of the strangest ends to a qualifying in recent times, Ferrari's Charles Leclerc secured his first ever pole position at home for the Monaco Grand Prix before crashing his SF21 into the barriers – with the accident and resultant red flag ensuring Leclerc's provisional pole time stood. And the Monegasque admitted he had "mixed feelings" after his first pole since Mexico 2019 given the possibility of grid penalties stemming from the crash, which could yet knock him off top spot.
The Monaco weekend had been strange enough already given Ferrari's shock turn of pace, with Leclerc having ended Free Practice 2 as the fastest runner, with his team mate Carlos Sainz second. But the Scuderia were able to maintain that pace into qualifying, the team there or thereabouts throughout the segments before Leclerc posted a blistering 1m 10.346s on his first Q3 run.
READ MORE: Leclerc beats Verstappen to sensational Monaco pole as late crash prevents others improving
But it was while trying to improve on his final run that Leclerc clipped the barrier at the exit of the Swimming Pool, breaking his suspension before cannoning into the wall and bringing out the red flags – denying Red Bull's Max Verstappen and Mercedes' Valtteri Bottas behind the chance to pip him for pole.
"It was a shame to finish in the wall!" said Leclerc after securing the eighth pole position of his career, but his first at home in Monaco – and after making his first ever Q3 appearance here.
"I have mixed feelings a little bit, because with the crash I don't know where I'm starting tomorrow yet, it depends on the damage on the car so I really hope that… we won't be starting from the back. If it's not the case, then of course I'm incredibly happy with whatever happened before the crash.
"It wasn't a great lap I was on in the last one and I tried to do a bit more for the last sector," Leclerc explained, "but obviously there was too much time to recover, and I just did too much and I just touched the wall on the inside and went straight into the wall.
"So it's a shame how it ended up, but obviously it was very difficult for me to manage the whole session. I was very emotional after Q2 obviously, because I've seen that there was actually an opportunity to do pole position here, then I calmed myself down, did a great lap in Q3 run one and then what happened, happened."
WATCH: Mick Schumacher ruled out of qualifying after big crash in final practice in Monaco
Leclerc added that he'd been as surprised as anyone to see the pace Ferrari had shown at Monaco this weekend – although he conceded that he didn't expect them to maintain that advantage post-Monaco.
"It is quite a big surprise," he said. "Surely we were very competitive in Sector 3 in Barcelona, but again it's quite different, a very different track and we were maybe expecting Red Bull and Mercedes to have something more for here, but apparently they didn't and we were just very competitive from the start. So it was good, but until quali we didn't believe we could fight for pole, so it's a surprise, even in quali.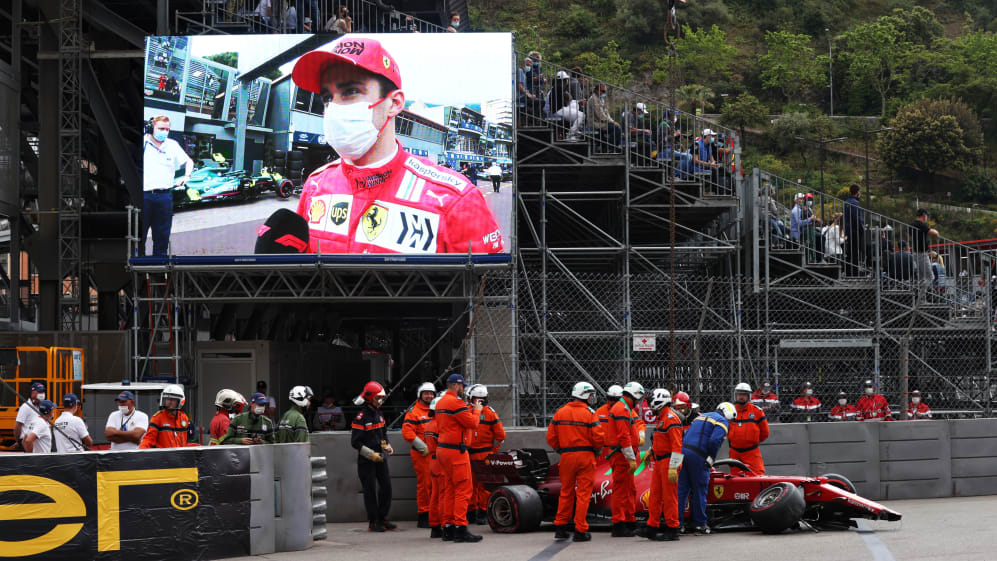 "We have the same car as in Barcelona," he added. "So you know where we were in Barcelona. I think that's more where we are at for the rest of the season. We are especially competitive in the slow speed corners which sits well with this track, but I believe that already from next race onward, we'll be back to where we were before."
Meanwhile, the big question now is whether or not Leclerc's pole will stand – dependent on the extent of the crash damage, and whether any replacement parts, and their associated grid penalties, are needed. But if it does stand, Leclerc said he was hopeful of converting pole to his first victory since the 2019 Italian Grand Prix, given Monaco's reputation as a hard track to overtake on.
AS IT HAPPENED: Follow all the action from qualifying for the Monaco Grand Prix
"In Monaco, we actually have quite a lot of chance [of converting the pole to victory]," said Leclerc. "Then of course, if we are quite a lot slower, then the guys behind will put pressure on us whether to undercut or overcut us. But if we have reasonable pace, as we have had all weekend, then I'm pretty sure it's possible.
"I've always been very unlucky here, so let's wait and see," he added. "For now, I'm just worried about the rear of the car. I hope it's okay. It doesn't look okay but let's wait and see."