Report
Leclerc leads Red Bulls in first ever Sprint Shootout despite crashing in SQ3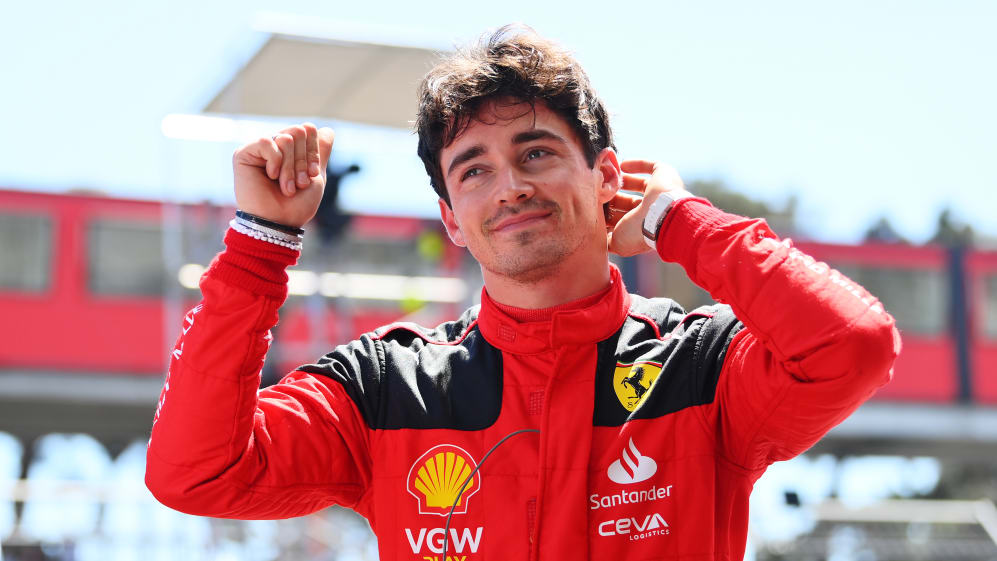 Charles Leclerc topped the first ever Sprint Shootout and ensured pole for Saturday afternoon's Sprint, ahead of the Red Bulls of Sergio Perez and Max Verstappen.
In a dramatic conclusion to qualifying for the Sprint, Leclerc hit the barriers – but he had already set the benchmark of 1m 41.697s to take Sprint pole. Perez improved but could only manage second for the Shootout while Verstappen struggled for grip and took P3 for the Sprint.
The medium tyre was mandatory for the first and second sessions of qualifying – SQ1 and SQ2 – while teams had to fit a new set of softs for SQ3.
In SQ3, George Russell managed P4 for Mercedes but Carlos Sainz was compromised by his team mate's crash and rounded out the top five ahead of Lewis Hamilton in sixth.
Alex Albon was seventh on the board for Williams, ahead of the Aston Martins of Fernando Alonso in P8 and Lance Stroll in P9 – both suffering from DRS issues that carried over from Friday qualifying. Lando Norris rounded out the top 10 having sat out SQ3 without a new set of softs.
Sprint Shootout: 2023 Azerbaijan Grand Prix
| Position | Driver | Time |
| --- | --- | --- |
| 1 | Charles Leclerc | 1m 41.697s |
| 2 | Sergio Perez | 1m 41.844s |
| 3 | Max Verstappen | 1m 41.987s |
| 4 | George Russell | 1m 42.252s |
| 5 | Carlos Sainz | 1m 42.287s |
| 6 | Lewis Hamilton | 1m 42.502s |
| 7 | Alex Albon | 1m 42.846s |
| 8 | Fernando Alonso | 1m 43.010s |
| 9 | Lance Stroll | 1m 43.064s |
| 10 | Lando Norris | |
| 11 | Oscar Piastri | |
| 12 | Nico Hulkenberg | |
| 13 | Esteban Ocon | |
| 14 | Kevin Magnussen | |
| 15 | Logan Sargeant | |
| 16 | Zhou Guanyu | |
| 17 | Valtteri Bottas | |
| 18 | Yuki Tsunoda | |
| 19 | Pierre Gasly | |
| 20 | Nyck de Vries | |
In SQ2, drivers had 10 minutes to set times and it was Verstappen who led the Ferraris. In the second segment of the Shootout, McLaren's Oscar Piastri was eliminated in P11 ahead of Nico Hulkenberg (Haas) in P12. Esteban Ocon took P13 for Alpine and Magnussen was left 14th. Logan Sargeant qualified a provisional P15 for the Sprint but the Williams driver had crashed in SQ1.
The 12-minute SQ1 saw Leclerc, who took pole for Sunday's Grand Prix in a Friday qualifying session, top the board ahead of Verstappen – while Sargeant crashed out at Turn 15 to end the session prematurely. Sargeant's crash led to the elimination of both Alfa Romeos – Zhou Guanyu qualifying a provisional 16th and Valtteri Bottas 17th – plus a furious Yuki Tsunoda.
Pierre Gasly couldn't put down a proper time and ended up 19th while Nyck de Vries, who crashed out of Q1 on Friday, qualified a provisional P20 for the Sprint having made an error at Turn 3 in SQ1.
There's more excitement to come with the Sprint at 1730 local time, in which Ferrari's Leclerc will lead the Red Bulls off the line.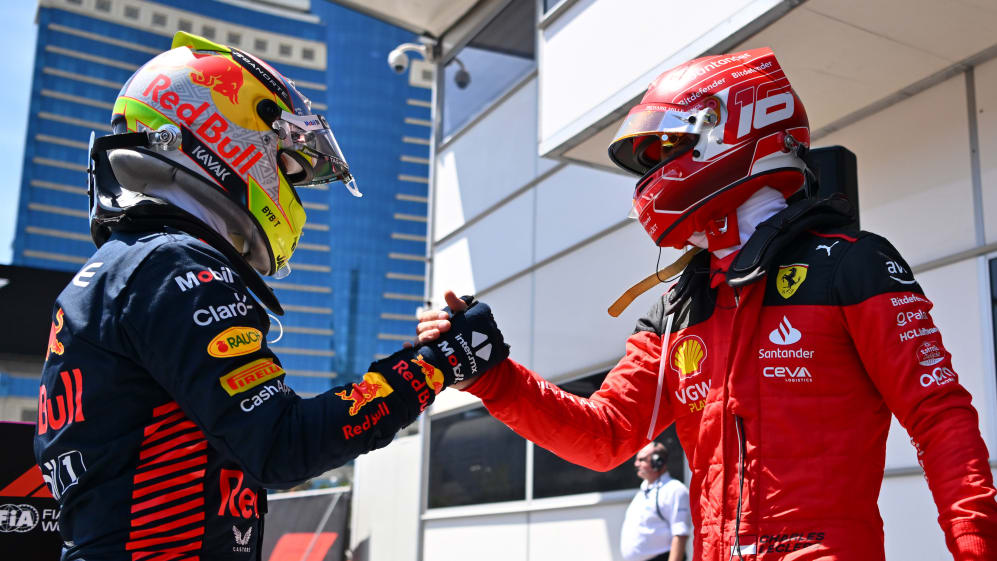 AS IT HAPPENED
SQ1 – Leclerc blazes a trail before Sargeant smashes the wall
This was truly a journey into the unknown as the first ever Sprint Shootout, that would set the grid for the Sprint dash to the line later on Saturday, kicked off. Medium compounds were mandatory for the first 12-minute segment of qualifying.
First laps in SQ1 saw Grand Prix pole-sitter Charles Leclerc return to the top of the timesheets with a time of 1m 43.372s – 0.191s ahead of Max Verstappen and nearly a second faster than Aston Martin's Lance Stroll. In the preliminary dropzone, meanwhile, sat Nico Hulkenberg, Pierre Gasly, Nyck de Vries – who crashed out of Friday's qualifying and went off at Turn 3 in SQ1 – and then the Alfa Romeos.
The session was peppered by yellow flags early on but it ended under reds when Logan Sargeant, perhaps taken aback by a Ferrari ahead of him, smashed his Williams into the barriers exiting off Turn 15. That left Leclerc top with a lap of 1m 42.820s, Max Verstappen second for Red Bull by 0.468s and Lewis Hamilton third for Mercedes by a margin of 0.741s.
The red flag left Alfa Romeo's Zhou Guanyu 16th and three-tenths off safety while team mate Valtteri Bottas qualified a provisional 17th for the Sprint. AlphaTauri's Yuki Tsunoda was audibly furious to settle for P18 having qualified eighth for the race on Sunday while Alpine's Pierre Gasly was two seconds off safety in P19 having failed to set a representative flying lap. De Vries was left last in the other AlphaTauri having had an off at Turn 3 early on in the session.
Carlos Sainz finished fourth overall ahead of Mercedes' George Russell and Aston Martin's Fernando Alonso in P6, while Sergio Perez complained of a lack of grip and finished seventh in SQ1. Lance Stroll was left eighth ahead of Lando Norris and Alex Albon, while Albon's team mate Sargeant finished 11th – but would not emerge for SQ2.
Kevin Magnussen finished 12th for Haas, Oscar Piastri brought out early yellow flags in Sector 1 with an off at Turn 3 but continued on for P13 and Esteban Ocon took P14 for Alpine. Nico Hulkenberg was last of the drivers to make it through to SQ2 in P15 for Haas, 0.334s ahead of Zhou.
Knocked out: Zhou, Bottas, Tsunoda, Gasly, De Vries
SQ2 – Verstappen comes back while Aston Martin spring DRS issues again
This 10-minute session would eliminate five more drivers and once again, medium compounds were mandatory. Drivers rushed to set times and it was Verstappen who topped the timesheets after the early laps, with a 1m 42.417s – 0.395s ahead of Leclerc and 0.508s ahead of team mate Perez. Meanwhile, Norris, Albon, Piastri and Hulkenberg – who locked up at Turn 7 – were at risk of being knocked out with four minutes left.
Verstappen did not attempt to improve on his benchmark but retained top spot as Leclerc improved to go within a tenth of the reigning champion. Sainz improved to P3 despite an off at Turn 15, while Perez ended up fourth having forgone the chance to improve on his first lap.
Alonso rounded out the top five in SQ1 and gave his team mate Stroll a healthy tow for P8 in an ingenious bit of teamwork – but it was clear that both were suffering from DRS issues as a hangover from Friday's qualifying. Between the Aston Martins were the Mercedes with Hamilton ahead of Russell. Albon took ninth for Williams and Norris took P10.
Stroll's late improvement meant Piastri was out in P11. Hulkenberg took 12th, Ocon was out in P13 for Alpine, and the other Haas of Magnussen was left 14th and almost two seconds off the pace. Sargeant's SQ1 crash left him out of SQ2 and a provisional P15 for the Sprint.
Knocked out: Piastri, Hulkenberg, Ocon, Magnussen, Sargeant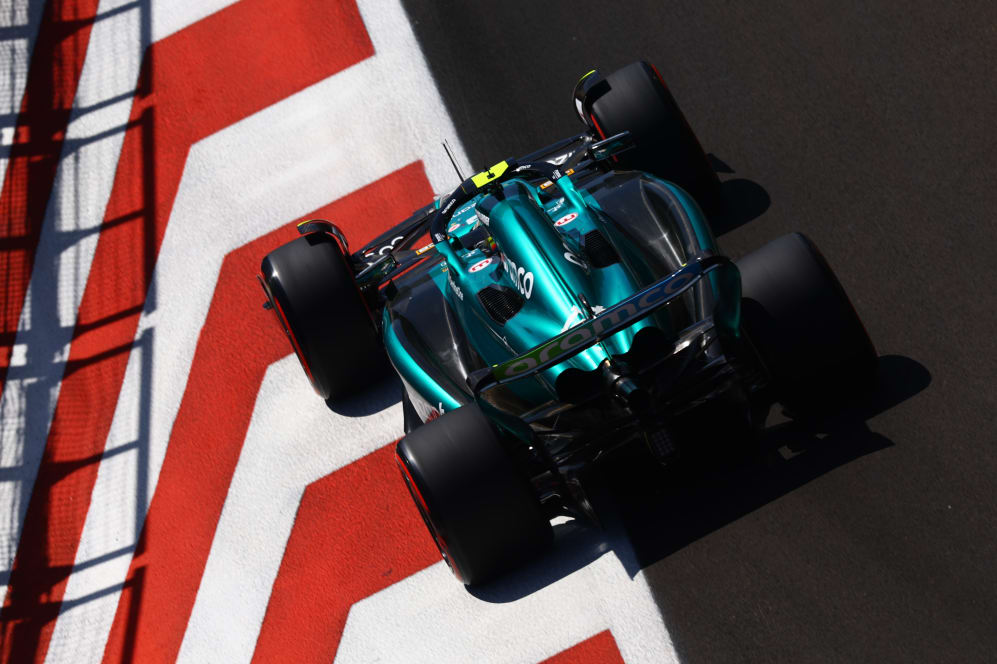 SQ3 – Leclerc takes provisional Sprint pole, then hits the wall
This frenetic and dramatic Shootout would end with eight minutes – this time drivers donning soft tyres – to set the top 10 of the grid for Saturday evening's Sprint, and it was Leclerc who set the agenda early on once again – without a tow – with a time of 1m 41.697s.
With two minutes left and time for just one flying lap, Perez, who had a tow, was 0.179s off in P2, while Verstappen was third by 0.443s having made a mistake in Sector 2. Would Leclerc improve – or be usurped?
The Monegasque added yet another twist to this captivating script as he hit the barriers at Turn 5, bringing out yellows – but Verstappen and Perez were unaffected. Perez improved, but only enough to qualify second and 0.147s off the pace. Verstappen couldn't trump Leclerc's time either and ended up 0.290s off the pace.
Russell was a surprise P4 as Sainz's final lap time was compromised by his team mate's crash, leaving the Spaniard fifth and Rusell's team mate Hamilton sixth. Albon finished seventh ahead of Alonso and Stroll with the Aston Martins hampered by a lack of DRS – and, without a new set of soft tyres, Norris sat out the session to take P10 on the grid for the first Sprint of 2023.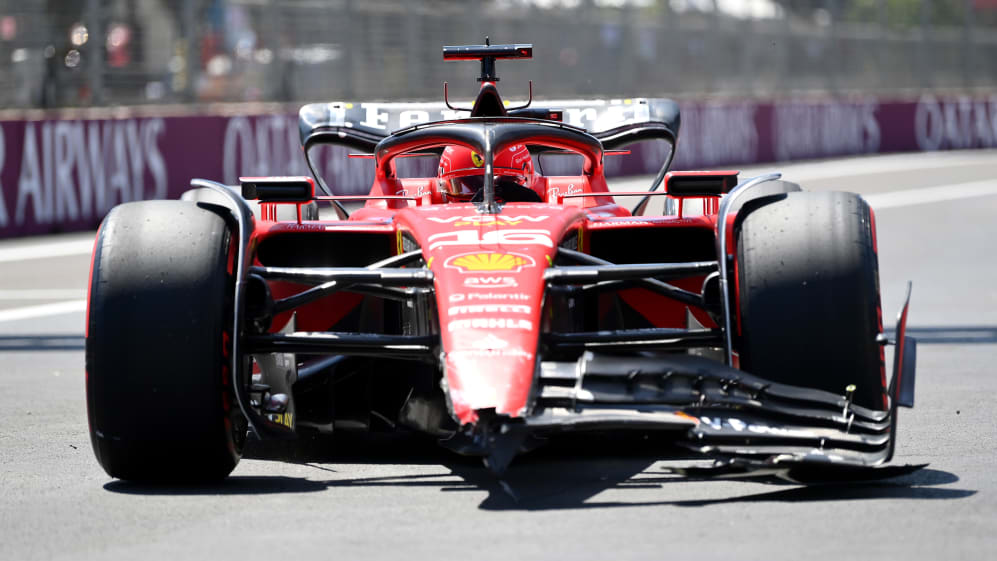 Key quote
"The rear overheated on the second lap, I tried to push a bit more to gain some lap time as I was behind my first best lap time and I lost it in Turn 5, at the end it doesn't have any consequence on qualifying," said Sprint pole-sitter Leclerc.
"I don't know about Carlos behind me, it's a shame if he was improving. But, happy with the first lap, very happy with the first lap and now we have to confirm that in the race.
"I'll do everything for it [the Sprint]. We are here for that at the end. Ferrari needs to be on top and I'll do absolutely everything to win."
What's next?
Drivers will now take a break before lining up on the grid for the 100-kilometre Sprint race at 1730 local time. Head to the RACE HUB to find out how you can catch the action.