Leclerc offers 'huge congratulations' to Verstappen as he reacts to time penalty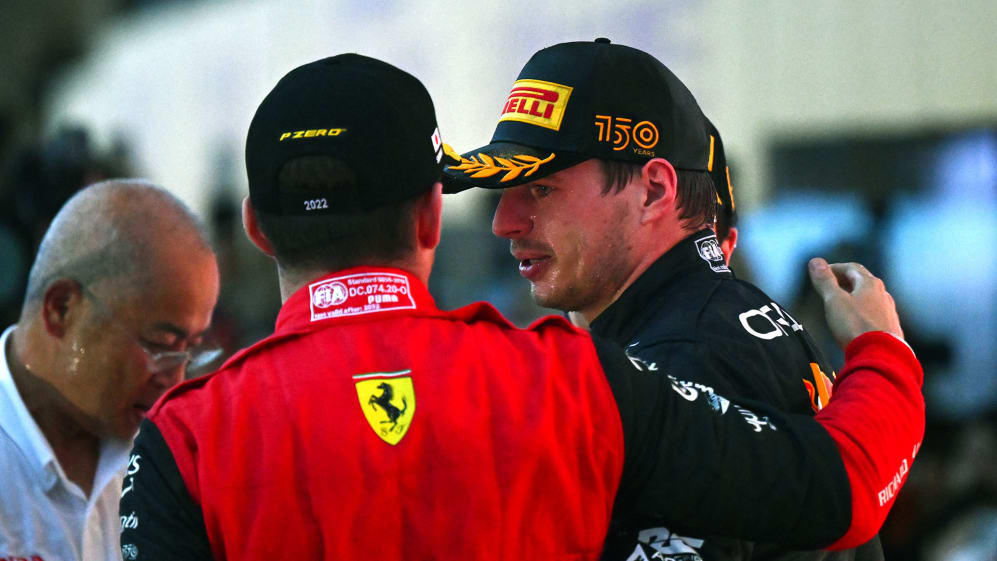 Charles Leclerc has saluted Red Bull's Max Verstappen for wrapping up his second F1 world title at the Japanese Grand Prix, which was confirmed after the Ferrari driver picked up a penalty.
Leclerc ran second to Verstappen in the closing stages of the rain-shortened race at Suzuka, looking set to delay the Dutchman's championship celebrations for another round, until Sergio Perez closed in and pushed him into a mistake.
READ MORE: Verstappen crowned world champion with Japanese GP victory after late penalty for Leclerc
Having run wide across the final chicane to take the chequered flag ahead of Perez, Leclerc was promptly given a five-second time penalty for leaving the track and gaining an advantage and demoted to third – with the points swing confirming Verstappen as champion.
"A huge congratulations to Max for his second world championship. It's obviously frustrating today, the pace was not there after four laps, but it's like this," said Leclerc, who expanded on some tyre-related struggles.
"From Lap 5 onwards, it was all downhill. [I was] really struggling with tyres; a bit like the last race, we are very strong warming up the tyre, but then after three, four laps, we just destroy them, [so] we struggled this time."
Asked for his thoughts on the penalty handed out by the stewards, he added: "I don't have much to say. I wasn't aware it was the last lap. A five-second penalty was the right decision, to be honest."
READ MORE: Verstappen left feeling 'very emotional' as he becomes two-time F1 title winner
Leclerc's attentions have now switched to maximising the final four races of the season and adding to his victories in Bahrain, Australia and Austria, before regrouping for another assault on the championship in 2023.
"Exactly, that's the goal. I think Max's title this year was just a matter of time, really – we expected him to win the title. Now we need to use those last races in order to become a better team and hopefully put in a bit more of a challenge next year," he signed off.