Leclerc says Q3-ending mistake was 'not acceptable' as he qualifies P7 in Miami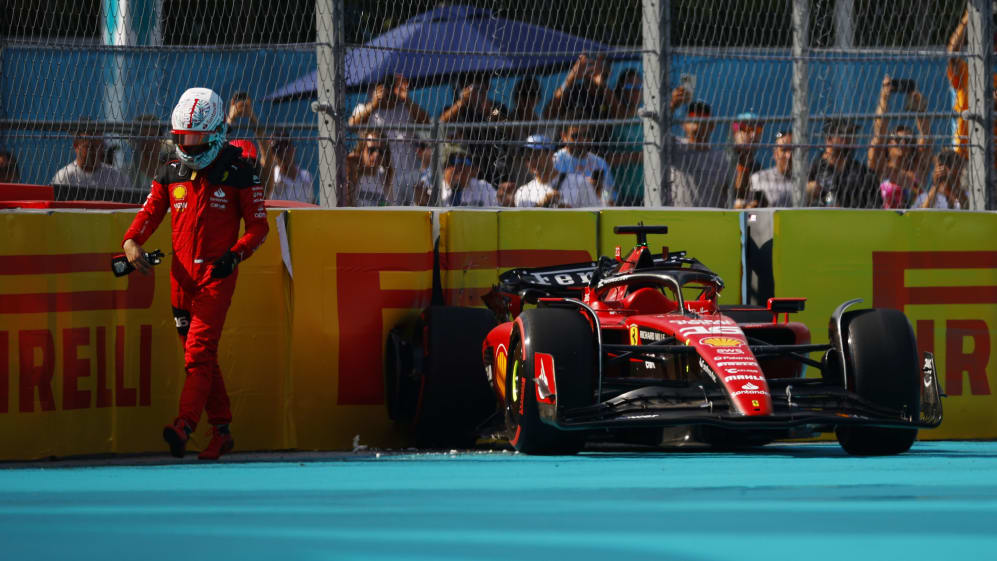 Ferrari's Charles Leclerc refused to offer excuses for his spin at the end of Q3 in Miami, which left him a provisional seventh on the grid for Sunday's race – while Max Verstappen and Valtteri Bottas were prevented from improving by the resulting red flag.
Leclerc went off the track at Turn 4 and into the barriers with two minutes left of Q3, which led to a red flag and a premature end to qualifying. That left Red Bull's Sergio Perez on pole for Sunday's race while team mate Verstappen was ninth having failed to set a representative lap and, similarly, Alfa Romeo's Bottas was left 10th.
READ MORE: Leclerc spin leaves Perez in pole and Verstappen starting P9 for Miami Grand Prix
Conditions were tough in Q3 thanks to strong winds, but Leclerc said: "This is not an excuse. It's difficult for everybody. So two days, two mistakes, same corner. So yeah, this is not acceptable and, yeah, I'm always very harsh with myself and today was just not good."
Alluding to a similar incident in which he locked up at the same corner in FP2 on Friday, he added: "I know I'm really good in qualifying, most of the time I manage to extract the absolute maximum out of the car, but again, it's the same mistake as yesterday.
The Monegasque driver, who took pole for the Sprint in Baku plus pole for the Azerbaijan Grand Prix, said there was "no point" guessing where he could've ended up in qualifying at Miami.
"The lap before was really good until the lock-up [in Q3] but again, doing good laps is good but you need to finish them and today I didn't finish them in Q3, so there's no point saying it was a good lap until then," he said.
Leclerc's team mate Carlos Sainz took P3 on the grid but said he was left wanting more, perhaps even pole position, after a "sweet and sour" result.
READ MORE: Perez relieved to take Miami pole after enduring 'worst weekend up to qualifying'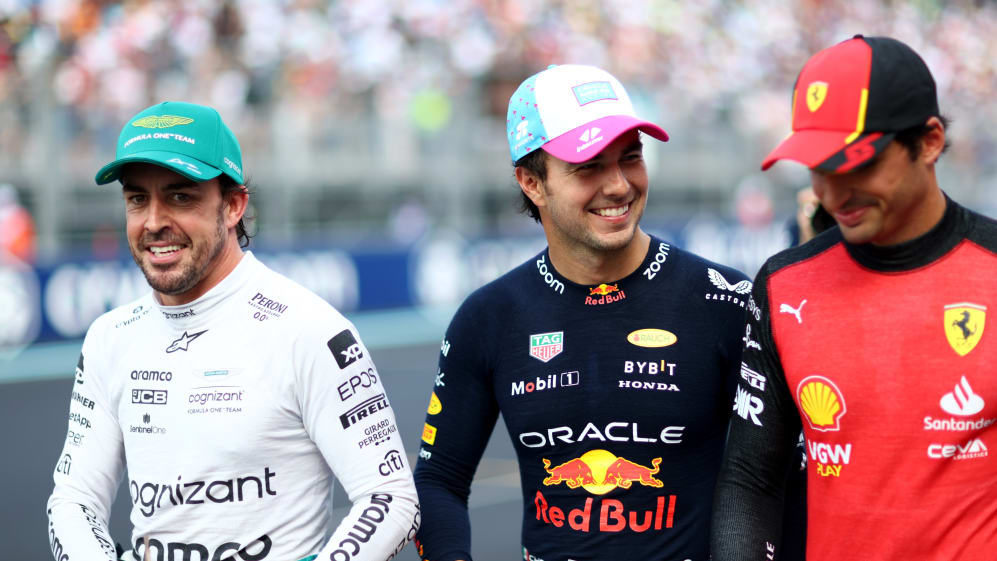 "I could've gone after Checo in quali, I think, with a clean lap; in the race I think the Red Bull is just too superior, so it leaves me with a sweet and sour feeling that today we could have maybe… thought about putting it on pole, but in the end probably all the drivers have the same feeling," said the Spaniard.
HIGHLIGHTS: Watch the qualifying action from Miami as Hamilton drops out in Q2, Leclerc crashes and Perez takes pole
"For sure, the lap time that we extracted from the car today was not the maximum and there was definitely a lot more to come in that second lap of Q3… but yeah, today and this whole weekend it's been a much better weekend and I feel back on the pace. It confirms that Baku is the outlier and I am happy," said Sainz.
Sunday's Miami Grand Prix sees a mixed-up grid with six different teams starting in the top six ahead of Leclerc – and a significant chance of rain.