Report
Leclerc takes pole position for the 2022 Italian Grand Prix with Russell to join him on front row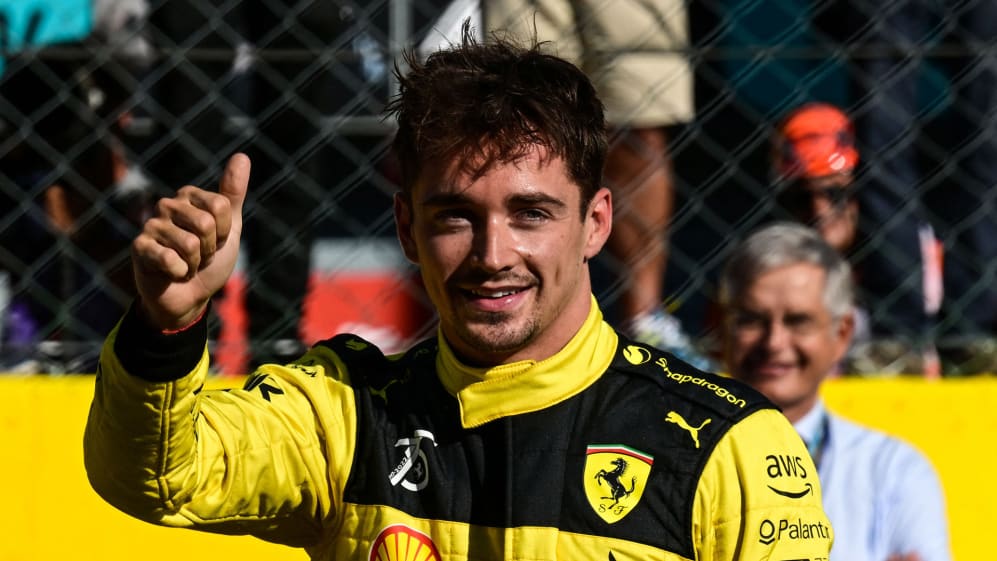 Charles Leclerc took pole position in qualifying for the 2022 Italian Grand Prix ahead of Max Verstappen and Carlos Sainz, both of whom will drop down the order once grid penalties are applied, as George Russell jumps up to the front row.
Leclerc's time of 1m 20.161s put him on pole by 0.145s over Red Bull's Verstappen, while Sainz was 0.268s off his team mate in P3. Verstappen has a five-place penalty, however, while Sainz will drop to 18th. While Sergio Perez qualified fourth for Red Bull, he will drop 10 places – with fifth-place qualifier Lewis Hamilton to drop to the back row alongside Yuki Tsunoda.
Therefore, Russell will start second despite qualifying sixth. McLaren's Lando Norris qualified seventh to guarantee a second-row start, while Daniel Ricciardo is set to be promoted after qualifying eighth. Fernando Alonso did not set a time for Alpine in Q3, but will be promoted behind AlphaTauri's Pierre Gasly.
This tweet has been removed from Twitter
Esteban Ocon lost out on the top-10 shootout in P11, ahead of Alfa Romeo's Valtteri Bottas. Substituting for Williams' appendicitis-struck driver Alex Albon, Nyck de Vries finished 13th in his first F1 qualifying but is set for a top-10 start on his debut.
Esteban Ocon and Valtteri Bottas finished 11th and 12th before their respective five and 15-place grid penalties kick in. Zhou Guanyu qualified 14th and will also be promoted ahead of Ocon and Bottas – but having sat out Q2, back-of-grid starter Tsunoda will drop to P20 for Sunday's race.
As Alfa Romeo's Bottas snuck out of Q1, Nicholas Latifi managed a pre-penalty promotion 16th ahead of Aston Martin's Sebastian Vettel, with Vettel's team mate Lance Stroll taking 18th in Q1. The Haas drivers rounded out the qualifying results, with Kevin Magnussen 19th and Mick Schumacher 20th – that pair to start 16th and 17th as Sainz, Hamilton and Tsunoda drop to the back of the grid.
Will Leclerc win the 2022 Italian Grand Prix from pole position, or will we witness a recovery drive from one of the nine penalised drivers at Monza? The race is set to begin at 1500 local time on Sunday, with live coverage and breaking news on F1.com.
AS IT HAPPENED
Q1 – Verstappen heads the field as De Vries makes it through to Q2
Almost half the field emerged for Q1 in the knowledge that they'd be dropping down the grid thanks to a bevy of engine, gearbox and reprimand-related penalties. Qualifying order would still be significant, as would the chance for drivers to help their team mates with that coveted tow around the Temple of Speed in Q3.
With time for one last run, Sainz had helped Leclerc around the track to cross the line with a time of 1m 21.280s, the Spanish driver going 0.068s slower after the first runs had been completed in Q1. But Verstappen eclipsed that with a 1m 20.922s, leaving the Ferraris behind in P2 and P3, and team mate Perez fourth – over half a second off – as Russell rounded out the initial top five.
Ricciardo then sat on the bubble in P15 as Magnussen, Bottas, Stroll, Schumacher, and Vettel were at risk of elimination, the four-time champion reporting an issue in his cockpit as he rounded the track for a provisional P20 before grid penalties kicked in.
The top four remained unchanged as the Red Bulls and Ferraris stayed in their boxes, while Russell stayed in P5 ahead of improving Alfa Romeo driver Zhou. Gasly and Tsunoda were next on the board in seventh and eighth, respectively, then Hamilton in P9 for Mercedes and Alonso rounding out the top 10 for Alpine.
Grid penalties for the 2022 Italian Grand Prix
| DRIVER | PENALTY |
| --- | --- |
| Max Verstappen | 5 places |
| Esteban Ocon | 5 places |
| Sergio Perez | 10 places |
| Mick Schumacher | 15 places |
| Valtteri Bottas | 15 places |
| Kevin Magnussen | 15 places |
| Carlos Sainz | Back-of-grid |
| Lewis Hamilton | Back-of-grid |
| Yuki Tsunoda | Back-of-grid |
McLaren's Norris took P11 and Ricciardo P12, leaving Ocon 13th for Alpine. In his maiden F1 qualifying session, Williams' stand-in De Vries managed P14 to make it to Q2, with Bottas rounding out the top 15.
That left Latifi out in 16th for Williams, the Canadian eliminated by over two-tenths to Bottas. Next up were the Aston Martins – an incredulous Vettel 17th and his team mate Stroll 18th – while a disappointed Magnussen took 19th with a couple of lap times deleted in Q1. Haas team mate Schumacher rounded out the provisional top 20.
However, grid penalties will see all five Q1 eliminations move up the grid, with Sainz, Tsunoda and Hamilton to start at the very back – Magnussen and Schumacher starting ahead of those by virtue of their 15-place grid penalties.
Knocked out: Latifi, Vettel, Stroll, Magnussen, Schumacher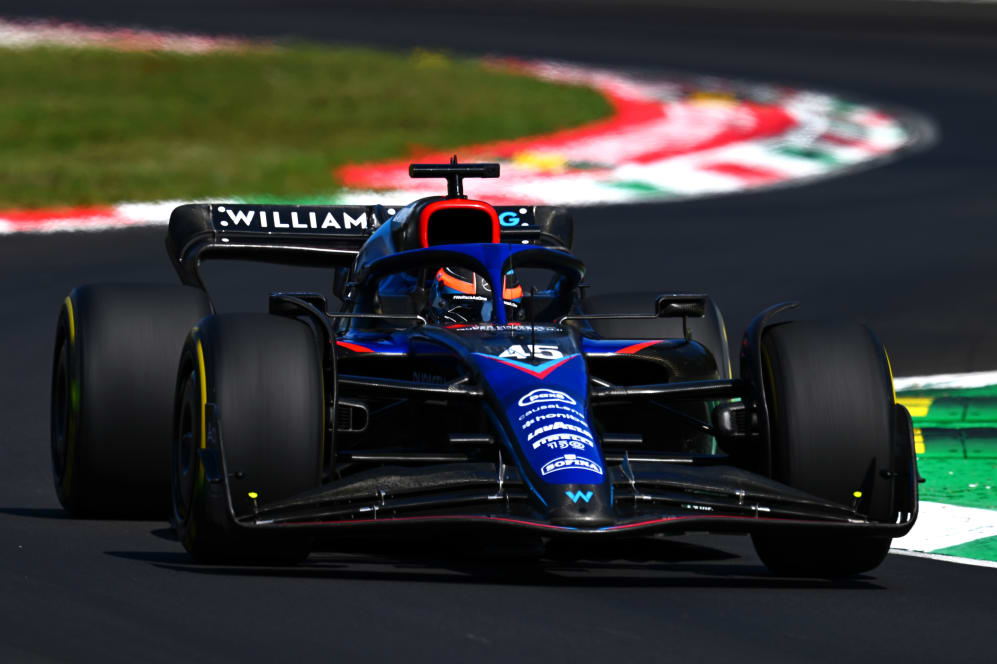 Q2 – Ferrari eclipse Red Bull as McLaren and Mercedes follow in formation
Verstappen headed out first to lead a trundling train of cars in Q2, the Dutchman – with a five-place penalty to his name – on a used set of softs, with the Scuderia drivers following suit. After the first runs, Sainz was top with a time of 1m 20.878s, 0.330s ahead of Leclerc, who lost time at Ascari. The Red Bulls were third and fourth, Verstappen 0.387s off the pace and Perez another 0.093s back.
With Norris in P10, at risk of elimination were the Alfa Romeos, Williams' De Vries, McLaren's Ricciardo and AlphaTauri's back-of-grid starter Tsunoda, who would ultimately sit out the session anyway.
De Vries led the customary train of cars out – neither Red Bull nor Ferrari leaving for a second run – and the Dutchman had to rescue a snap of oversteer and skipped over Turn 4, ruining his lap and seeing him exit Q2 in 13th.
Mercedes ended with Hamilton fifth and Russell sixth in Q2, ahead of Norris then Ricciardo for McLaren. Alonso made it to Q3 in P9 but his team mate Ocon was eliminated in P11. Splitting the Alpines, Gasly made it through to Q3 in P10.
Bottas slotted in P12, between Ocon and De Vries, while the other Alfa Romeo of Zhou ended the session 14th ahead of Tsunoda – the Japanese driver to start at the very back behind Sainz and Hamilton. As for Bottas, his 15-place penalty will see him start ahead of the Haas drivers and behind Ocon, who only has a five-place drop.
Knocked out: Ocon, Bottas, de Vries, Zhou, Tsunoda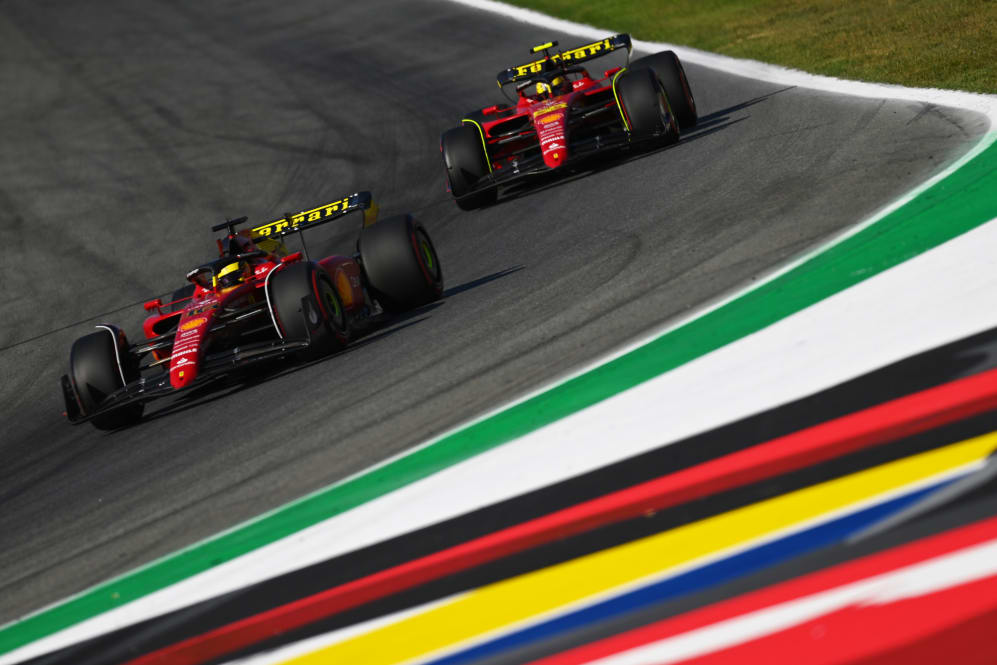 Q3 – Leclerc lights up the Temple of Speed
Norris led the field out for Q3, with Russell getting a slipstream off Hamilton at the very back of the queue. Ferrari emerged in tandem too, but with Leclerc (no penalty) towing back-of-grid starter Sainz.
Sainz led after the first runs had come in, the Spaniard flying to P1 with a time of 1m 20.584s to leave Leclerc 0.386s off in P2. Verstappen was another 0.275s behind, leaving Perez a further half a second back in P4.
"The tyres are just nowhere, sliding everywhere," said Russell as he managed P5 ahead of Norris, while Alonso aborted his run and was P10.
The hum of wheel guns and air blowers provided the soundtrack before Alonso broke the relative silence with three minutes remaining, Perez following him but jumping the queue, the Alpine driver therefore getting what would have been a valuable slipstream off the Red Bull.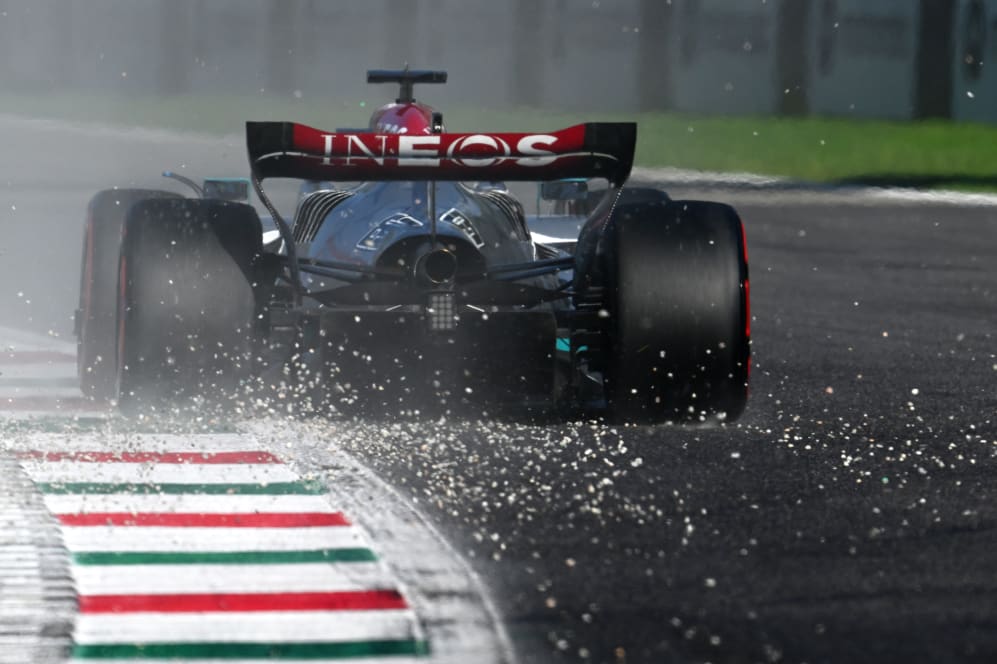 The roar of applause could signal only one thing: Leclerc crossed the line and, with a time of 1m 20.161s, he secured pole position in a Ferrari for the 2022 Italian Grand Prix. Verstappen was left 0.145s in P2 but will fall down the grid thanks to his five-place penalty, while third-place qualifier Sainz will drop to P18.
Perez qualified fourth but will start outside the top 10 behind Zhou and De Vries. As for Mercedes, Hamilton finished fifth but will start 19th behind Sainz; Russell finished sixth but will start second. As his reward for P7, Norris will be promoted to the second row, with team mate Ricciardo also to enjoy a promotion having taken P8 on Saturday.
Gasly finished ninth in Q3 while Alonso rounded out the top 10 without a time – both drivers to be jumped up the order when penalties are confirmed.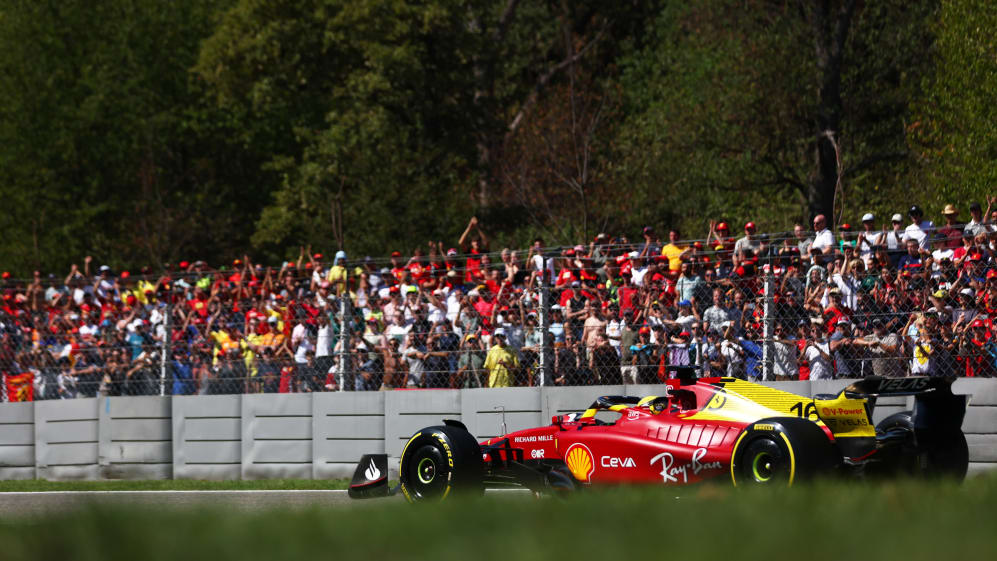 Key quote
"It's amazing, it wasn't an easy qualifying session," said Ferrari's pole-sitter Charles Leclerc. "I knew that there was quite a bit of potential in the car but didn't put everything together. I knew that in this last lap in Q3 I had to put everything together and I managed to do it.
"So, very happy with the lap, very happy with the performance, it's been a great weekend until now. The feeling in the car is amazing and I really hope that we can do just like 2019 tomorrow."
What's next?
The 2022 Italian Grand Prix is set to begin at 1500 local time on Sunday, with Leclerc on pole and Russell following off the front row. Head to the RACE HUB for more.