Feature F1 Unlocked
LIGHTS TO FLAG: Coulthard on replacing Senna, dealing with Ron Dennis, and racing against Hakkinen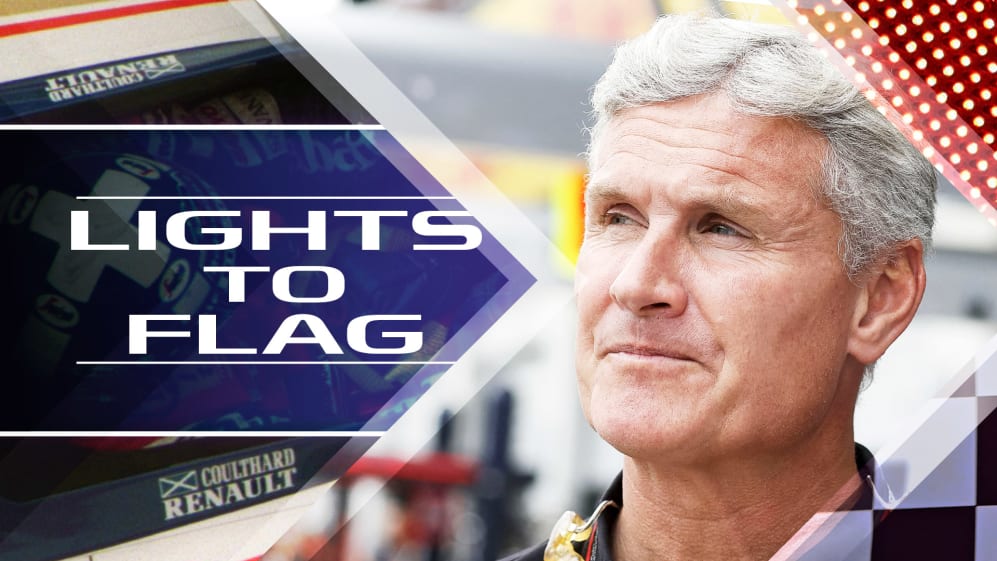 Lights To Flag explores the ups and downs of a Formula 1 driver's career, and crucially, how F1 shaped their post-F1 life. This month, David Coulthard explains how he went from growing up in a village in Scotland to stepping in for the late Ayrton Senna at Williams, racing alongside Mika Hakkinen at McLaren, sowing the seeds for Red Bull's title success – and then starting a television production company using what he learned from Formula 1…
A one-track mind
From the tiny Scottish village of Twynholm, near the border with England, David Coulthard would take his karting seriously as a child. He remarks, simply, that there was nothing else to focus on.
"I had desire, I had focus, it was my everything. I didn't grow up with the generation of mobile phones and social media and gaming and the likes. It was karting, and racing – or I was going to work in the family transport business."
But his family isn't from a racing background. They ran a transport company that would provide the capital for Coulthard's junior motorsport endeavours – and a back-up career if racing fell through.
"So, it was very clear: it was one or the other. If you have such clarity of thought, you're not distracted.
"And I think what gave me an advantage over some of my peers at that time was not my speed or my talent, because I'm just one of a number of guys who can drive a race car quickly, I was never the exceptional Senna, Schumacher, Hamilton, Verstappen – I was never in that league – but I think my work ethic and clarity of thought gave me an advantage over some people with maybe a bit more talent who were potentially, let's say, more exposed to distractions."
LIGHTS TO FLAG: How 1979 F1 champion Jody Scheckter 'hustled' his way to F1 and ended up farming
Coulthard would progress from karts to Formula Ford, winning the McLaren/Autosport Young Driver of the Year award, and – after a cameo in the British Touring Car Championship – sign for Paul Stewart Racing in 1991, finishing behind Rubens Barrichello in the British Formula 3 series.
With Paul Stewart and McLaren, Coulthard would forge important relationships for the years ahead…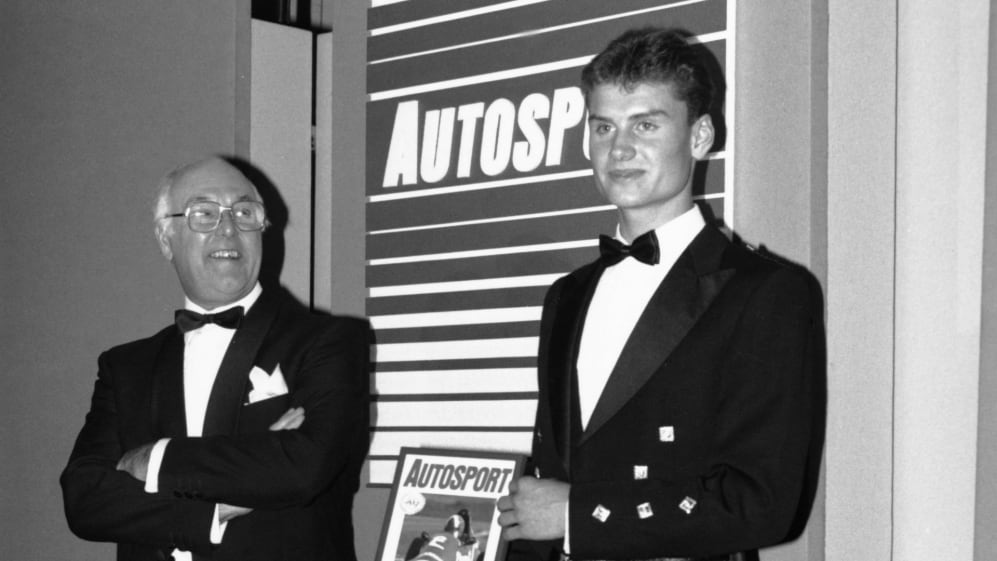 The cheque from Sir Frank Williams
Two seasons of International Formula 3000 – 1992 and 1993 – proved to be formative years for Coulthard but, as the Scotsman says, that was the most difficult time in his career. He reveals that his father had taken on significant debt to support him on the road to F1.
"The difficult period came at the end of '92 because I'd been with Paul Stewart Racing [PSR], which then became Stewart Grand Prix, became Jaguar and then Red Bull, and a lot of the guys I'd actually worked with [after joining Red Bull] had been at PSR back in the day.
"When I went to Pacific Racing [in 1993], then I really took my family support of the transport business to the limit of what they could financially support. And my father had secured an overdraft with the bank that supported the transport company."
READ MORE: Sir Frank Williams, 1942-2021 – F1's champion-maker remembered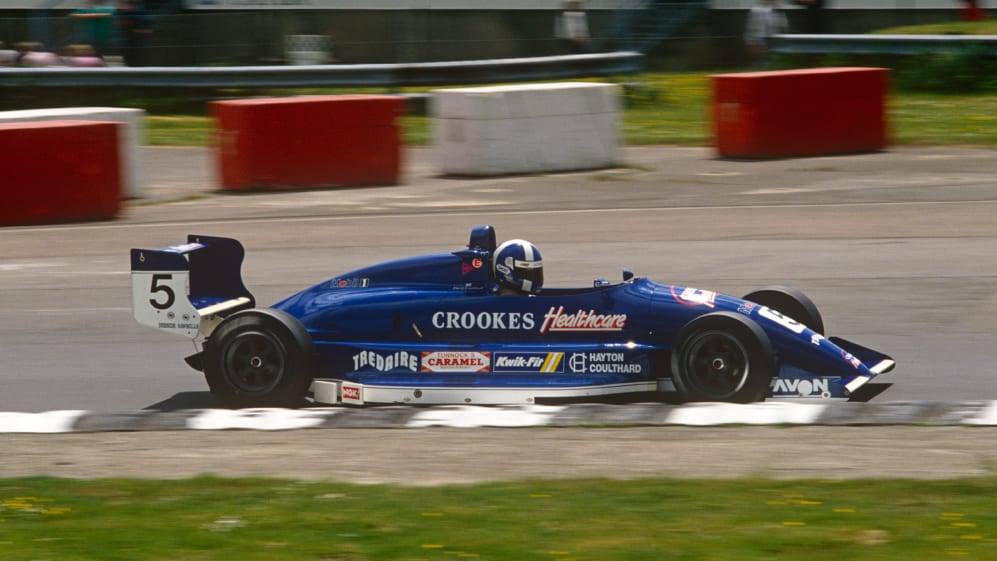 After his family had taken considerable debt to fund his career, Coulthard was helped by Ron Meadows – now Mercedes' Sporting Director – to put together a drive with the Vortex Formula 3000 team, with his best race coming at Silverstone 1994, the same weekend that Ayrton Senna was killed at Imola. Already on the books as a test driver for Williams, Coulthard impressed in that role and would go on to make his F1 debut in the 1994 Spanish Grand Prix, as Senna's replacement.
READ MORE: Memories of Imola '94
"Thereafter never needed to worry about finding money for the next race – which we never had – because I got promoted to being the race driver," he says.
"My first year's salary at Williams was £500,000 and I went to Sir Frank Williams and I said, 'Can I have an advance of £320,000?' and he asked why, and I explained... and one of the things that I admire about Frank, above all the other great things he did for me and other young drivers, is that he immediately wrote a cheque for £320,000 and I took that cheque – the secured bank loan or overdraft – which meant my parents no longer had anything hanging over them.
"I had that financial debt in my mind – and it became even more important that I made it as a driver. I could never have wanted or wanted to imagine that Ayrton would be killed – but circumstance dealt me that hand and that hand was then what led to a 15-year career in Formula 1."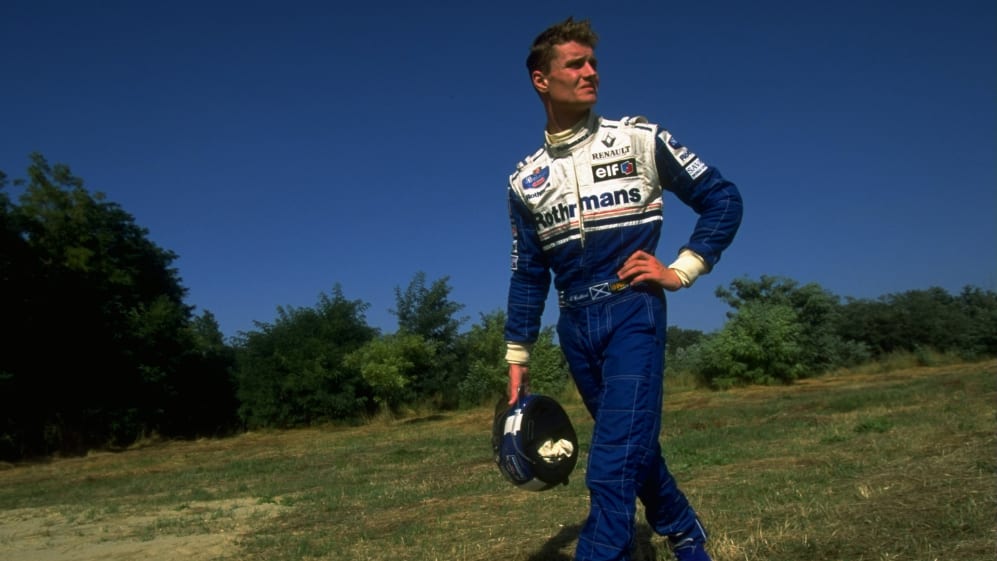 Following in Senna's footsteps
But the next task Coulthard faced in 1994 was replacing Ayrton Senna at Williams. How would he characterise that job, looking back?
"Impossible," is his summary. "Because he [Senna] was the best, if not one of the truly best drivers in the history of the sport, so I could never replace him as a driver, but having worked with him and spent time testing with him, what I realised was he was incredibly supportive of me and that's why I got the drive, because he saw in me a work ethic and commitment.
"[I'd be] sitting in the Williams, looking over at the garage and seeing Ayrton sitting in the Williams and going, 'life does not get any better than this. Here I am, childhood fan of Formula 1, I'm sitting in the same car as one of the best drivers, if not the best driver.' As an individual that's a pinch-yourself moment."
READ MORE: 'He was walking on water' – Senna's magical Donington 'Lap of the Gods' remembered by his fellow drivers
Coulthard competed in most of the remaining rounds of 1994 – bar the four that saw Nigel Mansell make an unexpected comeback – when Williams took the constructors' championship, but Damon Hill just missed out on the drivers' title after that infamous clash with Michael Schumacher at the final race in Australia.
A contract dispute soon erupted as Coulthard signed with McLaren in November, but the Contract Recognition Board ruled that Williams had a binding option to keep him on in 1995. That season, Coulthard would take his first win for Williams at Estoril – using some crucial advice from Senna.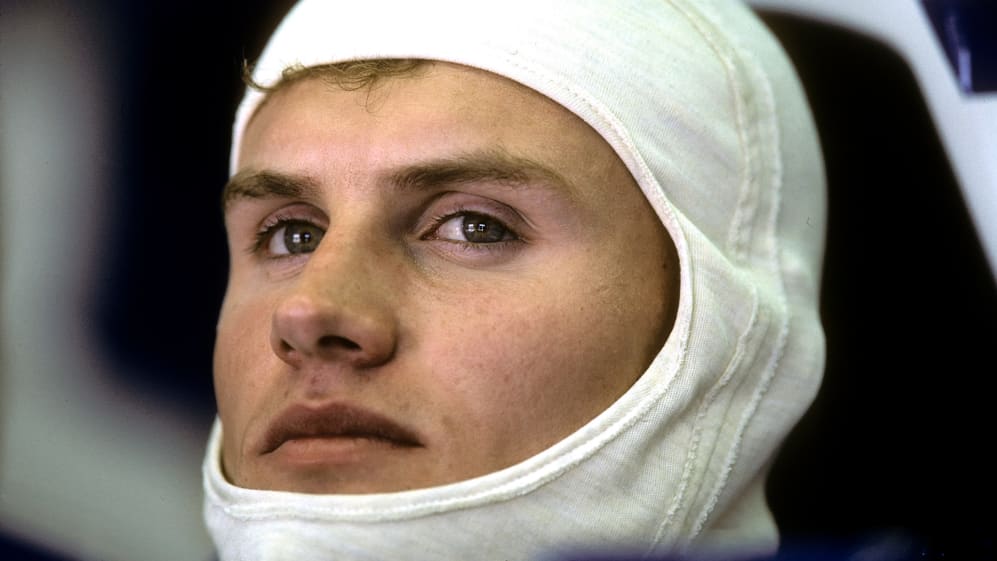 "He offered advice, just small things, things I thought were silly. Like he'd say, what do you do for your breathing?
"And I was like: 'What do you mean?'
"'Do you remember to breathe?' he asked.
"I replied: 'Well, I've never thought about it.'
"'Let me assure you', he said, 'When you do your first Grand Prix you'll be out of breath like you've never been before: Always remember, when you get on the straight, release your hands and [breathe in deeply]'," says Coulthard as he gestures.
UNDERDOG TALES: When Senna took the F1 paddock by storm with Toleman and made Monaco's streets his own
"Fast-forward to Estoril '95, it's my 21st Grand Prix, I have Schumacher behind me, I've got a three-stop strategy, he's right up my gearbox, I look at my pit board thinking I must be on Lap 25 or something; it was Lap 3.
"And I'm hyperventilating. And I remembered Ayrton saying 'remember to breathe,' and it calmed me down. It's such a simple thing, but when you're so in the moment of driving a Grand Prix car and you're being chased by a driver it's so easy to forget."
In 1996, Coulthard would finally make that move to McLaren – with Mika Hakkinen already there and well ensconced in the team.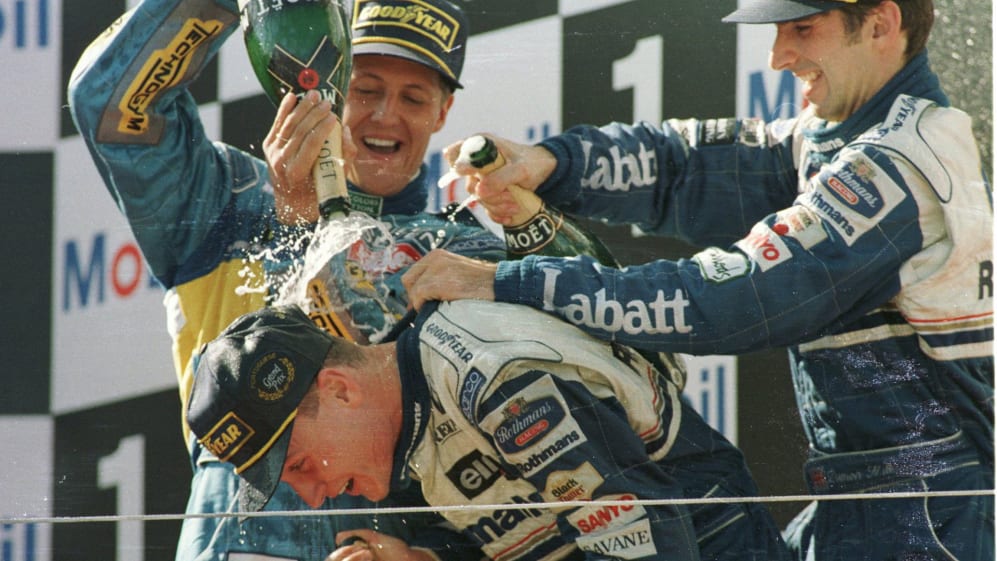 Dealing with Dennis
At McLaren in 1996, Team Principal Ron Dennis – a stoic, unflinching and fearfully focused character by so many accounts – seemed to have a favourite side of the garage.
"Do I think I got a fair crack of the whip at McLaren?" asks Coulthard. "From the team, 100%, in terms of machinery, 100%. Emotionally from Ron? It took quite a long time, maybe three, four years of my relationship there, and I was there for nine seasons, for Ron to acknowledge that he did give a little bit more arm round the shoulder to Mika because he'd been in the hospital with him [after Hakkinen's life threatening accident at Adelaide in 1995], seen the tubes – he was sort of a father figure to him.
He [Mika] is one of the truly great racing drivers in Formula 1, who probably retired too early – maybe as a legacy of his accident in '95 that left him close to death, quite literally
"If this was the engineering office," he explains, pointing around a meeting room, "that's Mika, and this is me, Ron would walk in the office, and this happened in the beginning, and I'd instinctively get up – he's the boss – to shake his hand, and he wouldn't look, he would walk round and he would sit up next to Mika and his engineers and go: 'What are we doing?'
"And then I'd watch them talk about what they were doing and then he'd say, 'What are they doing?'. I was they."
Coulthard says that he felt vindicated when team boss Dennis admitted that he did view Hakkinen's side more favourably.
"And as soon as Ron told me that, it took away this nagging doubt because it was an admission that I wasn't crazy. When he explained it to me, it made rational sense, and therefore I could just focus on driving the car."
ALTERNATIVE HISTORIES: What if Hamilton hadn't joined Mercedes?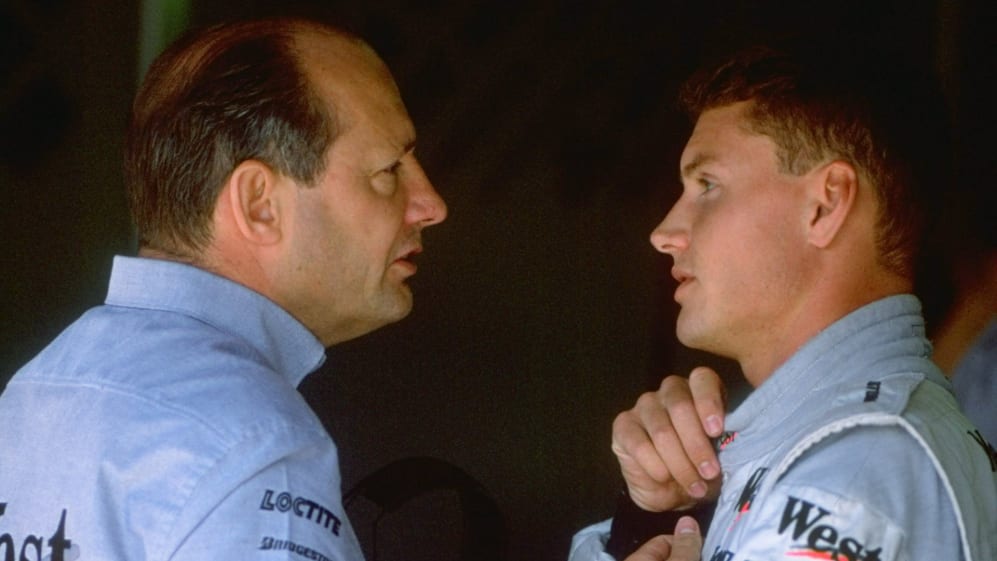 Jerez '97, when Coulthard was asked to move over for Hakkinen to allow the Finn to get his first win, was a shock too: "I knew nothing about that," he says.
"If I was then to dial down into a regret, my regret would be moving over in '97, at Jerez. It was never agreed and after 20 laps of negotiating, I got pressured into moving over. What I should have done, is said, 'We didn't agree this, this is unacceptable, we'll discuss it after the race'. But I didn't.
"It was, let's say, not the most elegant period for Formula 1 in what they did but that probably would have shaped my period in the team in a different way. But I was a village boy, I was quiet, shy and respectful – I've kind of grown out of that now at 51 – but back then that defined my role in the team."
While Hakkinen would notch two championships and 20 wins with McLaren, Coulthard would take 13 wins but miss out on the drivers' title. Regardless, he speaks favourably not only about the Flying Finn, but Dennis too.
"In the end of the journey it's all good; during the journey he [Ron] was learning how to be a Team Principal for two young drivers because previously he'd worked with Prost, Senna, Lauda, and guys that were of a similar age [to him]. Suddenly, he's got two young children working for him and we've got different emotional needs and what have you.
"I think he became more aware of how he treated people after that, because Ron was a very divisive character.
PODCAST: Mika Hakkinen on Schumacher, Senna and recovery from injury
"I think Mika's a wonderful human being, I think he was one of the fastest racing drivers in Formula 1 – I don't say that because he was my team mate – I say that just by observing the way he drove, and if you just look at his battles with Michael [Schumacher], I think Michael was let's say, technically more engaged with the team, more physically on top of his form; I think Mika was a more natural talent who did enough away from the track to be prepared.
"But I have a relationship and friendship with Mika today that will endure because we went through a range of emotions in those seven years: The highs of success, the lows of crashing into each other, the disappointment of not having a good car in certain seasons, so I think that to me, he is one of the truly great racing drivers in Formula 1, who probably retired too early – maybe as a legacy of his accident in '95 that left him close to death, quite literally."
A Scotsman scorned…
Coulthard would learn, towards the end of 2004, of his own impending departure from McLaren to make way for Juan Pablo Montoya.
"I wasn't ready to stop. I'd done 11 seasons in Formula 1 and McLaren had decided to go with Montoya. He'd only lasted one year; I managed nine – he was a much more prickly character so he would never really have worked within the system, but like Ron thought he could tame Nigel Mansell, he thought he could tame Juan Pablo. It didn't work out.
PODCAST: Juan Pablo Montoya on driving for Helmut Marko, beating the Schumachers and why he quit F1
"I wasn't done. And I remember seeing Martin Whitmarsh [then McLaren Racing Chief Executive Officer], at the end of the season, they had this thing called Stars and Cars at Stuttgart that Mercedes used to put on.
"Martin Whitmarsh jokingly said, 'On your bike'. And that just really pricked a nerve with me because I always dealt with Ron pretty much; I never really dealt with Martin.
"And I said: 'I'm not finished in Formula 1, and I'm going to take the best engineers from McLaren with me'."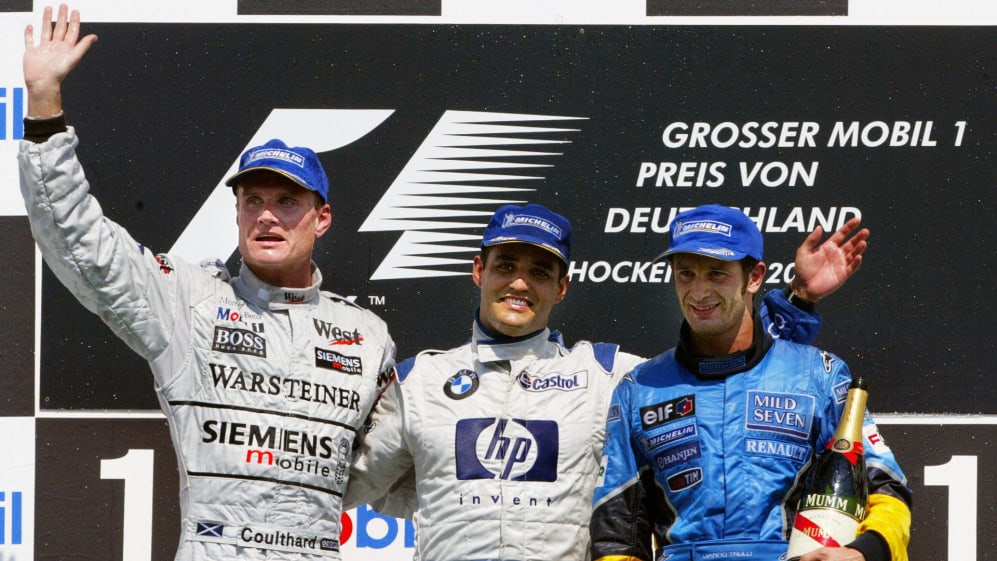 Coulthard was negotiating his future with Jaguar, who became Red Bull in 2005, and then he met with Red Bull boss Dietrich Mateschitz. He was now on a mission to lure McLaren's legendary designer Adrian Newey to his new employers.
"So, what we did, Christian [Horner, Red Bull Team Principal] and I went and did a private meeting in London with Adrian at the Bluebird Cafe, the Donald Campbell one on King's Road, and then we got him to come over to Salzburg to meet with Dietrich, and that's how we got him to see the world of Red Bull and understand the commitment.
BEYOND THE GRID: Christian Horner on masterminding Red Bull's return to the top
"I feel proud that I was able to play a part in facilitating bringing him to the team and then I could go to Martin Whitmarsh and say, 'I told you so'.
"I think one of the key elements of success for Christian is that he's been able to maintain Adrian in the team while building other great engineers and mechanics, and that's why they consistently deliver.
"They don't always get it 100% but they get it right more often than not. A Scotsman scorned is something you have to be careful about…"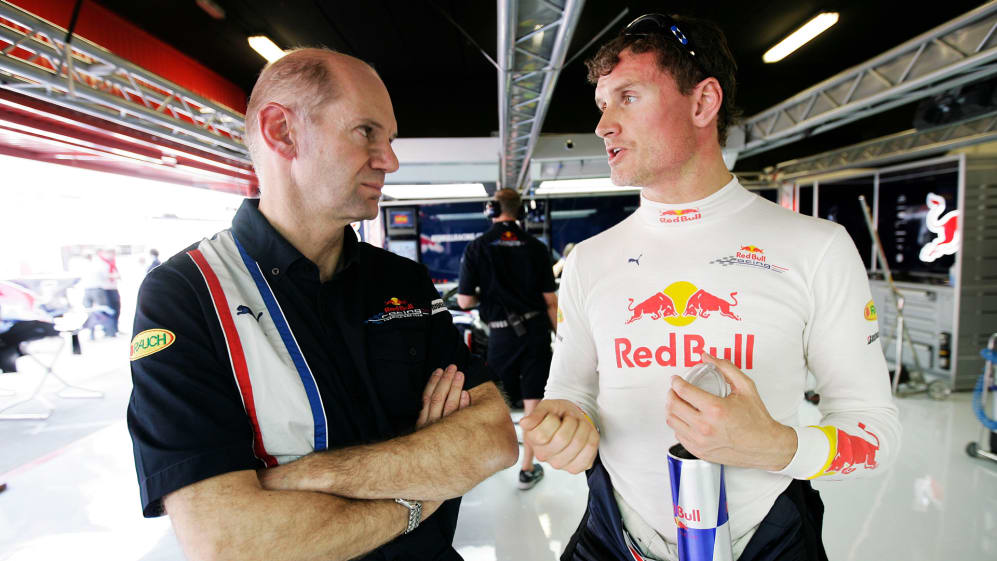 Red Bull and retirement
Coulthard would score points with Red Bull in 2005 but reliability would prove to be more of a bugbear in the following seasons, and although he took a podium at Monaco in 2006 – and another in Canada in his final season in 2008 – the Scot says his legacy at the team revolves around planting seeds for their success.
"I put in more work that I even thought could be possible to build the foundations of the team," he says.
He also takes some credit for pushing Red Bull to call up then-Toro Rosso driver Sebastian Vettel from the junior team.
READ MORE: From Monza magic to press conference laughs – Our writers pick their favourite Vettel moments
He told me it was like a turkey voting for Christmas
"I do feel part of that transition because when I retired at the end of 2008, I'd actually been testing in Barcelona, and I hurt my neck – just usual pre-season stuff, you know, go over a kerb… and I remember phoning Christian, and Sebastian was with Toro Rosso at that time, and I said: 'I can't drive for the rest of the day, why don't we get Seb in my car because you've been looking at him for the future and clearly, he's the coming man'.
"And I remember my manager at the time was Martin Brundle, and later that day I explained to him I wasn't driving; it was Seb in the car. And he told me it was like a turkey voting for Christmas. Because, obviously, you've got a young guy in the car. But I didn't see it like that; I saw it was my journey coming to its conclusion."
So, why did Coulthard call time on F1 at the end of 2008?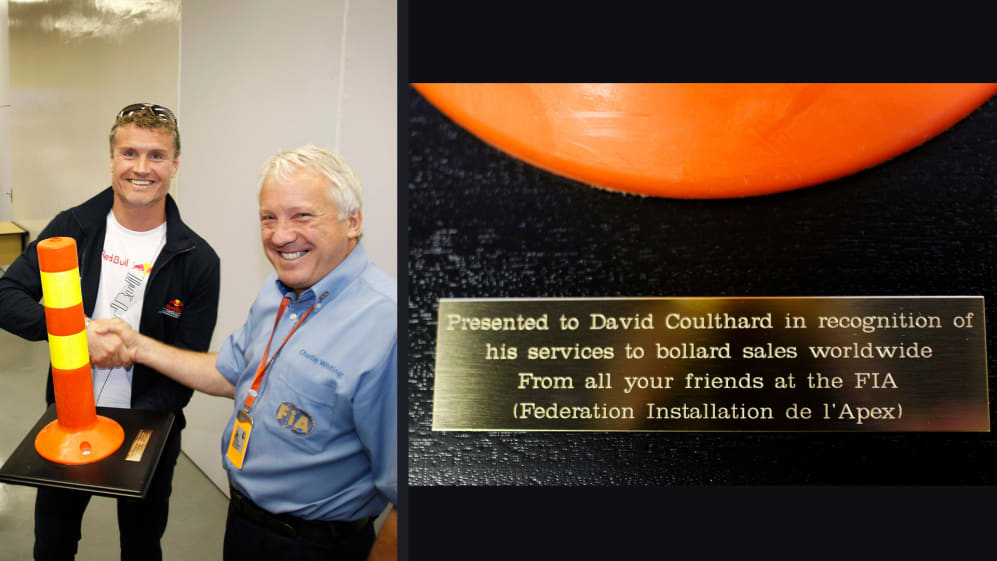 "Because I lost the need. I felt it. And I was getting involved in more incidents, and you think, 'That idiot cut me up, that idiot', and then you realise you're involved in three incidents with three drivers and you're the person [to blame]. You lose your edge."
He says that pre-season testing was almost the 'overnight moment' he needed to push him to quit – though he did see out the 2008 season and take a podium in Canada, to boot.
"In testing, pre-season, I suddenly tested a new car, and it didn't feel like it was a winning car, and I suddenly realised I didn't have the energy to keep it up. I'd been relentless for years and years, always testing and putting in the time, and I just got tired."
He was, however, left with memories of winning at some of the greatest Grands Prix venues in Formula 1.
"Even though I never won a championship I won the classics – Silverstone, Spa, Monza, Monaco, and a few other races on top – these are races that have defined Formula 1 and I was able to find myself in the right car, at the right moment, and perform well enough to stand on top of the podium."
PODCAST: The true story of how David Coulthard survived a plane crash, then raced to a podium 5 days later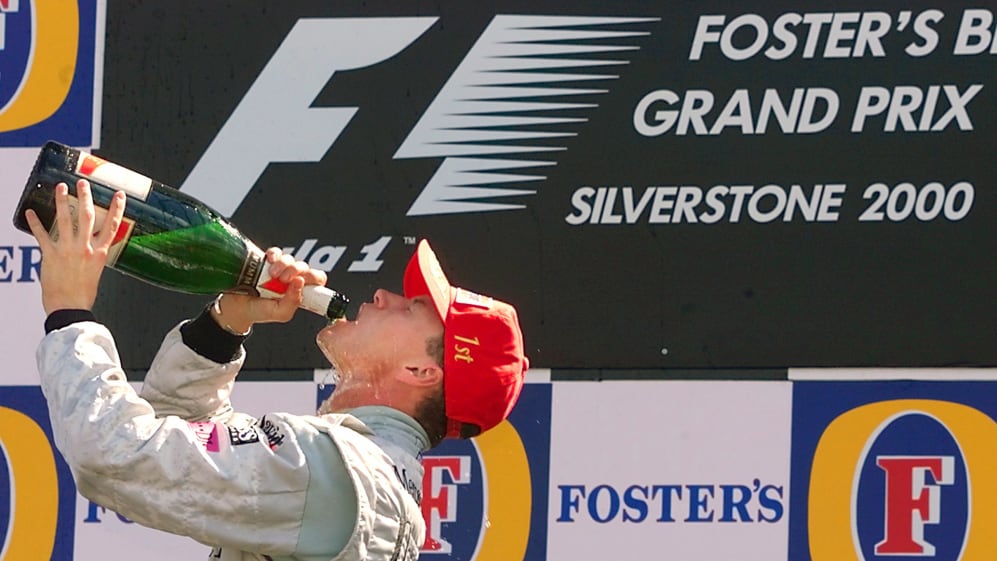 Cues from F1
After his F1 retirement, Coulthard did some broadcasting work for the BBC and raced in DTM with Mercedes – maintaining a solid relationship with Red Bull at the same time. You will almost certainly have seen the Scot driving various Red Bull race and championship-winning cars in glamorous locations.
Coulthard thereafter brought lessons from F1 into the world of broadcasting – as he co-founded Whisper Films with Sunil Patel and Jake Humphrey in 2010. The award-winning company, in which Sony now own a minority stake, not only produce F1 highlights for Channel 4 in the UK, but live boxing, cycling, cricket and motorsport coverage along with all sorts of documentaries and series.
"I felt that television production could be done more like a sports team, more like a Formula 1 team," he explains.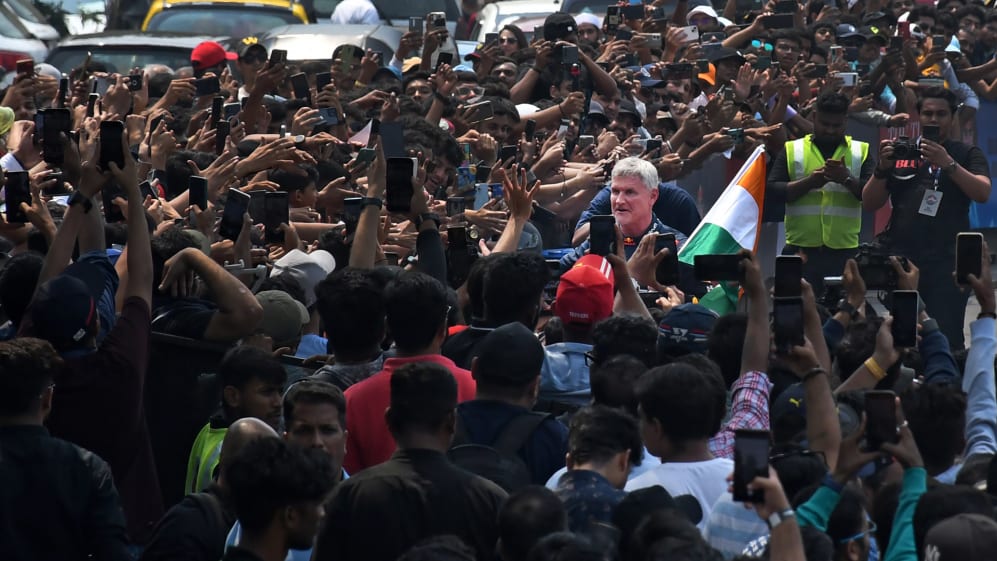 "Because the BBC was a group of talented people that did their job; Formula 1 is a group of talented people who do the job. You come together. If there was a mission-critical scenario in Formula 1, you would be expected to be hands on deck; you wouldn't be expected to say: 'I've done my role for the moment'.
"In Formula 1, Lewis [Hamilton] may have won a Grand Prix [but] the team will say: 'Lewis, in your second pit stop you were 2cm too far forward, that cost us a quarter of a second, you were also slow coming into the pit lane'.
"Lewis doesn't go, 'I won the Grand Prix'; he goes: 'I'll get that right the next time'. It's an open forum for constructive criticism; it's not an open forum for: 'You're great, you're great, we're all great, let's all go and celebrate how great we are'. Because potential or outward failure is your biggest chance of growth.
"The biggest challenge we've always looked at is: How do we maintain that core F1 team mentality whilst growing and growing?"
QUIZ: Which classic Grand Prix should you watch on F1 TV during the April break?
Formula 1 is a group of talented people who do the job. You come together
Coulthard uses the aforementioned approach for his other ventures, though it's not clear whether his London pub – The Brown Dog, which he and some friends took over in 2018 – needs to employ an F1-style mentality. But his events company Velocity Experience definitely does, as he explains.
"We can continually look and work with people in Formula 1, teams and partners, and our staff are largely women, a bit like with Whisper, we are mainly female employees, and we are absolutely people with motorsport experience. A range of motorsports experience – that's the sort of people we want.
"Of course, it's always good to have fresh ideas and fresh minds but we need and want people that understand how the paddock operates, understand how the teams think, understand how the drivers operate.
"That gives us an edge over other great companies because we are motorsport."
To read on, sign up to F1 Unlocked for free
You'll unlock this article and get access to:
Live leaderboard data
Epic experiences and rewards
Money-can't-buy competitions