Feature F1 Unlocked
LIGHTS TO FLAG: Jaime Alguersuari on his teenage F1 debut, life as a Red Bull junior and swapping motorsport for music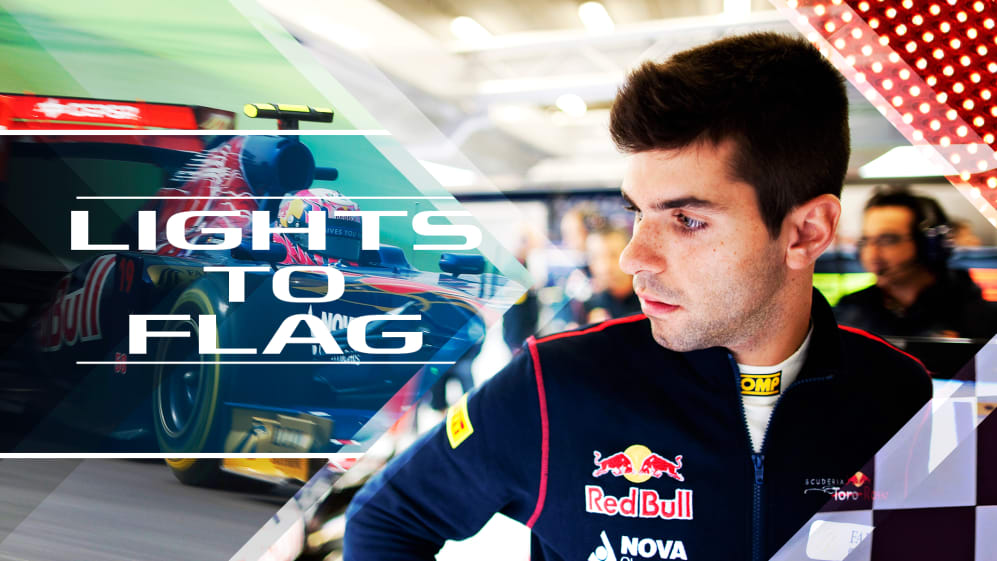 Jaime Alguersuari may still be only 33 years old, but the Spaniard has experienced plenty in his life so far, becoming the then youngest ever driver in F1 history with Toro Rosso in the late noughties, only to abruptly lose his seat after two-and-a-half seasons and then fall out of love with motorsport, sending him down a completely different route toward a career in music.
In our latest Lights To Flag feature, Alguersuari reflects on joining Red Bull's junior programme as a 15-year-old, being thrust into the F1 spotlight midway through the 2009 season, doing his best to establish himself in the sport and why he later swapped the cockpit for DJ decks…
EXCLUSIVE: From stable leadership to design genius – Former Red Bull drivers on the secrets of the team's success
From bikes to go-karts (and Red Bull)
Alguersuari was exposed to motorsport from a young age, his father having competed as a Grand Prix motorcycle racer in the 1970s before creating a popular magazine called Solo Moto (meaning 'Only Motorcycles'), and it initially looked as though those footsteps would be followed.
"He was very integrated in the bike world," Alguersuari says of his father, also called Jaime. "I was supposed to become a bike rider, but at nine years old I tested one and it felt very unsafe, so I decided to try different things.
"I had the chance to try a go-kart and I really liked it. I was also playing tennis and golf, but I had to choose one sport and karting was kind of fun.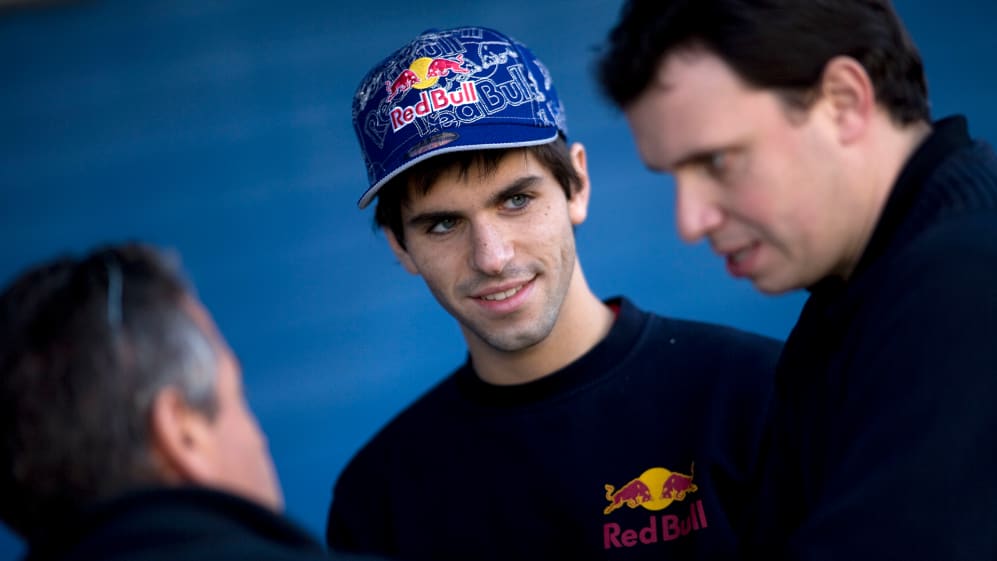 "I was driving at weekends and then it became a little bit more serious. I started to drive in Italy, I started to win some races, and I got my first contract when I was 15 as an official driver for an Italian manufacturer, Intrepid. I never thought about becoming an F1 driver, it was not even a goal, it was just that I wanted to become a professional go-kart driver.
"At some point I received a phone call from Red Bull's Helmut Marko for the Junior Team driver selection in Portugal in 2005. I went there, still only 15, in the middle of my school season when I was doing all these exams. I left school for a couple of days, I went to do these tests in a Formula BMW car, which obviously went very well, and I got my first contract with Red Bull. This is how everything started."
BEYOND THE GRID: Vitantonio Liuzzi on racing for Red Bull, a sour exit from Toro Rosso and beating Michael Schumacher
Alguersuari wound up third at the end of his maiden single-seater campaign in Formula Junior 1600 Italia and was placed in Formula Renault 2.0 for 2006. He took 10th and 12th in the respective Italia and Eurocup standings at the first time of asking, before improving to second and fifth the following year – via victory in the Italia winter competition – to pave the way for a move to the British Formula 3 championship.
Making waves in single-seaters
With five race wins and seven further podium finishes to his name, Alguersuari came out on top in a competitive 2008 field that included future F1 race winner Sergio Perez, long-time McLaren test driver Oliver Turvey, Sauber racer and later Indianapolis 500 winner Marcus Ericsson and one-time Toro Rosso driver Brendon Hartley, who is now a World Endurance Championship title holder and 24 Hours of Le Mans victor.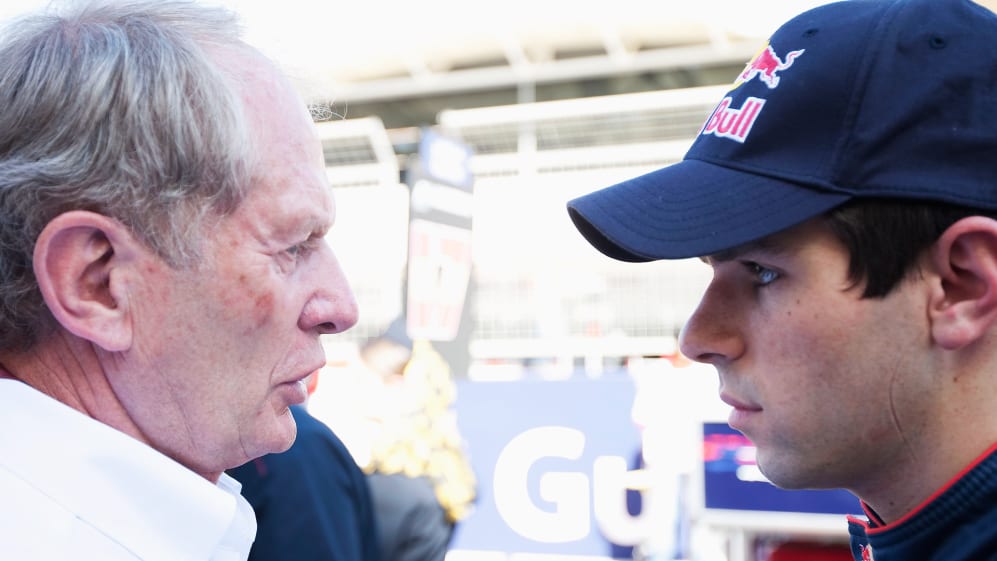 "My first year in the Junior Team was very difficult," Alguersuari says. "In Formula Renault 2.0, I drove against drivers who were older than me and had experience in that category – at least two, three years' experience with a lot of testing. The first year I was very much in the back of the field, even though I did some podiums.
"There was always a lot of pressure from Helmut, but I think he helped me a lot. A lot of people criticise Helmut for his manners, but I think it's the right thing to do. At the end of day, Red Bull are paying for your career, they are putting a lot of effort and investment into you. If you become an F1 driver and you have the opportunity to drive a winning car, you have to win.
WATCH: The DNA of a champion – Verstappen's journey to winning his third F1 world title
"I knew that in 2008, if I did not become British F3 champion, Red Bull would have dropped me, because they would've thought I wasn't ready to be winning races in F1. They give very little chance, very little margin, and they apply so much pressure, so you deliver under pressure. They get the best out of the best, and the weak drivers, or the drivers who can't cope with this pressure, they go."
With that test passed, Alguersuari's next step was Formula Renault 3.5 – a series organised by one of his father's other companies, promoter group RPM – and even more powerful machinery. A solid run of points finishes across the first half of the campaign put him in the front-running mix, albeit with no trophies to show for his efforts up to that point.
Red Bull get the best out of the best, and the weak drivers, or the drivers who can't cope with this pressure, they go.
Thrown in at the F1 deep end
However, the year would take an unexpected turn when Toro Rosso parted ways with Sebastien Bourdais mid-season and Red Bull chiefs decided that the fledgling Alguersuari should be brought in as his replacement, making him the youngest ever driver at 19 years and 125 days old – a record broken by only Max Verstappen, Lance Stroll and Lando Norris since.
"Everything was a strategy from Red Bull," says Alguersuari, looking back on his debut weekend at the Hungarian Grand Prix, where he qualified at the rear of the field, some eight tenths of a second away from regular driver Sebastien Buemi, before finishing the race just ahead of his team mate in a lapped 15th position.
LIGHTS TO FLAG: Takuma Sato on racing in F1 for Jordan and BAR – and his amazing Indy 500 success
"They wanted me to gain experience for 2010, and the way they wanted to do it was just by throwing me into the middle of the season, by finishing races and trying to get this learning curve, or growth curve, from race one to the last race. It was very difficult to see, but I think there were some positives, and obviously you could see much more in 2010."
Adding another layer of intrigue was the decision to make Alguersuari combine that new F1 seat with Formula Renault 3.5 duties for the remainder of the season, the youngster's first victory in the junior category arriving just a few days after his eye-opening experience at the Hungaroring and contributing to P6 in the 2009 series standings.
"It was a very difficult season because I had to switch my mind from one weekend to the other weekend with different cars, different tyres, different teams," he explains. "When you are in F1, you have two or three tyre compounds, you have so much data, mechanics, information, simulators, different tracks, and the physical requirement is very different to other junior series."
Growing in confidence with Toro Rosso
Despite this baptism of fire, Alguersuari managed to find his feet in F1 as the season wore on, getting closer to Buemi on pure pace and ensuring that he kept a spot at Toro Rosso for the 2010 campaign, where his first points would come with a run to ninth in Malaysia, followed by 10th on home soil in Spain and ninth again at the Abu Dhabi finale.
UNDERDOG TALES: When Vettel and Toro Rosso splashed their way to a sensational maiden win at Monza
"In 2010 I definitely had things much more in my hand, much more under my control," he says. "Qualifying was getting much better and I felt like I was just touching the limit of the car, getting much more of a feel with it and getting much more comfortable into the F1 ecosystem.
"Even though I felt like there's something else to come, I think there was a clear growth curve – you could definitely see that. I was very happy with myself, I was feeling strong, I was feeling more confident, and everything was coming better and better."
That was despite Toro Rosso failing to hone one of the biggest innovations in recent F1 history in the form of the F-duct, which allowed drivers to open and close an air duct from the cockpit to the tail-end of the car, a process that stalled the rear wing, reduced drag and allowed for higher top speeds – essentially an early Drag Reduction System (DRS).
"Everyone was asking for more, but we were lacking performance," Alguersuari comments. "Many people don't know some data and facts, but in 2010 there was the F-duct, which McLaren came up with and teams copied, and everyone had it except two, three teams – we were one of them. We tried to get it ready, but we never managed to make it.
DRIVING STYLE: Yuki Tsunoda reveals his favourite brands, clothing essentials – and his must-have accessories
"In 2010, the only team that scored points with no F-duct was Toro Rosso. We felt very proud because we knew that it made a huge difference in performance. The same thing happened for 2011, with the difference that we managed to have the blown diffuser (which involved exhaust gases being sent over the rear of the car to increase downforce), and then the good results started to come."
After a fruitless handful of races to open the 2011 season, Alguersuari made a breakthrough at the rain-hit Canadian Grand Prix weekend, impressively racing his way from the pit lane to eighth position in tricky, changeable conditions and kick-starting a run that included six more points finishes, along with a slot on the third row of the grid at Spa-Francorchamps.
It was a set of results that put Alguersuari on a tally of 26 points for the campaign, 11 more than team mate Buemi, as he spearheaded Toro Rosso's gradual rise up the constructors' championship standings from 10th in 2009 to eighth at the end of 2011, just behind Sauber.
"We were battling with Mercedes at that time and we were beating them – I beat Michael Schumacher and Nico Rosberg," he says of several races that year. "We were doing a good job. With that car, and the performance we were asking for, we just couldn't hope for better. We couldn't win a race, and if people were thinking that we could, they were very wrong."
EXCLUSIVE: Food, fitness and Ferrari – Carlos Sainz shares the key ingredients behind his life as an F1 driver
The F1 dream turns into a nightmare
That in mind, what followed over the winter came as a huge shock to Alguersuari, as Red Bull made the bold mid-December call to replace both him and Buemi for 2012, with fellow juniors Daniel Ricciardo (who had already debuted with HRT) and Jean-Eric Vergne taking their seats.
Aged only 21, Alguersuari's F1 dream appeared to be over just as it was getting started.
"Everything was so strange," Alguersuari says of the situation. "I received a phone call from [Toro Rosso team boss] Franz Tost, which lasted for a minute, and he told me that he had bad news, that Red Bull was not supporting both drivers anymore – that's it. I called Helmut… I thought it was a joke, like, 'What's going on here?', and he told me that he couldn't do anything about it.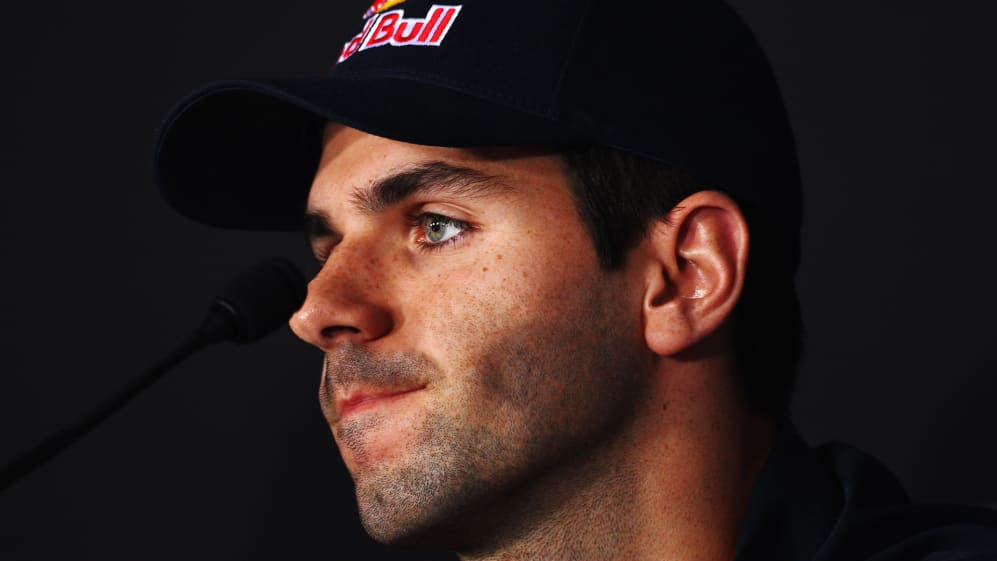 "I know that the decision was not based on results or a sporting kind of decision. It was something else, but I don't know what. It was a shame because these guys were my family and they had supported me since I was 15. I never expected that the way they said goodbye would be like that.
"Having said that, I have to say I'm still very grateful for what they did, because they gave me a chance to become an F1 driver, they gave me a chance to drive for Toro Rosso and to have a wonderful adventure in my life, which is travelling the world, meeting so many different people and being in F1."
LIGHTS TO FLAG: Rubens Barrichello on Schumacher, Ferrari, the Brawn adventure – and his racing exploits after F1
Adding to the pain for Alguersuari at the time was the fact that he had been in talks with one of Red Bull and Toro Rosso's rivals over a potential switch, one that could have seen him line up in the black and gold colours of Lotus in 2012 alongside returning world champion Kimi Raikkonen.
"I got an offer from [Lotus team boss] Eric Boullier, because Kimi was coming back from rallying and they wanted me to be his team mate," he says. "They wanted me to sign in Abu Dhabi and I didn't sign because I thought, 'I'm doing a good job at Toro Rosso'. I hoped I could become a Red Bull racing driver maybe the next year, or in two years. My season went really well, so why should I be worried of my place?
I called Helmut… I thought it was a joke, like, 'What's going on here?', and he told me that he couldn't do anything about it.
"I just felt so frustrated about the situation, that's the word. I didn't know how to cope with it. I got a phone call from the BBC, so I was there for them in 2012, doing commentary on F1 races, but I suffered a lot. I just didn't understand how there were drivers that I'd beaten all my life, I'd done my very best season, I'd just said recently no to a contract at Lotus, and then all of a sudden I'm out of F1…
"Then I received a phone call from Paul Hembery at Pirelli. I did tyre testing for them, which was good, because I managed to be back in the car, get some mileage, understand the tyres. I received some phone calls from other teams, and they were interested in getting me onboard to drive for them, but they were asking for money, which I didn't have, so I couldn't get back into F1."
F1 ICONS: Olympic legend Usain Bolt on Sir Lewis Hamilton
Feeling lost in the motorsport world
Alguersuari went on to try his hand at Formula E and GT racing, but none of his on-track outings replicated what he had experienced in F1, leading to a downward spiral that eventually saw him fall out of love with the sport he was once so passionate about.
"I expected to race for fun, but I didn't have fun, that's the thing," he recalls. "I didn't enjoy racing after F1. My head was distorted with all that happened, so that's why I stopped. My head and my body weren't ready for anything else… I thought I was designed to be in F1 because of the way Red Bull treated me, or designed me, to be a champion.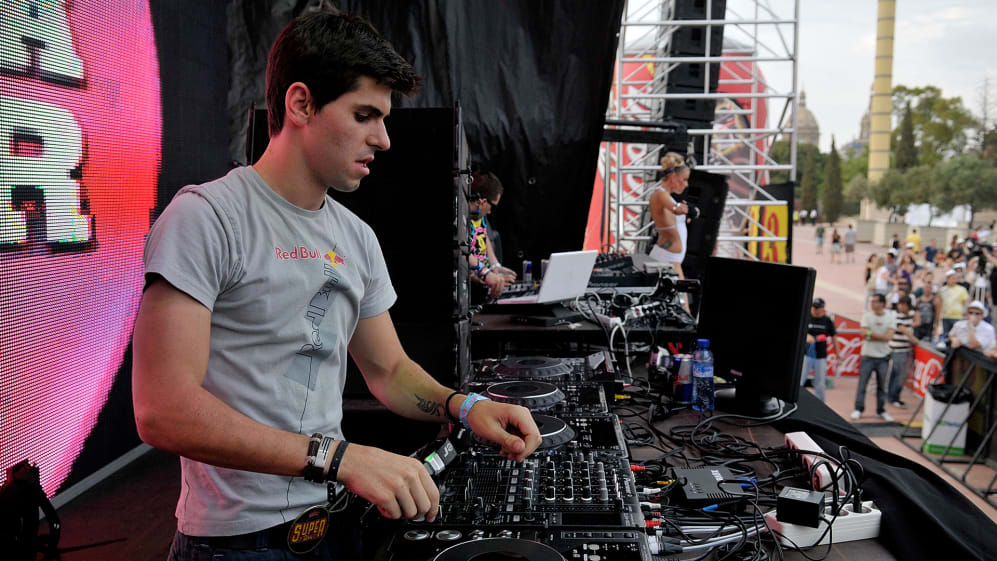 "All my respect to GT drivers, because I know it's a very difficult category with many great drivers, but I just didn't think I was belonging to that. Once you don't put your head down and you're not motivated by something, you're not going to do a good job or extract your very best. I just wanted to call it a day."
Indeed, Alguersuari started therapy to discuss his feelings and a conclusion was quickly reached. Whenever he spoke about motorsport, his therapist noticed that he was downbeat, but whenever he spoke about one of his other passions, and more specifically music, his eyes lit up.
READ MORE: 'He was walking on water' – Senna's magical Donington 'Lap of the Gods' remembered by his fellow drivers
From motor racing to music making
Alguersuari had already been producing music while racing, but his exit from F1 gave him the time to ramp up those efforts and, when he decided to step away from motorsport as a whole, he could plough all his energy into the new adventure.
Step forward DJ 'Squire' (a nod to his second surname Escudero), who has produced a healthy back catalogue of dance tracks and albums and has played sets all over Europe, appearing at big-name clubs such as Amnesia on the party island of Ibiza.
"Music was gaining a lot of space in my life, I was producing tracks and starting to release records on small labels, getting my first shows," he says. "I thought if I had to do the switch it had to be now and not when I'm 40, because you need to build a music career, you need to invest a lot of time in the studio making music, and being in the industry is like another racing career.
"I began as Squire and the whole thing moved on. After a couple of years, I decided to start my own label, Anims. We release music from other artists around Europe and music from myself. We also started a project with another artist called 'Pole Position', which is looking very good, and we're creating a lot of music for the end of the year.
MY UNTOLD STORY: Five inspiring people share their journeys to working in F1 – and how the sport can be a vehicle for change
"It's obviously a slow process, because there's a lot of competition, a lot of experienced people and a lot of good music out there, but it's been good fun, enjoyable and we're building it up. I've got a lot of projects on, I'm very happy with how things are going and I'm really looking forward to the future."
To read on, sign up to F1 Unlocked for free
You'll unlock this article and get access to:
Live leaderboard data
Epic experiences and rewards
Money-can't-buy competitions