Feature F1 Unlocked
LIGHTS TO FLAG: Takuma Sato on racing in F1 for Jordan and BAR – and his amazing Indy 500 success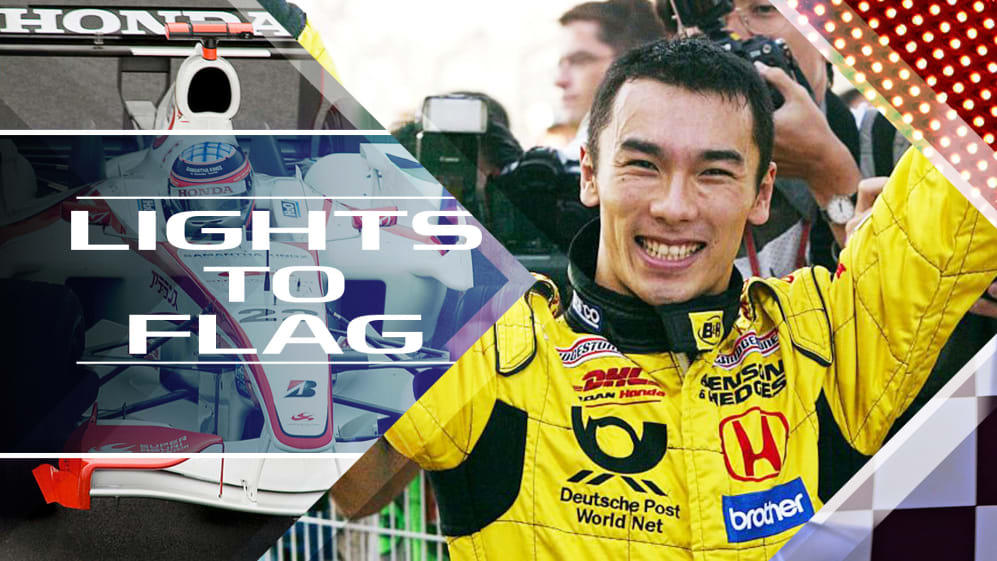 Takuma Sato emerged as one of Japan's most successful Formula 1 drivers in the early 2000s, enjoying a long-term partnership with Honda before going on to seal his greatest triumphs at the Brickyard with two Indy 500 victories.
In our latest Lights To Flag feature, the former Jordan, BAR and Super Aguri racer opens up about how he caught the racing bug as a child, his journey to F1 and challenges once he got there – and about his highly successful post-F1 racing career...
Enthralled by Suzuka
Formula 1 ventured to Japan for the first time in 1976 at Fuji Speedway, but after its 1977 encounter the championship did not return for another decade.
When it did come back to the country, the figure-of-eight Suzuka Circuit played host – and in attendance was a 10-year-old Sato.
"I'd always been interested in cars and motor racing, but I just never had an opportunity to go to any track activity," he tells F1.com.
PODCAST: Takuma Sato on childhood trips to Suzuka and beating Alonso with Super Aguri
"Even Fuji TV only started broadcasting Formula 1 in Japan in 1987 because of Satoru Nakajima and Honda. So basically, I knew nothing about it. And my parents also had no idea whatsoever, or my friends.
"I was just an ordinary kid. We got the ticket from a friend of my father. And it was just a shocking experience: the speed, the power, and the atmosphere. It was just like nothing in my life before."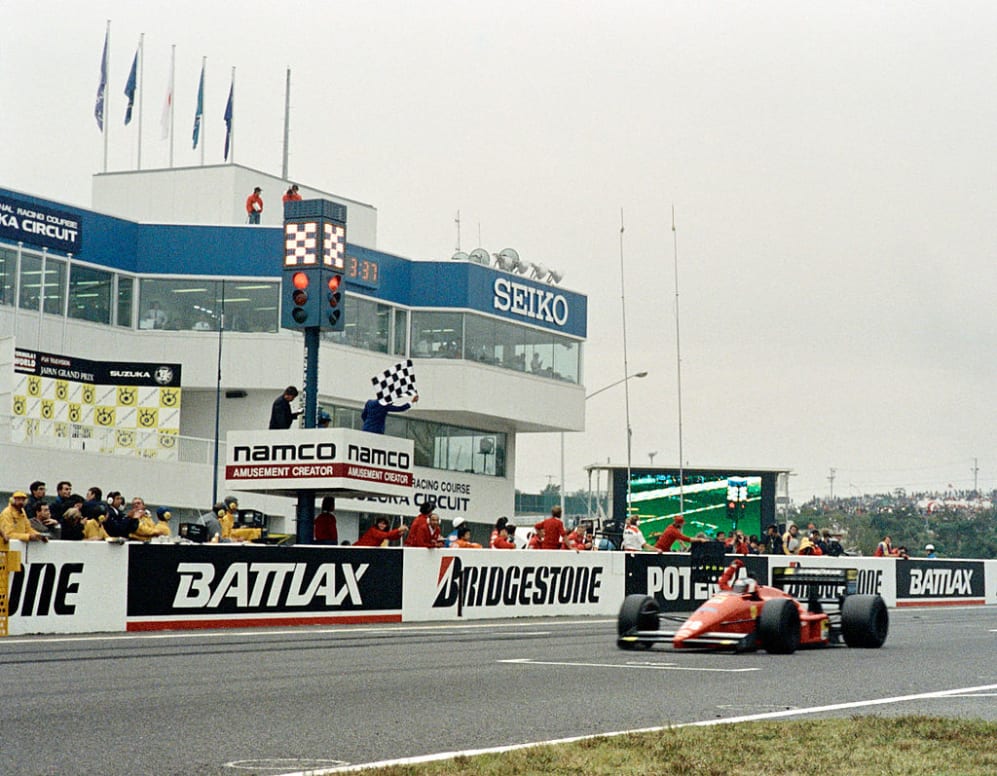 Sato was enthralled by the spectacle of Formula 1, and began passionately following the championship, but had no means to compete himself.
"I never had a go kart, as my family wasn't able to commit to that sort of thing," he says. "All I had was the bicycle at home. And every day I imagined that I was competing and racing. So that was the only tool for me. Through high school to university I was actually competing on the bicycle quite competitively and seriously. But that was the only introduction back then."
LIGHTS TO FLAG: Pedro de la Rosa on his late start in F1, working for Ron Dennis, and his dream of a Spanish F1 team
Taken on by Honda
Sato was still gripped by Formula 1 through his teenage years but his experience remained limited to two-wheeled pedal power. As he approached his twenties he saw an opportunity through Honda.
"Honda founded a school, to try to help the young drivers, for the international achievements. When I saw it I thought, 'Wow, this is just for me'. But the thing was, this school had an age restriction. You had to be under 20 years old to get in, so basically it was the first and only time – and the last chance – to get to the school. I asked my parents just to give me one chance."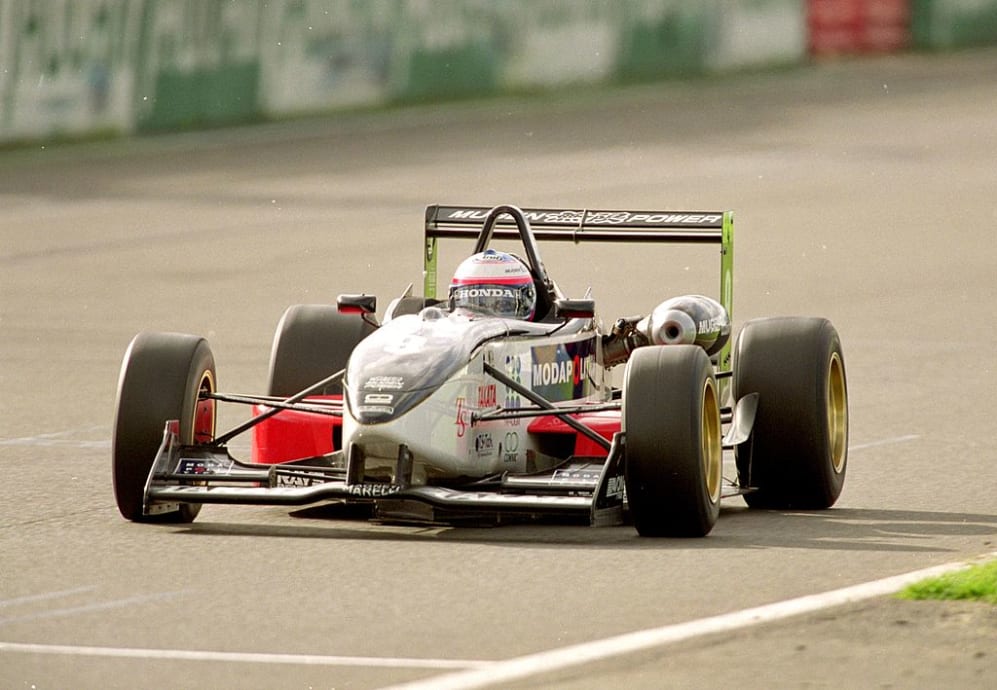 Despite his lack of experience, Honda saw something in Sato and he was taken onto the scheme, which involved 10 months of training at Suzuka, and he was able to win the scholarship after taking the 1997 national karting title.
Sato flew through the junior categories and by 2001 was in British Formula 3 – a title he went on to win – and also triumphed in the Macau Grand Prix and Formula 3 Masters.
Sato was on the brink of Formula 1 after just five years of racing and, facilitated by Honda, landed a seat at Jordan for 2002.
PODCAST: Eddie Jordan on the life and times of his iconic F1 team
Struggles with Jordan
By 2002 Jordan was drifting in Formula 1's midfield and shorn of sponsorship money compared to its race-winning heyday of the late 1990s. The EJ11 had been a regular points contender in 2001 but its successor, the EJ12, was sub-par, accentuating an already challenging situation for a rookie.
"The EJ11 was a very driver-friendly car," Sato recalls. "Not necessarily the peak of the downforce, but it had a wide envelope that allowed the driver to have usable grip and downforce. But with the EJ12, they gained a significant amount of the downforce, but only in the wind tunnel!"
It made the EJ12 an erratic car to handle and Sato's team mate, Giancarlo Fisichella, gave negative feedback from the outset.
"Giancarlo was the first to comment at the shakedown – he thought the car was broken because I think we were a couple of seconds off the pace from the previous year's EJ11, and everybody was scratching their heads as it was supposed to have more downforce."
LIGHTS TO FLAG: Rubens Barrichello on Schumacher, Ferrari, the Brawn adventure – and his racing exploits after F1
Fisichella also got the lion's share of the testing – as the team's more experienced driver – which put Sato further on the back foot.
A spate of incidents and accidents – some his own doing, others not – further hindered Sato's learning process, with reliability also a bugbear, and he finished only four of the opening 11 races. But a run of five straight finishes left him with a stronger platform heading to his home event.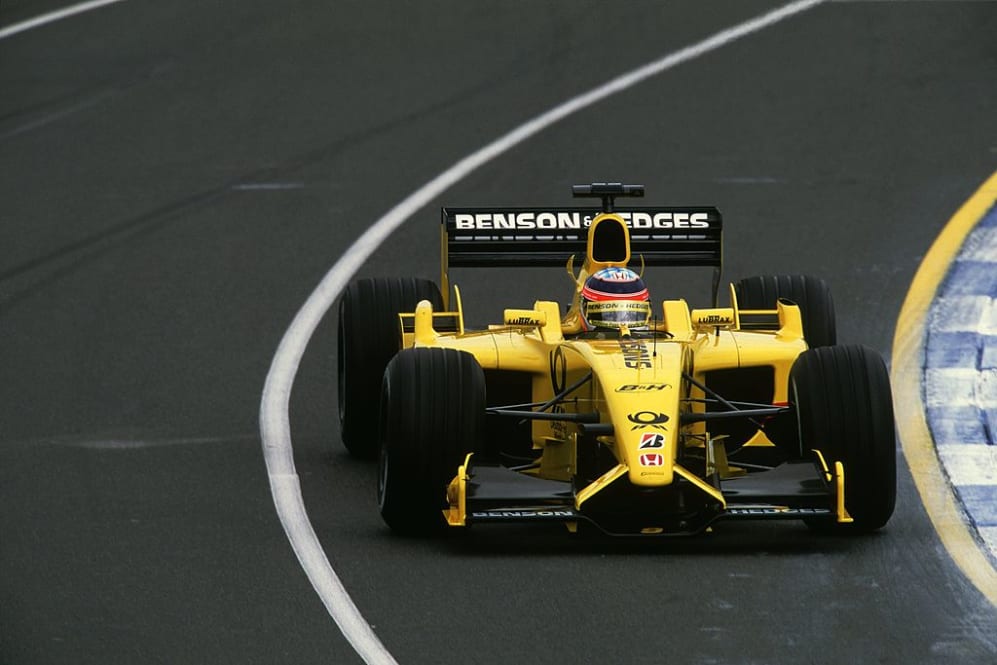 A star at home
Sato went to Suzuka for the season-ending race in a confident mood, buoyed by a successful Silverstone tyre test, at which he and race engineer James Key – who now heads Alfa Romeo's technical team – went through a significant run plan.
"That day I could feel it, I could feel almost everything," he says, after having time in the EJ12 learning more about the tyres. "I could feel the blisters starting as well, whereas before I really didn't feel it. But at that time it was like 'okay, now it's starting, the blistering, the graining' – all that stuff.
UNDERDOG TALES: When Vettel and Toro Rosso splashed their way to a sensational maiden win at Monza
"I picked up lots of things. I was full of confidence with the car, and myself, and then of course going to Suzuka where I'd done hundreds of laps – of course, the speed is very different, but at least it was somewhere I knew where to go!
"Through the practice we were getting better and better and it was getting easier, and the EJ12 was working better all the time and in the end, it was a superb car!"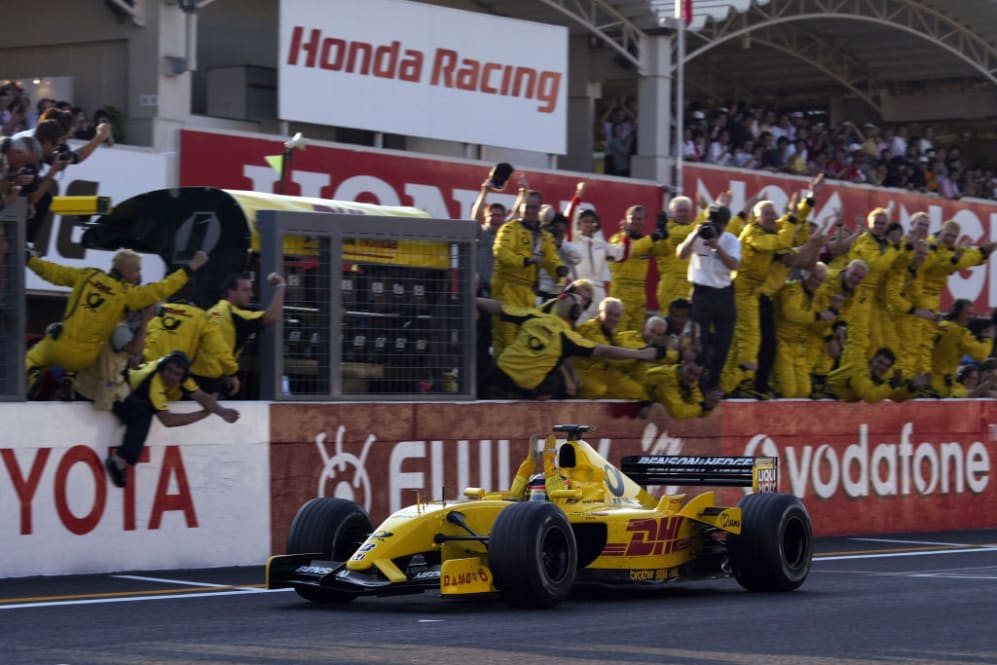 Sato was performing strongly in qualifying when Toyota's Allan McNish suffered a frightening accident that caused the session to be halted and delayed.
"It was the first time actually during qualifying that I jumped out of the car, went into the engineering room and could have a look at data as well, and where you can squeeze more tenths," he says. "I got quite sleepy – kind of a power nap – and then my head was so clear."
LIGHTS TO FLAG: Coulthard on replacing Senna, dealing with Ron Dennis, and racing against Hakkinen
Sato went on to qualify seventh – and was clocked as second-fastest through the 130R speed trap – and stayed out of trouble in the race. His reward was fifth and two points, with the Japanese fans erupting as he crossed the line.
"Eddie Jordan was so happy, the team was so happy, and I was over the moon – that was very special moment," he says. "It was just an unforgettable weekend."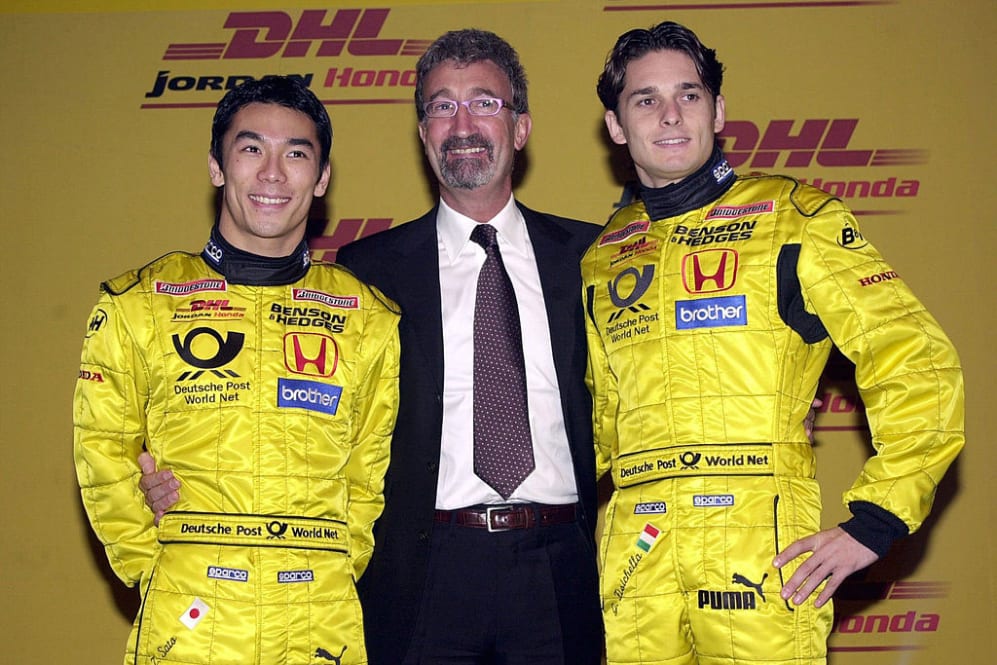 BAR highs and lows
Jordan split from Honda after 2002 and Sato took up a test role at BAR-Honda, behind Jenson Button and Jacques Villeneuve, but the 1997 champion's deteriorating relationship with the team opened a door.
"I was at Tokyo station to go to Nagoya on the Shinkansen [bullet train]," Sato says. "I was thinking, 'Wow, how can I be at Suzuka, doing nothing?' and I was a little bit frustrated. But during the train journey – which is less than two hours – [BAR boss] David Richards called my manager and said that Jacques has decided not to race this weekend."
BEYOND THE GRID: David Richards on his time with BAR – and how close he came to bringing Prodrive to F1
Sato was parachuted into BAR's 005 and secured a top-six finish on home soil.
"Jenson and I finished fourth and sixth, the only time we actually scored double points in 2003, and we jumped up in the constructors' championship two positions."
Sato remained with BAR for 2004 and the 006 was a competitive car, lifting the team to second in the championship, with Sato scoring a maiden podium at Indianapolis.
"Jenson and I were constantly able to challenge the front-runners," Sato says. "I had the front row with Michael Schumacher at the Nurburgring, and the unforgettable podium at Indianapolis. We were becoming a big and competitive team, and everything was coming together, so we had high hopes."
But the momentum from 2004 stalled in 2005 when BAR's 007 proved uncompetitive, while a technical infringement at Imola led to the team's disqualification and suspension for two events.
PODCAST: Jenson Button on his 2009 title, his toughest team mate and more
Sato also missed Malaysia's race through illness, and joined the many non-starters amid tyre concerns at Indianapolis, meaning he only started five of the first nine events. He scored points only once, in Hungary, as he got sucked into a downwards spiral.
"We were going backwards big time," says Sato. "And then whatever we tried, we failed. And because of that, I got frustrated. I basically overdrove. I tried to overcompensate in the cockpit. I was overdriving, becoming more erratic, and [there were] more failures. It was basically a big nightmare."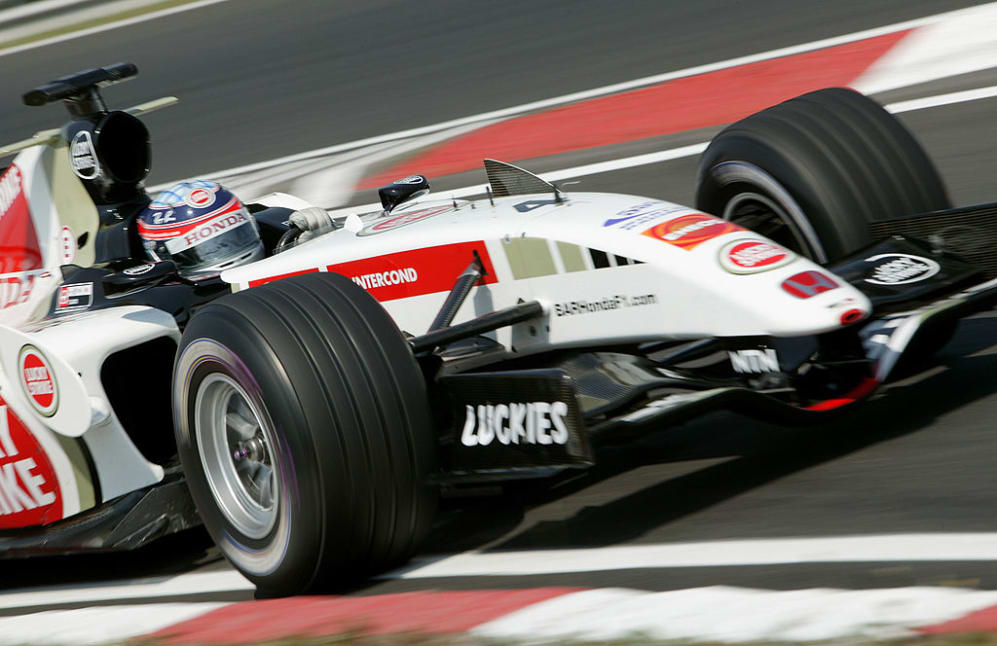 Super Super Aguri
After a contract saga Button stayed at the re-named Honda team for 2006, and with Rubens Barrichello joining him, there was no room for Sato. Honda instead helped facilitate the creation of a new team, run by ex-F1 racer Aguri Suzuki, with Sato as its lead driver.
Super Aguri initially ran a four-year-old Arrows A23, with a 2006-spec Honda engine but 2002-spec gearbox, which was cobbled together just in time for the start of the season.
UNDERDOG TALES: When Fisichella put Force India on top of the world with a Spa weekend to remember
"Actually my race car was the show car at the Melbourne duty free, so we bought it, flew it back from Melbourne to the UK, stripped it off and adapted it to the regulations!"
Super Aguri started significantly off the pace with a heavily modified car – with Sato six seconds off pole in Bahrain – but made gains through the year and began to earn respect. Sato rounded out the season by finishing in the top 10 in Brazil.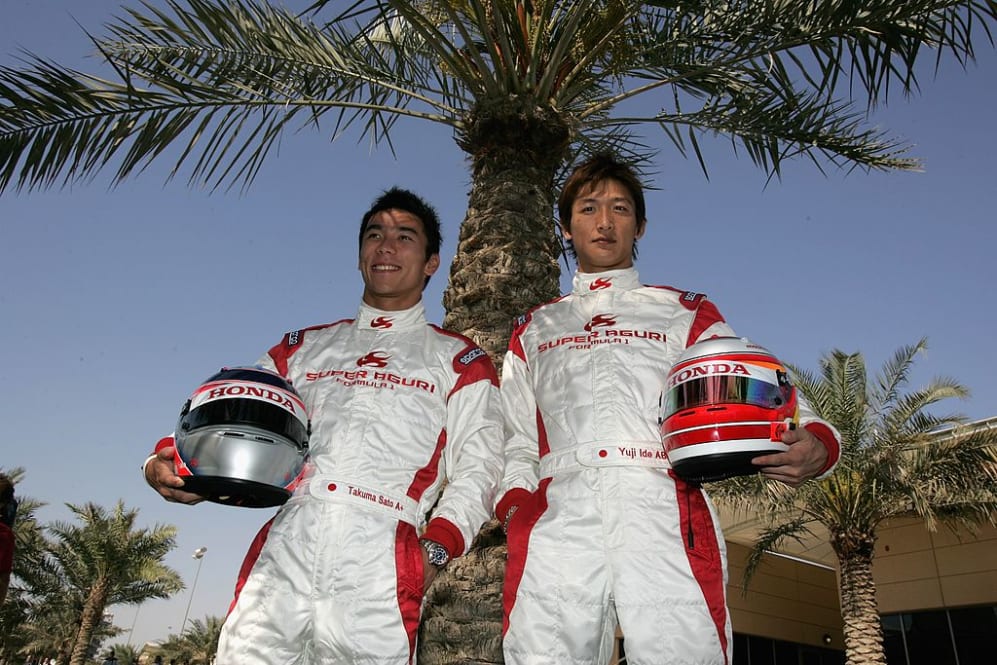 For 2007, Super Aguri's SA07, based on Honda's race-winning RA106, propelled Super Aguri into the lower end of the midfield. Sato made Q3 in Melbourne, scored Super Aguri's first point in Spain – at a time when only the top eight were rewarded – before a stunning drive to sixth in Canada.
"That was unforgettable," says Sato. "I overtook a Ferrari, Kimi Raikkonen, and overtook a McLaren, Fernando Alonso, in a super-good car. So that was an amazing, amazing story."
LIGHTS TO FLAG: Mika Hakkinen on his horrific Adelaide accident, beating Michael Schumacher, and life after F1
Super Aguri finished ninth in the standings, but storm clouds were already looming amid the loss of their title sponsor and the worsening global economy. The team stumbled through the opening four events of 2008 before withdrawing from Formula 1.
"That was a very sad moment," says Sato. "2007 was a huge jump for us, and then 2008 was kind of a step back.
"But knowing that the new regulations were coming in 2009 we had high hopes that we would basically have a very competitive car, similar to the Red Bull and Toro Rosso style, as within the regulations you were allowed to have some common components and almost allowed to have an almost identical car. So that was the whole idea.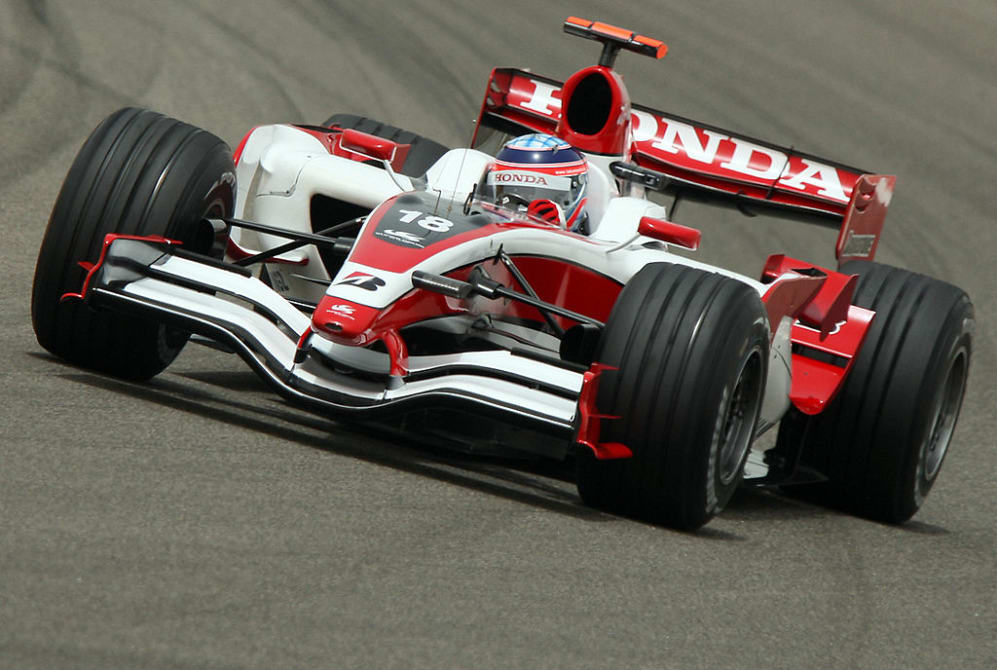 "We were just going to have to go through the pain in 2008, but in 2009, we should be able to pick up on the competitive side."
Honda ultimately axed their own team at the end of 2008 before the assets were acquired by Ross Brawn, whose eponymous squad famously went on to claim the 2009 title.
IndyCar interest
Sato sat out the remainder of the 2008 season before testing with Toro Rosso, but was not chosen for a 2009 seat, and when options for 2010 dwindled he began exploring alternatives.
"If you make a contract with a Formula 1 team as a reserve driver you might get lucky. But I couldn't wait anymore. I had to really move on." He adds: "The Indy 500 was always on the top of my list."
F1 in America: The Grand Prix stars who tamed the Brickyard – and how F1 changed the Indy 500 forever
Sato ventured to Indianapolis – scene of his sole F1 podium at the 2004 US Grand Prix – to take in qualifying for the 2009 Indy 500.
"I was standing infield over Turn 1, and the car is coming over at nearly 230 miles per hour approaching to Turn 1; now, that speed is very fast, but not surprising, because if you go to Monza, you know Formula 1 can achieve very similar speeds.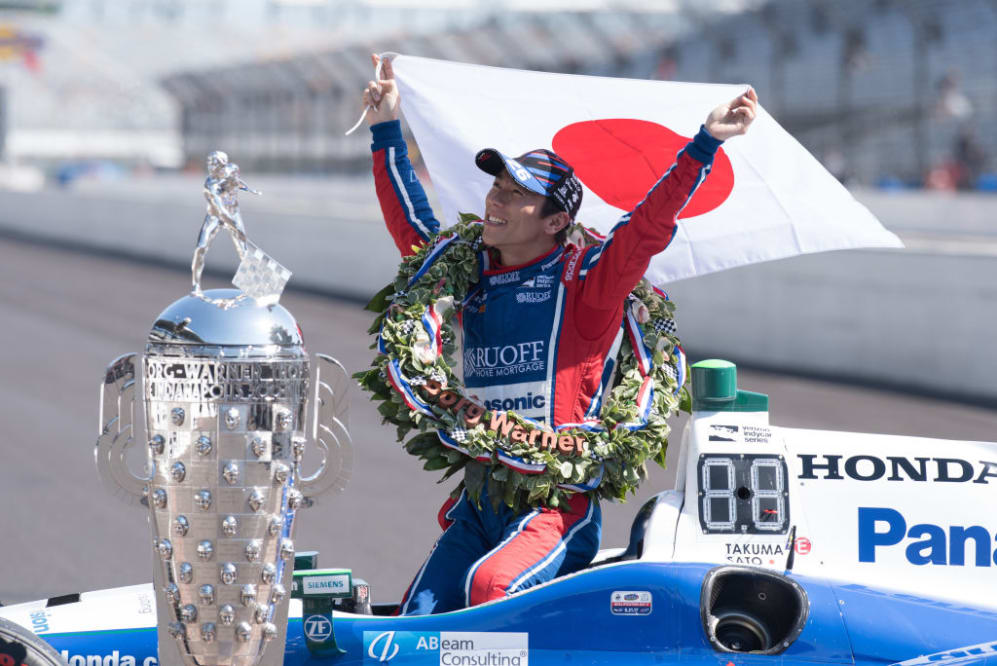 "What I didn't expect was getting to the apex with that speed, and the driver kept on the throttle. You can see the driver is actually controlling the car full of the slip angle, then drifting off to the wall again, at 230 miles per an hour on the exit of the corner. It was just unbelievable.
"That kind of feeling was very similar to what I felt when I was 10 at Suzuka. So that for me was like, 'This is it, this is the one I have to try!'
Sato committed to IndyCar, and was a front-runner in 2012's Indy 500 but crashed out on the final lap after a typically valiant effort to grab the lead. He made amends five years later, winning at the famous race, and doubled up in 2020.
UNDERDOG TALES: When Maldonado took Williams back to the top on a remarkable day in the Spanish sun
"Just unbelievable," says Sato. "I was just attacking, attacking, challenging, challenging, in so many fields. But winning the 2017 Indy 500 was just like 'mission completed', really. Dreams do come true. I just really appreciated all the people who supported me. I was so fortunate to be part of the group that was able to achieve such an amazing result twice at the Indy 500. And that was amazing."
They were the two highest-profile of Sato's six IndyCar victories but his first, at Long Beach in 2013, remains a leading memory.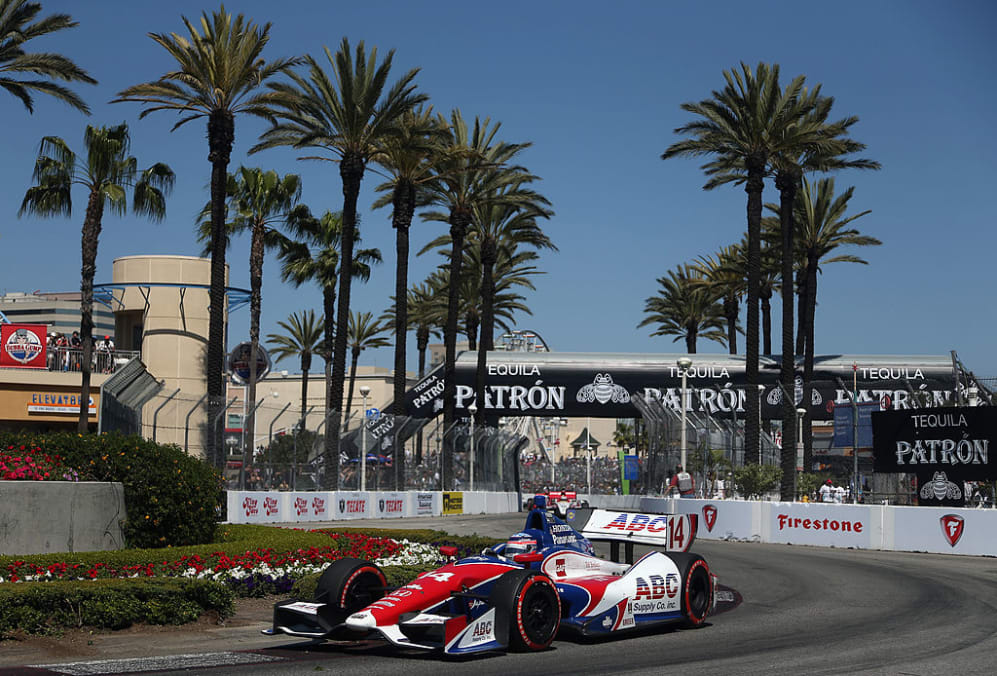 "I was with AJ Foyt Racing," he Sato. "Now AJ Foyt is obviously a legendary driver, but the last time AJ Foyt Racing took a road course win was back in 1978.
"He was, as you could imagine, delighted. It was such a family-oriented, small, Houston-based team. Basically, we beat the Penskes, Chip Ganassi Racing and Andrettis, all these teams; it's really like Super Aguri, isn't it? It was just an amazing experience."
F1 EXPLAINS: How the drivers prepare themselves mentally to cope with the demands of being in Formula 1
Grateful for F1 chance
Sato's finest achievements undoubtedly came at Indianapolis, and he remained something of a rough diamond in Formula 1, but starting almost 100 races – and taking a podium finish – represented an impressive return for a driver who only started competing in motorsport five years before his F1 debut.
"There are a million drivers who couldn't make it because of timing, because of circumstances, because of finances, so young drivers have to quit and have to give it up. That's part of the sport, part of the difficulty of this sport, so I feel really fortunate.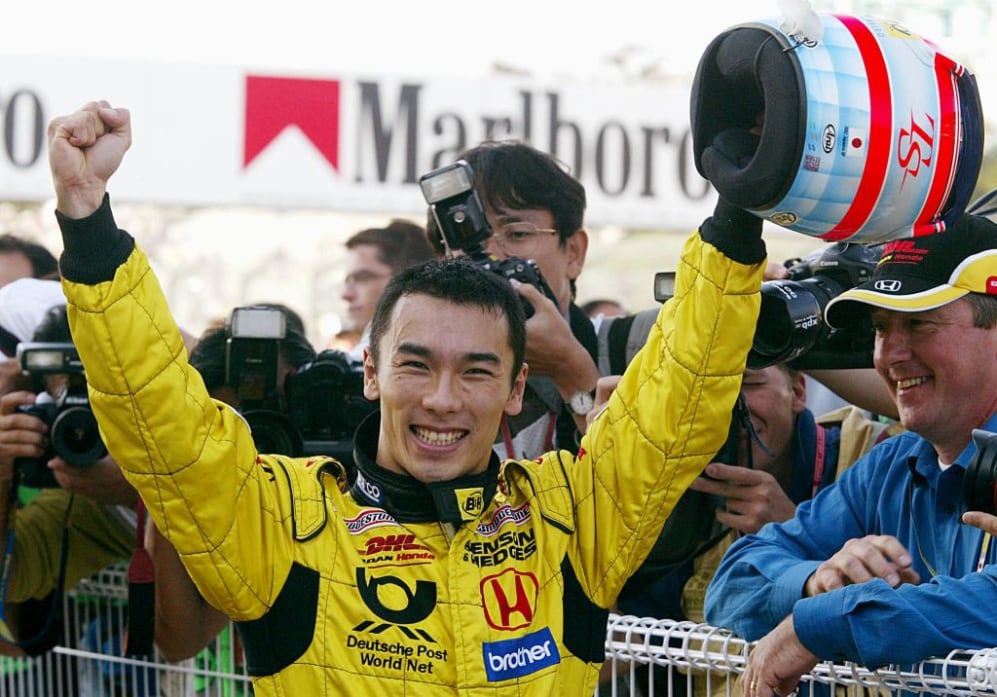 "Every driver thinks back in five years: 'I wish I could race now with the same environment. I could have been faster; I could be winning World Championships.' I think everybody is thinking that way, and so do I.
"You know, like I said, there was an unfinished job in Formula 1, and I look back in 2004, the Indianapolis GP, we could have won the race, but we didn't because as a team with a strategy, all the things, we were not there yet.
READ MORE: A closer look at the 12 constructors' title-winning cars Adrian Newey has designed
"At the time the most important thing is just to do the best you could. And in the end, I didn't win a Grand Prix, sure, but still, I have such great memories in Formula 1.
"I had a great time in F1 and currently [I'm] living in the States and competing in IndyCar, again in the top of the competition. I just have to say thank you to everyone."
To read on, sign up to F1 Unlocked for free
You'll unlock this article and get access to:
Live leaderboard data
Epic experiences and rewards
Money-can't-buy competitions